(1) RETRO RESOURCES. Cora Buhlert has started a recommendation spreadsheet for the 1945 Retro Hugos. The shortlink is bit.ly/RetroHugo1945
Cora hopes Filers will fill it in, "Especially since there are whole areas I know very little about. For example, the fan categories are completely empty so far."
She has also started a companion blog called Retro Science Fiction Reviews, where she is reviewing Retro Hugo eligible works and linking to other people's reviews. First on the board – "Retro Review: 'Terror Out of Space' by Leigh Brackett".
(2) SPFBO SAMPLER AVAILABLE. Fantasy Book Critic announces "The SPFBO Sampler Available Now!" (SPFBO is the Self-Published Fantasy Blog-Off, an annual competition hosted by Mark Lawrence.)
Today we're thrilled to announce the official launch of The SPFBO Sampler! Looking to dive into the world of indie fantasy novels, but don't know where to start? Here's the perfect place to get a taste of the works of over 70 self-published authors from all around the world. Go get your copy today, and let all these incredible authors transport you into their worlds and beyond.

This huge undertaking has been organized by indie author Jon Auerbach, its gorgeous cover created by indie author and cover artist and designer Luke Tarzian, and includes a foreword by the accomplished and best-selling SFF author Mark Lawrence. This is one you surely cannot miss.
Get the Sampler here.
(3) TONOPAH GOING UP. Membership rates for the 2021 Westercon in Tonopah, NV will rise on March 1.
The cost of an attending membership in Westercon 74 will increase to $50 effective March 1, 2020. In addition, the $10 conversion-to-attending rate for those people who voted in the 2021 Westercon Site Selection in Utah expires at the end of February 2020. Membership rates for Young Adult and Child members remain unchanged.
(4) EREWHON LIT SALON. Louis Evans and Sarah Pinsker will be the readers at the Erewhon Literary Salon on January 9. The event takes place in the office of Erewhon Books in the Flatiron/NoMad district of Manhattan. For full information and policies, and to RSVP, click here. Event address and information will be emailed to those who have RSVPed a few days before the event.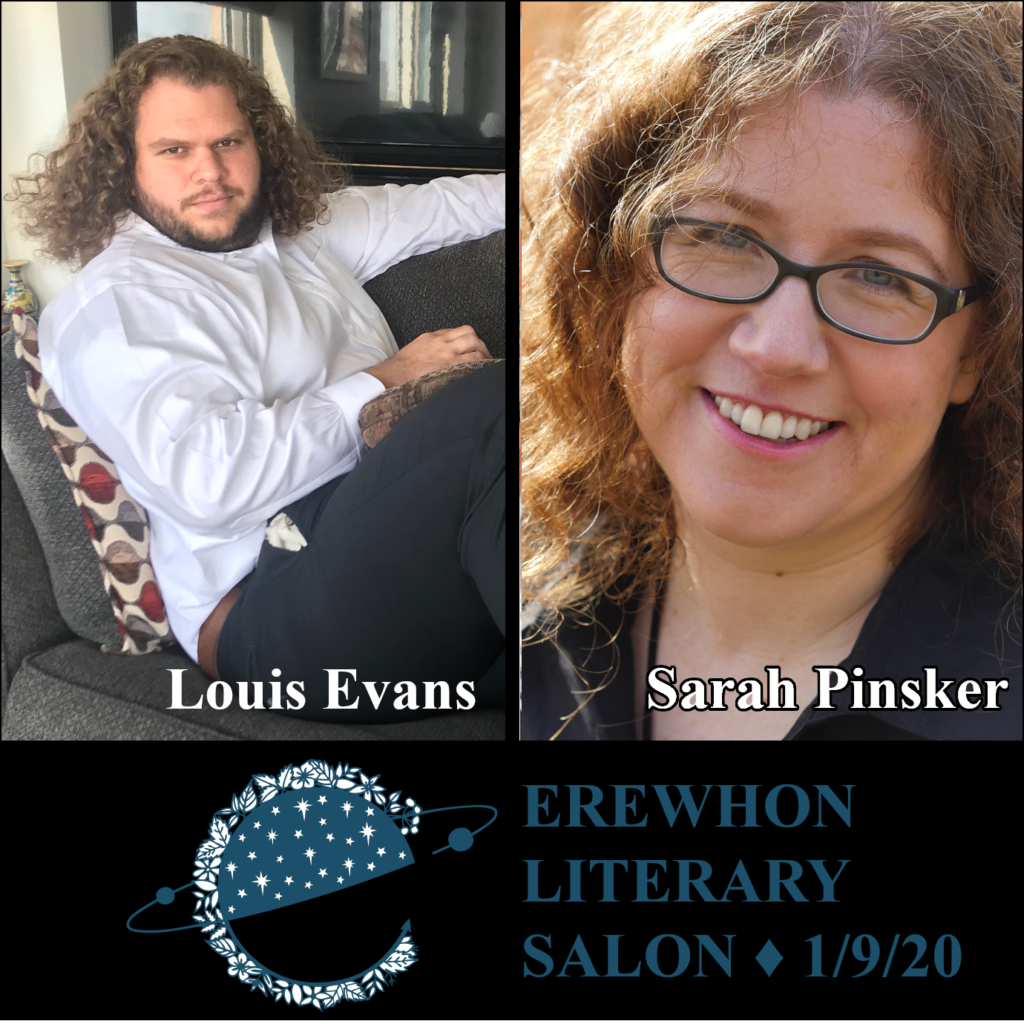 LOUIS EVANS is a writer recently returned to his native NYC from a half-decade spent in the SF Bay. His work has been published in Analog SF&F, Escape Pod, The Toast, Third Flatiron Anthologies, and Write Ahead/The Future Looms. He's a two-time winner of Zach Weinersmith's Bad Ad-hoc Hypothesis Festival and the Shipwreck SF bad erotic fanfiction competition. He is a founding co-producer of Cliterary Salon, a feminist and queer literary show in the SF Bay.

SARAH PINSKER is the author of over fifty works of short fiction, including the novelette "Our Lady of the Open Road," winner of the Nebula Award in 2016. Her novelette "In Joy, Knowing the Abyss Behind," was the Sturgeon Award winner in 2014. Her fiction has been published in magazines including Asimov's, Strange Horizons, Fantasy & Science Fiction, Lightspeed, and Uncanny and in numerous anthologies and year's bests. Her stories have been translated into Chinese, Spanish, French, and Italian, among other languages, and have been nominated for the Nebula, Hugo, Locus, Eugie, and World Fantasy Awards.Sarah's first collection, Sooner or Later Everything Falls Into the Sea: Stories was published by Small Beer Press in March 2019, and her first novel, A Song For A New Day, was published by Penguin/Random House/Berkley in September 2019.
(5) FUR FRIENDLY. Rolling Stone speculates whether "Will Furries Ever Go Mainstream?" (Hey, they've made it into Rolling Stone, that must count for something.)
…The mainstream media has historically painted furries as sex-crazed, socially maladjusted freaks who enjoy rubbing up against each other in giant bunny costumes. This is essentially false. Like most subcultures, the furry fandom is a largely internet-driven phenomenon, providing a label for a preexisting feeling that has always lived, dormant and unnamed, inside a select number of people. While there is a contingent of furries who do derive sexual pleasure from the subculture, the fanbase is much more broad than that.

Maybe you really liked drawing wolves during eighth-grade homeroom. Maybe you've always felt an inexplicable affinity with Tony the Tiger. Maybe you've long thought it would be rad to buy a $10,000 curvy hippo costume and enter a breakdancing competition. If you fall into any of these categories, then furries are your kind of people, and FurFest the place to unleash the human-sized sergal (a fictional rabbit/shark/wolf amalgam) within. As the voiceover to an intro presentation for FurFest sonorously boomed over a dubstep beat, "You know you are more than a human…now you are the beast that slept inside your mind."

MFF is widely touted as the biggest furry con in the world, and its attendance has increased exponentially in recent years: While the con only saw about 1,000 attendees in 2005, it reported more than 10,900 guests in 2018, and Matt Berger, media relations lead for MFF, estimates that 12,000 were in attendance this year. That's in part due to the increasing number of younger children and their families who are gravitating to furry culture — during my time at Midwest FurFest, I saw children as young as seven attending dance competitions and meet-and-greets accompanied by their parents, having stumbled on the fandom via YouTube or TikTok.

In so keeping with its increasingly family-friendly image, the fandom has become intent on promoting itself as a beacon of acceptance and inclusivity, and MFF is no exception….
(6) KEEPING SCORE. In "Asimov's Empire, Asimov's Wall", Alec Nevala-Lee spotlights Isaac Asimov's epic track record of harassment.
…In the end, however, another number might turn out to be equally meaningful. Over the course of many decades, Asimov groped or engaged in other forms of unwanted touching with countless women, often at conventions, but also privately and in the workplace. Within the science fiction community, this is common knowledge, and whenever I bring it up in a room of older fans, the response is usually a series of nods. The number of such incidents is unknown, but it can be plausibly estimated in the hundreds, and thus may match or exceed the long list of books that Asimov wrote.
(7) BALLARD REDUX. NPR's Jason Heller reports that "There's Heart Amidst The Ruins Of 'The Heap'".
"An unpreserved Vesuvius, an overnight ruin" — that's how Sean Adams describes Los Verticalés, the fictional setting of his engrossing debut novel The Heap. Adams is not speaking figuratively. Los Verticalés, nicknamed The Vert, was once a leviathan 500-story building, erected in the American desert, that housed an entire metropolis' worth of apartments, residents, and businesses. But years ago it suddenly collapsed, leaving a gargantuan pile of rubble and bodies called The Heap. That "overnight ruin" is now surrounded by a loose community of mobile homes called CamperTown, and the denizens of CamperTown dig through the debris, searching for the dead and whatever modest treasure might be salvaged.

One of these Dig Hands, as they're known, has a higher motivation: Orville Anders is the brother of Bernard Anders, a radio personality who is the last known survivor of The Vert's collapse. Bernard, however, is still trapped beneath the rubble, miraculously alive and broadcasting his daily radio talk show from somewhere in the bowels of The Vert's vast corpse. Bernard, living in darkness, subsists on rats and a trickle of water coming down a wall; Orville digs desperately every day in search of his buried-alive, increasingly unstable brother, keeping in touch by calling in to his radio show every day, hoping not only to find Bernard but to strengthen a fraternal bond that's grown frayed and distant over the years. It's a numbing, heartbreaking task, and it's made all the more difficult when Sundial Media — the owner of WVRT, the radio station that Bernard is still technically employed by — saddles Bernard with a moral dilemma: Would he be willing to brand and commercialize his exchanges with his brother as a kind of podcast-meets-reality-show?

Adams' imaginative scope is staggering. The intricately wrought details of The Vert serve as the substructure of The Heap, contained in interstitial chapters that sketch a blueprint of the fallen building as a monument to modern technology as well as a chilling social experiment. The Vert's inner core of apartments comprised the lower classes, since they were isolated from the outside of the building and therefore didn't have windows; in their place, UV screens broadcast moving images of the real world as a kind of analogy of Plato's cave wall. Reality began to warp inside The Vert as friction grew between The Windowed and The Windowless, to the point where the building's physical collapse is symbolic of its civic collapse.
(8) ANOTHER DEMON PRINCE. Matthew Hughes announced he will be writing a sequel to Jack Vance' Demon Princes series.
I've come to an agreement with Jack Vance's son, John, that I will be writing a sequel to Jack Vance's iconic Demon Princes series. A contract is being drawn up.

I'm not an outliner, but I've sketched out an idea for the story: a young person, not sure yet if it's male or female, returns to the world called Providence and the community of Mount Pleasant. This was the site of a slave-taking raid by the five megacriminals known collectively as the Demon Princes, whom Kirth Gersen devoted his life to tracking down and killing.

The returnee has escaped from slavery and come to reclaim the family property – as well as something precious buried there.

But the ghost town has been repopulated by sinister people – I'm thinking maybe a cult or some kind of radical political organization. So my underdog has to undergo trials and tribulations.

I'm very much looking forward to this.
(9) TODAY IN HISTORY.
January 7, 1961 — ITV premiered The Avengers. Original cast was Ian Hendry and Patrick Macnee. Hendry left after the first series; Steed with becoming the primary male character, partnered with a succession of female partners. The series would last for six seasons and one hundred and one episodes. We of course have our favorite female partner but that's not for us to say here. After it ended in 1969, John Steed would be paired with two new partners on The New Avengers, a series that ran for two seasons in the mid-Seventies.
(10) TODAY'S BIRTHDAYS.
[Compiled by Cat Eldridge.]
Born January 7, 1912 — Charles Addams. Illustrator best known for the Addams Family which he first drew in 1932 and kept drawing until his death. Needless to say there has been a number of films using these characters of which The Addams Family is my favorite. (Died 1988.)
Born January 7, 1924 — Eugene Lee Coon. Showrunner on Trek for much of the first and second seasons. Responsible in some part for thirteen scripts for the show. Outside of this show, he had little in the genre save writing one episode each of The Wild Wild West and The Immortal, and later scripting The Questor Tapes. (Died 1973.)
Born January 7, 1926 — Graham Stone. Australian fan, bibliographer, collector, and small press publisher. Founder of the Australian Science Fiction Society and member, as well, of the Futurian Society of Sydney. He wrote with his co-author Royce Williams, Zero Equals Nothing. Winner of an A. Bertram Chandler Award. (Died 2013.)
Born January 7, 1928 — William Peter Blatty. Novelist and screenwriter best known for The Exorcist though he was also the same for Exorcist III. The former is by no means the only genre work that he would write as his literary career would go on for forty years after this novel and would include Demons Five, Exorcists Nothing: A Fable which he renamed Demons Five, Exorcists Nothing: A Hollywood Christmas Carol and The Exorcist for the 21st Century, his final work. (Died 2017.)
Born January 7, 1950 — Erin Gray, 70. She's best known as Colonel Wilma Deering Buck Rogers in the 25th Century series. Would it surprise you that she shows up in as Commander Grey in Star Trek Continues, one of those video Trek fanfics
Born January 7, 1955 — Karen Haber, 65. Wife of Robert Silverberg. I fondly remember reading her Meditations on Middle Earth anthology. And the three Universe anthologies she did with her husband are most excellent. I don't remember reading any of her novels but that's hardly a certainty that I didn't as even when my memory was a lot better than it is now I hardly remembered all the genre fiction I read.
Born January 7, 1957 — Nicholson Baker, 63. Ok ISFDB lists him as having two SFF novels, The Fermata and House of Holes. The Wiki page him lists those as being two out of the three erotic novels that he's written. Not having read them, are they indeed erotic SFF? I see that ESF say they're indeed SFF and yes are erotic. H'h.
Born January 7, 1961 — Mark Allen Shepherd, 59. Morn, the bar patron on Deep Space Nine. Amazingly he was in Quark's bar a total of ninety-three episodes plus one episode each on Next Gen and Voyager. Technically he's uncredited in almost all of those appearances. That's pretty much his entire acting career. He's also an abstract painter whose work was used frequently on DS9 sets.
Born January 7, 1966 — Heidi Elizabeth Yolen Stemple, 54. Daughter of Jane Yolen, sibling of Adam Stemple. She and Yolen co-wrote the Mirror, Mirror: Forty Folktales for Mothers and Daughters to Share anthology. ISFDBsays they did two chapbooks as well, A Kite for Moon and Monster Academy.
Born January 7, 1971 — Jeremy Renner, 49. You know him as Hawkeye in those MCU films but he's also in a number of other SFF film including Hansel and Gretel: Witch Hunters, Mission: Impossible – Ghost Protocol, Mission: Impossible – Rogue Nation and Arrival.
Born January 7, 1980 — Tom Harper, 40. Director of such British series as Demons, Misfits and Philip K. Dick's Electric Dreams. He's also done some SFF film work such as The Woman in Black: Angel of Death and The Borrowers.
Born January 7, 1983 — Ruth Negga, 37. She was Raina in Agents of S.H.I.E.L.D. but she left that show as she got a leading role being Tulip O'Hare in the Preacher series. She was also Nikki in Misfits, Queen Taria In Warcraft and a WHO Doctor In World War Z.
(11) COMICS SECTION.
Bizarro suggests one of Stan Lee's mottos was a bit naïve.
Grant Snider's Incidental Comics is about Beginning,
(12) YOUTH WANTS TO KNOW. SYFY Wire's Ryan Britt pinpoints "The moment when Picard became more important than Kirk in Star Trek history".
Who is the most popular Star Trek captain of all time? This age-old — and extremely fraught — Trekkie debate has arguably been settled. The impending release of Star Trek: Picard seems to prove that, overwhelmingly, fans love Captain Jean-Luc Picard more than any other Trek captain ever. Yes, hardcore Trekkies will tell you they celebrate all captains equally (even Scott Bakula), but the zeitgeist seems to tell a different story.

We love Picard a lot, and surely, we love him more than Captain James T. Kirk. This wasn't always the case, but we've been living in a Picard-first world for a long time now. Here's when it happened….
(13) WONDER WOMAN. The Warner Bros. UK Twitter account has dropped four pics from the upcoming June 5 release Wonder Woman 1984: "Travel back to 1984 with these new stills from #WW84." They include scenes set both on The Mall and in a mall.
(14) CELEBRITY BECKONS. Food & Wine sends word — "The Oscar Mayer Wienermobile Is Looking for Drivers". "Want to spend a year traveling around in a giant hot dog? Never mind. We know the answer."
Apply here — "Hotdoggers Wanted".
Who? – You! We need outgoing, creative, friendly, enthusiastic, graduating college seniors who have an appetite for adventure and are willing to see the country through the windshield of the Oscar Mayer Wienermobile. Applicants should have a BA or BS, preferably in public relations, journalism, communications, advertising, or marketing, though applicants are not limited to these degrees.
(15) MYSTERY CATS 3K. In the Washington Post, Maura Judkis listens to readers who say they saw CATS after consuming pot, mushrooms, acid, poppers, and other illicit substances (not simultaneously). "People are seeing 'Cats' while high out of their minds. These are their stories."
Anneliese Nielsen, who owns a cannabis brand in Los Angeles, used a strain of weed calibrated for relaxation, but found herself unable to relax in a dark theatre illuminated by the ghastly cat face of Corden. 'I'm 35 and announced, 'I'm scared!' to my fellow moviegoers at least seven times,' says Nielsen, who called the film 'a special kind of evil.'

The Alamo Drafthouse chain has special 'rowdy' showings of CATS where patrons are encouraged to consume adult beverages and loudly comment on the film.
(16) ONE SMALL STEP? BBC reports "Facebook to ban 'deepfakes'".
Facebook has announced it will remove videos modified by artificial intelligence, known as deepfakes, from its platform.

Deepfakes are computer-generated clips that are designed to look real.

The social media company said in a blog that these videos distort reality and present a "significant challenge" for the technology industry.

While deepfakes are still relatively uncommon on the internet, they are becoming more prevalent.

AI software creates deepfakes of people – often politicians or celebrities – by merging, replacing, or superimposing content on to a video in a way that makes it look real.

Facebook said it would remove videos if it realised they had been edited in ways that weren't obvious to an average person, or if they misled a viewer into thinking that a person in a video said words they did not actually say.

"There are people who engage in media manipulation in order to mislead," wrote Monika Bickert, vice president of global policy management at Facebook in the blog.

Facebook staff and independent fact-checkers will be used to judge a video's authenticity.
(17) VIDEO OF THE DAY. "Looney Tunes–Behind The Lines: A Conversation With Tex Avery" on YouTube is an interview with the great animator Tex Avery that is undated, but probably from the late 1970s.
[Thanks to JJ, Martin Morse Wooster, Cat Eldridge, Andrew Porter, N., Mike Kennedy, John King Tarpinian, Olav Rokne, and Chip Hitchcock for some of these stories. Title credit goes to File 770 contributing editor of the day Daniel Dern.]