(1) THE WAY THEY DO IT DOWNTOWN. Nisi Shawl celebrated a rare moment on Facebook:
My name on a book ad in Times Square! I feel like in that Stevie Wonder song: "New York! Just like I pictured it–skyscrapers an everything!" The Black Stars anthology is now blasting way past cool…
(2) GROWING PAINS. Alyx Dellamonica tells how to diagnose "Is my short story really a novel idea?"
Does it make sense to keep working on short fiction, with the idea of developing my writing skills before moving on to a novel? How do you know when one of your own ideas will be a short story or a novel??

These are two great and related questions that I get a lot, and I have a lecture-length answer to should I work on short fiction before tackling novels? at Clarkesworld, home of several of my writing craft essays as well as a novelette called "The Immolation of Kev Magee."

What about the second question, though–what do you do if you've started writing a story, and now you think it might actually be a novel?

This is an issue that comes up a lot when you're workshopping. What happens in those cases is that your readers notice that you have a lot going on in the story you've submitted. Like, a lot: lots of characters, lots of complexity within the world you've built, maybe even multiple story threads. You've alluded to a dozen or more incredibly interesting things and none of them feels fully realized, and several readers are calling for you to expand each and every one of those elements. But you're already pushing 7,500 words!…
(3) NOT BURMA BUT TIBET. "Shaving the Yak — such is life. How do you live your truth in a system…" Marianne de Pierres ponders the answer at Medium.
If someone asked me to reflect on my life, I'd probably say something like "yeah, I'm the woman who missed the moments." I watched Veronica Mars for the first time in 2017, The OC in 2020, drank my first red wine when I was 50, and learned the meaning of "Shaving the Yak" when I was 60.

Being late to the party is kind of my tribute song. Annoyingly, it means there's no one to hoot and holler with, about what you're just discovering/crushing on.

Also, I regularly feel slightly… well… dumb.

So this week I heard the expression "shaving the yak" for the first time. A very polite gentleman I was interviewing, explained to me that it meant wanting to solve a problem, but running into a bunch of other problems you have to navigate, to get to the thing you want to do. It first got wings after a Ren and Stimpy show in the early 2000s. And for those of you that prefer a visual cue, here's Hal doing it in Malcolm in the Middle, circa 2001….
(4) Q&A WITH BETSY WOLLHEIM. On YouTube, "An Interview with Betsy Wollheim: President, co-Publisher, and co-Editor-in-chief of DAW Books."
Betsy Wollheim gives us insight into her nearly fifty years of experience in the publishing industry, highlighting her work with author Kristen Britain and the "Green Rider" series.
(5) MILES AND MILES. Book Riot's Laura Sackton uses Bujold's Vorkosigan series as the text to discuss "What Makes a Great Long-Running Series?"
… At 34, I was a very different reader than I was at 15, when I first read Shards of Honor. Sure, the series has its flaws. The vast majority of sci-fi published the 1980s has flaws. And I'm not going to pretend that I can be objective about it, because I have a deep emotional connection to the world and its characters. But what struck me, on this most recent reread, was how well the series stands up. I was consistently impressed with Bujold's mastery of the series as a form. I picked up on small details I hadn't noticed before. I started to paying attention to the way Bujold plots each novel and to how each book connects to the others. I noticed patterns. Certain things started to jump out at me: how the books end, the ways the characters change over time, the many different kinds of stories contained in the series as a whole….
(6) MEMORY LANE.
1974 – Forty-seven years ago this evening on ABC, Kolchak: The Night Stalker first aired. It was preceded by The Night Stalker and The Night Strangler films, both written by Richard Matheson. It was created by Jeff Rice who Mike has some thoughts about here. As you know it has a small cast consisting of Darren McGavin, Simon Oakland, Jack Grinnage and Ruth McDevitt. It has become a cult favorite which currently carries a not surprising ninety-four percent rating among audience reviewers at Rotten Tomatoes but it was a Nielsen ratings failure and only lasted one season of twenty episodes before being cancelled. Chris Carter who credits the series as the primary inspiration for The X-Files wanted McGavin to appear as Kolchak in one or more episodes of that series, but McGavin was unwilling to reprise the character for the show. He did appear on the series as retired FBI agent very obviously attired in Kolchak's trademark seersucker jacket, black knit tie, and straw hat.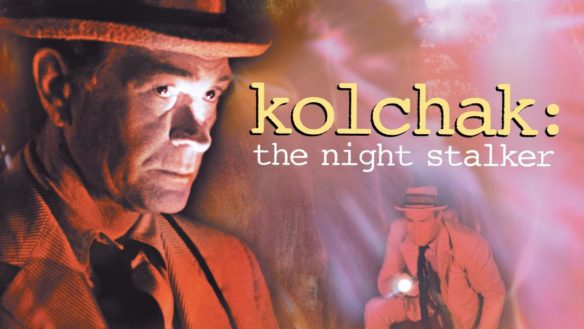 (7) TODAY'S BIRTHDAYS.
[Compiled by Cat Eldridge.]
Born September 13, 1916 — Roald Dahl. Did you know he wrote the screenplay for You Only Live Twice? Or did he hosted and wrote for a sf and horror television anthology series called Way Out which aired before The Twilight Zone for a season? He also hosted the UK Roald Dahl's Tales of the Unexpected.  My favorite Dahl work is The BFG. What's yours? (Died 1990.)
Born September 13, 1931 — Barbara Bain, 90. She's most remembered for co-starring in the original Mission: Impossible television series in the 1960s as Cinnamon Carter, and Space: 1999 as Doctor Helena Russell.  Her first genre role was as Alma in the "KAOS in CONTROL" episode of Get Smart! She was active as of last year as showed in the Space Command series as Auut Simone in the "Ripple Effect" episode. 
Born September 13, 1939 — Richard Kiel. He's definitely  best remembered  for being the steely mouthed Jaws in The Spy Who Loved Me and Moonraker. Now let's see what other SFF films he's been in…  One of his last credits was voicing Vlad in the animated Tangled. He was The Salorite in The Phantom Planet, Eegah in the low budget horror film Eegah,  a giant in House of the Damned, Dr. Kolos in The Human Duplicators, a Psychiatric Hospital Patient in Brainstorm, Bolob in the Italian L'umanoide, internationally released as The Humanoid, and he reprised his Jaws character in Inspector Gadget. Series wise, he's shown up in The Man from U.N.C.L.E., Twilight Zone, Kolchak: The Night Stalker, The Wild Wild West (where he worked in a recurring role with Michael Dunn as Dr. Miguelito Loveless), I Dream of Jeannie, Gilligan's Island, Land of The Lost and Superboy. (Died 2014.)
Born September 13, 1944 — Jacqueline Bisset, 77. I never pass up a Bond performance and so she's got on the Birthday Honors by being Giovanna Goodthighs in Casino Royale even though that might have been one of the dumbest character names ever. As near as I can tell, until she shows up in as Charlotte Burton in the "Love the Lie" episode of the Counterpart series that's her entire encounter with genre acting. Genre adjacent, she appeared in the Albert Finney fronted Murder on the Orient Express as Countess Helena Andrenyi. 
Born September 13, 1947 — Mike Grell, 74. He's best known for his work on books such as Green Lantern/Green Arrow, The Warlord, and Jon Sable Freelance. The Warlord featuring Travis Morgan is a hollow Earth adventure series set in Skartaris which is a homage to Jules Verne as Grell points out "the name comes from the mountain peak Scartaris that points the way to the passage to the earth's core in Journey to the Center of the Earth. Theanimated Justice League Unlimited "Chaos at the Earth's Core" episode made use of this story. 
Born September 13, 1960 — Bob Eggleton, 61. He's has been honored with the Hugo Award for Best Professional Artist eight times! He was guest of honor at Chicon 2000. There's a reasonably up to date look at his artwork,  Primal Darkness: The Gothic & Horror Art of Bob Eggleton  which he put together in 2010 and was published by Cartouche Press.
Born September 13, 1961 — Tom Holt, 60. Assuming you like comical fantasy, I'd recommend both Faust Among Equals and Who Afraid of Beowulf? as being well worth time. If you madly, deeply into Wagner, you'll love Expecting Someone Taller; if not, skip it. His only two Awards are a pair of World Fantasy Awards, both for novellas, "A Small Price to Pay for Birdsong" and "Let's Maps to Others". And yes, I know that he also publishes under the K. J. Parker name as well but I won't go into the works he publishes there here. 
Born September 13, 1974 — Fiona Avery, 47. Comic book and genre series scriptwriter. While being a reference editor on the final season of Babylon 5, she wrote "The Well of Forever" and "Patterns of the Soul" as well as two that were not produced, "Value Judgements" and "Tried and True". After work on the Crusade series ended, she turned to comic book writing, working for Marvel and Top Cow with J. Michael Straczynski's Rising Stars series being another place where her scripts were used. She created the Marvel character Anya Sofia Corazon later named Spider-girl. She did work on Tomb Raider, Spider-Man, X-Men and Witchblade as well.
(8) COMICS SECTION.
The Far Side shows the Scarecrow's plans to be another Lincoln will have to be postponed.
The Argyle Sweater has an Oz-themed joke of its own involving Dorothy.
(9) SEE YOU AT THE RBEM. Wauke-Con – Waukegan's First Comic Book Convention — will be at the Ray Bradbury Experience Museum on October 16 and 17 at the Ray Bradbury Experience Museum, located at lucky 13 N. Genesee, from 12-6 both days. Buy a ticket here.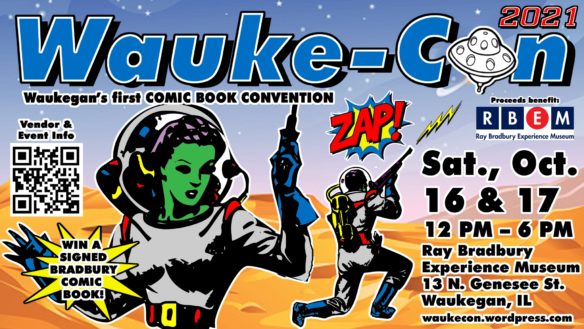 (10) HAWKEYE TRAILER. Disney+ shares a look at Marvel Studios' Hawkeye.
Disney+ and Marvel Studios invite you on an unexpected holiday getaway, unwrapping a brand-new teaser trailer and poster today for "Hawkeye," a new series set in post-blip New York City. Former Avenger Clint Barton has a seemingly simple mission: get back to his family for Christmas. Possible? Maybe with the help of Kate Bishop, a 22-year-old archer with dreams of becoming a Super Hero. The two are forced to work together when a presence from Barton's past threatens to derail far more than the festive spirit.
(11) FORBIDDEN ADDRESS. Powell's Books presents "Caitlin Starling in Conversation With Wendy N. Wagner" on October 6 at 5:00 p.m. Pacific. Register for the free Zoom webinar here.
From Bram Stoker-nominated Caitlin Starling, author of The Luminous Dead, comes The Death of Jane Lawrence (St. Martin's), a new gothic fantasy horror novel. Practical, unassuming Jane Shoringfield has done the calculations, and decided that the most secure path forward is this: a husband, in a marriage of convenience, who will allow her to remain independent and occupied with meaningful work. Her first choice, the dashing but reclusive doctor Augustine Lawrence, agrees to her proposal with only one condition: that she must never visit Lindridge Hall, his crumbling family manor outside of town. Yet on their wedding night, an accident strands her at his door in a pitch-black rainstorm, and she finds him changed. Gone is the bold, courageous surgeon, and in his place is a terrified, paranoid man — one who cannot tell reality from nightmare, and fears Jane is an apparition, come to haunt him. By morning, Augustine is himself again, but Jane knows something is deeply wrong at Lindridge Hall, and with the man she has so hastily bound her safety to. Set in a dark-mirror version of post-war England, Starling crafts a new kind of gothic horror from the bones of the beloved canon. This Crimson Peak-inspired story assembles, then upends, every expectation set in place by Shirley Jackson and Rebecca, and will leave readers shaken, desperate to begin again as soon as they are finished. Starling will be joined in conversation by Wendy N. Wagner, editor of Nightmare magazine and author of An Oath of Dogs.
(12) MUCHO MOOLA FOR WOOLLY BULLY. Slashdot reports a "Firm Raises $15 Million To Bring Back Woolly Mammoth From Extinction". How much to bring back two?
… The scientists have set their initial sights on creating an elephant-mammoth hybrid by making embryos in the laboratory that carry mammoth DNA. The starting point for the project involves taking skin cells from Asian elephants, which are threatened with extinction, and reprogramming them into more versatile stem cells that carry mammoth DNA….
(13) B5 DREAMING. Add this to your list of rumors of SF series reboots/sequels. Make of it what you will.
[Thanks to JJ, Michael Toman, John King Tarpinian, Joyce Scrivner, Dann, Steven H Silver, Marc Criley, Cat Eldridge, Mike Kennedy, Andrew Porter, and Martin Morse Wooster for some of these stories. Title credit belongs to contributing editor of the day Brian Z.]