(1) ACTION IS YOUR REWARD! [Item by Chuck Serface.] The next issue of The Drink Tank is dedicated to all things Spider-Man. We're looking for articles, artwork, fiction, poetry, photography, or whatever you'd like to share about Peter Parker, Miles Morales, Ben Reilly, Spider-Woman, Ghost-Spider, Silk, Venom, Carnage, or others throughout the Spider-Verse from comics, films, television, and beyond. The deadline is August 25, 2023. Send submissions to Chris Garcia at [email protected] or to Chuck Serface at [email protected].
(2) SUPPORT STARMEN. Author Francis Hamit, a longtime File 770 contributor, has launched a Kickstarter appeal for his novel Starmen. Jacqueline Lichtenberg has these words of praise for it: "I read the manuscript of this book. As is all of Hamit's work, it is engrossing, well-paced, easily readable storytelling. But the mixture of history, imagination, and insightful extrapolation doesn't fit current commercial genre formulae. Notably, even after years, I recall many vivid images from the book that should be set pieces from an Indiana Jones movie."
Every donor gets the E-book Edition for a dollar, and there are additional perks for other contribution levels. What's it about?
It's a detective story that begins at the El Paso office of the Pinkerton National Detective Agency in 1875. That also makes it historical. A huge balloon arrives with a group from the British Ethnographic Society. With them is George James Frazer, a young academic from Cambridge who wants to study the Apaches. The balloon is commanded by Rose Green, a beautiful young woman who is the daughter of Confederate secret agent Rose Greenhow. The balloon is surveying for minerals and is a threat to the USA and the Apaches and Mexico. A young Apache boy working for Pinkerton's becomes Frazer's guide. He says that Apache witches can fly…and later proves it by flying himself! The balloon intrudes on a sacred place and its crew encounters multiple troubles but Frazer, left with the Apaches, almost becomes one of them. Pinkerton's is hired to find the balloon and the missing heir to a wealthy Chicago family. Two detectives, one of them newly hired and suspected of being an agent of the Confederate government in exile in Britain, go in search of the heir. Their journey takes them to a curious small town taken over by a hotelier whose customers come from far away; very far away. Famous gunfighters are one of the amusements provided with showdowns and barfights every day. The Strangers win every fight. The missing heir has been arrested for killing a Stranger in a bar fight. He cannot buy his way out of it and appeals to the detectives for help. There are also romantic, magical subplots.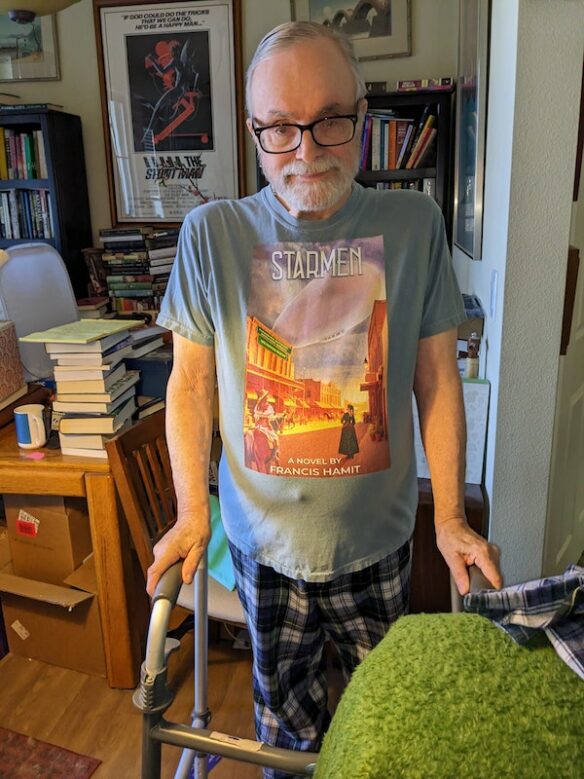 (3) INTERVIEW WITH CHINA FAN RIVERFLOW. [Item by mlex.] Emad Aysha of the Egyptian Science Fiction Society just posted an interesting interview with RiverFlow, editor of an online SF zine in China, Zero Gravity Newspaper: "The Sci-Fi Overflow – From China's Fanzines and Moviemakers to a World in Waiting" at The Liberum. This provides some more context to fandom in China on the eve of Worldcon Chengdu.
Please introduce yourself.
"My name is RiverFlow. I have been organising the historical materials of Chinese university sci-fi clubs and fanzines, Chinese fandom.

I first came to know the concept of sci-fi writing after reading an introduction article by Baoshu(宝树) in the Chinese literary magazine "Literary Style Appreciation"(《文艺风赏》). In 2019, when I was searching for science and technology information on the official website of "Global Science magazine"(《环球科学》), I inadvertently turned to Liu Cixin's Ball Lightning(《球状闪电》) and began to create some sci-fi practice works, but only conversational, and I did not write after eight novels.

At that time, I had a severe stomach illness, so I wrote novels and poems to relax my mind, and at that time the pen name was "Running RiverFlow"(奔腾的河流). In May 2020, with the help of Chinese science fiction researcher Sanfeng(三丰), I started to contact the Chinese sci-fi circle, began to organise the historical data of the Chinese sci-fi fan community, and interviewed more than 80 Chinese sci-fi practitioners.

There was no same work in China in the past, and a group of sci-fi fans in "zero gravity"(零重力科幻)who gave me a lot of comfort and support during the process of my illness, so I wanted to do something for them, and I did not expect to do it now. I am an entry member of the "Chinese science fiction database"(中文科幻数据库), so I have been exposed to this article a lot, and the concept of science fiction writers is a little unsympathetic….
(4) MEET EGYPTIAN SF AUTHOR EMAD AYSHA. [Item by Mlex.] For those interested in SF in the Arab Muslim world and Eqypt, there is also a recent interview that I conducted with Emad Aysha for Diamond Bay Radio: "Arab and Muslim SF with Emad Aysha".
An interview with Dr. Emad Aysha, author and member of the Egyptian Society for Science Fiction.

Emad introduces Arab and Muslim Science Fiction: Critical Essays, a major survey of the genre, which he co-edited with Dr. Hosam El-Zembely (McFarland, 2022)

The vast range of this book is stunning. It covers 45 contributors, 29 countries, 4 continents, and many languages. Biographical notes and photos: PDF. Complete publication details.

Emad also describes the popular science fiction and fantastic pulps that crowded the news stands of Egypt in the 1990s, and their main authors, Nabil Farouk and Ahmed Towfik.

Fantasy? Futurism? Dystopia? The science fiction of the greater Arab and Muslim world is a dimension in creativity that is little known in the English speaking world. Join us to find out about the multi-layered cultures, religions, and imaginary altered states that stretch from desert… to mountain… to archipelago.
(5) PITCH IN. Kameron Hurley issued an appeal for help funding her dog's vet care. (Lovely photo at the link.)
Indy the saint bernard is in a bad way and spouse has covid and we're flat broke, so if you can spare a couple bucks for the emergency vet on this hell timeline we'd all appreciate it
Transmit funds vis PayPal or venmo Kameron-Hurley.
(6) THE FAITH OF THE EXORCIST. "William Friedkin's Movie 'The Exorcist' Understands Old-Time Catholicism", an opinion piece in the New York Times by Matthew Walther, editor of The Lamp, a Catholic literary journal.
It is one of those strange accidents of history that the best film ever made about the Roman Catholic Church was directed by a Jewish agnostic. The career of William Friedkin, who died on Monday at 87, spanned seven decades, but to the end of his life, his best-known picture remained "The Exorcist," a horror movie from 1973 about a demonically possessed girl whose mother enlists two Catholic priests to save her.

Despite the fact that Mr. Friedkin repeatedly acknowledged the essentially religious nature of the film, "The Exorcist" continues to be regarded, like his other signature movie, "The French Connection," as a genre picture — a very well-crafted one, to be sure — rather than what it really is: an art film premised on the idea that the claims the Catholic Church makes for itself are true — not in some loose metaphorical sense but literally….

It appears that throughout his life Mr. Friedkin remained interested in demonic possession. In his old age he befriended Father Gabriele Amorth, a priest who served for many years as an exorcist in the Diocese of Rome and who allowed Mr. Friedkin to film an actual exorcism. In an interview in 2018, Mr. Friedkin was asked about his own religious beliefs. "I don't know anything," he said, "but neither does anyone else. No one knows anything about the eternal mysteries, how we got here, why we're here, is there an afterlife. Is there a heaven and a hell? Who knows?"…
(7) SAN FRANCISCO'S DOWNWARD SPIRAL CONTINUES. "Owner giving up 2 big S.F. hotels now expects city's recovery to take up to 7 years" reports the SF Chronicle. One of them – the Parc 55 – is where I stayed during the 1993 Worldcon.
Park Hotels & Resorts gave up two of the biggest hotels in San Francisco in a "difficult but necessary decision" that reflected a plunge in bookings and a pandemic recovery expected to take far longer than expected.

In an earnings call Thursday, CEO Thomas Baltimore elaborated on June's announcement that the company would stop mortgage payments on a $725 million loan due in November for the 1,024-room Parc 55 and 1,921-room Hilton San Francisco Union Square, the city's largest hotel.

…Park Hotels joins an exodus of investors and retailers from the hard-hit Powell Street and Union Square area, a critical tourism district and shopping hub. Westfield is giving up its namesake mall two blocks from Parc 55, where Nordstrom is preparing to close its store at the end of the month after 35 years in business. Saks Off Fifth and Old Navy have also shuttered within a block. Still, some luxury retailers are expanding in the area.…
(8) TODAY'S BIRTHDAYS.
[Compiled by Cat Eldridge.]
Born August 12, 1894 — Dick Calkins. He's best remembered for being the first artist to draw the Buck Rogers comic strip. He also wrote scripts for the Buck Rogers radio program. Buck Rogers in the 25th Century, The Complete Newspaper Dailies in three volumes on Hermes Press collects these strips. (Died 1962.)
Born August 12, 1881 — Cecil B. DeMille. Yes, you think of him for such films as Cleopatra and The Ten Commandments, but he actually did some important work in our genre. When Worlds Collide and War of The Worlds were films which he executive produced. (Died 1959.)
Born August 12, 1921 — Matt Jefferies.He's best known for his work on the original Trek where he designed much of the sets and props including the Starship Enterprise, the Klingon logo, and the bridge and sick bay. The Jefferies tubes are named after him. (Died 2003.)
Born August 12, 1931 — William Goldman. Writer of The Princess Bride which he adapted for the film. Wrote the original Stepford Wives script and King's Hearts in Atlantis and Misery as well. He was hired to adapt "Flowers for Algernon" as a screenplay but the story goes that Cliff Robertson intensely disliked his screenplay and it was discarded for one by Stirling Silliphant that became Charly. Not genre at all, but he won an Academy Award for his Butch Cassidy and the Sundance Kid screenplay. (Died 2018.)
Born August 12, 1947 — John Nathan-Turner. He produced Doctor Who from 1980 until it was cancelled in 1989. He finished having become the longest-serving Doctor Who producer and cast Peter Davison, Colin Baker and Sylvester McCoy as the Fifth, Sixth and Seventh Doctors. Other than Who, he had a single production credit, the K-9 and Company: A Girl's Best Friend film. He wrote two books, Doctor Who – The TARDIS Inside Out and Doctor Who: The Companions. He would die of a massive infection just a year before the announcement the show was being revived. (Died 2002.)
Born August 12, 1957 — Elaine Cunningham, 66. She's best known for her work on Dungeons & Dragons, creating the campaign setting of Forgotten Realms, including the realms of Evermeet, Halruaa, Ruathym and Waterdeep. She's also wrote The Changeling Detective Agency series as well as a Star Wars novel, Dark Journey.
Born August 12, 1960 — Brenda Cooper, 63. Best known for her YA Silver Ship series of which The Silver Ship and the Sea won an Endeavour Award, and her Edge of Dark novel won another such Award. She co-authored Building Harlequin's Moon with Larry Niven, and a fair amount of short fiction with him. She has a lot of short fiction, much collected in Beyond the WaterFall Door: Stories of the High Hills and Cracking the Sky. She's well-stocked at the usual suspects.
(9) COMICS SECTION.
Tom Gauld delivers a few blood drops of truth from Dracula.
(10) SUPER ORIGINALS. You will believe a man can fly – if he's thrown by another pro wrestler. Literary Hub's Paul Martin takes a long look back "On the Men Who Lent Their Bodies (and Voices) to the Earliest Iterations of Superman".
On a Friday night in May 1942, the Shadowland Ballroom in St. Joseph, Michigan, hosted a match between Karol Krauser, a Polish wrestler, and Gorilla Grubmyer. Grubmyer was an ugly man with cauliflower ears, and he had a habit of eye-gouging. Krauser was, as the local paper noted a few weeks before, "the poor girls' Robert Taylor in a G-string"—in other words, a gentleman-hero. "Karol is a champion, and wrestles like one. He refuses to stick his tongue out at the referee, won't bite very hard, and deplores amateur histrionics." He was also the model for Superman.

To be more specific, he was the model for the version of Superman that appeared in a series of cartoons made by the Fleischer Studios in Miami. It's not clear when he posed for the studio team, but it was probably during the previous summer, when he was performing in matches at the city's Tuttle Arena, one of them a battle royale in which he and eight other wrestlers hurled each other at a 500-pound black bear….
(11) KGB. Ellen Datlow has posted her photos from the August 9 Fantastic Fiction at KGB where C.S.E. Cooney and Steve Berman graced the audience reading their work.
(12) CRUNCHY BITS. "Nevada's Extraterrestrial Highway Is Full of Earthly Wonders, Too" promises Atlas Obscura.
Driving Through an Interstellar Impact Event

…Leif Tapanila, paleontologist and director of the Idaho Museum of Natural History, has spent years studying the area's desert, craggy hills, and mountain peaks of tan and brown. He can read the rocks like the pages of a tattered novel, and says visitors driving the Extraterrestrial Highway looking for evidence of alien invaders are surrounded by it—only they're about 380 million years too late.

The best place to see evidence of what Nevada was like during this period is about 13 miles west of the town of Crystal Springs, where an unmarked turnoff takes you about a quarter-mile to the base of a wedge-shaped hill. Here, tilted layers of pale limestone are interrupted by a thicker gray section, the telltale pattern of a marine environment disrupted by a catastrophic event.

"The whole area was a shallow sea. It would have looked like the Bahamas, warm and tropical with all sorts of underwater life," says Tapanila. In an instant, a space rock estimated to be at least a mile wide slammed into the teeming waters of Nevada's Devonian Period. The massive meteor strike sent shockwaves across the sea, creating megatsunamis as tall as 1,000 feet. Geologists estimate that the monstrous waves carried debris across 1,500 square miles, an expanse nearly the size of Rhode Island.

The destructive event, known as the Alamo Impact, scattered countless organisms and tons of sediment. The rocks along Route 375 contain fossilized sponges, corals, fish, and a cement-like rock conglomerate known as breccia that formed from the heat of the impact. …
VIDEO OF THE DAY. Ryan George (both of them) bring us "Secret Invasion Pitch Meeting".
Disney and Marvel Studios have been absolutely churning out content in the past few years with a ton of shows hitting their streaming service Disney+. Secret Invasion has come out after a deluge of other superhero shows and people seem to be… tired of this? Secret Invasion definitely raises some questions. Like why didn't the show play more with the mystery of who is a Skrull and who isn't? Why doesn't Nick Fury call the Avengers? If this fight is so personal, why doesn't he actually fight it? How are all the powers in the final fight even being used? To answer all these questions, check out the pitch meeting that led to Secret Invasion!
[Thanks to Andrew Porter, John King Tarpinian, Chris Barkley, mlex, Chuck Serface, Steven French, Michael Toman, Cat Eldridge, SF Concatenation's Jonathan Cowie, and Mike Kennedy for some of these stories. Title credit belongs to File 770 contributing editor of the day jayn.]