(1) THE PRIZE. Mark Lawrence came up with something incredibly logical and hilarious at the same time —  "The SPFBO now has an award!"
The Self-Published Fantasy Blog-Off now comes with its own award. The fabulous and coveted Selfie Stick!
There are several illustrative photos with highly amusing captions at the link.
(2) SFWA HUMBLE BUNDLE. It's a brand name, otherwise you'd probably wonder why it's given to what might be the least humble bundle ever – Super Nebula Author Showcase – with 40 books and 31 short stories. And the works in the bundle generally are either Nebula winners or nominees, or by the authors of other Nebula-nominated work.
Doorways by George R.R. Martin, Venus Prime by Arthur C. Clarke, Reading the Bones by Sheila Finch, Howard Who? by Howard Waldrop (includes winner, "The Ugly Chickens"), The Healer's War by Elizabeth Ann Scarborough, Stranger Things Happen by Kelly Link (includes winner, "Louise's Ghost"), Phoenix Without Ashes by Harlan Ellison (winning author), and Ad Astra: The 50th Anniversary SFWA Cookbook edited by Cat Rambo.
Pay $8 or more and also unlock:
Word Puppets by Mary Robinette Kowal, Shadow Show: Stories In Celebration of Ray Bradbury, Her Husband's Hands and Other Stories by Adam-Troy Castro, Robot Dreams by Isaac Asimov, Yesterday's Kin by Nancy Kress, The Last Temptation by Neil Gaiman, Inside Job by Connie Willis, The Baum Plan for Financial Independence by John Kessel (includes winner, "Pride and Prometheus"), Sister Emily's Lightship by Jane Yolen, The Jagged Orbit by John Brunner, The Cloud Roads by Martha Wells, and 2013 Nebula Awards Showcase.
Pay $15 or more and unlock
Conservation of Shadows by Yoon Ha Lee, The Doors of His Face, the Lamps of His Mouth by Roger Zelazny, The Very Best of Fantasy & Science Fiction Vol. II, Frank Herbert Unpublished Stories by Frank Herbert, Everything But the Squeal by John Scalzi, Fountain of Age by Nancy Kress, Moving Mars by Greg Bear, The Salt Roads by Nalo Hopkinson, Deathbird Stories by Harlan Ellison, and Archangel #1 – #4 (4 issues included) by William Gibson.
Pay $20 or more to unlock
Mechanique: A Tale of the Circus Tresaulti by Genevieve Valentine, Kabu Kabu by Nnedi Okorafor, The Computer Connection by Alfred Bester, Burn by James Patrick Kelly, First Person Peculiar by Mike Resnick, At the Mouth of the River of Bees by Kij Johnson, Report to the Men's Club by Carol Emshwiller (includes winner, "Creature"), What I Didn't See by Karen Joy Fowler, Babel-17 by Samuel R. Delany, and Bloodchild by Octavia E. Butler.
And wait, there's more!
FREE: Read 31 short stories by the 2016 Nebula Nominees!
Love short stories? Bonus stories for Humble Bundle buyers: 31 short stories by the 2016 Nebula Nominees on the Great Jones Street app.
(3) UP A LAZY RIVER. Are we supposed to be shocked that Amazon has added a strategy for selling gently-used books? Publishers Weekly has learned some are scandalized by this one — "New Amazon Buy Button Program Draws Ire of Publishers, Authors".
A new program from Amazon is drawing a range of reactions from those across the publishing industry, from fear to downright anger. The e-tailer has started allowing third-party book re-sellers to "win" buy buttons on book pages. The program, publishers, agents, and authors allege, is discouraging customers from buying new books, negatively affecting sales and revenue.

Up until now, the buy button on book pages automatically directed customers to new copies of titles Amazon stocked from the publishers. Now, re-sellers can win a buy button by meeting various criteria outline by Amazon which includes the price, availability, and delivery time. The program is also only open to books in new condition.

Those objecting to this policy say it is allowing Amazon to deprive publishers of sales and authors of royalties. (Because re-sellers are not buying their copies from publishers, these sales will not be counted as sales, and money derived from them will not go to publishers or authors.)
(4) DEFENDING AMAZON. New Republic also carried the ball for those with a negative viewpoint about Amazon's policy, "Amazon Steps Up Its Battle With the Book Industry", which inspired the wrath of Max Florschutz. He thought it was so outrageous he borrowed a page from Larry Correia's playbook and set about "Fisking an Anti-Amazon Article From the New Republic" .
After the news that Amazon had begun allowing third-party sellers to "win" the buy button, it strongly condemned the company. "Without a fair and open publishing marketplace, publishers will soon lose the ability to invest in the books that advance our knowledge and culture," it said in a statement.

Hogwash and claptrap. This is how a "fair and open" market works. Companies are allowed to sell a product on their shelves at as low a price as they want. If they bought a book from the publisher but sell it at a lower mark-up than the publisher does, that's their right. To insist that the opposite, which would be establishing a fixed price that all books had to be sold at would be "fair and open" is lunacy. That'd be the opposite: It'd be price fixing, which the big publishers were already found guilty of once befo—Oh.

Many publishers believe they're being cheated by sellers in the third-party marketplace, which don't acquire their books from official channels—instead they sell remaindered copies (books that did not sell in stores and were returned to the publisher) or "hurts" (books with minor blemishes), often for rock-bottom prices. If these books are "remainders" or "hurts" or pirated, as some publishers have claimed they are, then publishers and authors won't see a dime.

Okay, hang on a second here. This doesn't make sense. So the publishers are complaining that the numbers of remained or damaged books being sold are damaging their sales margin? What?

Let's look at this reasonably. Yes, damaged copies of books exist. But if they exist in such large numbers that your own book sales are declining because of that … then you already have a problem whether they are sold or not. Because your production process is generating that many damaged copies in the first place. Which means you're already burning a fair margin of your money on bad prints. Which means something about your printing process probably needs to be looked at. Especially if you're generating so many damaged books that they can outsell a portion of your normal sales.

The "remainder" excuse is even worse, and yes, an excuse. Because if there were enough books not selling that remaindering copies existed … why are you printing even more and trying to sell them? You should be leaving them on shelves. If they're "competing" with sales already existing, that means someone went and printed up new copies of a book that didn't sell well in the first place … which is the bigger problem. If you only sold 200 copies of a 1000-print run, don't garbage the remaining 800 and print up another 1000. Sell the 800. I'm sorry, but if "remainder" sales are damaging "new" sales, something is wrong with your business plans, not with the market.

And in either of these cases, why isn't the author seeing any money? That sounds like a poor contract written heavily in the publishers favor, not the fault of the booksellers.

Lastly, I love how the article just casually throws "piracy" out there as if it's part of the problem. It shouldn't be. Amazon clamps down on pirates pretty quickly, because pirates are bad for business, and Amazon gets this. If there is piracy going on, the publishers should be working with Amazon to cut it off … not slyly insinuating that Amazon is supporting it somehow.
(5) BEAUTIFUL STORIES. Natalie Luhrs has Murderbot sounding like a companionable character, in a review of Martha Wells' All Systems Red.
Murderbot isn't your usual SecUnit though: they're independent, having hacked their governor module which is supposed to keep them operating within a narrow set of parameters. Murderbot's also really into online dramas and would much rather watch them all day than actually do their job—Murderbot, I feel you, I really, really do. They're alternatively apathetic, annoyed, and  awkward and I found the expression of traits to be endearing.
(6) ON THE ROAD AGAIN. Jim C. Hines has an excellent post about "Traveling with Depression".
This is such an odd post to try to write. I had a wonderful time in Buenos Aires. I'm so happy and honored that I got to go. I was also depressed about the trip, especially that first day or two. Both of these things are true.

I'm going to France next week for Les Imaginales. I'm feeling anxious. I suspect the depression will hit me in much the same way, especially that first day when I'm exhausted and have nothing scheduled. I'm mentally berating myself about feeling stressed instead of excited. I know, intellectually, that this will be another wonderful experience.

But brain weasels don't give a shit.

"Now you're depressed about going to France? You are such a disappointment."

It's just over five years since I got my diagnosis. Since I started taking antidepressants and talking to a therapist. It's frustrating to be reminded that, like the diabetes, this isn't something we've been able to "cure." Instead, it's something I try to manage. Like the diabetes, some days I do better than others, and some situations make it harder to manage.
(7) SF IN EGYPT. Black Gate's Sean McLachlan interviews Egyptian sf author Mohammad Rabie about his novel Otared, a grim dystopian tale of Cairo in 2025.
One of the things that struck me when reading the novel was the almost total absence of religion. Since it's such a cornerstone of so many Egyptians' lives, this must have been deliberate on your part. Why did you make this creative decision?

I believe religion is the major reason for our current situation. We look at the president as the equivalent of God on earth, he cannot be criticized or opposed, and if one did so he must be sued and punished. So beside praying, fasting, and other religious rituals, there is a deep and strong feeling of surrender to the ruler of the country, as if we surrender to God. In Otared, and according to the logic of the novel, you will find most of the characters willing to die, and the main reason is to be transferred to a better place – in the case, heaven — it is nearly the same situation now in Egypt, people give up their own freedom just to have a better afterlife. It may be hard to understand this idea for a Westerner, to put it simply, we tend to stay under injustice, to be rewarded by God at the end. There may be no religious rituals in Otared, but the core of religion is one of motives of the characters.
(8) DOCTOROW STUDIES. Crooked Timber is running a Cory Doctorow seminar, inspired by his new book, Walkaway, "a novel, an argument and a utopia, all bound up into one." Eleven related posts are online – click the link to see the list.
(9) TRIVIAL TRIVIA
In the 1979 movie Alien, the blue laser lights that were used to light the alien ship's egg chamber were borrowed from The Who.
(10) TODAY'S BIRTHDAY BOY
Born May 10, 1969 – John Scalzi
(11) SHADOW CLARKE JURY APPEALS THE VERDICT. We'd have been disappointed if they loved the official Clarke Award shortlist, don't you think?
Our immediate reaction to the list was decidedly mixed. Although two of our shadow shortlist were in the mix (The Underground Railroad by Colson Whitehead and Central Station by Lavie Tidhar), some of the other choices proved less palatable.  Ninefox Gambit by Yoon Ha Lee and Occupy Me by Tricia Sullivan had some advocates amongst us, but Becky Chambers's A Closed and Common Orbit and Emma Newman's After Atlas were not favourites with those who had already read them.  The gulf in ambition, thematic reach and literary quality between the six shortlistees seemed significant. Paul thought the list came across 'as two completely different shortlists stuck together. How can the Tidhar and Whitehead belong in the same universe as Chambers and Newman? Chambers, Lee and Newman have been popular successes, but hardly critical successes. This is another safe and populist list.'

Jonathan agreed, adding that he suspected 'a tension between those who want the Clarke to be like the Hugo and those who want to retain that connection to the more literary tradition. The Clarke's slide into hyper-commerciality continues.'  Megan shared Jonathan's perspective. 'What we're getting from this list is a commercially-packaged view of science fiction. And I feel the Colson Whitehead this year is last year's Iain Pears, just a literary toss-in to shut up people like us.'

Nina also felt the list represented 'a split in the values of criticism', while Vajra agreed with Megan that the Whitehead was the anomaly on this list rather than vice-versa. 'This is a "we included Whitehead because everybody would shout at us if we didn't" kind of shortlist'.  Maureen summarised this set of opinions most succinctly: 'This really is a cut-and-shut shortlist. Something to offend everyone. The more I look at the shortlist the more it looks like something assembled to nod at various constituencies without satisfying any.'
And there are a few more reviews to catch up:
I entered 2016 with my affection for science fiction at a low ebb. My levels of engagement with the genre have varied quite considerably with the passage of time but I was suddenly aware that I had been writing about science fiction for over a decade and that said decade had left my tastes almost completely estranged from those catered to by the larger genre imprints.
hate all that plot description that comes with a review – read the blurb I say – but if you need some clues Tricia Sullivan's Occupy Me has an angel, dinosaurs, a suitcase – think Pulp Fiction, think Wile E Coyote, think The Rockford Files (!) – plus a vet and a doctor. It has higher dimensions and quantum foam, trees of all kinds though especially trees of knowledge that might just be libraries spanning time and space AND it has bird gods, though actually our avian overlords may just be artistic scavengers or better, refuse 'artistes'. It's a novel that is helter-skelter and overabundant; in some ways it's like (a very glorious) extended episode of Doctor Who…and I'm sure that some readers may even think, a little on the twee side. Though of course, they would be wrong. Those same readers may wonder if the parts add up to an organic whole. And to be fair I wonder myself but it really doesn't matter. There are many, many riches here – this is a marvellous novel – full of love, kindness, empathy and extraordinary ambition – the only one that can give Central Station a run for its money in 2016's SF best of. But that is to get ahead of myself.
(12) POLLS WITHOUT POLES. Rich Horton continues with "Hugo Ballot Reviews: Novelette", in which Stix Hiscock did not earn a place.
My ballot, then, will look like this, tentatively, though the first three stories — actually, the first four — are real close in my mind:

1) "The Art of Space Travel", by Nina Allan

I wrote this in my Locus review: ""The Art of Space Travel", by Nina Allan, [is] a fine meditative story about Emily, who works at the hotel where the Martian astronauts are staying before they head out to space. The story isn't about the astronauts, though, but about Emily, and about her mother, a scientist who has a sort of Alzheimer's-like disease, perhaps because of contamination she encountered while investigating a plane crash, and about her mother's involvement in preparation for a failed earlier Martian mission, and about Emily's desire to learn who her father was. A good example of the effective — not just decorative — use of an SFnal background to tell a mundane story." Allan actually had three very strong longer stories this year: also "Ten Days" from the NewCon Press anthology Now We Are Ten, and "Maggots", a very long novella (perhaps indeed novel length) from the horror anthology Five Stories High.
(13) HOME TOWN BOY. When Spider-Man comes back to New York, comic dealers will be throwing parties in his honor.
Spider-Man returns to his friendly neighborhood in the new ongoing series PETER PARKER: THE SPECTACULAR SPIDER-MAN! From superstar writer Chip Zdarsky (Star-Lord) and legendary artist Adam Kubert (Avengers, X-Men) comes a companion to the best-selling Amazing Spider-Man series. This can't-miss series takes Peter Parker back-to-basics and is bursting at the seams with heart, humor, and over-the-top action!

To kickoff this incredible new series, Marvel has partnered with participating retail stores to host PETER PARKER: THE SPECTACULAR SPIDER-MAN LAUNCH PARTIES. In addition to exclusive variant covers, participating retail stores will receive exciting promotional items – including Spider-Man masks!
The issue goes on sale June 21.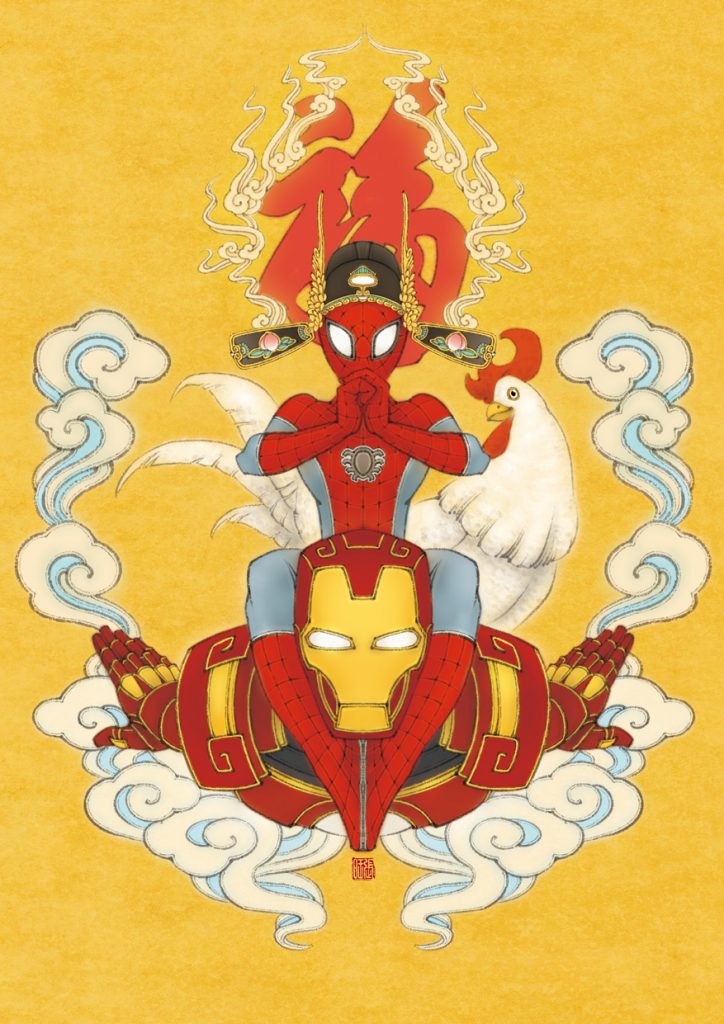 (14) OLD TIME IN THE HOT TOWN. Ancient Australian rocks suggest where to search for life on Mars.
Old rocks found in the Australian Outback have some weighty implications, scientists say: They hint at the environment in which life on Earth originated and suggest a location to search for life on Mars.

Scientists in Australia say they have found biological signatures of life in rocks that also show the presence of a hot spring, lending weight to a theory that the earliest life on Earth might have originated in freshwater hot springs on land rather than in deep-sea hydrothermal vents….

The fossil finding predates the previous oldest evidence for life on land by almost 600 million years, the scientists say. They described their findings in the journal Nature Communications.

NASA is currently considering where to land the rover on its 2020 Mars Exploration Mission, and one of the sites is a "hot spring-type setting," about the same age as the early Earth, Djokic says.

"If you're going to look for life on Mars, we know it was preserved on hot springs here on the ancient earth," she says. "So there's a good chance if it ever developed on Mars, then it would probably be preserved in hot springs there, too."
(15) CLUTCH PLAY. Huge "baby dragon" oviraptor fossil found in China: "'Baby Dragon' Found In China Is The Newest Species Of Dinosaur"
In the 1990s, all of the known species of oviraptorosaur were small creatures. "There's no way they were laying a 4- to 5-kilogram egg," Zelenitsky says.

Then, in 2007, scientists in China discovered the first species of giant oviraptorosaur. "So finally, after 12 years, there is a species of oviraptorosaur that could have laid these giant oviraptorosaurlike eggs," Zelenitsky says.

If Beibeilong nested like its smaller oviraptorosaur cousins did, it would be the largest known dinosaur to have sat protectively on its eggs.
(16) A DINOSAUR NAMED ZUUL. Long before Ghostbusters, there was Shinbuster.
In a paper for the Royal Society Open Science, Royal Ontario Museum paleontologists Victoria Arbour and David Evans describe the 75 million-year-old creature, a new species they dubbed Zuul crurivastator. Yes, its name is a reference to the demon Zuul from the original Ghostbusters movie. "Crurivastator" means "crusher of shins," which is exactly what this creature could do with its spiked, hammer-tipped tail….

Weighing 2.5 tonnes and spanning 20 feet from its horned face to its spiny tail, Zuul was a living tank. In previous work, Arbour demonstrated using computer models that a beast like Zuul could use its tail club to break leg bones in its foes. This would have been especially effective against predator T. rex, which walked on two legs. Take out one leg, and the animal won't survive long in the dinosaur-infested jungles of the Cretaceous.
(17) BRINGING THE HEAT. There's a roundup about China's successful sf writers at the English-language site Hot in China — "Chinese Sci-Fi Once Again Venturing Overseas"
When we look at the origin of sci-fi in China, famous scholars Liang Qichao and a young Lu Xun both translated Jules Verne's sci-fi writing. By now, sci-fi in China has developed for half a century. While sci-fi creativity was curbed from 1902 to 1979, its progress has not stopped. Today's Chinese sci-fi is growing rapidly after a subjective change: There is the founding of the magazine Sci-fi World, and its growth to a sci-fi magazine with the world's largest circulation by the 1990s, and the emergence of many excellent Chinese sci-fi writers.
(Apparently File 770's John Hertz is "Hot in China", too – he's part of a group photo at the end of the article featuring Hugo-winner Hao Jingfang taken at MACII.)
[Thanks to Alan Baumler, Mark-kitteh, Cat Eldridge, Cat Rambo, Nick Eden, John King Tarpinian, and Chip Hitchcock for some of these stories. Title credit goes to File 770 contributing editor of the day OGH.]