(1) ONE WORD: PLASTIC! Cora Buhlert's latest Galactic Journey contribution is: "[APRIL 10, 1965] FURNISHING THE HOME OF THE FUTURE: INTERIOR DESIGN FOR THE SPACE AGE".
…But while the International Style may excel at furnishing office buildings, its minimalist purism does feel a little too cold and bland for the home. Thankfully, our Northern neighbours are on the case with furnishings that manage to be both modernist and cosy.

In the past three decades, Scandinavia has emerged as a source of beautiful and functional design to the point that Scandinavian Modern has become a recognisable style found in many homes in Europe (including my own) and beyond.

Traditionally, Scandinavian Modern has been associated with clean lines, neutral palettes and natural materials like wood, leather and wicker. A prime example is the beautiful "Hammock" chair by Danish designer Poul Kjærholm. However in recent times, Scandinavian designers have branched out and embraced materials like plastics as well as brighter colours….
(2) PREDICTING THE PRESENT. John Scalzi was interviewed by NPR's Weekend Edition: "Set 1,500 Years From Now, 'The Last Emperox' Is Still Pretty Timely".
Now, the scientists of Scalzi's world knew the Flow was going to collapse — but they didn't do anything about it. Why?

"Primarily wish fulfillment and greed," he says. "The idea that, sure, this thing is going to happen. But is it really going to happen the way that the scientists and experts say it's going to happen? And even if it is happening in that way, isn't there a way that we can work it to our advantage so that when it finally does happen, we'll still be OK while everybody else is kind of in trouble?"
(3) TIME ON YOUR HANDS? WIPE IT OFF. The pandemic is no joke, despite which McSweeney's contributors are getting a lot of laughs out of it. Consider Scott Bolohan's declaration "I Am Using My Free Time To Not Write A Novel".
They say the best way to not write a novel is to not write every day. When you first wake up is a particularly good time to not write. But as I join billions of others around the world in quarantine, I worry my newfound free time is going to get in the way of not writing a novel….
(4) OUT THE WINDOW. And if Charles Stross ever writes a third Scottish near-future police procedural (following Halting State and Rule 34) it won't be the one he planned: "Yet another novel I will no longer write". But you can see an excerpt of what might have been.
…And the whole theme of this untitled novel was going to be: this is elite panic, and this is disaster capitalism, and this is what really happens during a zombie epidemic, and these things are not the same—

And then COVID-19 came along and basically rendered the whole thing unneccessary because we are all getting a real world crash-course in how we deal with people suffering from a viral pandemic, and we do not generally deal with them using shotguns and baseball bats even if they're so contagious that contact might kill us.

Because—fuck my life—writing plausible near-future SF in the 21st century wasn't hard enough already.

Anyway, let me leave you with the WARNING very rough, first draft, unpolished only existing fragment of what was intended to be The Lambda Functionary before COVID-19 buried it at the crossroads with a mouthful of garlic and a stake through its heart….
(5) EXPANDING HORIZONS. Drew Hayden Taylor is "Imagining an Indigenous science-fiction festival for the stay-home era" in the Toronto Globe and Mail. A good jumping off point for anyone interested in exploring indigenous SF.
This may come as a surprise, but self-isolating on a Central Ontario First Nation can be quite boring. Especially when you consider that B.C. (Before COVID-19), I would've been returning from the sun-drenched hills of Albuquerque, N.M., at this very moment, fresh from IndigiPop X, essentially an Indigenous Comicon. There, amidst as many as 2,000 other IndigiNerds, I would have been wallowing ecstatically in a pop culture smorgasbord of film, music, gaming and panels discussing topics as diverse as how to develop a superhero, developing storylines throughout a comic book series, exploring the implications of the effects archetypes in pop culture have on communities and individuals, and the crafting of costumes for cosplay and film … all with Indigenous themes. Like most other things, it was cancelled. And I wept.

But I don't need an Indigenous science-fiction convention to explore all that. Sitting in my living room, bored silly, I have decided to celebrate my own sci-fi festival. It will have practically everything the one in Albuquerque would, except our sci-fi will be locally sourced.
(6) BUFFY VIDEO BUFFET. SYFY Wire reports "Buffy cast set for virtual Q&A". There's a free segment (see below). They're also selling 2-minute live video chats with the celebrities.
…As entertainment conventions and film/TV productions around the world remain shut down under the coronavirus lockdown, some events are taking creative approaches to the situation. Some, like SXSW, are screening films with partners like Amazon. Others, like convention company Wizard World, are taking things 100 percent virtual.

One of these Wizard World Virtual Experiences is the Buffy the Vampire Slayer and Angel event (not really a panel, since everyone's going to be online) featuring a free 45-minute live video Q&A with castmembers James Marsters, Amber Benson, Clare Kramer, Elisabeth Röhm, Emma Caulfield, and Camden Toy. The moderated Q&A will stream on Twitch, Facebook Live, and YouTube.

Where otherwise fans may have lined up to get an autograph, they'll now be able to pay for a few minutes of exclusive facetime with their actor of choice or get a recorded video message. They can also still get autographs (just shipped to their homes). As cons continue to adapt to the new normal of the pandemic, an all-online comic con doesn't seem too far-fetched.

The Buffy the Vampire Slayer and Angel Q&A takes place on April 11 at 12:00 PM PDT.
From the Wizardworld site:
FREE Live Q&A: Take part in this free, interactive and moderated 45-minute live video Q&A with the cast of Buffy/Angel!  Livestream will be viewable on the Wizard World Virtual Twitch channel, Facebook Live, and YouTube.
(7) TALBOT MUNDY REMEMBERED. Michael Dirda whets readers' appetite for a book newly in the public domain: "For fans of Indiana Jones and Dan Brown, an adventure story for the ages" in the Washington Post.
First published as a book in 1924 and thus out of copyright this year, Talbot Mundy's "The Nine Unknown" is an occult thriller for fans of the Indiana Jones movies, Dan Brown's "The Da Vinci Code," Rudyard Kipling's "Kim" and, of course, Mundy's other supernaturally inflected adventure classics, "King — of the Khyber Rifles" and "Om: The Secret of Ahbor Valley." Set in India, the novel focuses on a secret society — the Nine Unknown — that has existed for centuries, accumulated immense wealth and used its esoteric powers to shape the course of history. As one character says, "Viceroys, kings, and all their pomp are side-shows."

….Mundy's "The Nine Unknown" is just one of several highly entertaining novels published in the United States in 1924 and now in the public domain. Let me also recommend Lord Dunsany's beautifully written romantic fantasy "The King of Elfland's Daughter," P.C. Wren's Foreign Legion swashbuckler, "Beau Geste," Edgar Rice Burroughs's "The Land That Time Forgot," Francis Brett Young's spooky "Cold Harbour," and such golden-age mysteries as Edgar Wallace's nostalgically kitschy "The Green Archer" and A.E.W. Mason's "The House of the Arrow." Any of these books will provide at least temporary respite from the nightmare in which we now live.
(8) HELP FOR SFWA MEMBERS. "SFWA Announces Resources for Writers Affected by COVID-19" at the SFWA Blog. Grants, medical assistance and dues relief are available to SFWA Members.
Mary Robinette Kowal, president of the Science Fiction and Fantasy Writers of America (SFWA) today announced relief efforts to help members of the science-fiction and fantasy (SF/F) community affected by the COVID-19 pandemic, including a combination of dues relief, grants, and other programs.

"These are unprecedented times," Kowal said. "Many of our members are facing painful and difficult circumstances. For creative artists, in particular, the pandemic has brought the cancellation and suspension of much of our usual access to revenue. Uncertainty about the future is in the air, and bills continue to come due."

Many SFWA members have seen their income sharply reduced, as publishers delay anthologies and novels, advertising vanishes in the flood of news, and public events like conventions and tours are canceled or postponed. Many bookstores and other distributors have shuttered, and readers have less money for buying books.

To respond to these challenges, SFWA today announced a series of measures to support its members….
(9) LADY DUNSANY DIES. Ireland's Meath Chronicle has a familiar name in the obituaries: "Lady Dunsany dies from Covid-19 as son pays tribute to frontline workers".
Lady Dunsany, Maria-Alice De Marsillac Plunkett, has died from Covid-19, her son, Randal Plunkett, announced tonight.

She was wife of the late Edward Plunkett, 20th Lord Dunsany, who died in 2011, and mother of the present Lord, the filmmaker and conservationalist, Randall.
The Brazilian-born architect is also survived by two children from her first marriage, and Randal's younger brother, Oliver….
(10) HEATH OBIT. SYFY Wire reports:
Hilary Heath, the actress who co-starred with Vincent Price in the 1968 British-American cult horror hit Witchfinder General and also appeared on TV in The Avengers and Space:1999, has died of complications due to the coronavirus. She was 74.
The Hollywood Reporter obit includes this quote –
Following a turn in The Body Stealers (1969), she reunited with Price in Edgar Allan Poe's The Oblong Box (1969) and Cry of the Banshee (1970).

"I adored Vincent," she said during a 2010 panel discussion. "I played his mistress, his daughter and his wife. And he said, 'If you ever play my mother, I'll marry you.' " 
(11) TODAY IN HISTORY.
April 11, 1986 — The Toxic Avenger was released nationally two years after it premiered in New York City. It directed by Michael Herz and Lloyd Kaufman (who is credited here as Samuel Weil) as written by Kaufman and Joe Ritter. It was the first installment of The Toxic Avenger franchise which would encompass three more films, a Marvel Comics series and a short lived children's animated series. Mitch Kessler was the Toxic Avenger with his voice  provided by Kenneth Kessler. Critics at the time ranged in their opinions from disgusted to delighted with the mainstream ones decidedly not liking it; it currently holds an approval rating of 70% among  audience reviewers at Rotten Tomatoes.  Kaufman and Herz are currently attached to a reboot.  
(12) TODAY'S BIRTHDAYS.
[Compiled by Cat Eldridge.]
Born April 11, 1867 — William Wallace Cook. Newspaper reporter and pulp writer who wrote four novels (The Fiction Factory, A Round Trip to the Year 2000, or A Flight Through Time, Cast Away at the Pole and Adrift in the Unknown, or Adventures in a Queer Realm) which were serialized in Argosy in the early part of the last century. Clute at EoSF says he was "was a crude writer, but is of interest for his attempts to combine adventure plots and Satire." (Died 1933.)
Born April 11, 1920 — Peter O'Donnell. Best remembered as the creator of Modesty Blaise who  of which EoSF says that her "agility and supple strength are sufficiently exceptional for her to be understood as a Superhero".  He also wrote the screenplay of The Vengeance of She based on H. Rider Haggard's Ayesha: The Return of She novel. (Died 2010.)
Born April 11, 1941 — Gene Szafran. He did the cover art for genre  books published by Bantam and Ballantine during the Sixties to the Eighties, including a series of Signet paperbacks of Robert A. Heinlein's work including Farnham's Freehold, The Green Hills of Earth, and Methusaleh's Children. His art would garner him four Locus Awards. (Died 2011.)
Born April 11, 1949 — Melanie Tem. She was the wife of genre author Steve Rasnic Tem. A prolific writer of both novels and short stories, she considered herself a dark fantasy writer, not a horror writer. Bryant, King and Simmonds all praised her writing. If I had to make recommends, I'd say start with Blood Moon, Witch-Light (co-written with Nancy Holder) and Daughters done with her husband. "The Man on the Ceiling" won her a World Fantasy Award.  She died of cancer which recurred after she'd been in remission. (Died 2015.)
Born April 11, 1952 — James Patrick Kelly, 68. One of his best stories, "Solstice" is in Sterling's Mirrorshades anthology. Of course, he'd win the Hugo Award for "Think Like a Dinosaur" and "1016 to 1", both amazing pieces of writing! The Mariska Volochkova series is the one I would definitely recommend if you've not read it yet.
Born April 11, 1955 — Julie Czerneda, 65. She won the Prix Aurora Award for her Company of Others novel. She'd also receive one for Short Form in English for her "Left Foot on A Blind Man" Story, both of these early in her career.  She has a long running series, The Clan Chronicles which is as sprawling as anything Martin conceived.
Born April 11, 1963 — Gregory Keyes, 57. Best known for The Age of Unreason tetralogy, a steampunk and magical affair featuring Benjamin Franklin and Isaac Newton. He also wrote The Psi Corps Trilogy and has done a lot of other media tie-in fiction including Pacific Rim, Star Wars, Planet of The Apes, Independence Day and Pacific Rim. 
Born April 11, 1981 — Matt Ryan, 39. He's John Constantine in Constantine and the Arrowverse along with being regular cast now on Legends of Tomorrow starting with fourth season, as well as voicing him on Justice League Dark and the superb  Constantine: City of Demons.
(13) COMICS SECTION.
(14) ON THE MARGINS. The New York Times asks "Can Comic Books Survive the Coronavirus Era?"
….The dollars at stake are substantial: in recent years, sales of comics and graphic novels in the United States and Canada have topped $1 billion annually, with printed comic books accounting for more than a third of that figure, according to an analysis by Comichron and ICv2, sites that track the comic business. Digital sales contribute about $100 million to that total.

But now, neither the people who make comic books nor the veteran observers of this industry see a quick solution; they cannot predict whether the current calamity will eradicate only some stores and publishers or an entire, decades-old model of doing business.

"I do think this is an extinction-level event," said Heidi MacDonald, editor of The Beat, a comics culture website. "It's life-changing for everyone. This is a whole industry that lived on very thin margins. There's no port in this storm."

Publishers of every size recognize that they are at risk. Dan Buckley, the president of Marvel Entertainment, which is home to Spider-Man, the X-Men and the Avengers, said in a statement, "This crisis is having an unprecedented impact on every aspect of our lives and requires patience and perseverance," adding that he remained optimistic that comics "are here to stay."
(15) DRUCKER APPRECIATION. In the Washington Post, Michael Cavna has an appreciation of Mort Drucker, including interviews with cartoonists Sergio Aragones and Tom Richmond and The Simpsons producer David Silverman. Cavna recalls interviewing Drucker at a Reuben Awards ceremony in 2015 and asking him if "there was anyone he could not caricature." "My wife," said Drucker. "She's too perfect to draw." "Mort Drucker's legendary Mad magazine caricatures spoofed Hollywood — and Hollywood loved them".
(16) YOU ARE, NUMBER SIX. Paleymatters.org interviewed Alan Moore about The Prisoner TV series in 2018.
DB: What appealed to you about the show then, and what appeals to you about it now? How much of it did you understand initially as ergodic storytelling?

AM: First and foremost, it was the show's experimentalism and radicalism that made the impact. Some of its sensibilities were already in the televisual air around then, with the wackier Avengers episodes and Anthony Newley's Strange World of Gurney Slade (which I hadn't then seen), but it was The Prisoner which seemed to most perfectly synthesise these exciting new elements and approaches into a coherent vehicle, a vehicle apparently aimed at affecting the mind of the viewer in ways that, outside of avant garde theatre and cinema, the general public hadn't previously encountered.

I certainly didn't understand it as ergodic storytelling at that point, and in fact have just had to look up the word "ergodic." If I'm interpreting the term correctly, ergodic storytelling would be narratives that go through their permutations but always return to an underlying state of ongoing stability, an example being most serials and soap operas: disruptions to the underlying situation will provide the excitement and motivations for a given number of episodes, but once the disruption has been resolved the ongoing narrative will settle back to its basic state, ready for the next thrilling or amusing disruption. While The Prisoner seemed to hammer home its ergodic nature — with the bars slamming across McGoohan's face at the end of each episode after another thwarted escape — it never really seemed to me to be playing to the comforting endless stasis of a show like, say, The Fugitive. It always seemed as if this was a narrative that was heading towards a fixed point and a conclusion.
David Bushman: Apparently many, many people in the U.K. were incensed by the ending — the reveal of Number 1, the Delphian nature, etc. Do you remember your initial reaction to the series finale?

Alan Moore: I imagine you're almost certainly right about the scale of public anger aroused by the Gnostic extravagance of that final episode, but that wasn't at all my experience as a thirteen-year-old in Northampton's Boroughs neighborhood, a district not widely regarded for its intellectual acumen. Down in the Boroughs, everybody that I spoke to, children and adults both, seemed far more stimulated and intrigued by that final episode than they were infuriated….
(17) PURPOSE OF SFF. Recently it was Chandra K. Clarke's turn to come up with "The Big Idea" at Whatever. The author says, "For my money, science fiction's highest and best use is to inspire people to think about the future they want."
…When tech bros weren't burning tens of millions of dollars on dubious inventions, such as Wi-Fi-enabled juicers, they were launching massive, disruptive "platforms" that had the capacity to be positive socioeconomic forces, with little thought (or care) for how they might be abused. Where it once it felt as if we were on the verge of some big breakthroughs and substantial progress, we now feel as if we're scrambling to avoid disaster while fighting a rearguard action.

My response to this was to write Echoes of Another. In it, a well-meaning scientist invents a technology that can record and play back the neurological and physiological states associated with "flow"—that rare but lovely state of total focus and peak performance. She wants to be able to invoke flow on demand so that humanity can bring peak states to bear on our biggest problems. But before she's able to do much with her prototype, it is stolen, copied, and put to a range of uses, both good and . . . well, really rather bad….
(18) SPACE CHOW. In WIRED, Nicola Twilley, interviews Ariel Ekblaw, head of the Space Exploration Initiative at the MIT Media Lab. One section of the initiative is about what sort of hobbies will keep astronauts' minds stimulated on long space voyages, But she spends most of her article profiling Maggie Coblentz, head of the initiative's gastronomic research division, about how reasonably tasty food can withstand space instead of "space gorp" astronauts usually eat. "Algae Caviar, Anyone? What We'll Eat on the Journey to Mars".
… The focus group gathered in a fluorescent-lit conference room decorated with large-format photos of lollipops and Buffalo wings and coiled spirals of salami. On the table, Coblentz had laid out small plastic cups of M&Ms, freeze-dried cheese bites, and Tang; these would serve as both snacks and design inspiration. Nespoli showed up with props of his own—some silvery foil packets from NASA's current menu rotation; some cans filched from the Russian supplies and the European Space Agency, including one simply labeled SPACE FOOD; and a translucent plastic package filled with what looked like yellowish plugs of ear wax but were apparently dehydrated mashed potatoes. "Nobody goes to space for the food," Coleman said.
(19) HARRY POTTER CRAFTS. These knitting kits will be the first in Hero Collector's new handicrafts range. The collection is scheduled to launch Q3 2020, and starts with five kits: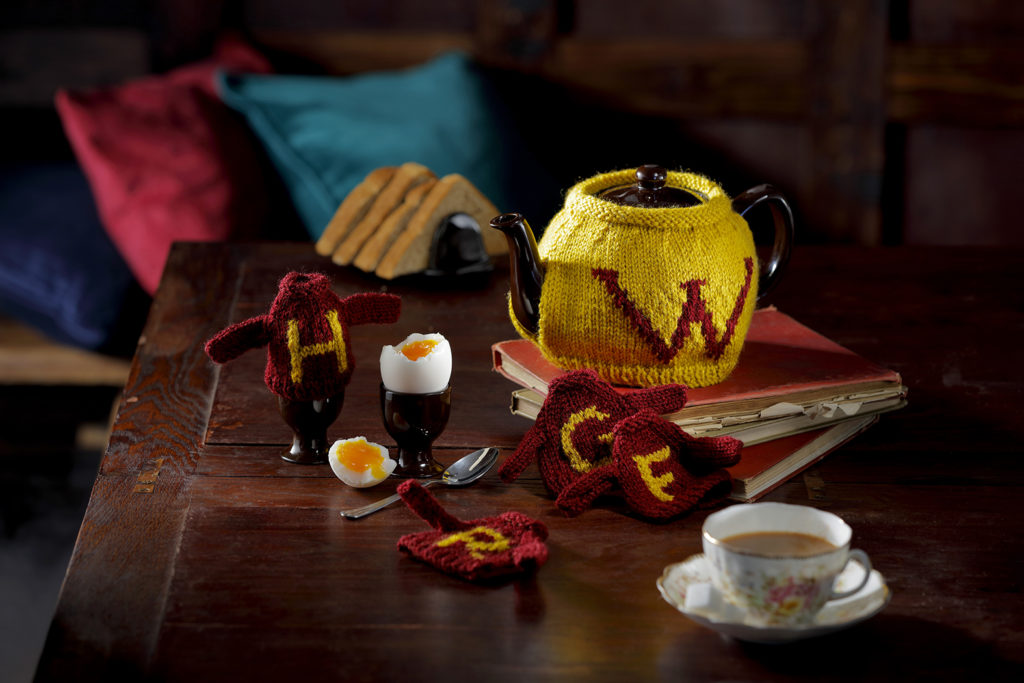 Hogwarts Express Door Insulator: This kit contains everything you need to make a Hogwarts Express inspired door insulator. Finished item measures approx. 61cm long.
House Scarves: Show your house pride by knitting your own Hogwarts house scarf. Do you belong to Gryffindor, Ravenclaw, Hufflepuff or Slytherin? Finished item measures at least 160 cm.
House Slouch Socks and Mittens: Need something more to keep you warm this winter? These house pride socks and mittens will do the trick! Or perhaps you have a house-elf that would be all too happy to receive them…
House Reversible Backpacks: Complete your house pride collection by creating a "magical" reversible backpack, perfect for carrying all your items to school (cauldrons excluded).
Teapot and Egg Cosies: For all the Mrs Weasley's out there, you can now show your love for the Wizarding World by knitting these teapot and egg cosies.
(20) LIGHTS OUT. Space.com says mark your calendar: "We're T-minus 4 years to the next Great American Solar Eclipse in 2024".
The next Great North American Solar Eclipse is coming.

Four years from now, on Monday, April 8, 2024, a total eclipse of the sun will sweep across our continent. The dark shadow cone of the moon — known as the umbra — will trace out a path like a black crayon across parts of 15 states. An estimated 130 million people will either be positioned inside or within less than a day's drive of the zone of the total eclipse. Almost all of North America, as well as Central America and a sliver of northwestern South America will see a partial eclipse. 
(21) OF RARE DEVICE. "Rube Goldberg Bar of Soap Challenge" on YouTube is a contest from Rube Goldberg, Inc. (run by Goldberg's granddaughter, Jennifer George, in which contestants have to come up with Goldberg like- contraptions that place a bar of soap in someone' hand in either 10 or 20 steps. Contest details here.
[Thanks to John King Tarpinian, Bella Michaels, Mike Kennedy, Michael Toman, Martin Morse Wooster, JJ, Cat Eldridge, Chip Hitchcock, and Andrew Porter for some of these stories. Title credit goes to File 770 contributing editor of the day Nigel.]