The Association of Professional Futurists has named the winners of its Most Significant Futures Works Awards.
The award is given for the "purpose of identifying and rewarding the work of professional futurists and others whose work illuminates aspects of the future."
Category 1: Advance the methodology and practice of foresight and futures studies 
The Thing from the Future (link) The Situation Lab, game 
The Thing from the Future is an imagination game that challenges players to collaboratively and competitively describe objects from a range of alternative futures. The object is to come up with the most entertaining and thought-provoking descriptions of hypothetical objects from different near-, medium-, and long-term futures by playing a card game. The four types of cards are: arc cards (possible futures), terrain cards (contexts, places, and topics), object and mood cards.
Research Foresights: The Use of Strategic Foresight Methods for Ideation and Portfolio Management (link) Ted Farrington, Keith Henson, & Christian Crews, article: Research-Technology Management, March/April 2012, pp.26-33
The authors describes a massive project that used a potpourri of strategic foresight methods – including an Internal Futures Audit, Weak Signals Environmental Scan, Implications Wheels,  Technology Forecast , Inductive Scenarios, Participatory Futures, and Point of View Options — carried out by a network of futurists to influence the strategic research agenda at Pepsico.
Category 2 Analyze a significant future issue 
Mutative Media: Communication Technologies and Power Relations in the Past, Present, and Futures; (link) James A. Dator, John A. Sweeney, and Aubrey M. Yee, monograph: Springer International Publishing Switzerland 2015
A monograph-length investigation into the nature of social change through the lens of how a range of communication technologies in a variety of cultural contexts has (and has not) impacted the mechanisms and flow of power. It offers four alternative futures, including narrative scripts used for experiential scenarios, and outlines the prototype of a hybrid, mixed-reality game within four very different environments and conditions.
Category 3:  Illuminate the future through literary or artistic works
Byologic/Zed.TO (link1 & link2) Trevor Haldenby, cross-platform narrative
"An 8-month narrative told in real-time through an integrated combination of interactive theatrical events and online content. It told the story of the beginning of the end of the world, from a viral pandemic created by ByoLogyc, a fictional Toronto-based biotech company." They had 8 live events, involved 75 performers, 333 crowdfunders, 3,500 event participants, and 35,000 online engagements. The combination of live events, a fictional website (that looks quite "real") and the use of social media, brought the future to life in a stunning fashion.
The Museum of Future Government Services (link) Noah Raford, Exhibit
The Museum of Future Government Services, launched at the Government Summit in Dubai, 2014, was perhaps the largest concerted effort by a public institution to create images of the future explicitly designed to shift policy conversations and accelerate innovation. The Museum was structured as an immersive, interactive experience that explored the future of key government services. Museum may be the world's largest "design futures" exhibition to date (not counting Disney's Epcot, for example).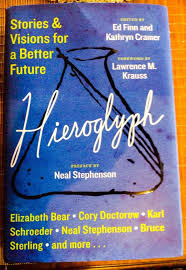 Project Hieroglyph, Hieroglyph: Stories & Visions for a Better Future (link) Kathryn Cramer, Ed Finn, and Neal Stephenson; project
Project Hieroglyph at Arizona State University Center for Science and Imagination was inspired by Stephenson's call for positive science fiction futures and resulted in this first anthology of short stories. Authors include Elizabeth Bear, Cory Doctorow, Bruce Sterling, and Karl Schroeder who aimed to write works of "techno-optimism" that "challenge us to do Big Stuff."
The award judges are: Bob Treadway, Paul Tero, Oliver Markley, Elizabeth Rudd, Peter Bishop, Bob Frame, Josh Calder, Sam Miller, Kristin Alford, Terry Grim, Natalie Ambrose, Peter Padbury, and Devin Fidler.
[Via Michael J. Walsh.]