(1) DIGITAL DIAGNOSIS. N. K. Jemisin tries to work out what the symptoms of social media indicate. Thread starts here.
(2) OF THE GALAXY? "U.S. Space Force unveils name of space professionals" – and that name is: Guardians.
Today, after a yearlong process that produced hundreds of submissions and research involving space professionals and members of the general public, we can finally share with you the name by which we will be known: Guardians.

The opportunity to name a force is a momentous responsibility. Guardians is a name with a long history in space operations, tracing back to the original command motto of Air Force Space Command in 1983, "Guardians of the High Frontier."

The name Guardians connects our proud heritage and culture to the important mission we execute 24/7, protecting the people and interest of the U.S. and its allies.

Guardians. Semper Supra!
(3) OBAMA'S READS. Former President Barack Obama tweeted a list of his favorite books from this year. Kim Stanley Robinson's book seems to be the only genre work. Emily St. John Mandel is also here, a name well-known to fans, but not here for a sff novel.
(4) EATING THE FANTASTIC. Scott Edelman invites listeners tobinge brownies with William F. Wu in Episode 134 of Eating the Fantastic podcast.
William F. Wu attended the Clarion Writers Workshop at Michigan State University in the summer of 1974 — the same year I would have gone had I not been turned down. (But don't worry — I was accepted in 1979). I first became aware of Bill not from his fiction, but from the letters he wrote to Marvel commenting on the depiction of Asians in the company's Master of Kung Fu comic book. He made his first professional sale in 1975, and since then has published more than 70 short stories and more than a dozen novels. He's been nominated for the Hugo, Nebula, and Locus Awards twice each, as well as a World Fantasy Award. He wrote all six novels in Isaac Asimov's Robots in Time series, two entries in the Isaac Asimov's Robot City series, and is one of the writers in George R.R. Martin's Wild Cards anthology series.

We discussed how the two of us almost ended up at the Clarion Science Fiction and Fantasy Writers Workshop together (and why we didn't), the reason he wasn't terrified when he got the chance to play in Issac Asimov's robot universe, how an assignment from Harlan Ellison gave birth to one of his more famous short stories (which was later adapted as an episode of The Twilight Zone, what he found easy about writing in George R. R. Martin's Wild Cards universe, how you might never have read his science fiction if crime editors had been kinder to him, what Kate Wilhelm told him which helped fix a story problem, why Marvel's Master of Kung Fu comic books attracted him (and how he'd have written the book if given the chance), how he manages to collaborate with other writers without killing them, and much more.
(5) WHY IT BULGES. Galactic Journey brings you a Battle of the Bulge game review, movie call-out, and F&SF issue review all in one fully-packed post! "[December 18, 1965] (January 1966 Fantasy and Science Fiction)"
Sitzkrieg

If The Battle of the Bulge represents the essence of the blitzkrieg, this month's Fantasy and Science Fiction is a recreation of World War 1 — overlong, with little movement, ultimately pointless. Such a sad contrast to last month's issue, which was the best in years. Ah, such are the vicissitudes of war. Come slog along with me, would you? …
(6) MEDIA ANNIVERSARY.
1995 — Twenty five years ago, Jane Yolen's The Wild Hunt was published by Harcourt Brace in a wonderful edition profusely illustrated by the late Francisco Xavier Mora. This tale of two boys and a most unusual cat battling the Horned God at the Winter Solstice is most excellent reading. Harper Jo Morrison who reviewed at Green Man says "Buy the book, bring it home, and luxuriate in something fresh and different. Read it aloud to your child, your cousin, your special someone; anyone who can appreciate a sense of magic in a real world."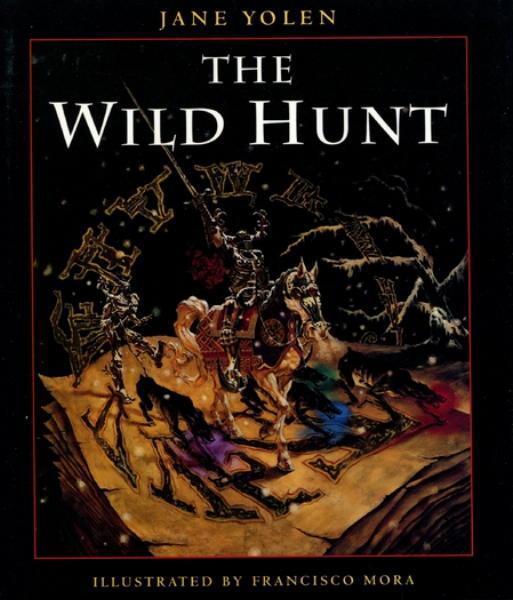 (7) TODAY'S BIRTHDAYS.
[Compiled by Cat Eldridge and John Hertz.]
Born December 18, 1913 —  Alfred Bester. He's best remembered perhaps  for The Demolished Man, which won the very first Hugo Award. I remember experiencing it as an audiobook — a very spooky affair!  The Stars My Destination is equally impressive with Foyle both likeable and unlikable at the same time. Psychoshop which Zelazny finished is in my library but has escaped reading so far. I've run across references to Golem but I've never seen a copy anywhere. Has anyone read It?  He's decently stocked at the usual digital suspects. (Died 1987.) (CE) 
Born December 18, 1916 – Walt Daugherty.  Co-founded the National Fantasy Fan Federation.  Published a Directory of Fandom in 1942.  Invented Westercon, chaired Westercon 2, Fan Guest of Honor at Westercon 50.  Recorded (by phonograph!) Denvention I the 2nd Worldcon, so we have all of Heinlein's GoH speech; chaired Pacificon I the 4th; Fan GoH at Baycon the 26th; Special Committee Award from L.A.con III the 54th (chaired by Our Gracious Host).  Big Heart (our highest service award).  First Fandom Hall of Fame.  Also Gene Lucas Award from the Int'l Betta Congress (betta are the "Siamese fighting fish"), world champion in NY "Harvest Moon" contest (ballroom dancing), prize-winner with parakeet "King Tut" (archaeology another hobby), quick-draw demonstration in the X Olympiad (1932; 22/100 second).  (Died 2007) [JH]
Born December 18, 1936 – Dave Hulan, age 84.  Chaired DeepSouthCon 1, Fan Guest of Honor at DSC 50.  Active in various apas e.g. APANAGE, FAPA, Gestalt, SAPS, SFPA.  Served a term as editor of Tightbeam.  Rebel Award.  Mythopoeic Society.  Lived in Los Angeles awhile and made friends there too.  [JH]
Born December 18, 1937 – Fran Skene, age 83.  Chaired Westercon 30; VCON VI, 9, 14; co-chaired Rain Cinq, chaired Rain Finale.  Served a term as editor of BCSFAzine (British Columbia SF Ass'n).  Fan Guest of Honor at Westercon 35, MileHiCon 10, Ad Astra 8, Keycon 5.  Fanzines Love Makes the World Go Awry; What Do You Know of Love?  [JH]
Born December 18, 1939 – Michael Moorcock, age 81.  Six dozen novels, fifteen dozen shorter stories, a dozen poems, a score of anthologies.  Editor of New Worlds and Vector.  Guest of Honor at LoneStarCon II the 55th Worldcon.  One Nebula.  World Fantasy Award and another for life achievement.  Campbell Memorial Award.  Five British Fantasy Awards.  Prix Utopia and Bram Stoker Awards for life achievement.  SFWA Grand Master (Science Fiction & Fantasy Writers of America).  SF Hall of Fame.  Musician with the Deep Fix, Hawkwind, Blue Öyster Cult, Spirits Burning.  Website.  [JH]
Born December 18, 1941 — Jack C. Haldeman II. He'd get Birthday Honors if only for On the Planet of Zombie Vampires, book five of the adventures of Bill the Galactic Hero, co-written with Harry Hartison. He'd also get these honors for chairing Disclave 10 through Disclave 17, and a Worldcon as well, Discon II. He was a prolific short story writer, penning at least seventy-five such tales, but alas none of these, nor his novels, are available in digital form. His only award is a Phoenix Award which is a lifetime achievement award for a SF professional who has done a great deal for Southern Fandom, quite a honor indeed. (Died 2002.) (CE) 
Born December 18, 1946 — Steven Spielberg, 74. Are we counting Jaws as genre? I believe we are per an earlier discussion here. If so, that's his first such genre work followed immediately by Close Encounters of the Third Kind. Between 1981 and 1984, he put out Raiders of the Lost Ark, E.T. the Extra-Terrestrial,  Twilight Zone: The Movie and Indiana Jones and the Temple of Doom. Ok so the quality of the last film was terrible…  He'd repeated that amazing feat between '89 and '93 when he put out Indiana Jones and the Last Crusade and Hook (YEA!) which I both love followed by Jurassic Park which I don't.  The BFG is simply wonderful. (CE) 
Born December 18, 1954 — Ray Liotta, 66. We could just stop at him being Shoeless Joe Jackson in Field of Dreams, don't you think of it as being an exemplary genre cred? Well I do. On a much sillier note, he's in two Muppet films, Muppets from Space and Muppets Most Wanted. (CE)
Born December 18, 1954 — J.M. Dillard, 66. Yes, I know this is a pen name but I'm interested only in her Trek output tonight. She's written at least fifteen tie-ins starting with Star Trek: Mindshadow in the mid Eighties And her last seemingly being Star Trek: The Next Generation: Resistance in the late Oughts. She also wrote one of the many, many non-fiction works that came out on Trek, Star Trek: 'Where No One Has Gone Before': A History in Pictures, which was actually largely written by Roddenberry's assistant on a work for hire contract as a another book that didn't get published, a woman named Susan Sackett. Memory Alpha has the story here. (CE)
Born December 18, 1958 – Steve Davidson, age 62.  Fan, editor, publisher, often seen here.  Four reviews in Ray Gun Revival.  Interviewed in StarShipSofa.  Among his Amazing adventures, he's currently the publisher; with Jean Marie Stine, half a dozen Best of "Amazing" anthologies 1926-1943.  [JH]
Born December 18, 1962 – Maiya Williams, age 58.  First black editor of the Harvard Lampoon.  Three novels for us.  Television writer and producer, e.g. Futurama, The Haunted Hathaways.  Loves forests, especially old-growth redwoods.  Website quotes "A book is a device to ignite the imagination" (A. Bennett, The Uncommon Reader p. 34, 2007; fictionally attr. to Queen Elizabeth II).  [JH]
Born December 18, 1968 — Casper Van Dien, 52. Yes, Johnny Rico in that Starship Troopers. Not learning his lesson, he'd go on to film  Starship Troopers 3: Marauder and the animated Starship Troopers: Traitor of Mars. Do not go read the descriptions of these films!   He'd also star as Tarzan in Tarzan and the Lost City, show up as Brom Van Brunt in Sleepy Hollow, be Captain Abraham Van Helsing In Dracula 3000, James K. Polk in, oh really Casper, Abraham Lincoln: Vampire Hunter sequels, Rumpelstiltskin In Avengers Grimm and Saber Raine In Star Raiders: The Adventures of Saber Raine. (CE) 
(8) COMICS SECTION.
Bizarro has a horrible math pun. So I naturally recommend it.
(9) LIGHTS IN THE SKY. NASA advises everyone how to watch "The 'Great' Conjunction of Jupiter and Saturn" on December 21.
Skywatchers are in for an end-of-year treat. What has become known popularly as the "Christmas Star" is an especially vibrant planetary conjunction easily visible in the evening sky over the next two weeks as the bright planets Jupiter and Saturn come together, culminating on the night of Dec. 21.

In 1610, Italian astronomer Galileo Galilei pointed his telescope to the night sky, discovering the four moons of Jupiter – Io, Europa, Ganymede, and Callisto. In that same year, Galileo also discovered a strange oval surrounding Saturn, which later observations determined to be its rings. These discoveries changed how people understood the far reaches of our solar system.

Thirteen years later, in 1623, the solar system's two giant planets, Jupiter and Saturn, traveled together across the sky. Jupiter caught up to and passed Saturn, in an astronomical event known as a "Great Conjunction."

"You can imagine the solar system to be a racetrack, with each of the planets as a runner in their own lane and the Earth toward the center of the stadium," said Henry Throop, astronomer in the Planetary Science Division at NASA Headquarters in Washington. "From our vantage point, we'll be able to be to see Jupiter on the inside lane, approaching Saturn all month and finally overtaking it on December 21."

The planets regularly appear to pass each other in the solar system, with the positions of Jupiter and Saturn being aligned in the sky about once every 20 years.

What makes this year's spectacle so rare, then? It's been nearly 400 years since the planets passed this close to each other in the sky, and nearly 800 years since the alignment of Saturn and Jupiter occurred at night, as it will for 2020, allowing nearly everyone around the world to witness this "great conjunction."..
(10) MALFUNCTION JUNCTION. [Item by Martin Morse Wooster.] Allegra Frank, in the Vox story "Cyberpunk 2077, the year's most controversial video game featuring Keanu Reeves, explained", says that Cyberpunk 2077, years in development, has been roundly attacked for numerous glitches, including male and female wardrobe malfunctions and strobe effects that caused seizures in epileptics.
…When the game's first reviews came out just before its December 10 release, they were mostly positive. It turned out, however, that this was because reviewers were only given early access to the Windows PC version, the one best optimized and representative of the expansive, graphically intensive game's potential. Once the game was released on consoles as well (for PlayStation 4 and Xbox One, versions that also work — much better — on the companies' newer consoles), players discovered a litany of technical issues.

Characters' faces were obscured, some environments were unsightly. The game would make consoles crash repeatedly, sometimes sacrificing players' progress. One glitch even exposed characters' detailed penises and breasts, which would poke out of their clothes. The memes and mockery were relentless and swift….
(11) BIG DEALS. If you wondered "Why Is the Star Wars Universe Full of Megafauna?" then James Davis Nicoll's latest Tor.com post is what you've been waiting for.
Whilst watching an episode of The Mandalorian, I noticed something in the background that was odd enough that I should have taken note of it ages ago: the Star Wars universe sure has a lot of large apex predators for a setting that has been civilized for tens of thousands of years.

This is not the case on present-day Earth. Biodiversity has taken a sharp nosedive in the last 20,000 years. Pretty much any large species that looks tasty, which might have a taste for humans, or lives on land for which we have other purposes in mind has vanished or been greatly reduced in numbers. Because human lifespans are so short, we take the Earth's depleted state as normal, so are spared angst over all the cool beasts no longer extant.

In the Star Wars universe, the story is very different. When visiting a world in that setting, one should always have a contingency plan for attacks from the local whale-sized predators. What the heck is going on?
(12) YOU'VE GOT YOUR CHOCOLATE IN MY PEPSI. Mashed assures us "Pepsi is planning to release a strange new soda flavor". Another source headlines it as a "Chocolate Marshmallow 'Cocoa' Cola." (Will it go well with your McRib sandwich?)
…While seasonal sodas don't get the love that holiday-themed coffee drinks and even cocktails do, they're still a kind-of-sort-of thing, at least for two soda brands: Mountain Dew and Pepsi. Mountain Dew's got their Merry Mash-Up, a surprisingly divisive cranberry/pomegranate flavor, and next year they plan to drop a gingerbread-flavored Dew. Pepsi's gotten in the game in past years with the not-so-successful Holiday Spice flavor, while this year saw Pepsi Apple Pie just in time for Thanksgiving. Sadly this newest flavor was only available if you won a social media contest related to baking fails — it seems their version of apple pie in a bottle was maybe meant as a substitute for those unable to master the art of baking their own pies.

…The newest Pepsi flavor is meant to evoke everybody's (well, over 40 percent of people's) favorite wintertime beverage, hot chocolate. Sounds a bit weird? Not really — if you've ever had a soda fountain black cow, you already know that cola and chocolate play nicely together, and marshmallow flavor only adds more sugar.
(13) A GLIMPSE OF STOCKING. Shelf Awareness points viewers to a video of the "'First Annual Lighting of the Leg Lamp' at Page 158 Books."
Fans of the holiday classic movie A Christmas Story will find seasonal joy and laughs in the "first annual lighting of the leg lamp" Facebook video from Page 158 Books, Wake Forest, N.C.
(14) KNOCK-OFFS. Ranker had readers decide which are the worst among "47 Hilarious Bootleg Toys That Are Obvious Knock Offs". Second on the list is this improbable superteam:
2. Worst. Avengers. Ever.
(15) VIDEO OF THE SEASON. "We're Despicable–Mr. Magoo's Christmas Carol" on YouTube is a song written by Jule Styne and Bob Merrill for a Mr. Magoo special broadcast by NBC in 1962.
[Thanks to John King Tarpinian, JJ, N., Cat Eldridge, Andrew Porter, Mike Kennedy, Michael Toman, Martin Morse Wooster, James Davis Nicoll, and John Hertz for some of these stories. Title credit belongs to Fil 770 contributing editor of the day Daniel Dern.]