Seattle's Museum of Pop Culture has announced the 2023 inductees to the Science Fiction and Fantasy Hall of Fame – author N. K. Jemisin, filmmaker John Carpenter, the Dune franchise, and The Rocky Horror Picture Show.
---
N.K. Jemisin
b. 1972
American science fiction and fantasy writer, N.K. Jemisin debuted her first novel, The Hundred Thousand Kingdoms, in 2010. She has since won multiple awards, including the Hugo, Locus, and Nebula Awards for Best Novel. She is known for exploring a wide range of themes like cultural conflict, liminal spaces, and the mechanics in systems of oppression.
Her Broken Earth Trilogy (2015-2017) won her the Hugo Award for Best Novel, making her the first Black author to win the award. She is the first author to win the award three years in a row, and the first to win it for each book in a trilogy. Jemisin was a recipient of the MacArthur Fellows Program Genius Grant in 2020 and included in Times annual list of the 100 Most Influential People in the World in 2021.
Jemisin has also worked as a counseling psychologist, an instructor for the Clarion and Clarion West writing workshops, and as the science fiction and fantasy book reviewer at The New York Times. Jemisin's works have been translated into more than 20 languages and in 2021 Sony's TriStar Pictures won the rights to The Broken Earth Trilogy with Jemisin adapting the novels for the screen.
SELECTED BIBLIOGRAPHY
Inheritance Trilogy (2010-2011)
Dreamblood Duology (2012)
Broken Earth Trilogy (2015-2017)
Great Cities Series (2020-2022)
---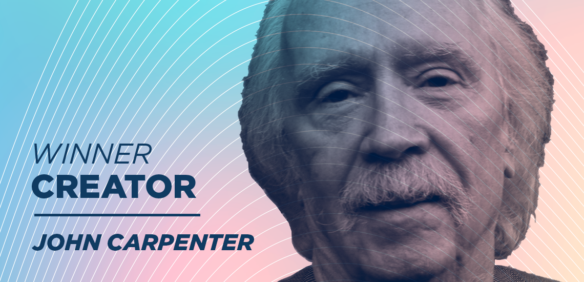 John Carpenter
b. 1948
John Carpenter is an American filmmaker and composer known for his horror, action, and science fiction films, most notably the Halloween franchise. Carpenter's films are characterized by minimalist lighting, panoramic compositions, and distinctive scores.
They include box office hits such as Halloween (1978), one of the most successful independent films of all time, The Fog (1980), Escape from New York (1981), and Starman (1984), as well as cult classics Dark Star (1974), The Thing (1982), Prince of Darkness (1987), They Live (1988), and Escape from L.A (1996).
Raised in a musical home, Carpenter wrote or co-wrote the scores for nearly all his films. His early adoption of synthesizers inspired many electronic artists and recent reissues of several has reinvigorated public interest in his talents as a musician.
While his commercial film success peaked in the 1980s, Carpenter's legacy as a legendary American filmmaker continues to grow. The U.S. Library of Congress selected Halloween for preservation in the National Film Registry in 2006, and in 2019 Carpenter was presented with the Golden Coach Award at the Cannes Film Festival.
SELECTED FILMOGRAPHY
Halloween (1978)
The Fog (1980)
Escape from New York (1981)
The Thing (1982)
Starman (1984)
Big Trouble in Little China (1986)
They Live (1988)
Memoirs of an Invisible Man (1992)
In the Mouth of Madness (1994)
Village of the Damned (1995)
Escape from L.A. (1996)
Ghosts of Mars (2001)
SELECTED DISCOGRAPHY
Lost Themes (2015)
Lost Themes II (2016)
Anthology: Movie Themes 1974–1998 (2017)
Lost Themes III: Alive After Death (2021)
---
Dune (Franchise)
Considered the world's best-selling science fiction novel, Frank Herbert's Dune (1965) created a franchise that now includes comics, video games, television shows, and films—and continues to challenge and inspire generations of creators and audiences.
Herbert's novel, with its more than two dozen prequels and sequels, tells the story of an interstellar empire tens of thousands of years in the future. Vital to this empire is the desert planet Arrakis, the only known source of the spice melange, which is the most valuable substance in the universe. Control of Arrakis, its spice production, and the combined impact on humanity's development form the axis of a millennia-long conflict that develops throughout the series.
Ambitious screen adaptations include the 1984 film by David Lynch and the John Harrison turn-of-the-millennium TV miniseries. Denis Villeneuve's cinematic reimagining brought Dune back to the screen in 2021.
Frank Herbert's original book was honored with the inaugural Nebula Award for Best Novel and the Hugo Award in 1966. It was praised by The New Yorker as "an epic of political betrayal, ecological brinkmanship, and messianic deliverance." The novel has been translated into dozens of languages and sold roughly 20 million copies.
RELATED WORKS
Dune, book (1965)
Dune Messiah, book (1969)
The Illustrated Dune, book (1978)
Avalon Hill's Dune, board game (1979)
Marvel Comics Super Special #36: Dune (1985)
Dune: Blood of the Sardauker, comic book (2021)

Dune, film (1984)
Dune, video game (1992)
Dune, television show (2000)
Children of Dune, television show (2004)
Dune, film (2021)
Dune: Spice Wars, video game (2022)
---
The Rocky Horror Picture Show (Film)
1975
The Rocky Horror Picture Show is a musical comedy horror film exploring themes of self-expression, the ethics of conformity, and gender and sexual freedom. Initially panned by critics, it has become a landmark cult film with a devoted global fanbase.
Based on Richard O'Brien's 1973 musical stage production The Rocky Horror Show, it stars O'Brien, Tim Curry, Susan Sarandon, and Barry Bostwick, and centers on a young couple seeking help at a remote castle after their car breaks down. They find the castle occupied by extravagantly dressed people celebrating an annual convention led by Dr. Frank N. Furter, an eccentric scientist, and visiting alien, who creates a man named Rocky Horror in his laboratory.
Embracing the show's affirmation of gender expression, audiences began participating with the film at the Waverly Theater in New York City in 1976, and audience interaction has become an essential part of the Rocky Horror experience. In 2016, a television remake was made starring Laverne Cox as Dr. Frank N. Furter.
Still in limited release in 2023, Rocky Horror is the longest-running theatrical release in film history. The film was selected for preservation in the United States National Film Registry by the Library of Congress in 2005.
RELATED WORKS
The Rocky Horror Show, play (1973)
The Rocky Horror Picture Show, film (1975)
Rocky Horror Picture Show, The Comic Book, comic book (1980)
Shock Treatment, film (1981)
The Rocky Horror Glee Show, television show (2010)
The Rocky Horror Picture Show: Let's Do the Time Warp Again, television special (2016)
---
This is the complete list of nominees voted on by the public: