Westercon 74 – which will take place next year in Tonopah, Nevada — announced the selection of Kevin Andrew Murphy and Myrna Donato as Guests of Honor. Although the convention initially announced while they were bidding that they would not have guests of honor in an attempt to keep costs down, thanks to a generous grant from the Utah Fandom Organization (Westercon 72/SpikeCon), they are able to honor two Nevadans for their contributions to the field of science fiction and fantasy, one of them as an author and another as a bookseller.
For the full text of the announcement, see the convention's website here.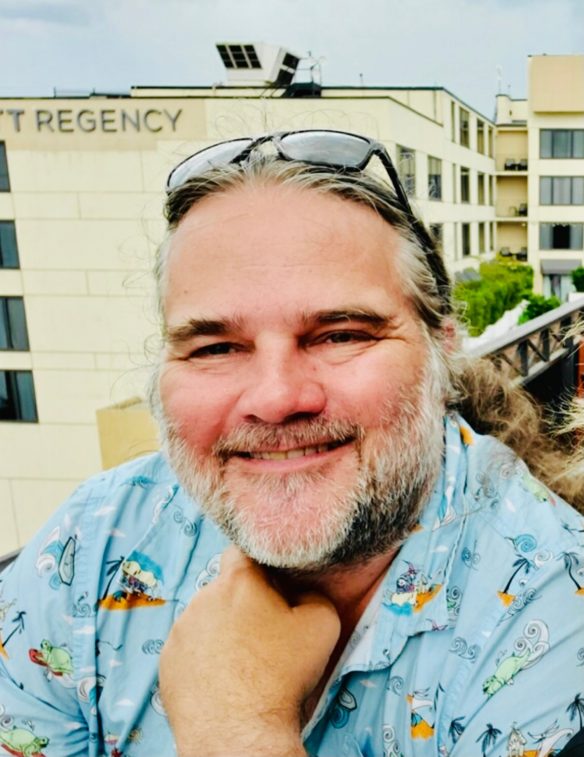 Kevin Andrew Murphy, who resides in Reno, Nevada, writes science fiction, fantasy, and horror fiction and roleplaying games, as well as poetry, plays, and occasional nonfiction. A longstanding member of George R.R. Martin's Wild Cards consortium, Kevin won the 2019 Darrell Award for Best Novella for "Find the Lady," his contribution to Mississippi Roll. His most recent Wild Cards story, "A Flint Lies in the Mud"/"But a Flint Holds Fire," is the opening tale for Knaves Over Queens, and he has more Wild Cards stories and a graphic novel coming out in the future. Kevin also writes stories outside the Wild Cards universe, including "Portals of the Past" in Weird War IV, edited by Sean Patrick Hazlett.
On the gaming front, Kevin has contributed both game writing and fiction to many worlds over the years, from White Wolf's Mage, where he created the popular character Penny Dreadful and her novel of the same name, to Paizo's Pathfinder, with numerous stories chronicling the adventures of the revolutionary alchemist Norret Gantier, to work for Sigil and Savage Worlds, most recently "The Covenant of Six," the fiction for the S5E: Superheroic Roleplaying Kickstarter.
Myrna Donato is the owner of Amber Unicorn Books, which she operated along with her late husband Lou Donato at two brick-and-mortar stores in the Las Vegas area and at conventions. She and Lou opened their first store in March 1981, and they were married on the beach in Maui in October of 1982. Over the years, they attended and sold books at many SF/F conventions, including both local conventions and Worldcons, most recently at the 2011 Worldcon in Reno.
In 1997, they sold their store and began selling books online and at conventions, coming out of retirement in 2008 when they opened their second Amber Unicorn Bookstore "due to the demand of our old customers," as she put it.
Besides specializing in science fiction and fantasy, Amber Unicorn specialized in cookbooks, for which they were written up in Saveur magazine. They were voted as one of the top ten vintage cookbook stores in the USA.
In 2016, the loss of the anchor store in their business complex, followed by the sudden and unexpected death of Lou in 2017, and then the onset of COVID-19 led to Myrna taking the difficult decision to close the physical bookstore in December of 2020, ending a 39-year run as the largest and oldest used bookstore in Las Vegas. Since then, Myrna has been selling books online through AbeBooks.com and enjoying being at home with her black labs. She says, "If you wonder how and why the store was named the Amber Unicorn, ask me and I will tell you the story behind the name."
Westercon 74 is scheduled to be held in person Friday, July 1, through Monday, July 4, 2022 at the Tonopah Convention Center and the Mizpah and Belvada Hotels in Tonopah, Nevada. Besides in-person programming, the convention plans to have a single "hybrid" track where one function room will be equipped to allow both members attending in person and those participating remotely (including supporting members) to participate simultaneously.

For information about joining Westercon 74, see the covention's website.