(1) KGB. Fantastic Fiction at KGB reading series hosts Ellen Datlow and Matthew Kressel present Nathan Ballingrud and Dale Bailey on Wednesday, June 14 at 7:00 p.m. Eastern. Where: KGB Bar, 85 East 4th Street, New York, NY 10003 (Just off 2nd Ave, upstairs).
Nathan Ballingrud
Nathan Ballingrud is the author of The Strange, Wounds: Six Stories from the Border of Hell, and North American Lake Monsters, which won the Shirley Jackson Award. A novella, Crypt of the Moon Spider, will appear in 2024. He has been shortlisted for the World Fantasy, British Fantasy, and Bram Stoker Awards. His stories have been adapted into the Hulu series Monsterland. He lives in Asheville, NC.
Dale Bailey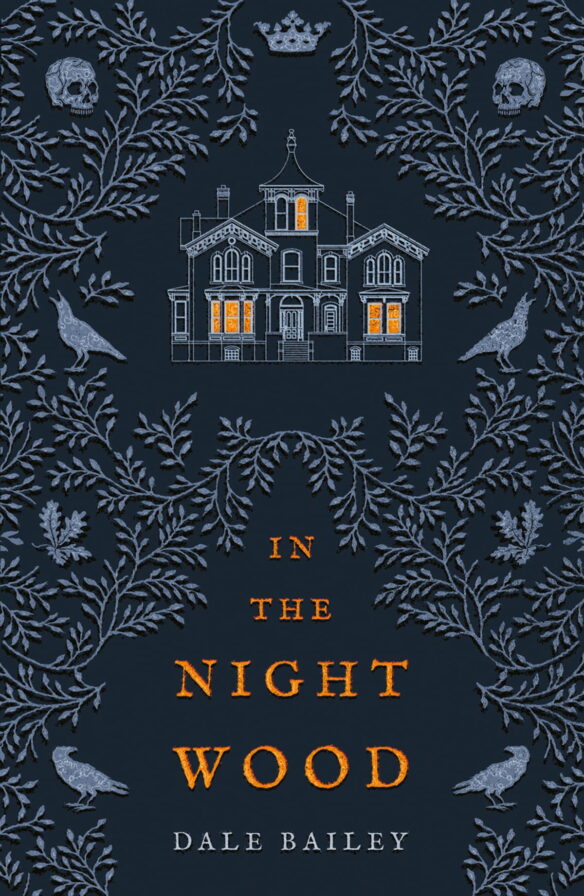 Dale Bailey is the author of This Island Earth: 8 Features From the Drive-In and eight previous books, including In the Night Wood and The End of the End of Everything. His story "Death and Suffrage" was adapted for Showtime's Masters of Horror television series. He has won the Shirley Jackson Award and the International Horror Guild Award, and has been a finalist for the World Fantasy, Nebula, Locus, and Bram Stoker awards. He lives in North Carolina with his family.
(2) THESE FIGURES ADD UP. Cora Buhlert's latest Masters of the Universe action figure photo story is "The Prisoner of Castle Grayskull Revisited".
…Masters of the Universe: Revelation never really goes into what happens to Duncan, after Lyn gets the Power. We only see him again, after he has escaped from the dungeon with the help of the tentacled creature known as the Orlax of Primeria and joins the battle outside Castle Grayskull.

But would Lyn really ignore her favourite prisoner? I don't think so, so let's see what happens when the powered up Lyn goes to see Duncan in the dungeon.

In the dungeons deep underneath Castle Grayskull…
(3) SPIDER-VERSE NETS BIG DOLLARS. Spider-Man: Across the Spider-Verse opened to $120.5 million in North America, the third-biggest opening ever for an animated film, as well as a best-ever for Sony Animation. According to Deadline:
Among all animated pic domestic openings, Spider-Verse is sixth behind Incredibles 2 ($182.6 million), Super Mario Bros ($146.3 million), Finding Dory ($135 million), Frozen 2 ($130.2 million) and Toy Story 4 ($120.9 million).
NPR analyzes why the film is drawing a big audience in "'Spider-Man: Across the Spider-Verse' stats show how representation works".
Turns out inclusivity also means more people want to give you their money! The early box office figures for the new Spider-Man film — and the demographic data of moviegoers — paint a vivid picture.

Who is he? There are plenty of variations on who Spider-Man is, and now Miles Morales is getting the spotlight….

What's the big deal? The most recent film in the series, Spider-Man: Across the Spider-Verse has made even bigger headlines and received rave reviews.
The film grossed $208 million worldwide in its opening weekend, roughly three times as much as the opening of the first film, as reported by NPR's critic, Bob Mondello.
And while in his review Mondello cites the inventive animation and plot as contributing to the success, he says that the diversity on screen was a huge draw for audiences.
That ranges from the main hero portrayed by Shameik Moore, to the several Spider-women featured, as well as the India based Spider-guy, Pavitr Prabhakar.
According to Mondello's reporting, the film opened strongly in 59 countries. In North America, exit tracking found that the audience was about one-third Latino and another third Black and Asian, diversity percentages far higher than for most superhero films.
(4) COULD IT BE…TRINITROTRITICALE? The filmmaker insisted on a real crop of wheat for scenes in his movie."Zack Snyder Goes Galactic: Exclusive First Look at 'Rebel Moon'" at Vanity Fair.
Zack Snyder is world-building once again with Rebel Moon. This time the 300 and Justice League filmmaker is creating not just one world but a sprawling menagerie of planets, full of cyborg warriors with molten-metal swords, giant half-humanoid arachnids, and ancient robots that seem to have emerged more from medieval times than the future. The new Netflix space saga that Snyder directed and cowrote extends far beyond the verdant orb of the title. That moon is actually one of the more modest worlds. It circles an immense gas giant at a distant edge of the galaxy and is populated mainly by farmers. It's nowhere special, but it's about to change the balance of power in this fictional universe.

While any sci-fi extravaganza naturally features copious digital effects, Snyder also used his estimated budget of at least $166 million to manifest as much of it in real life as possible. In a Santa Clarita canyon just outside Los Angeles, a full-size abandoned starfighter decays not far from what appears to be an idyllic Scandinavian-style village, complete with clusters of homes, shops, and barns, as well as a stone bridge arching over a crystalline river. (Team Snyder also built the river.) Vast fields of actual wheat sprout from desert hardpan never meant for such lush growth, but Snyder insisted on real crops for his farmers to harvest and defend. Just over the rocky hillside sits another Rebel Moon set for a larger community known as Providence that looks like an Old West metropolis. All of these are just locations on the moon of the title; there are other worlds beyond.…
(5) FILM HAS NEW NAME BUT YOU'LL RECOGNIZE THE SHIELD. Yahoo! is on hand when "Marvel Announces 'Captain America 4' Retitled as 'Brave New World'".
…Brave New World comes on the heels of the events of Avengers: Endgame and the Disney+ series The Falcon and the Winter Soldier. The former saw Chris Evans' Steve Rogers pass the Captain America shield on to Mackie's Sam Wilson, who had been serving as hero Falcon since Captain America: The Winter Soldier, which released in 2014…
(6) GRIFANT Q&A. Space Cowboys Books will host an online reading and interview with KC Grifant on Tuesday June 13 at 6:00 p.m. Pacific. Register for free here.
In an Old West overrun by monsters, a stoic gunslinger must embark on a dangerous quest to save her friends and stop a supernatural war. Sharpshooter Melinda West, 29, has encountered more than her share of supernatural creatures after a monster infection killed her mother. Now, Melinda and her charismatic partner, Lance, offer their exterminating services to desperate towns, fighting everything from giant flying scorpions to psychic bugs. But when they accidentally release a demon, they must track a dangerous outlaw across treacherous lands and battle a menagerie of creatures-all before an army of soul-devouring monsters descend on Earth. Supernatural meets Bonnie and Clyde in a re-imagined Old West full of diverse characters, desolate landscapes, and fast-paced adventure.
Get your copy of Melinda West: Monster Gunslinger here.
(7) DENNY LIEN MEMORIAL ITEMS. A memorial celebration was held on June 2 for Minneapolis fan Denny Lien, who died April 15.
The photo stream about Denny Lien's life put together by David Dyer-Bennett for the memorial celebration (which was not screened due to equipment problems) can be viewed on DD-B's Facebook feed.
At the memorial co-editors Karen Schaffer and Geri Sullivan distributed copies of the 32-page sampler of Denny's fanwriting, LienZine, now available at eFanzines. Their introduction begins:
Denny Lien was Minneapolis fandom's gentle giant. He was a research librarian at the University of Minnesota, and a mainstay of Minneapolis fandom back in the day. His height and impressive muttonchops could be intimidating on first encounter, but his quiet and calm demeanor was reassuring. He was also a prolific, erudite, and funny writer, with a fondness for parodies, puns, and imaginative flights of speculation. His letters to newspapers range from stern factual corrections to delightful skewering of logical fallacies. He wrote columns and articles for science fiction fanzines and APAs (Amateur Press Associations). He exercised his skill for parody in musical lyrics, especially in the beloved local production of Midwest Side Story. He even enlivened the minutes from the local science fiction club Minn-StF during his times as secretary.

For this memorial fanzine, we tried to include a representative cross section of his prodigious output, though we undoubtedly missed many gems. Perhaps you, the reader, will discover more someday.
They suggest if LienZine leaves you looking to make a donation in Denny's memory, make it to the Down Under Fan Fund or Habitat for Humanity.
(8) MEMORY LANE.
2010 – [Written by Cat Eldridge from a choice by Mike Glyer.]
Catherine Asaro is the writer who provides our Beginning this Scroll.
She is best known for her books about the Ruby Dynasty, called the Saga of the Skolian Empire. The Ruby Dice, one of those novels,is the source of our Beginning.
It was first published thirteen years ago by Baen Books and in audio format by Recorded Books.
Digging around the net, I discovered the Point Valid band had worked with her. Their second CD, Diamond Star, released fourteen years ago, is considered the soundtrack for Asaro's novel of that name. She provides vocals on several tracks including "Ancient Ages" and her voice is quite excellent indeed. That album is available on Apple Music and I assume elsewhere.
It's worth noting that she's a member of SIGMA, a think tank of speculative writers that advises the government as to future trends affecting national security.
My favorite works by her are this series plus The Quantum Rose series and her last novel, The Jigsaw Assassin. I can't say that I've read he short fiction, so do tell me about it please.
And now for The Ruby Dice Beginning…
Prologue
The Emperor of the Eubian Concord ruled the largest empire ever known to the human race, over two trillion people across more than a thousand worlds and habitats. It was a thriving, teeming civilization of beautiful complexity, and if it was also the greatest work of despotism in all history, its ruling caste had managed to raise their denial of that truth also to heights greater than ever before known.
Lost in such thoughts, the emperor stood in a high room of his palace and stared out a floor-to-ceiling window at the nighttime city below. The sparkle of its lights created a visual sonata that soothed his vision, if not his heart. At the age of twenty-six, Jaibriol the Third had weathered nine years of his own rule. Somehow, despite the assassination attempts, betrayals, and gilt-edged cruelty of his life, he survived.
Tonight the emperor grieved.
He mourned the loss of his innocence and his joy in life. His title was a prison as confining as the invisible bonds that held the billions of slaves he owned and wished he could free.
Most of all, he mourned his family. Ten years ago tonight, his parents had died in a spectacular explosion recorded and broadcast a million times across settled space. In the final battle of the Radiance War between his people and the Skolian Imperialate, the ship carrying his parents had detonated. He had seen that recording again and again, until it was seared into his mind.
(9) TODAY'S BIRTHDAYS.
[Compiled by Cat Eldridge.]
Born June 6, 1947 — Robert Englund, 76. I think his best performance was as Blackie on the very short-lived Nightmare Cafe. Of course, most will remember him playing Freddy Krueger in the Nightmare on Elm Street franchise. He actually appeared in a couple of now forgotten horror films, Dead & Buried and Galaxy of Terror, before landing that role. And he's continued to do myriad horror films down to the years ranging from CHUD to Strippers vs Werewolves. Versatile man, our Robert.
Born June 6, 1951 — Geraldine McCaughrean, 72. Fifteen years ago, she wrote Peter Pan in Scarlet, the official sequel to Peter Pan commissioned by Great Ormond Street Hospital, the holder of Peter Pan's copyright which J.M. Barrie granted them. So has anyone here read it?
Born June 6, 1959 — Amanda Pays, 64. I first encountered her as Thero Jones on Max Headroom, a series I think could be considered the best SF series ever made. She also had a guest role as Phoebe Green in the episode "Fire" of The X-Files, and and as Christina "Tina" McGee in The Flash. She appeared as Dawn in the Spacejacked film.
Born June 6, 1961 — Lisabeth Shatner, 62. Uncredited as a child along with her sister Melanie in "Miri" episode. Also appeared uncredited on TekWar entitled "Betrayal" which she wrote. The latter also guest-starred her sister, and was directed by their father. Co-wrote with father, Captain's Log: William Shatner's Personal Account of the Making of Star Trek V the Final Frontier.
Born June 6, 1963 — Jason Isaacs, 60. Captain Gabriel Lorca, the commanding officer of the USS Discovery in the first season of Discovery and also provided the voice of The Inquisitor, Sentinel, in Star Wars Rebels, and Admiral Zhao in Avatar: The Last Airbender. Oh, and the role of playing Lucius Malfoy in the Harry Potter film franchise.
Born June 6, 1973 — Guy Haley, 50. British author of the Richards & Klein Investigations series, a cyberpunk noir series where the partners are an android and an AI. His regular paycheck comes from his Warhammer 40,000 work where he's written a baker's dozen novels so far. Not surprisingly, he's got a novel coming out in their Warhammer Crime imprint which, though I've read no other Warhammer 40.000 fiction, I'm interested in seeing how they do it.
Born June 6, 1973 — Patrick Rothfuss, 50. He is best known for the Kingkiller Chronicle series, which won him several awards, including the 2007 Quill Award for his first novel, The Name of the Wind. He also won the Gemmell Award for The Wise Man's Fear. Before The Name of the Wind was released, an excerpt from the novel was released as a short story titled "The Road to Levinshir" and it won the Writers of the Future contest in 2002.
(10) DRAWN FROM THE SOURCE. Publishers Weekly's questions about her latest book leads them to revelations about "Tananarive Due's Haunted History".
Tananarive Due's new novel The Reformatory (Saga, Aug.) opens with this dedication: "For Robert Stephens, my great-uncle who died at the Dozier School for Boys in Marianna, Florida, in 1937. He was fifteen years old."

Due learned of Stephens's existence 10 years ago, when she got a call from the Florida state attorney general's office telling her she likely had a relative buried at the Dozier School, a reform school operated by the state from 1900 to 2011 that has become notorious for its horrific abuse of students. This brutality resulted in the deaths of dozens of boys who were then buried on the premises. After getting the call, Due and her father traveled to the site and attended a meeting of survivors.

Speaking via Zoom from her home office in Upland, Calif., clad in black and with posters for several of her works framed on the wall behind her, Due recalls the meeting: "I heard the firsthand testimony of survivors, Black and white, and the things that they had been through," she says. "Some of those stories I will just never forget."

Due mentions a man who spoke about receiving a beating so violent that the school physician had to remove pieces of his clothing from the lash marks on his back. "And this was a white man," she notes, "which I say because if you're talking about the segregation era, the 1960s and the 1950s, if they're treating white students like that—white prisoners—you can only imagine how they're treating the Black prisoners."

Learning of her personal connection to the institution inspired Due to write The Reformatory, a ghost story that fictionalizes the experience of her great-uncle at Dozier. It's set in 1950, when 12-year-old Black boy Robert Stephens is convicted of the crime of kicking a white boy. After being sent to the Gracetown Reformatory for Boys, Stephens finds himself under the jurisdiction of the sadistic Superintendent Haddock.

The school is also crawling with the "haints," or ghosts, of boys who were killed there, and Haddock soon discovers that Robert has a gift for spotting them….

… "My real wish was to create almost a historical fable," Due says, "but built on reality, where I could raise awareness about the horrible things that happened at the Dozier School and in the Jim Crow South in general." Using the format of a ghost story also allowed her to put a spotlight on a broken criminal justice system "without retraumatizing readers."…
(11) ZILLIONS OF CATEGORIES, MISTER RICO! [Item by Mike Kennedy.] Oh my good ghod there are tons and tons and tons of categories here. And, despite the name of the award, it covers a lot more than just trailers. All that said, quite a percentage of the nominees are genre or genre related. "Golden Trailer Awards Nominations List: 'Stranger Things,' 'Black Panther: Wakanda Forever,' 'Ted Lasso' & 'Glass Onion: A Knives Out Mystery' Among Most Nominated" at Deadline.
The Golden Trailer Awards has unveiled its nominees for its 23rd annual extravaganza taking place on Thursday, June 29th at The Orpheum Theatre in Los Angeles. The awards show honors the creative teams that are tasked with condensing two-hour films into two-minute trailers.
Films that received the most mentions include Black Panther: Wakanda Forever, Dungeons & Dragons: Honor Among Thieves, Glass Onion: A Knives Out Mystery, Nope and Oppenheimer. The TV series that were the most nominated included Ted Lasso, Stranger Things and Only Murders in the Building.
This awards show highlights the phenomenal trailers from the current year. The 2023 jury comprises an illustrious lineup of A-list directors, producers, actors, writers, executives, and advertising creatives. Winners are awarded in categories such as Best Action, Comedy, Drama, Documentary, Horror, Foreign, Video Game, Romance, and more….
(12) TRANSFORMERS FRANCHISE POPULARITY RANKING. With the premiere this week of Transformers: Rise of the Beasts, JustWatch has checked how many people are viewing the various films in the Transformers franchise.

Classic Transformers claims the first position, followed closely by Bumblebee in second place, which outshines the third-ranked Transformers: The Last Knight. The sixth spot is occupied by Transformers: Dark of the Moon. completing the lineup.
(13) DON'T LET IT BUG YOU. Mant (1993) is the story of a man who has mutated into a giant ant.
This 16-minute film in glorious black and white is the complete 'film within a film', which was featured in Joe Dante's Matinee from 1993. A parody or homage morphing of several low-budget science-fiction horror films of the 1950s (many in black & white) that fused radioactivity with mad science and mutation.
(14) VIDEO OF THE DAY. The Good Omens Season 2 Opening Title Sequence has been released.
[Thanks to Mike Kennedy, Andrew Porter, John King Tarpinian, Michael J. Walsh, Chris Barkley, Michael Toman, Cat Eldridge, and SF Concatenation's Jonathan Cowie for some of these stories. Title credit belongs to File 770 contributing editor of the day Andrew (not Werdna).]