(1) GAME CHOW. Food & Wine doesn't want you to miss a single offer: "All of the 'Game of Thrones' Food and Beverage Tributes for the Final Season"
Wherever your house allegiance may lie, there's an Oreo for that—no, seriously. On April 2, the cookie brand announced a special line of Game of Thrones Oreos, which are stamped with the sigils of House Stark, House Targaryen, and House Lannister, symbolizing the main families that are left in the battle for the Iron Throne (and against the White Walkers). There's even a cookie with the Night King on it, if you're rooting for the dark side; plus, Oreo also recreated the show's iconic opening sequence with (you guessed it) Oreos, which you can check out below.
(2) REALITY BOOZE. And Eater has another product roundup: "From Johnnie Walker to Oreos, Brands Are Going Ham on 'Game of Thrones' Merch".
Then there's sneakers, a $2,700 leather jacket, underwear, and even GoT wine and Johnnie Walker whiskey, which at least have a very tenuous connection, given that alcohol actually exists in Westeros (as compared to Oreos). Of course, none of these products will appear on screen, unless a final twist reveals that the entire Game of Thrones universe was actually the fever dream of a Mountain Dew advertising executive.
Hey, Fevre Dream is another clever GRRM reference, if intentional.
(3) DON'T PANIC. That's what SFWA says, even though there's no tickets left. Right now, anyway.
The 2019 Nebula Conference is SOLD OUT, but don't panic! We're looking into expanding capacity & expect to release more tickets. If you haven't bought your membership yet, email [email protected] to be notified when additional tickets are released.
(4) NOT WHISPERING. This morning I stopped at an intersection behind a "Smith Family Exterminating" truck and had the obvious thought. It came back to me now as I was reading Galactic Journey's review of an old IF theme issue: "[Apr. 6, 1964] The art of word-smithing (May 1964 IF)".
Science fiction magazines are no strangers to gimmicks. Fantasy and Science Fiction has "All-star issues" with no authors but big names (though they often turn in second-rate stuff). Analog is trying out a run in "slick" 8.5? by 11? size.

And this month, IF has gotten extra cute. Every story in the issue is written by a guy named "Smith." It's certainly a novel concept, but does it work?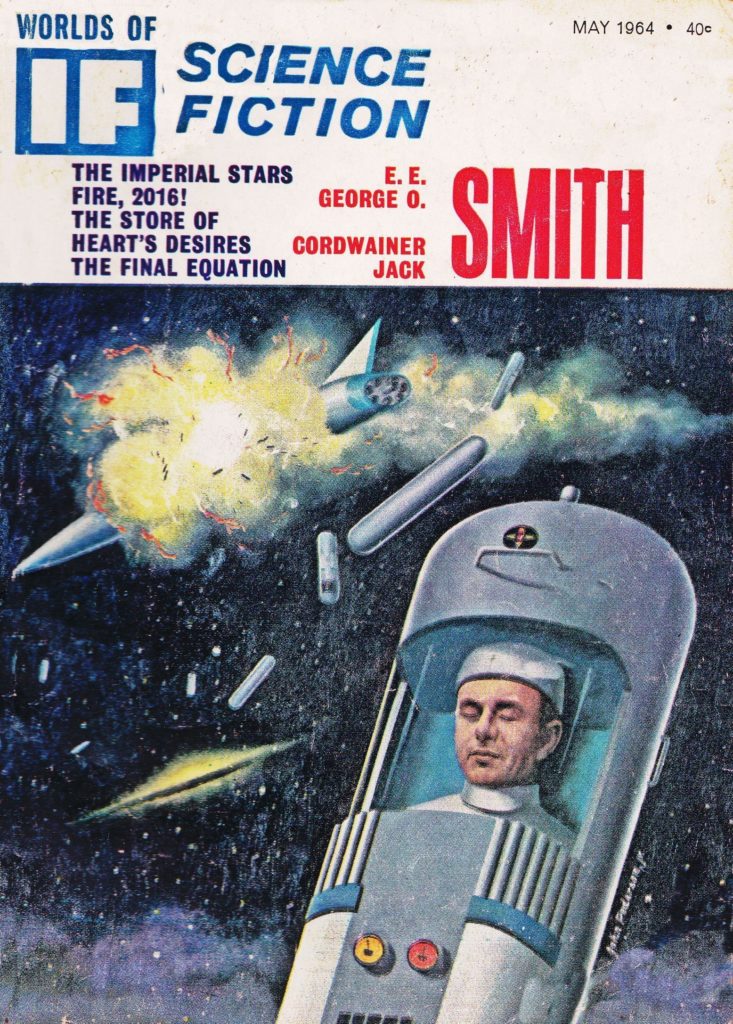 (5) WRITER'S BLOCH. His advice to Ray Bradbury is #5: "Robert Bloch: The World Explained in 20 Quotes" at CrimeReads.
"I urge you with all sincerity to get to work, write a book, write two—three—four books, just as a matter of course. Don't worry about 'wasting' an idea or 'spoiling' a plot by going too fast. If you are capable of turning out a masterpiece, you'll get other and even better ideas in the future. Right now your job is to write, and to write books so that by so doing you'll gain the experience to write still better books later on." (Bloch in an August 27, 1947 letter to Ray Bradbury)
(6) FLYOVER SLEUTHING. The winner of this year's Paretsky Award for mysteries set in the Midwest was announced March 23:
Scott Turow, the author of such best-selling novels as Presumed Innocent (1987), Reversible Errors (2002) and Testimony (2017), has received the annual Paretsky Award for his work. That commendation was presented to him during the third annual Murder and Mayhem in Chicago convention, held this last Saturday. The Paretsky Award, named after Sara Paretsky, the creator of Windy City private detective V.I. Warshawski, "honors mysteries set in the Midwest."
(7) RAPHAEL OBIT. Rabbi Lawrence Raphael died March 17 at the age of 74 reports Mystery Fanfare. In addition to being a rabbi, he edited anthologies of Jewish mysteries and crime fiction, and was also an expert in Jewish science fiction.
(8) TODAY'S BIRTHDAYS.
[Compiled by Cat Eldridge.]
Born April 7, 1915 — Stanley Adams. He's best known for playing Cyrano Jones in "The Trouble with Tribbles" Trek episode. He reprised in the Star Trek: The Animated Series episode "More Tribbles, More Troubles" and archival footage of him was later featured in the Deep Space Nine "Trials and Tribble-ations" episode. He also appeared in two episodes of the Batman series ("Catwoman Goes to College" and "Batman Displays his Knowledge") as Captain Courageous. (Died 1977.)
Born April 7, 1915 — Henry Kuttner. While he was working for the d'Orsay agency, he found Leigh Brackett's early manuscripts in the slush pile; it was under his guidance that she sold her first story to Campbell at Astounding Stories. His own work was done in close collaboration with C. L. Moore, his wife, and much of they published was under pseudonyms. During the Forties, he also contributed numerous scripts to the Green Lantern series. (Died 1958.)
Born April 7, 1928 — James White. His best-known novels were the Sector General hospital series published over a nearly a forty year period. No, I'm not going to remember which ones I read but I do fondly remember reading several of them and encountering the short stories in various magazines. Definitely popcorn literature at its best! (Died 1999.)
Born April 7, 1934 — Ian Richardson. His first genre performance was in A Midsummer Night's Dream as Oberon. That's the film with Diana Rigg, Helen Mirren, Ian Holm and David Warner as well. He's the Narrator of Gawain and the Green Knight, Sherlock Holmes in The Hound of the Baskervilles and The Sign of Four, Mr. Warrenn in Brazil (a film I've never understood), Polonius In Rosencrantz & Guildenstern Are Dead, Mr. Book in Dark City, Wasp in Through the Looking-Glass, and What Alice Found There and Sir Charles Warren in From Hell based off the Alan Moore excellent graphic novel about the Ripper murders. (Died 2007.)
Born April 7, 1935 — Marty Cantor, 84. He's the editor with then his wife Robbie of Holier Than Thou. It was nominated for the 1984, 1985 and 1986 Hugo Awards for Best Fanzine, losing in the first two years to File 770 and in the last to Lan's Lantern. He also published Who Knows What Ether Lurks in the Minds of Fen?, a rather nice play off The Shadow radio intro.
Born April 7, 1939 — Francis Ford Coppola, 80. Director / Writer / Producer. THX 1138 was produced by him and directed by George Lucas in his feature film directorial debut in 1971. Saw it late at night after some serious drug ingestion with a redhead into Morrison — strange experience that was. Other genre works of note include Bram Stoker's Dracula, an episode of Faerie Tale Theatre entitled"Rip Van Winkle", Twixt (a horror film that almost no one has heard of), Mary Shelley's Frankenstein, Jeepers Creepers and Jeepers Creepers 2,
Born April 7, 1946 — Stan Winston. He's best known for his work in Aliens, the Terminator franchise, the first three Jurassic Park films, the first two Predator films, Batman Returns and Iron Man. He was unusual in having expertise in makeup, puppets and practical effects, and was just starting to get in digital effects as well. (Died 2008.)
Born April 7, 1945 — Susan Petrey. There are days I don't like the Universe very much and it's things like her death which cause that. Dead at 35, she's the author of the Varkela, a series of stories where vampires heal instead of kill. Her collected work is be found in Gifts of Blood. She was very active in Portland, Oregon fandom where her friends established the Susan C. Petrey Clarion Scholarship Fund in her memory which raises funds to send aspiring writers to the Clarion. (Died 1980.)
Born April 7, 1951 — Janis Ian, 68. Stars: Original Stories Based on the Songs of Janis Ian is an anthology of stories edited by her and Mike Resnick. It looks damn good and I've got the ISFDB link here for the contents.
(9) COMICS SECTION.
(10) FINALISTS CONSIDERED. Gary Tognetti reacts to the ballot in "2019 Hugo Nominations Post – Impressions, Surprises, Disappointments" at The 1000 Year Plan.
…The opinions expressed below are not intended to divide the nominees up into things that "deserve" to be there and things that don't. Every work/person on the ballot deserves to be there because their fans were passionate enough to make it happen. Fans are an opinionated bunch: we think some things are better than other things and we like to argue about it. That's what I'm doing here.
(11) BRW. We've been talking a lot about AO3 – Paste takes a look at another Best Related Work that's also a product of the times: "YouTuber Lindsay Ellis Has Been Nominated for a Hugo Award for Her Acclaimed 'Hobbit Duology'".
The YouTube video essay has become perhaps the defining form of entertainment media of the digital age, and yet it's still not a medium that garners a lot of respect. Except for the likes of a handful of film YouTubers such as the dearly departed Every Frame a Painting, it's a field where all of the middling quality entries have an anchor-like effect upon all the superior efforts. In much the same way that feature films on streaming services have slowly clawed their way into award recognition, though, the same is true of the YouTube video essay. And YouTuber Lindsay Ellis just made a major statement to that effect, garnering a Hugo Award nomination for her critically acclaimed "Hobbit Duology," in the category of Best Related Work.

It's not the first time a YouTuber has been nominated for a Hugo Award—it's happened at least once before, when Rachel Bloom was nominated in 2010—but it's still a major honor and an important precedent, all the same. And it's a fitting recognition of Ellis' instantly gripping series of three videos on Peter Jackson's The Hobbit, which offer a postmortem on how one of the most beloved film trilogies of all time (The Lord of the Rings) ended up being followed by a disappointing, overstuffed miscalculation.
(Note: Rachel Bloom was a 2011 nominee.)
(12) AWARD NEWS. The judges for the Neukom Institute Literary Arts Awards are Ann VanderMeer and Jeff VanderMeer reports Locus Online. The $5,000 awards will be presented in May at Dartmouth College in New Hampshire.
(13) THE METAPHORICAL RED PLANET. Kelly Lagor digs into a classic Bradbury collection at Tor.com: "On the Origins of Modern Biology and the Fantastic: Part 10—Ray Bradbury and Mechanisms of Regulation".
The Martian Chronicles, published in 1950, represented something unique and different in science fiction. At the optimistic opening of the space age, if offered a perspective on the lie that the promise of a new frontier offers, as though by traveling to Mars we assumed we would leave behind our weakness and bigotry. It's Bradbury up and down, sacrificing scientific rigor in favor of poetic metaphor; one part awe, one part sadness, three parts nostalgia. It brought a literary perspective to science fiction, tackling themes of loneliness, regret, and the inevitable loss of innocence. Bradbury sought the deeper meanings in the established mechanics of science fiction and his stories encompassed an added layer of complexity that would have a profound impact on an up-and-coming generation of writers.
(14) BOOK REVIEW BONANZA. Sweet Freedom's "Friday's Forgotten Books" feature links to the week's collection of genre reviews.
This week's books and more, unfairly (or sometimes fairly) neglected, or simply those the reviewers below think you might find of some interest (or, infrequently, you should be warned away from); certainly, most weeks we have a few not at all forgotten titles…a big week for Christie books…pushing the limit of "forgotten" but as with some of the other hugely popular, hugely prolific writers, each title aside from the most popular tends to be lost in the shuffle…how many John Creasey novels can most non-Creasey fans name?
The hotlinks to the items listed below are here:
Patricia Abbott: Go With Me by Castle Freeman
Les Blatt: The Judas Window by "Carter Dickson" (John Dickson Carr)
Joachim Boaz: The Road to Corlay by "Richard Cowper" (John Middleton Murry, Jr.)
John Boston: Amazing: Fact and Science Fiction Stories, August 1963, edited by Cele Goldsmith Lalli
Ben Boulden: "The Double Whammy" by Robert Bloch, Fantastic, February 1970, edited by Ted White
Brian Busby: Jimmie Dale Alias The Gray Seal by Michael Howard
Brandon Crilly: On Spec co-edited by Diane Walton
Martin Edwards: Dominoes by John Wainwright
Peter Enfantino: Atlas (proto-Marvel) Horror Comics: March 1952
Will Errickson: Off Season by "Jack Ketchum" (Dallas Mayr)
José Ignacio Escribano: The Labours of Hercules by Agatha Christie
Curtis Evans: A Spot of Folly by Ruth Rendell
Olman Feelyus: The Prone Gunman by Jean-Patrick Manchette (translation by James Brook)
Paul Fraser: New Worlds SF, February 1965, edited by Michael Moorcock
Barry Gardner: A Cool Breeze on the Underground by Don Winslow
Charles Gramlisch: The Best of the West edited by Joe R. Lansdale
John Grant: Gangway! by Donald Westlake and Brian Garfield; The Pursuit of Alice Thrift by Elinor Lipman
Aubrey Hamilton: Suddenly While Gardening by Elizabeth Lemarchand
Rich Horton: Captives of the Flame by Samuel Delany; The Psionic Menace by "Keith Woodcott" (John Brunner); Ian McDonald stories; Ilium by Dan Simmons; Again, Dangerous Visions edited by Harlan Ellison
Jerry House: Negro Romance, #2 Fawcett August 1950/#4 Charlton May 1955, written and edited by Roy Ald and illustrated by Alvin Hollingsworth
Kate Jackson: Dead Man's Folly by Agatha Christie; Mothers in Crime Fiction
Tracy K: What Never Happens by Anne Holt; Remembered Death by Agatha Christie
Colman Keane: Atlanta Deathwatch by Ralph Dennis
George Kelley: The Great SF Stories 8 (1946) edited by Isaac Asimov and Martin H. Greenberg
Joe Kenney: Rock & Roll Retreat Blues by Douglas Kent Hall
B. V. Lawson: Picture Miss Seeton by "Heron Carvic" (Geoffrey Richard William Harris)
Evan Lewis: Comic Book Nation by Bradford W. Wright
Steve Lewis: Lord Mullion's Secret by Michael Innes; Cat Among the Pigeons by Agatha Christie; 30 for a Harry by Richard Hoyt; "First Life" by Roger Dee, Super-Science Fiction, July 1950, edited by Ejler Jakobsson; "The Flies of Memory" by Ian Watson (novella version); Isaac Asimov's Science Fiction Magazine, September 1988, edited by Gardner Dozois
Todd Mason: Fantastic, September 1974, edited by Ted White; The Paris Review, Autumn 1974, edited by George Plimpton; The Ontario Review, Autumn 1974, edited by Raymond J. Smith; The Magazine of Fantasy and Science Fiction, September 1974, edited by Edward Ferman
Francis M. Nevins: the works of John Roeburt
John F. Norris: The Crowing Hen by Reginald Davis; The Hand of the Chimpanzee by Robert Hare
Scott Parker: Faraday: The Iron Horse by James Reasoner
Matt Paust: That Old Scoundrel Death by Bill Crider
James Reasoner: Hearts of the West edited by Jean Marie Stine
Richard Robinson: Bodies from the Library edited by Tony Medawar
Gerard Saylor: The End of Vandalism by Tom Drury
Jack Seabrook and Peter Enfantino: DC War Comics, September 1974
Doreen Sheridan: The King of the Rainy Country by "Nicholas Freeling" (Nicolas Davidson)
Steven H. Silver: the works of Anne McCaffrey
Victoria Silverwolf: Fantastic: Stories of Imagination, November 1963, edited by Cele Goldsmith Lalli
Kevin Tipple: A Reader's Book of Days: True Tales from the Lives and Works of Women for Every Day of the Year assembled by Tom Nissley
"TomCat": "Mystery at the Dog Pound" by Robert W. Cochran, Street & Smith's Detective Story Magazine, May 1942, edited by Daisy Bacon
[Thanks to Cat Eldridge, Chip Hitchcock, JJ, Kim Huett, Martin Morse Wooster, Cora Buhlert, John King Tarpinian, Mike Kennedy, Todd Mason, Carl Slaughter, and Andrew Porter for some of these stories. Title credit goes to File 770 contributing editor of the day Anna Nimmhaus.]