(1) FILM PRODUCTION RESUMES IN PRAGUE. Czech diplomat Jaroslav Olsa Jr. told Facebook readers, "I am happy that the Czech Republic is back as the powerhouse for Hollywood productions as it became the first country in Central Europe to reopen for filmmakers!" And he linked to this Czech Film Commission post: "Carnival Row completes two weeks of remaining filming in the Czech Republic under strict coronavirus protocols".
In the Czech Republic, the clapper has just fallen on the most financially beneficial foreign production since the introduction of production incentives. The neo-Victorian fantasy television series Carnival Row starring Orlando Bloom and Cara Delevingne, a joint venture between the American companies Amazon Studios and Legendary Television, has completed two weeks of remaining production in Prague, after filming was interrupted at the beginning of March due to the spread of Covid-19.
(2) G.O.A.T.? Matthew M. Foster strikes an exceptional note of excitement over "Bill & Ted Face the Music (2020)".
This is the greatest movie ever made.

Am I over praising it? Absolutely. But this is the movie we need now. This is it's time. If there's ever been a more perfect fit for a film with reality, I don't know it. Perhaps it won't end up as the best film of the year, but it will be THE film of the year.

In this miserable time, filled with hate and doom and surrounded by loneliness, there's been no cinema for nearly six months. Nothing. A huge gaping void to go with the huge gaping void which has been life, and Bill and Ted come along to fill it…
(3) MARK YOUR CALENDAR. Or whack your porcupine, or whatever it is you do to remember a date. 8-time Bram Stoker Award-nominated author Scott Edelman will launch a book on September 22. Scott elaborates —
Since this pandemic has made an in-the-flesh book launch for my new short story collection Things That Never Happened impossible, I'm doing as so many have done and holding a virtual one. So I'll be running it live on September 22 through YouTube.

And you can even click to set yourself a reminder. I'll briefly interview the cover artist to discuss how she came up with the concept, then I'll be interviewed, and take questions. And as you can see by the image, the publisher even donated gift cards good in their store for me to give away as prizes.
Attend this live event for a chance to win one of three $50 gift certificates good at the Cemetery Dance store.
(4) VIRTUAL OR-ECON PLANNED. OryCon 42 has been postponed to next year due to the pandemic. It will be held November 13 to 15, 2021.
They will have a free virtual mini-con in 2020 from November 12-14, 2020 which has been dubbed OR-eCon. See updates at the OryCon website.
For now, we're actively recruiting volunteers interested in making this virtual event happen. Please contact [email protected] if you are interested in volunteering for OR-eCon.

If you would like to be notified as our plans progress, you can join our mailing list here.

While this will be a free event, we will be requesting donations both to cover the costs of the virtual event and for use elsewhere in the organization. As always, the various OSFCI charitable funds (Clayton, Petrey) are also open to donations.
(5) WHERE'S THAT OSCAR? ScreenRant is still peeved: "These Fantastic Sci-Fi Movies Were Some Of The Oscars' Biggest Snubs".
… These are often genre films, such as sci-fi, which continually fail to receive the recognition they deserve. While things are getting better, the Academy has a long and storied history of ignoring these excellent and influential films. With this in mind, here are 10 fantastic science-fiction films that were snubbed by the Oscars…

08 Blade Runner

Blade Runner presented a vision of the future unlike anything seen before and its influence continues to be felt today, but it was tragically overlooked by the Oscars and only picked up a mere two nominations and failed to win either award.

Harrison Ford's fantastic portrayal of Rickard Deckard wasn't enough to earn him a nomination, or any other member of the cast. Blade Runner's score was also overlooked. However, Bafta showered the film with eight nominations and awarded it three awards. The huge disparity between organizations goes to show how subjective these nominations are.
(6) TELL KIDS ABOUT BOSEMAN DEATH? Actor Chadwick Boseman died of colon cancer on August 28. In the Washington Post, Keith L. Alexander says Black parents with young children who are Black Panther fans are struggling to determine if they should tell their kids that Boseman died: "Parents of young 'Black Panther' fans struggle with telling children of actor's death".
… Graphic designer Kyle Cox remembers how he struggled to keep his own pain away from his 3-year-old son Lucas when NBA superstar Kobe Bryant, Cox's idol, was killed in a helicopter crash in January.

"Every time he sees Chadwick on TV or in a movie, he points and says 'Challa,' " said Cox, 34, of Lawrence, Mass. Lucas's bedroom is covered with Black Panther posters, bedsheets, pillowcases and action figures.

"My wife and I have not decided yet if we are going to tell him. He wants to be like T'Challa when he grows up, a Black king. I don't know if I want to tell him his hero died. That might crush him," he said. "He's still trying to get used to the pandemic and not seeing his friends anymore."
(7) NEIL KADEN HAS DIED. Fanzine publisher and conrunner Neil Kaden (1954-2020) died August 28 at the age of 66. The family memorial notice is here, where it says a full obituary is coming. He is survived by his wife, Cris. There are some fine photos of the pair here at BostonBaden.com.
In a 2010 letter of comment, Neil told File 770 readers that he was diagnosed with Parkinson's Disease around 2005. He told about his concern that other fans who also suffer from it might lose their connection to fandom and no one would know:
Statistics should show that over 1-in-100 fans are stricken with PD, but neither of us could identify where these fans are. Without a faanish safety net, they fall out of touch. The motion related symptoms, balance problems, bradykinesia, tremors, memory problems, and uncontrollable dystonia, are frequently not very visible, especially in the early stages.
Kaden at one time participated in several amateur publishing associations (APAs), founding DAAPA, and belonging to Taps, Applesauce, Anzapa, Canadapa, Vanapa. His publications included Dopplegangers!; Nekromancy; and Confessions Of A Failed Yuppie.
He co-chaired Ditto 13, a con for fanzine fans, in 2000.
(8) NELSON OBIT. Actress Lori Nelson died August 30. The Hollywood Reporter paid tribute.
Lori Nelson, the 1950s starlet who was kidnapped by an amphibious monster in Revenge of the Creature and portrayed Barbara Stanwyck's daughter in Douglas Sirk's All I Desire, has died. She was 87.

Nelson had been suffering from Alzheimer's disease for several years and died Sunday at her home in the Porter Ranch section of Los Angeles, her daughter Jennifer Mann said.

…In Revenge of the Creature (1955), the first of two sequels spawned from 1954's Creature From the Black Lagoon, Nelson played the ichthyology student named Helen who is snatched from a seaside restaurant by a smitten Gill Man (Tom Hennesy and Ricou Browning).

She initially did not want to make the movie but in the end was glad she did.

"I played opposite Rock Hudson, Tony Curtis, Jimmy Stewart, Dean Martin and Audie Murphy, but who's the leading man everybody wants to ask me about? The Gill Man!" she said in an interview for Tom Weaver's book The Creature Chronicles: Exploring the Black Lagoon Trilogy. "It's so funny, Universal had to twist my arm a little to be in a monster movie. But if I knew then how popular they would remain, I would have twisted their arm to be in a couple more.
(9) MEDIA BIRTHDAY.
August 30, 1999 — The animated Roughnecks: The Starship Trooper Chronicles first aired in syndication from the Bohbot Kids Network. Produced by Co-Executive Producer's Verhoeven-Marshall Flat Earth Productions (Richard Raynis was the other Co-Executive Producer), it's loosely based off both Heinlein's novel and Verhoeven's film. Very loosely. Duane Capizzi who later wrote the Superman: Doomsday film was one of the actual producers. The voice cast was rather large and consisted largely of no one you'll recognise without Googling them. The series would last one season and thirty six thirty minute episodes before being canceled by Columbia TriStar Television and Sony Pictures on a cliff hanger as the last four episodes weren't produced. You can see the trailer here.
(10) TODAY'S BIRTHDAYS.
[Compiled by Cat Eldridge and John Hertz]
Born August 30, 1797 – Mary Shelley.  Frankenstein her first novel; I agree with Brian Aldiss it's the first science fiction novel.  Alas, it seems one of those books everybody talks about but nobody has read.  It's an irresponsibility contest between the man and the monster.  Also a feminist tract; I've said that of Glory Road but falling on deaf ears.  One more novel, a score of shorter stories, for us; five other novels, travelogues, biographies, editions of Percy Shelley's work.  (Died 1851) [JH]
Born August 30, 1887 – Ray Cummings.  Two dozen novels, two hundred thirty shorter stories for us; perhaps seven hundred fifty all told.  He, and not e.g. Feynman or the Flying Karamazov Brothers, wrote "Time is what keeps everything from happening at once" (a character in The Girl in the Golden Atom says it, ch. 5).  (Died 1957) [JH]
Born August 30, 1896 — Raymond Massey. In 1936, he starred in Things to Come, a film adaptation by H.G. Wells of his own novel The Shape of Things to Come. Other than several appearances on Night Gallery forty years later, that's it for genre appearances. (Died 1983.) (CE)
Born August 30, 1931 – Jack Swigert.  Licensed private pilot by age 16; attained Second Class Scout, Boy Scouts of America.  At Univ. Colorado, football for the Buffaloes; M.S. (aerospace engineering) from Rensselaer; M.B.A. from Univ. Hartford.  U.S. Air Force fighter pilot, Korea; jet fighter pilot, Air Nat'l Guard; engineering test pilot; 7,200 hrs in flight.  AIAA (Am. Inst. Aeronautics & Astronautics) Chanute Award for demonstrating Rogallo wing.  NASA (Nat'l Aeronautics & Space Adm'n) Astronaut; on Apollo 13 mission said "Houston, we've had a problem here"; Presidential Medal of Freedom.  Elected to U.S. House of Representatives, developed cancer, died before serving.  Three honorary doctorates.  Int'l Space Hall of Fame.  (Died 1982) [JH]
Born August 30, 1940 – Ye Yonglie.  (Written Chinese-style; the family name is Ye, rhymes with Heh heh.)  Chemist, poet, biographer, film director; fifty volumes of various material; proclaimed the leading science popularizer by the Party (thus sometimes "the Chinese Asimov").  Xiao Lingtong Manyou Weilai (in romanization the Party prefers; "Little Know-it-all Roams the Future") and sequels still in print, three million copies circulating, many Chinese children's first contact with Futures Studies.  Half a dozen short stories for adults, three translated into English, see e.g. Science Fiction from China, Tales from the Planet Earth.  Reports on SF in China for Foundation, Locus.  (Died 2020) [JH]
Born August 30, 1942 — Judith Moffett, 78. She won the first Theodore Sturgeon Award with her story "Surviving" and the John W. Campbell Award for Best New Writer at Nolacon II (1988) for her Pennterra novel. Asimov wrote an introduction for the book and published it under his Isaac Asimov Presents series. Her Holy Ground series of The Ragged World: A Novel of the Hefn on Earth, Time, Like an Ever-Rolling Stream: A Sequel to the Ragged World and The Bird Shaman are her other genre novels. The Bear's Babys And Other Stories collects her genre short stories. All of her works are surprisingly available at the usual digital suspects. (CE) 
Born August 30, 1956 – Lissanne Lake, 64.  A hundred covers, plus interiors, for Feast of Laughter, Mythic Delirium, Strange Plasma, books, gaming cards.  Here is Lafferty in "Orbit", i.e. stories published in Orbit.  Here is the Four of Chivs (blades) from her Buckland Romani Tarot Deck.  Of course she has a Facebook page.  [JH]
Born August 30, 1963 — Michael Chiklis, 57. He was The Thing in two first Fantastic Four films, and Jim Powell on the No Ordinary Family series which I've never heard of.  He was on American Horror Story for its fourth season, American Horror Story: Freak Show as Dell Toledo. The following year he was cast as Nathaniel Barnes, in the second season of Gotham, in a recurring role. And he voiced Lt. Jan Agusta in Heavy Gear: The Animated Series. (CE)
Born August 30, 1965 — Laeta Kalogridis, 55. She was an executive producer of the short-lived not so great Birds of Prey series and she co-wrote the screenplays for Terminator Genisys and Alita: Battle Angel. She recently was the creator and executive producer of Altered Carbon. She also has a screenwriting credit for Lara Croft: Tomb Raider, a film the fanboys hate but which I really like. (CE) 
Born August 30, 1972 — Cameron Diaz, 48. She first shows as Tina Carlyle in The Mask, an amazing film. (The sequel is bloody awful.)   She voices Princess Fiona in the Shrek franchise. While dating Tom Cruise, she's cast as an uncredited Bus passenger in Minority Report. Oh, and she's Lenore Case in the cringingly awful Green Hornet, a film I gave up on after fifteen or so minutes despite being predisposed to liking it. (CE)
Born August 30, 1973 – Echo Chernik, 47.  Commercial artist including science fiction and fantasy images; in four issues of Spectrum.  Here are some cards from her Patrick Rothfuss Name of the Wind Art Deck.  Here is Echo Recoil.  Here is a tote bag for the Uwajimaya shops.  Here is her Four of Blades for the "Shadowrun" Sixth World Tarot.  Here is an Elf for Shadowrun.  [JH]
Born August 30, 1980 — Angel Coulby, 40. She is best remembered for her recurring role as Gwen (Guinevere) in the BBC's Merlin. She also shows up in Doctor Who as Katherine in the "The Girl in the Fireplace", a Tenth Doctor story. She also voices Tanusha 'Kayo' Kyrano in the revived animated Thunderbirds Are Go series. (CE)
(11) TRIVIAL TRIVIA.
It's Fred MacMurray's birthday. He was used by artist C.C. Beck as the basis for Captain Marvel back in 1939.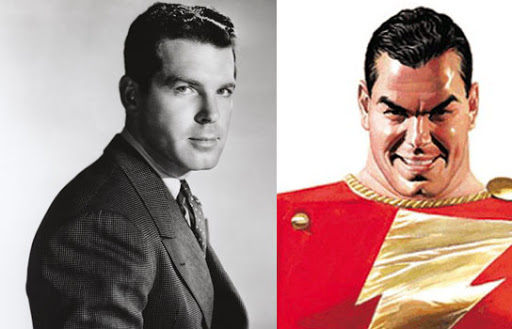 (12) LEADERSHIP. "Octavia Butler on How (Not) to Choose Our Leaders" by Maria Popova at Brain Pickings.
…Like Ursula K. Le Guin, Butler straddled the timeless and the prophetic, saturating her fiction with astute philosophical and psychological insight into human nature and the superorganism of society. Also like Le Guin, Butler soared into poetry to frame and punctuate her prose. Each chapter begins with an original verse abstracting its thematic direction. She opens the eleventh chapter of the second Earthseed book with this verse:

Choose your leaders with wisdom and forethought.
To be led by a coward is to be controlled by all that the coward fears.
To be led by a fool is to be led by the opportunists who control the fool.
To be led by a thief is to offer up your most precious treasures to be stolen.
To be led by a liar is to ask to be told lies.
To be led by a tyrant is to sell yourself and those you love into slavery.
(13) POETIC LICENSE. In the latest podcast from Diamond Bay Radio, Lex Berman interviews Sebastian Doubinsky. Touching on drugs, music, and the need to protect poets as the last bastion of freedom, Seb provides a thoughtful background to his novel The Invisible (Meerkat Press, 2020): "The Invisible With Seb Doubinsky'.
Take a stroll around New Babylon with the City Commissioner, Ratner, who finesses his way through the subcultures of Synth music, political corruption, and the invisible power of shared delusions. Ratner is out to find the murderer of Jesse Valentino, the former cop and unknown poet, unknown at home, and famous everywhere else.
(14) VIDEO OF THE DAY."It's a Neil Gaiman Universe, We Just Live In It" on YouTube is a clip from a 2014 episode of the NPR game show Ask Me Another where a contestant was asked whether a passage was from Neil Gaiman's work or was made up by the Ask Me Another staff.
[Thanks to JJ, Cat Eldridge, Martin Morse Wooster, Mike Kennedy, Michael Toman, Andrew Porter, John King Tarpinian, Mlex, and John Hertz for some of these stories. Title credit goes to File 770 contributing editor of the day Niall McAuley.]