(1) AUTHORS AND PUBLISHERS RESPOND TO INVASION OF UKRAINE. Shelf Awareness did a roundup of industry statements of support, and announcements of stronger actions.
PEN International released a letter signed by more than 1,000 writers worldwide, expressing solidarity with writers, journalists, artists and the people of Ukraine, condemning the Russian invasion and calling for an immediate end to the bloodshed.

"We, writers around the world, are appalled by the violence unleashed by Russian forces against Ukraine and urgently call for an end to the bloodshed," the letter stated. "We stand united in condemnation of a senseless war, waged by President Putin's refusal to accept the rights of Ukraine's people to debate their future allegiance and history without Moscow's interference.

"We stand united in support of writers, journalists, artists, and all the people of Ukraine, who are living through their darkest hours. We stand by you and feel your pain.

"All individuals have a right to peace, free expression, and free assembly. Putin's war is an attack on democracy and freedom not just in Ukraine, but around the world.

"We stand united in calling for peace and for an end to the propaganda that is fueling the violence. There can be no free and safe Europe without a free and independent Ukraine. Peace must prevail."
---
The Chartered Institute of Library and Information Professionals issued a statement of solidarity and support for librarians, archivists and information professionals in Ukraine, noting: "We are gravely concerned at the threat posed by this action to the safety of the Ukrainian people, their heritage and identity, as well as to the security of our professional colleagues.
---
A statement of support, signed by Juergen Boos, director of the Frankfurt Book Fair, responded to a joint public appeal from the Baltic cultural organizations representing book creators, publishers and other professionals to end all cooperation with institutions of the Russian Federation.

"The organizers of the Frankfurt Book Fair strongly condemn Russia's attack on Ukraine ordered by President Putin," Boos wrote. "Against the backdrop of the Russian Federation's invasion of Ukraine, a violation of international law, the Frankfurt Book Fair is suspending cooperation with the Russian state institutions in charge of organizing the Russian collective stand at Frankfurter Buchmesse. The Frankfurt Book Fair assures the Ukrainian publishers' associations of its full support."

The appeal was signed by the Lithuanian Culture Institute, the Latvian Literature/the International Writers and Translators house, the Estonian Literature Centre, Publishers Associations and Writers Unions in all three counties, the Lithuanian, Latvian, and Estonian sections of the International Board on Books for Young People (IBBY), and the Estonian Children's Literature Centre.
---
Publishers Weekly adds this news: "Ukraine Update: Bologna Blocks Russia, Ukrainians Call for Global Boycott".
Today, the organizers of the Bologna Children's Book Fair announced that, following Russia's invasion of Ukraine, the Fair has, "with immediate effect," suspended cooperation with all Russian state institutions in charge of organizing the Russian collective stand for the upcoming fair, which is scheduled for March 21-24. Last week, Bologna officials condemned the Russian attack, but had stopped short of blocking Russian participation in the fair.
(2) RUSSIAN SFF WRITER WHO OPPOSES THE WAR. An anti-war and pro-Ukraine article by Russian sff author Dmitry Glukhovsky has been published in Die Zeit, a major German weekly paper: "Ukraine: Antirussland". If you're willing to take your chances on a machine translation from German to English, a copy can be downloaded here.
… I have visited Ukraine many times, both before and after 2014. With each passing year, the difference between our two countries has become more and more clear to me. Ukraine was and remains a very free country. A country whose social and political life has always been characterized by chaos. It bears a strong resemblance to the Russia of before Vladimir Putin took office, and the longer Putin was in power, the clearer the differences became. From year to year in Russia order increased and freedom decreased. Today the difference to Ukraine is enormous. Russia is a police state with an almost dictatorial order. And there is almost as much freedom left here as in a dictatorship. Ukraine, on the other hand, has actually become a kind of anti-Russia: despite the chaos and total corruption, it is an example of a functioning democracy. During the elections, power shifted from one political-financial conglomerate to the other. When one of the parties tried to usurp power, people took to the streets demanding justice. In contrast, no real opposition has been admitted to the Russian elections for 20 years….
(3) TRACKULA. BBC Radio 4 has reprised "The Trainspotter's Guide to Dracula", a 2017 production. Listen at the link.
"3 May. Bistritz. Left Munich at 8:35 P. M, on 1st May, arriving at Vienna early next morning; should have arrived at 6:46, but train was an hour late."

The first line of Bram Stoker's Dracula makes it clear what the novel will be about: trains. As the book begins, the English solicitor Jonathan Harker is travelling across Europe by train, en route to meet his mysterious new Transylvanian client, complaining all the way about the late running of the service. "It seems to me that the further East you go the more unpunctual are the trains. What ought they to be in China?"

In the Trainspotter's Guide to Dracula, Miles Jupp uses Bram Stoker's novel as it has never been used before, as a train timetable, following its references to plot a route across Europe by rail to Dracula's castle in Transylvania.

Will Miles be able to reach Dracula's castle more quickly than Harker did, or will his journey be dogged by discontinued services, closed lines and delays?
(4) YOUNG AT ART. At Young People Read Old SFF, James Davis Nicoll subjects his panel to a Fritz Leiber story that merges sff with chess.
This month's selection is SF stalwart Fritz Leiber's Midnight by the Morphy Watch, which as it happens I have not only read but read recently. I was not much impressed by the anthology that contained this story but I did like the Leiber….

However, if there is one thing I've learned from the nearly seven years I've been curating Young People, it is that the overlap between my opinions and the Young People's is often well short of one hundred percent. Let's see what they thought.
(5) FOURTH STEP. Brandon Sanderson says "It's Time to Come Clean". "This is because something irregular has happened in my career lately, and I need to let you know about it."
(6) KICK STEP. Sanderson's confession leads into this Kickstarter – "Surprise! Four Secret Novels by Brandon Sanderson by Dragonsteel Entertainment" – which has already exceeded its $1 million goal and has raised almost $8 million with 30 days remaining.
Over the last two years, a group of ideas wormed their way into my brain and I found I couldn't let them go. Despite all of my other obligations, I had to write these stories. So I squeezed them in during moments of free time, crafting four brand new novels. I'm extremely proud of them, as each represents some new aspect of storytelling that has forced me to grow in an interesting way. Each also takes you to someplace new, original, and vibrant. Three of these are Cosmere books taking place on new worlds, and the other one is something completely different.
(7) FOCUS ON RELATED WORK. Cora Buhlert has posted the next Non-Fiction Spotlight and interview with Abraham Riesman, author of True Believer: The Rise and Fall of Stan Lee.
Tell us about your book.

It's the first complete and unvarnished look at the life of the man born Stanley Martin Lieber. You know him as Stan Lee, the writer/editor who brought Marvel Comics to the world, changed global popular culture, and became an unmistakeable icon. But beyond those broad strokes, most of what the world knew about Stan Lee was false….

…It's a story of overreach; of a man who achieved so much, yet always boasted of more. It's a story of obsession; of the birth of modern fandom and its ripeness for manipulation. Above all, it's a story of ambiguity; of the fact that certain moral judgments and factual assertions can never be made with certainty. Living with that ambiguity is the great challenge of understanding the life and impact of Stan Lee.
(8) LOST AND FOUND. James Davis Nicoll draws a bead on "5 Classic SF Stories About Lost Home Worlds" at Tor.com.
The End of Eternity by Isaac Asimov (1955)

In one sense, Andrew Harlan knows exactly where Earth is. Although he and the other agents of Eternity live outside time, they can and do visit Earth almost any time they care to. Literally. The Eternals monitor and shape Earth's history over a 70,000 century span. This paradoxically means Harlan can never return to the Earth he grew up on, because Eternity's incessant tweaking of history to bring about a perfect, stable world means that version of Earth has long since been overwritten.

Harlan knows he can never go home. What he can do is allow himself to be drawn into an ill-fated romance with Noÿs Lambent, who is beautiful, irresistible, and as far as the skilled Eternal can ascertain, slated to be erased from history as an unintended but unavoidable side effect of Eternal tampering. Harlan is determined to save the woman he loves at any cost. Any cost may mean the very existence of Eternity itself…
(9) FOR YOUR VIEWING. [Item by Cora Buhlert.] Matt Davis reviews The Spine Of Night, a 2021 fantasy film that deserves more attention, at Grimdark Magazine.
I've just come back from a trip. It wasn't entirely long, but it was certainly very strange, and I won't be forgetting it any time soon. The Spine of Night is a surreal, blood-soaked fever dream of epic proportions that recalls esoteric animated classics like 1981's Heavy Metal Ralph Bakshi's animated adaptation of Lord of the Rings. It unfolds a fantastical and outrageously violent saga throughout the course of its runtime, a story that touches on at times deeply philosophical themes of truth, knowledge, and the futility of existence. At times, The Spine of Night is even profoundly nihilistic—but also beautiful, and thoughtful….
(10) SMITH OBIT. Jeff Smith – the North Carolina fan, not the Filer – died February 28 after a short battle with liver cancer. He was a 2019 Rebel Award winner who chaired numerous StellarCon and MACE gaming conventions.
(11) MEDIA BIRTHDAY.
1989 — [Item by Cat Eldridge] Thirty-three years ago this evening on CBS, the Hard Times on Planet Earth series first aired. It was one of those ubiquitous midseason replacements that networks are so fond of doing when a series they started the season with was a failure. This one had an alien soldier who rebelled against his empire doing penance in a human body (surprise). Originality wasn't really a thing here even though Michael Piller was involved for three episodes.
The cast was Elite Military Officer (yes that's how he's named in the credits) played by Martin Kove, and Control, voiced by Danny Martin, and depicted as a small floating robot.
It was created by the brother Jim and John Thomas who previous has written the screenplays for Predator and Predator 2, though they would later write the Wild Wild West. Ooops. Reception for this was hostile to say the lies with People Magazine critic saying of this particular Disney product, "About 20,000 RPM—that's how fast I reckon Walt Disney must be spinning in his grave with shows like this on the air." And the Sun Sentinel reviewerreally hated it: "The youngest Nielsen demographic starts at 2-year-olds. Even the slowest of developers would be too sophisticated at 24 months for Hard Time on Planet Earth. There hasn't been a more insultingly stupid, utterly worthless series since Misfits of Science."
Normally I'd give you its rating on Rotten Tomatoes but apparently it has gotten even a dedicated fan base or CBS has kept it locked away deep in their digital vaults since its initial airing.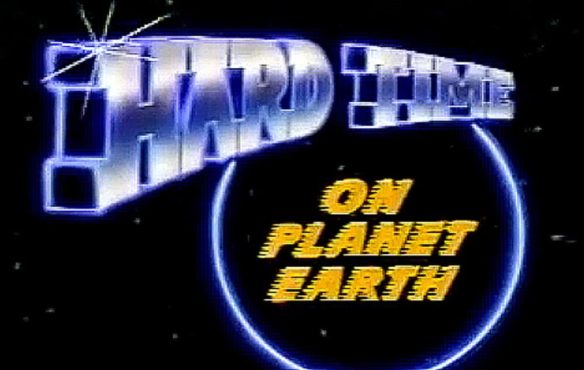 (12) TODAY'S BIRTHDAYS.
[Compiled by Cat Eldridge.]
Born March 1, 1915 — Wyman Guin. Ok, occasionally doing these Birthdays results in me being puzzled and this is one of those times. In 2013, he was named as recipient for the Cordwainer Smith Rediscovery Award at ReaderCon 24. When I look him up, I find that he wrote a single novel and seven stories according to the folks at ISFDB. I've not read him. So, was he that good? Should I seek out his novel, The Standing Joy, and add it to my reading list? His short stories are available at the usual digital publishers, but the novel still isn't. (Died 1989.)
Born March 1, 1918 — Roger Delgado. The first Master in the Doctor Who series and still my favorite. The role was written especially for him. He would appear only with the Third Doctor as he died in car crash in Spain. Other genre appearances were Quatermass II, Danger Man, The Mummy's Shroud and First Man into Space. (Died 1973.)
Born March 1, 1930 — Eddie Hice. New to the Birthday list for being one of the original Red Shirts on Star Trek. He appeared in two episodes, first as a Red Shirt in "The Day of The Dove" and then having the same role in "Wink of an Eye". I don't recall either episode well enough to remember his fate in those stories. He had an extensive genre history showing in Batman twice, including once playing The Riddler, he was in Get Smart nine times, six as an actor and three as stunt double (his career as a stunt double was much longer and extensive than his acting career), The Beastmaster and voice work on the animated Lord of The Rings. (Died 2015.)
Born March 1, 1938 — Michael Kurland, 84. The Unicorn Girl which he pennedis the middle volume of the Greenwich Village trilogy by three different authors, the other two being by Chester Anderson and T.A. Waters. Kurland has also written other genre novels including Ten Little Wizards and A Study in Sorcery, set in the world of Garrett's Lord Darcy. His other genre novels are Ten Years to Doomsday (written with Chester Anderson), Tomorrow Knight, Pluribus and Perchance. All three of the Greenwich Village trilogy are available from the usual suspects.
Born March 1, 1946 — Lana Wood, 76. She's best remembered as Plenty O'Toole in Diamonds Are Forever. She was in The Wild Wild West as Vixen O'Shaughnessy in "The Night of the Firebrand" and as Averi Trent in "The Night of the Plague" episodes. She was in both of the CBS televised Captain America films playing Yolanda, and she was still active in the genre as little five years ago playing a character named Implicit in Subconscious Reality. Be very suspicious that all the Amazon reviews of the latter are five stars. Though it does get a fifty three percent rating among audience reviewers at Rotten Tomatoes.
Born March 1, 1950 — David Pringle, 72. Pringle, with Malcolm Edwards and Ian Watson, edited Foundation: The Review of Science Fiction from the late late Seventies through the mid Eighties. He helped found Interzone, and the 2005 Glasgow Worldcon committee gave Pringle a Special Award for his work on the magazine. Besides his various guides to the genre such as The Ultimate Encyclopedia of Fantasy, I see early on that he did a lot of work on J.G. Ballard such as Earth Is the Alien Planet: J. G. Ballard's Four-Dimensional Nightmare and J. G. Ballard: A Primary and Secondary Bibliography.
Born March 1, 1952 — Steven Barnes, 70. Co-writer with Larry Niven of the Dream Park series. I read the first two when they came out thirty years ago, not bad at all. Their Heorot series isn't bad either. I've not read him on his own so cannot say how he is as a solo writer. I see he's got a lot of series writing having done work for The Outer Limits, Andromeda and Stargate SG-1.
(13) COMICS SECTION.
(14) BEHIND CLOSED DOORS. Bob Byrne's series about how the famous detective spent his time during the plague year continues at Black Gate: "Nero Wolfe's Brownstone: Stay at Home – Day 38".
…I know a lot of people, staying at home all day, every day, are eating a lot more then they normally do. But since Nero Wolfe rarely leaves the house, there hasn't been a change in his habits. Sometimes he wants more beer than he should have, but that's got nothing to do with the pandemic. I've made sure to get my walk in at least every other day, since Fritz' cooking hasn't fallen off a bit. I don't need my pants size to go up during all this….
(15) THAT'S A SPACY MEATBALL. [Item by Martin Morse Wooster.] In the Washington Post, John Kelly interviews NASA "multimedia liaison for film and TV collaboration" about the rules the agency has for working with film and television projects. The agency "was heavily involved" with Hidden Figures, First Man, and The Martian, but refused to work with Life, a 2017 movie about an alien space bug that attacked astronauts. The agency will also not approve use of its circular "meatball" (designed by James Modarelli in 1959) on "alcohol, food, cosmetics, tobacco, underwear, or technology." "These days, everyone from filmmakers to fashionistas want to collaborate with NASA".
… That's where I saw him wearing what NASA-philes call the "Meatball," the distinctive blue, star-filled circle, with a red swoop and a dot orbiting the letters "NASA."That symbol seems to be cropping up everywhere. I saw characters wearing it in recent Spider-Man movies, in the new film "Don't Look Up," on various TV shows. What gives? The National Aeronautics and Space Administration is just another government agency headquartered in Washington. So is the National Archives and Records Administration, but you hardly ever see anyone wearing a NARA T-shirt in a blockbuster film….
(16) WHAT IT MEANS. [Item by Cora Buhlert.] The always excellent Rogues in the House podcast hosts a roundtable about the future of sword and sorcery: "Sword and Sorcery Round Table: Making sense of the S&S label."
Sword-and-sorcery can be a confusing label, but the Rogues are determined to make sense of it. In the latest episode, they're joined by experts of the genre – Scott Oden, Howard Andrew Jones, and Brian Murphy – for a roundtable discussion.
(17) BRINGING SHECKLEY TO THE SCREEN. The Take Me to Your Reader podcast, which discusses cinematic adpatations of SFF stories and novels, discusses the two adaptations of Robert Sheckley's "The Prize of Peril." Cora Buhlert has a brief guest appearance, talking about the brilliant West German adpatation from 1970: "Shot With a Happy Ending (The Prize of Peril, by Robert Sheckley)".
This time, the guys take on some Robert Sheckley in non-English adaptations, namely the 1970 German TV film Das Millionenspiel and the 1983 French film Le Prix Du Danger. Both of these films were adapted from Sheckley's 1958 short story "The Prize of Peril."

Of course, we engaged a couple of our friends who were native speakers to help break down the movies. So huge thanks to Cora Buhlert for her excellent breakdown of the German movie, and Emmanuel Dubois for helping us with the French movie.
(18) THE COMING FURY. Tor.com's Vanessa Armstrong tells readers "Here's What We Know About the Furiosa Movie So Far".
… Making Furiosa something other than a non-stop action movie has the benefit of letting us get to see and experience other parts of the Max Max world, including locales that were only mentioned in passing in the 2015 film. "When I started reading [the Furiosa script], I couldn't put it down," unit production manager Dan Hood says in Buchanan's book. "It is going to be really, really good. You get to see Gas Town. You get to see the Bullet Farm. It's exciting to be able to build that stuff."

That's right—you only have to wait a little over one-and-a-half years to see Miller's vision of Gas Town and the Bullet Farm, places that young Furiosa undoubtedly frequented before she became the Charlize Theron version we saw in Fury Road….
(19) MAKING MEMORIES. Lisa Morton recently asked readers of her newsletter Every Day Is Halloween, "Did you know that several of the best horror movies of the 1940s were written by a woman?" Her name is Ardel Wray.
…One of the reasons you've likely never heard of Wray is that she fell victim to the scourge of McCarthyism – she refused to work with investigators to name suspected Communists in the film industry and so was "gray-listed," meaning her career as a screenwriter was essentially over….
Bright Lights Film Journal profiled her: "Ardel Wray: Val Lewton's Forgotten Screenwriter".
During the wartime years of the 1940s, RKO Pictures produced a series of low-budget B-movie chillers that have since become classics of the genre, celebrated for their subtlety and intelligence despite the lurid titles imposed by the studio. Produced by Russian émigré Val Lewton, the films effectively kick-started the careers of venerated directors Jacques Tourneur, Mark Robson, and Robert Wise. Other well-known industry names such as writer DeWitt Bodeen also found fame as a result of their association with Lewton's B unit, affectionately nicknamed "The Snake Pit."

However, Ardel Wray, whose credits include I Walked with a Zombie, The Leopard Man, and Isle of the Dead, remains largely unrecognized, despite contributing to more Lewton projects than any other single writer and despite being the only female writer on his team. In addition, she co-wrote what is arguably the best of the RKO "Falcon" thriller series, and wrote the original screenplay for the unproduced Boris Karloff/Val Lewton historical mystery Blackbeard the Pirate….
(20) AND THEN THE OTHER SHOE DROPPED. Yesterday, Disney announced it would not open some new movies in Russia due to the Ukranian situation, but the industry thought it was too late to expect Warner Bros. to halt this week's opening of The Batman. But no! "'The Batman' Pulls Russia Release" says The Hollywood Reporter.
Warner Bros. has pulled The Batman from its Russian release calendar at the eleventh hour. The decision comes as Russia continues its invasion of Ukraine and follows Disney's move to pause its upcoming releases in the country.

"In light of the humanitarian crisis in Ukraine, WarnerMedia is pausing the release of its feature film The Batman in Russia," a WarnerMedia spokesperson said in a statement. "We will continue to monitor the situation as it evolves. We hope for a swift and peaceful resolution to this tragedy."…
(21) VIDEO OF THE DAY. [Item by Martin Morse Wooster.] In "Honest Trailers: The Book of Boba Fett," the Screen Junkies note that Boba Fett only had four lines in the first three Star Wars movies. But in this show we learn Boba Fett is a bald fat guy who takes a lot of naps, spends way too much time in the bathtub, has many, many "space meetings" and has a gang led by people on space Vespas. Thankfully, in chapter 5 the Mandalorian shows up to kick down doors and make a chain mail shirt for Baby Yoda. But there is a scene where we see what happens when you get a Wookie drunk and give him brass knuckles!
[Thanks to John King Tarpinian, Andrew Porter, Michael Toman, Rich Lynch, Chris Barkley, Cora Buhlert, Giant Panda, Jennifer Hawthorne, Cat Eldridge, Mike Kennedy, Martin Morse Wooster, and JJ for some of these stories. Title credit belongs to File 770 contributing editor of the day Jayn.]