(1) 100 LOVED BOOKS. PBS series The Great American Read premieres May 22. One hundred books, one winner:
THE GREAT AMERICAN READ is an eight-part series that explores and celebrates the power of reading, told through the prism of America's 100 best-loved novels (as chosen in a national survey).  It investigates how and why writers create their fictional worlds, how we as readers are affected by these stories, and what these 100 different books have to say about our diverse nation and our shared human experience.
(2) AMAZING OPENS SUBMISSIONS WINDOW. Steve Davidson announced "General Submissions for Amazing Stories Opens Today". See detailed guidelines at the link. Davidson had more to say on Facebook: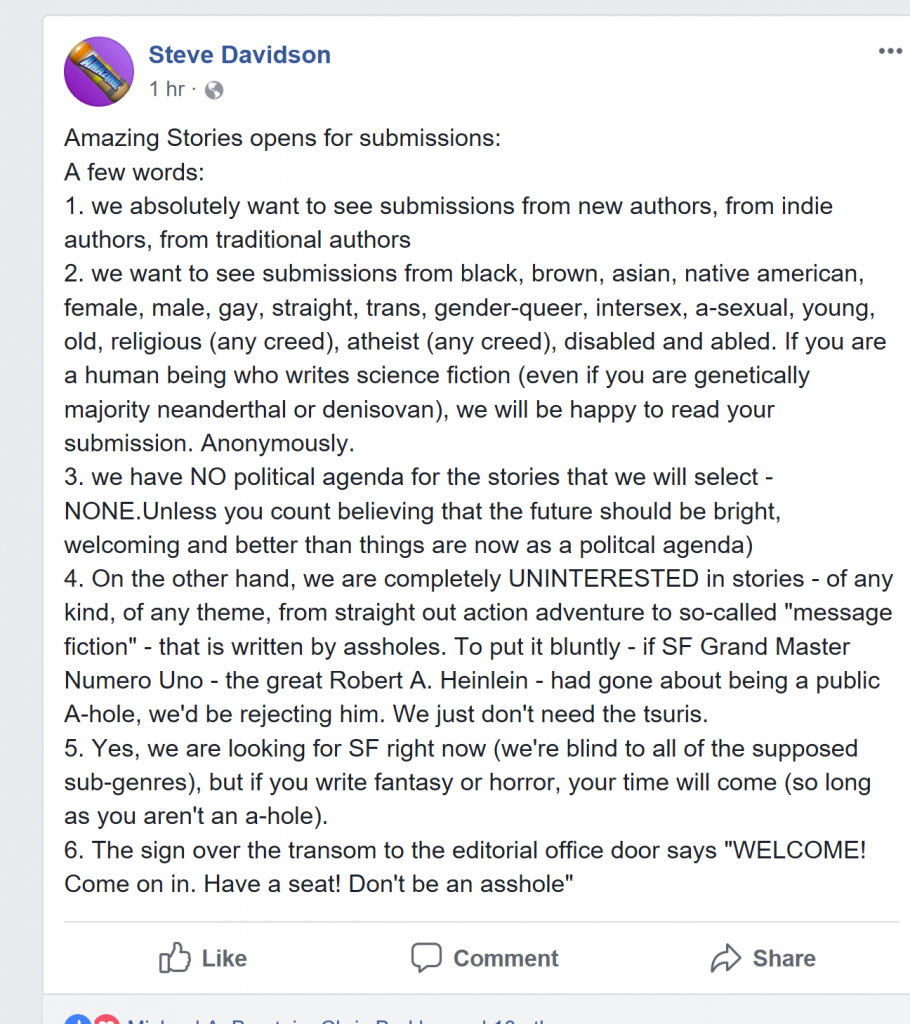 (3) COMPTON CROOK AWARD. Nicky Drayden announced on April 19 that her book Prey of Gods won the 2018 Compton Crook Award. [Via Locus Online.]
(4) RINGO'S WORLD. John Ringo's April 16 Facebook post about his withdrawal as ConCarolinas special guest continues gathering moss, now with over 900 likes. Today Ringo showed everyone what they'll be missing with a new comment that explains to his sycophants why ConCarolina's Guest of Honor can't compete with him.
No. Because nobody but people who pay close attention to the industry and awards has ever heard of her.

Her Amazon rankings are pretty low. Her bookscan ratings are low. That indicates she's not particularly popular just heavily promoted and 'popular' with the 'right crowd'. (Which is a very small crowd.)

James Patterson is a big name. JK Rowling is a big name. Hell, China Meville is a big name.

Seanan McGuire is not 'a big name'.

I have no clue where we stand representationally in sales comparison to me but I suspect I sell more books. Just a suspicion, though, and it probably depends on the series.

Honestly, I suspect A Deeper Blue sold more books than all of hers combined.
(5) ENCHANTED MUSEUM. Atlas Obscura reveals the "Hidden Elves at the Denver Museum of Nature and Science".
Back in the 1970s, the Denver Museum of Nature and Science hired artist Kent Pendleton to paint the backdrops for many of the museum's wildlife dioramas. Little did it know that Pendleton's penchant for hiding tiny mythical creatures in these paintings would add a whole new dimension to the museum experience.


It all began with eight elves—or gnomes, or leprechauns, depending who you ask—hidden in Pendleton's wildlife dioramas. An elf hiding in the lowland river. An elf riding a dinosaur along a cretaceous creekbed. Another elf sat on a rock in the Great Smoky Mountains. And others, hard to spot but definitely there, in various backdrops throughout the museum.

In 2018, Pendleton told the Denverite: "It was just kind of my own little private joke. The first one was so small that hardly anyone could see it, but it sort of escalated over time, I guess. Some of the museum volunteers picked up on it and it developed a life of its own."
(6) THE PEOPLE'S CHOICE. Kevin Standlee is running for office in his home town:
I'm Kevin Standlee, and I'm running for a seat on the Board of Directors of the North Lyon County Fire Protection District, which serves the city of Fernley, Nevada.

I grew up in a fire station. As the child of a US Forest Service officer, I lived a lot of my formative years on a series of fire outposts in the Sierra Nevada….
June 12 is Election Day.
(7) HISTORIC DUNES. ABC News tells about "Visiting the desert where 'Star Wars' was filmed".
There's a reason the original "Star Wars" movie was filmed in the deserts of southern Tunisia. This stark, remote landscape looks like another planet.

One of Tunisia's vast desert regions is even called Tataouine (ta-TWEEN), like Luke Skywalker's home planet, Tattoine.

And the underground home where Luke Skywalker first appeared living with his uncle and aunt is a real hotel in the town of Matmata, one of various desert locations used in the movies.

Masoud Berachad owns the Hotel Sidi Driss. He says visitors have dropped off since Tunisia's democratic revolution in 2011 and attacks on tourists in 2015.

Still, devoted "Star Wars" fans keep the hotel in business….
(8) CURSED CHILD IN NEW YORK. David Rooney goes into great detail – perhaps too much – in his "'Harry Potter and the Cursed Child': Theater Review" for The Hollywood Reporter. Here's a relatively spoiler-free excerpt:
…Pockets of racist outrage exploded online when it was first announced that a black actress had been cast as Hermione, which Rowling shot down in her no-nonsense style by pointing out that the character's ethnicity was never mentioned in the books. In any case, only the most bigoted idiot could find fault with the brilliant Dumezweni's performance, her haughtiness, quicksilver intellect and underlying warmth tracing a line way back to the precociously clever girl Harry first met on the train all those years ago.

Thornley's Ron, too, is readily identifiable as the perennial joker of the trio. He's acquired substance and a charming mellowness over the years, though a glimpse of him in a time-warped present tells a heartbreakingly different story. Miller takes the early indicators of Ginny's strength and builds on them, shaping a smart, grounded woman capable of handling Harry's complicated baggage. And Price's Draco is still peevish and moody, his bitterness exploding in an entertaining clash of wands with Harry, but he's found a softer side in maturity as well.

At the center of it all is Parker's Harry, grown up and more confident but still pensive and troubled as ever, plagued by memories of the orphaned boy who slept under the stairs at his aunt and uncle's home, and the reluctant hero he was forced to become. It's a finely nuanced performance, with gravitas and heart, particularly as he wrestles with and eventually overcomes his struggles as a parent. Even with the sweet sentimentality of the closing scenes, what lingers most about Parker's characterization is the stoical knowledge he carries with him that every moment of happiness contains the promise of more pain to come.

Of equal importance in the story are Albus and Scorpius, and while Clemmett is affecting in the more tortured role, at war with himself as much as his father, the discovery here is Boyle. His comic timing, nervous mannerisms and endearing awkwardness even in moments of triumph make him a quintessential Rowling character and a winning new addition. "My geekness is a-quivering," he chirps at one point, probably echoing how half the audience is feeling. It's stirring watching these two young outsiders conquer their self-doubt to find courage and fortitude….
(9) COMICS SECTION.
Daniel Dern doesn't want Filers to miss xkcd's cartoon "Misinterpretation."
Lise Andreasen asks, "Things men weren't meant to know?"
?by @tomgauld pic.twitter.com/ahOG6EltU4

— New Scientist (@newscientist) April 23, 2018
(10) GENESIS. In "How Stan Lee Became the Man Behind Marvel" Chris Yogerst of the LA Review of Books reviews Bob Batchelor's biograpahy of the comics icon.
STAN LEE WAS FINISHED with comics. "We're writing nonsense," he once told his wife Joan. "It's a stupid business for a grownup to be in." After riding the early success of comic books, Lee was concerned about the future of the medium. He wanted to write more intelligent stories, something adults could connect to.

Following his wife's advice, Lee decided to write one last story. With characters that were grounded in reality, stories that channeled Cold War tensions, and a narrative influenced by popular science fiction, Lee created the Fantastic Four. This was the type of story Lee would have wanted to read. If it was successful, maybe he would stick with comics a little longer.

Popular culture historian Bob Batchelor's latest book turns a critical eye on the life of Lee, who ultimately became "the man behind Marvel." Batchelor's Stan Lee: The Man Behind Marvel focuses on where Lee came from, what influenced him, and how he became the immortal face of the comic book industry. In other words, to use the vernacular of the superhero genre, Batchelor gives us Lee's origin story.
(11) AMAZING SPIDER-MAN #800.Here's another variant cover for the upcoming milestone issue.
It's all been building to this – the biggest Peter Parker and Norman Osborn story of all time, and the first Marvel comic EVER to hit 800 issues! In celebration of the 800th issue of AMAZING SPIDER-MAN and the now historic run of Dan Slott, Marvel is excited to show a variant cover from legendary artist Frank Cho and colorist David Curiel!

Witness the culmination of the Red Goblin story as Slott is joined for his final issue by epic artists such as Stuart Immonen, Humberto Ramos, Giuseppe Camuncoli and Nick Bradshaw!
(12) SKYWATCH. Bill Gates among backers of proposed live-video-from-space satellite constellation called EarthNow:
EarthNow takes advantage of an upgraded version of the satellite platform, or "bus," developed originally for the OneWeb communications service. Each satellite is equipped with an unprecedented amount of onboard processing power, including more CPU cores than all other commercial satellites combined. According to Greg Wyler, Founder and Executive Chairman of OneWeb, "We created the World's first lowcost, high-performance satellites for mass-production to bridge the digital divide. These very same satellite features will enable EarthNow to help humanity understand and manage its impact on Earth."
Use cases are said to include:
Catch illegal fishing ships in the act
Watch hurricanes and typhoons as they evolve
Detect forest fires the moment they start
Watch volcanoes the instant they start to erupt
Assist the media in telling stories from around the world
Track large whales as they migrate
Help "smart cities" become more efficient
Assess the health of crops on demand
Observe conflict zones and respond immediately when crises arise
Instantly create "living" 3D models of a town or city, even in remote locations
See your home as the astronauts see it—a stunning blue marble in space
(13) TODAY'S COPYEDITING TIP. From Cherie Priest:
Nice try, BBC, but none of us are including the word "planet" when we relate this story to friends. https://t.co/QeBYY9Ik6T

— Cherie Priest (@cmpriest) April 23, 2018
(14) LOSING FACE. Motherboard says "This Is the Facial Recognition Tool at the Heart of a Class Action Suit Against Facebook".
On Monday, a federal judge ruled that a class action lawsuit against Facebook can move forward, paving the way for what could turn out to be a costly legal battle for the company.

As Reuters reports, the lawsuit alleges that Facebook improperly collected and stored users' biometric data. It was originally filed in 2015 by Facebook users in Illinois, which passed the Biometric Information Privacy Act (BIPA) in 2008. The law regulates the collection and storage of biometric data, and requires that a company receive an individual's consent before it obtains their information.

According to the lawsuit, Facebook ran afoul of BIPA when it began using a tool called Tag Suggestions, which was originally rolled out in 2011. Like many Facebook features, it's designed to make your user experience better while also providing the company with your data—in this case, very specific facial features.
(15) KNOT OF THIS WORLD. Gizmodo's Kristen V. Brown advises "Forget the Double Helix—Scientists Discovered a New DNA Structure Inside Human Cells".
The double helix, though, is not the only form in which DNA exists. For the first time ever, scientists have identified the existence of a new DNA structure that looks more like a twisted, four-stranded knot than the double helix we all know from high school biology.

The newly identified structure, detailed Monday in the journal Nature Chemistry, could play a crucial role in how DNA is expressed.

Some research had previously suggested the existence of DNA in this tangled form, dubbed an i-motif, but it had never before been detected in living cells outside of the test tube. Researchers at the Garvan Institute of Medical Research in Australia, though, found that not only does the structure exist in living human cells, but it is even quite common.
(16) ROCKET MAN. In his book What Were They Thinking? The 100 Dumbest Events in Television History, author David Hofstede ranked William Shatner's 1978 performance of Elton John's "Rocket Man" at #17 on the list. Details from the Wikipedia —
At the 5th Saturn Awards Ceremony, which aired as the Science Fiction Film Awards in January 1978, Taupin introduced William Shatner's spoken word[29] interpretation of the song. It used chroma key video techniques to simultaneously portray three different images of Shatner, representing the different facets of the Rocket Man's character….
How can you not want to watch it after a build-up like that?
(17) MAKING A BIGGER BANG. Wil Wheaton has been having fun —
Since last week, I've been working on the season finale of The Big Bang Theory, and today we shot Amy and Sheldon's wedding.

It was an incredible day, and I am still in disbelief that I got to be in multiple scenes with Kathy Bates, Laurie Matcalf, Jerry O'Connell, Brian Posehn, Lauren Lapkus, Teller, Courtney Henggeler, and this guy, who is not only one of the kindest people I've ever worked with, but is also from a science fiction franchise, just like me!
You're not so bad yourself @wilw. Let this episode be dedicated to the countless @bigbangtheory fans who love the #STARS– both #TREK & #WARS & begin to heal a divided galaxy…#MayTheLivingLongAndProsperingBeWithUs https://t.co/9FetGyLRSj

— Mark Hamill (@HamillHimself) April 19, 2018
[Thanks to David K.M. Klaus, JJ, Mike Kennedy, John King Tarpinian, Chip Hitchcock, Martin Morse Wooster, Cat Eldridge, Daniel Dern, Michael Toman, Carl Slaughter, Lise Andreasen, and Andrew Porter for some of these stories. Title credit goes to File 770 contributing editor of the day Camestros Felapton.]