(1) 2022 OR 1942? LINDGREN FEATURED IN NASA POSTER. Astronaut Kjell Lindgren, who memorably presented a 2015 Hugo Award via video from the International Space Station, will soon be returning there as a member of SpaceX Crew-4. NASA recently released a new poster to celebrate the mission, inspired by the national parks posters produced by the Depression-era WPA.
Lindgren tweeted thanks to Johnson Space Center graphic artist Cindy Bush for bringing the concept to life.
Crew members shown in the poster are Jessica Watkins, Robert Hines, Lindgren, and Samantha Cristoforetti. You can download a high-res image here.
Lindgren's fanac has also included being a special guest (in person) at the Helsinki Worldcon in 2017 (see Daniel Dern's photo here) and serving as Toastmaster of the Nebula Awards in Pittsburgh the same year.
(2) SUPPORT THE FAN FUNDS. [Item by Alison Scott.] The Fan Funds are having a silent auction at Reclamation, the 2022 Eastercon, this weekend (April 15-17), and also virtually.
You can view a range of fantastic and unique items (many of which will also be physically on or near the fan funds table at Eastercon), at our website at https://airtable.com/shrPFg2wPpJMqRdIU. This will change over the weekend as items are added. If you are not at Eastercon, we'll need you to additionally cover the shipping on physical items, and we'll let you know how much that will be.
If you'd like to contribute something for auction, you can do so at https://airtable.com/shryFBq6awqMraEr6.
Best way to bid is to let us know who you are by registering at https://airtable.com/shryFBq6awqMraEr6 (this is a very short form) and bidding at https://airtable.com/shrVNHTGk12KpLwWH (this is even shorter).

The silent auction will end at 11pm BST (UTC 00:00) on Sunday 17th April, with a fuzziness as follows: items will end at that time or one minute after the last bid, whichever is later. So if there's a last minute bidding frenzy, we'll let that run out.

If you're at the con, come and stop by our table where we will also be having an amazing spin to win contest, Fan Funds Amazeballs. You pay a pound, we spin a bingo spinner, and you win the relevant numbered prize. Prize every time! Some of the prizes are great! For an extra pound, you can even give us back your unwanted prizes.
[I especially love that last sentence. Yes! Keep them from just going, "Redonate!" like people do in LASFS auctions. Bruce Pelz is sorry he didn't think of it first.]
(3) KGB. Fantastic Fiction at KGB reading series hosts Ellen Datlow and Matthew Kressel present Victor LaValle and Robert Freeman Wexler on Wednesday, April 20. The event is in person.
Victor LaValle
Victor LaValle is the author of seven works of fiction and three comic books. He has been the recipient of a World Fantasy Award, a British Fantasy Award, the Bram Stoker Award, and a Shirley Jackson Award. His most recent novel, The Changeling, is in production at Apple TV.
Robert Freeman Wexler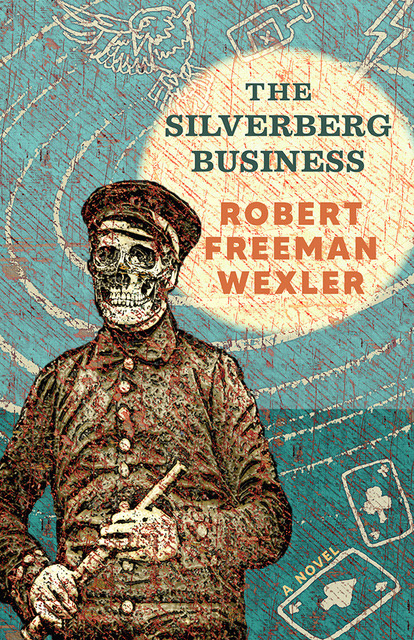 Robert Freeman Wexler's most recent book is short story collection Undiscovered Territories. His new novel, The Silverberg Business, is forthcoming from Small Beer Press in August 2022. Previous books include novel The Painting And The City, and The Visible Spectrum.
Where: KGB Bar, 85 East 4th Street, New York, NY 10003; (Just off 2nd Ave, upstairs)
When: April 20, 2022, 7:00 p.m. EDT.
(4) BY THE SEA. "Canadian author Emily St. John Mandel on creative recklessness, time travel and her favourite science fiction novels" at the Globe and Mail.
…Now with her latest book, Sea of Tranquility (HarperCollins), Mandel has fully immersed herself in the tropes of science fiction. There's a moon colony, a dome city, simulation theory and time travel – a plot device and concept she's always wanted to write about. She credits the pandemic for allowing her the "creative recklessness" to abandon any writerly anxieties.

"I felt like, you know what, everything's terrible, I'm going to do this thing that'll make me happy. I'm going to write whatever I want and not worry about being taken seriously or any of those other unhelpful ideas that can attach themselves to you as a writer."…
(5) LEAP YEARS. [Item by Mike Kennedy.] You'll have to click through to the article to see the video. Personally, I really enjoyed the original Quantum Leap. I'm of two minds about rebooting it. If they do a good job of updating it, it could still be a very good show. However, I'm afraid they may get sabotaged by too slavishly following types of stories portrayed in the original. "'Quantum Leap' Producer Teases 'Ziggy Quantum Computer 2.0' For NBC Sci-Fi Revival" at Syfy.com.
…"Everything that Star Trek could do, Quantum Leap can do," Pratt said. "I think we should do a series of movies, I think we should do a series of series, and this is very much the first step into that world. They had a lot more money than we did, oh my God. So they got to play on a whole other level. That I think is beautiful in the sense that… and Ziggy is there. So that's really cool. Ziggy Quantum Computer 2.0."…
(6) DOCTORAL STUDIES. Slashfilm's Fatemeh Mirjalili takes readers back in history to explain why "Doctor Who Could Have Been A Much Darker Sci-Fi Show".
The "Doctor Who" 2005 reboot revitalized the sci-fi series, instilling modern audiences with a love for the legendary time traveler and his many adventures. But when the original series arrived on the BBC in 1963, it was a phenomenon unlike anything seen on television before. William Hartnell was the first actor to introduce the quirks and idiosyncrasies we've come to associate with the Doctor; he might have appeared as a frail, older man, but in reality, the First Doctor was more than capable — he played dangerous games with the Celestial Toymaker, persuaded a Roman emperor to burn down his own city, and gave the Daleks a run for their money.

Not much is known about the show's early run because the BBC lost several "Doctor Who" episodes over the years; what we do know is that the sci-fi series wasn't always going to be a fun time-traveling adventure. It was going to get dark … like really, really dark….
(7) DUMBLEDORE IS NOT GAY IN CHINA. Meanwhile, authorities in China found it was hardly an inconvenience to get Warner Bros. to straighten out that one little thing they don't like about Dumbledore. "Fantastic Beasts 3 Gay Dialogue Removed in China, Warner Bros Explains".
…References to a gay relationship in "Fantastic Beasts: The Secrets of Dumbledore" were edited out of the movie by Warner Bros. for the film's release in China. Only six seconds of the movie's 142-minute runtime were removed. Dialogue that was edited out alluded to the romantic past between male characters Dumbledore (Jude Law) and Grindelwald (Mads Mikkelsen). "Harry Potter" author J.K. Rowling revealed Dumbledore was gay in 2009, but the movies had never explicitly referenced the character's sexuality until this third "Fantastic Beasts" entry.

Warner Bros. accepted China's request to remove six seconds from the movie. The dialogue lines "because I was in love with you" and "the summer Gellert and I fell in love" were cut from "The Secrets of Dumbledore" release (via News.com.au). The rest of the film remained intact, including an understanding that Dumbledore and Grindelwald share an intimate bond….
Only six seconds! You know, it took a lot less time than that for Booth to shoot Lincoln, yet think what a difference that made in the story.
The Guardian notes this is part of a trend in China:
…The news follows a string of similar cuts both for the big and small screen in China. In February, there was backlash when the re-release of sitcom Friends was stripped of its lesbian storyline, while the Sex and the City spinoff And Just Like That also aired with all gay references taken out.

In 2019, Bohemian Rhapsody was released with any mention of Freddie Mercury's sexuality removed and in star Rami Malek's Oscar acceptance speech, the subtitles on Chinese television changed "gay man" to "special group".

While homosexuality was decriminalised in China in 1997 and removed from an official list of mental disorders in 2001, life under the rule of Xi Jinping has been more conservative and restrictive for many LGBTQ people. In January, gay dating app Grindr was taken off the Apple store and last year the country's dominant social media service, WeChat, deleted many LGBTQ accounts.
(8) WINDING DOWN. The Orville probably isn't going to be around to finish a five-year mission either: "'The Orville' Future Beyond Season 3 Uncertain As Seth MacFarlane & His Cast Focus On Other Projects" reports Deadline.
The Orville has been a passion project — and a big undertaking — for Seth MacFarlane who created, writes, directs, executive produces and stars in the space comedy-drama. As the series is preparing for the June 2 launch of Season 3 on Hulu, there are no current plans for a fourth season. I hear the cast of the series was released in August when their most recent options expired.

In addition to finishing Season 3 of The Orville, titled New Horizons, MacFarlane has been focusing on his development under the mega overall deal he has at NBCUniversal, including the upcoming Peacock series Ted, based on MacFarlane's movie franchise, with him reprising his voice role as the title character. Ted just cast The Orville cast member Scott Grimes as a series regular, reuniting him with MacFarlane.
(9) MEDIA BIRTHDAY.
2007 — [Item by Cat Eldridge.] Fifteen years ago on Syfy, the Painkiller Jane series first aired. The character was created by Jimmy Palmiotti and Joe Quesada for Event Comics and originally appeared in Painkiller Jane: The 22 Brides #1. The character would crossover with likes of Hellboy, the Punisher, the Teminator and Vampirella.
Gil Grant developed this series and he'd previously been responsible for The Powers of Matthew Star. Most of his work was definitely off genre such as NCIS: Los Angeles and the original NCIS series.
It starred Kristanna Loken as Painkiller Jane who previously had been T-X, an advanced Terminator, in Terminator 3: Rise of the Machines.
It lasted but twenty-two episodes. It wasn't well received by critics. The New York Times said of it that: "Decent scripts could make it work anyway, but the first two episodes at least don't bode well; the stories are flat, and the repartee between Jane and her teammates isn't zippy enough to amuse even the comic-book crowd." And the L.A. Weekly wasn't impressed either: "Not helping matters either are the wretched dialogue, indiscriminately moody lighting, stock characters (gruff boss, dweeby tech guy, ripped chauvinist colleague), and crushing lack of suspense. I felt the pain, believe me."
(10) TODAY'S BIRTHDAYS.
[Compiled by Cat Eldridge.]
Born April 13, 1931 — Beverly Cross. English playwright, librettist, and screenwriter. Yes librettist. He's here because he wrote the screenplays for Sinbad and the Eye of the Tiger, Jason and the Argonauts and Clash of the Titans. Not remotely genre related but worth mentioning, is that he worked uncredited on the script for Lawrence of Arabia although it is unknown if any of his material made it to the film we see. (Died 1998.)
Born April 13, 1943 — Bill Pronzini, 79. American writer of detective fiction. He's the creator of the San Francisco-based Nameless Detective, who starred in some forty novels. Though he's not quite nameless as the first novel, The Snatch, says his first name is Bill. The series ends in, appropriately, Endgame. He's also the author of the the Carpenter and Quincannon mysteries, a gaslight era series that's very entertaining as well.
Born April 13, 1949 — Teddy Harvia, 73. Winner of the Hugo for Fan Artist an amazing four times starting in 1991 at Chicon IV, then in 1995 at Intersection, next in 2001 at the Millennium Philcon and last at in 2002 at ConJosé. He won the Rotsler Award in 2015. He was honored with the Rebel Award by the Southern Fandom Confederation in 1997 at that year's DeepSouthCon
Born April 13, 1950 — Ron Perlman, 72. Hellboy in a total of five films including three animated films (Hellboy: Sword of Storms, Hellboy: Blood and Iron and the Redcap short which is elusive to find unfortunately). Still by far the best Hellboy. He's got a very long association with the genre as his very first film was Quest for Fire in which he was Amoukar. The Ice Pirates and being Zeno was followed quickly by being Captain Soames in Sleepwalkers and Angel De La Guardia in the Mexican horror film Cronos. Several years later, I see he's Boltar in Prince Valiant, followed by the hard SF of being Johnher in Alien Resurrection and Reman Viceroy in Star Trek: Nemesis. And I should note he was in Fantastic Beasts and Where to Find Them as Gnarlack, a goblin gangster if I read the Cliff notes to that correctly. No, I'm not forgetting about his most amazing role of all, Vincent in Beauty and The Beast. (Having not rewatched for fear of the Suck Fairy having come down hard on it. So who has watched it lately?) At the time, I thought it was the most awesome practical makeup I'd ever seen. And the costume just made look him even still more amazing.
Born April 13, 1951 — Peter Davison, 71. The Fifth Doctor and one that I came to be very fond of unlike the one that followed him that I never, ever liked. Ever. For twenty years now, he has reprised his role as the Fifth Doctor in myriad Doctor Who audio dramas for Big Finish. And he put a lot of gravitas into the voice of Mole he did for The Wind in the Willows animated special Mole's Christmas. And let's not forget he showed up in The Hitchhiker's Guide to the Galaxy as the Dish of the Day. I'm going to note that I first saw him in Tristan Farnon in the BBC's adaptation of James Herriot's All Creatures Great and Small stories, a lovely role indeed. And I'm very fond of The Last Detective series where he played DC 'Dangerous' Davies.
Born April 13, 1954 — Glen Keane, 68. He's responsible for all of the layout work on Star Trek: The Animated Series and also My Favorite Martians which I can't say I recognize. As a character animator at Walt Disney Animation Studios, he worked on Aladdin, Beauty and the Beast, The Little Mermaid and Pocahontas.
Born April 13, 1954 — Michael Cassutt, 68. Producer, screenwriter, and author. His notable TV work includes work for the animated Dungeons & Dragons, Max Headroom, The Outer Limits, Beauty and The Beast, SeaQuest, Farscape, Eerie, Indiana and The Twilight Zone. He's also written genre works including the Heaven's Shadow series that was co-written with David S. Goyer. His latest piece of fiction was the "Aurora" novelette published in Asimov's Science Fiction Magazine, March/April 2022.
Born April 13, 1976 — Jonathan Brandis. His longest role was on the Seaquest series as Lucas Wolenczak. He also was Bastian Bux in The NeverEnding Story II: The Next Chapter. Intriguingly his first genre role was the Voice-over at beginning of Pet Sematary. He died by suicide. (Died 2003.)
(11) COMICS SECTION.
(12) PODSIDE PICNIC. In episode 165, Podside is joined by Mattie Lewis, Kurt Schiller, and Chris Woodward to read and review the 2021 Nebula-nominated short stories. "Nebula Predictions by Podside Picnic".
(13) DINO CHOW. Felicia Lalomia invites us into her very B.C. kitchen: "I Cooked From 'Jurassic World: The Official Cookbook' And Relived The Movies" at Delish.
…In it, brother and sister Tim and Lex Murphy are left in an abandoned restaurant while Dr. Alan Grant goes to find the others. They chow down on a glistening array of cakes and other treats—including, critically, a wobbly bowl of lime-green Jell-O. That's when Tim notices the look of fear in Lex's eyes. The spoonful of Jell-O in her hand shakes. Then, the realization: Velociraptors can open doors. Cue panic! I haven't been able to eat Jell-O since.

This is all to say that when I learned that Jurassic World: The Official Cookbook
was set for an April 12 release, I felt a mix of excitement and trepidation. Naturally I had to wrangle an advance copy.

On first glance, the book looks like a souvenir you buy straight from Jurassic Park kiosk, complete with facts about dinosaurs, places to spot them at the park, and of course, lots of dino-themed recipes "from the chef's most popular and guest's most requested drinks and dishes."

… Flipping through the pages, I found plenty of theme park-appropriate fare. There's the T-Rex Kingdom Turkey Leg, a buttered-up, gigantic hunk of meat only fit for the most voracious of carnivores; sticky Amber Lollipops, complete with a preserved "mosquito" recreated with poppy seeds; and the Instagrammable Ceratops Pastry Crests, which are sweet, cinnamon-scented, apple-filled puff pastries molded into the shape of a Sinoceratop's skull. (I can only imagine that Ceratops Pastry Crests would achieve Universal Studios' Butter Beer-level cult status if Jurassic Park actually existed.)…
(14) PAY ATTENTION NOW. H&I introduces you to "11 Nifty Little Visual Details You Never Noticed In 'Star Trek'".
6.

"SPOCK'S BRAIN" IS THE ONLY EPISODE ASIDE FROM THE FIRST PILOT IN WHICH CHARACTERS WALK IN FRONT OF A MOVING STAR FIELD ON THE VIEWSCREEN.

The infamous third season opener remains much derided but it did feature a decent budget for effects. In this scene, Enterprise crew walk back and forth before moving stars on the viewscreen. This may not seem like much, but typically the viewscreen was added as a layered effect — or sometimes it was merely a static picture. This effect was achieved through rear projection.
(15) TRAILER #2. "The Man Who Fell To Earth" series premieres April 24 on Showtime.
An alien (Chiwetel Ejiofor) arrives on earth with a mission: to learn to become human and find the one woman (Naomie Harris) who can help save his species. Together they discover that in order to save his world, they must first save ours.
(16) VIDEO OF THE DAY. [Item by Martin Morse Wooster.] In "Honest Game Trailers: Kirby and the Forgotten Land," Fandom Games says this latest installment of this series about a pink blob that likes to eat things is "a game designed for fetuses and zygotes" and "is as challenging as first-grade math." But if you want to see a loveable pink blob eat a car, this one's for you!
[Thanks to Michael Toman, Cat Eldridge, Mike Kennedy, Will R., Alison Scott, Chris Barkley, Daniel Dern, Rich Horton, Martin Morse Wooster, JJ, John King Tarpinian, and Andrew Porter for some of these stories. Title credit belongs to File 770 contributing editor of the day Daniel Dern.]