(1) S.L. HUANG ON MOVIE GUN SAFETY. [Item by rcade.] S.L. Huang, who won a 2020 Hugo Award for the short story "As the Last I May Know," has worked in movies as a stuntwoman, gun trainer and gun safety expert (a job with the title of "film armorer").
She has posted a Twitter thread on the shooting accident that killed cinematographer Halyna Hutchins this week. Thread starts here. Here are a few excerpts:
(2) UNRAVELED RAPIDLY. [Item by Danny Sichel.] Earlier this week, a group of six popular YA writers announced that they were co-launching a shared world project which would be called "Realm of Ruin", and which would involve NFTs and reader submissions and quite a lot of details which hadn't been properly thought out.
By Friday, the project had been canceled.
@BadWritingTakes tracked the details in a thread that begins here.
(3) RUH-ROH! New episodes of Scooby-Doo and Guess Who? started streaming on HBOMax October 1, and they've really upgraded the roster of guest stars — Cher, Sean Astin, Jessica Biel, Terry Bradshaw, Lucy Liu, Jason Sudeikis, and Run DMC.
(4) SID KROFFT, INSTAGRAM STAR? "How Sid Krofft, at 92, became an Instagram Live star and why celebs ask to be on his show" at Yahoo! Either he's worked with them, or they loved his work when they were kids. He did his 75th show October 3.
…[Sid] Krofft is best known through his collaborations with his brother Marty on TV shows like "Land of the Lost," "Sigmund and the Sea Monsters," "The Banana Splits Adventure Hour," "The Brady Bunch Variety Hour" and "H.R. Pufnstuf," whose 17 episodes from 1969 were a syndication staple through the 1970s and again in the '90s….

Killian says he was 90 at the time, and though they bicker like an old married couple, he reluctantly tried it out. What he found was that his penchant for storytelling helped him connect online like he had with audiences through his puppetry or through TV, and that many people remembered and revered him not only for his work but how it influenced them.

"You just don't know, after all these years, that the fans still hang out and they know all the songs and everything that you've done," says Krofft.

Those fans include many who are now stars in their own right. Just the other day, according to Krofft, Seth Rogen came to visit him. Why? Because he admired his work.

He says he didn't know most of the stars he's interacted with. "They searched me out! A few days ago, Anderson Cooper contacted me. I don't know Anderson. And Katie Couric. People are reaching out to me that I never knew. I wanted to, but I never met them. Half of the people that I have had on, they reached out to me. I'm floored over that."…
(5) TRIBUTE TO SF ARTIST POWERS. Scott Robinson's Higher Powers: a Richard M. Powers Centennial Concert will be staged Saturday, October 30 in Brooklyn, NY.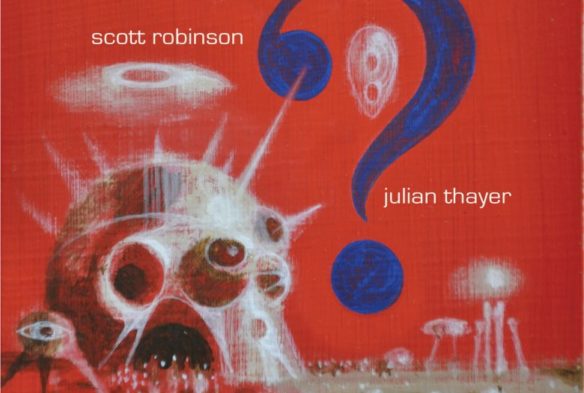 It is no exaggeration to state that surrealist painter Richard M. Powers (1921-1996) was one of the most startlingly imaginative and prolific artists of the twentieth century. The otherworldly landscapes, perplexing quasi-machines, and extra-dimensional biomorphic forms he produced for countless science fiction book covers of the 1950s and 60s were a powerful early inspiration for composer/multi-instrumentalist Scott Robinson, who brings his "aRT" trio with Pheeroan akLaff and Julian Thayer to Roulette for this centennial multimedia concert event.

The evening will begin with a pre-concert discussion with the artist's son, writer Richard Gid Powers, and longtime broadcaster David Garland. Robinson's short award-winning video, "Powers100," will also be shown. Following an intermission, the aRT trio will then take the stage for the World Premiere of Higher Powers, an improvisational multimedia piece in which live video feed of the performers will be interactively intermixed in real time with Powers imagery chosen from among his vast output…some of it unpublished, never before seen by the public. The use of monitors for the performers, along with computer technology to blend and meld images on the large screen above, is a method that aRT developed in collaboration with sculptor Rob Fisher in 1991 which allows for full, 360° interactivity. The performers literally enter the work, and become it… and vice versa. Extremely rare instruments from Robinson's arsenal will be seen and heard, including a sub-contrabass sarrusophone, a Model 201 theremin which was Robert Moog's very first creation (one of only 20 he made), and one of the world's largest saxophones. Rare footage of the artist at work will also be shown, and there will be a reception following the performance.
(6) TROPE REJECTED. Slate's Tyler Austin Harper says Invasion gets one thing right — "Apple TV+'s Invasion, Tomorrow War, Watchmen: Stop with the fantasy that aliens will fix racism".
…Yet, despite signaling aspirations to tackle big-picture issues from a global perspective, Invasion's diversity is largely ornamental, a toothless, paint-by-number multiculturalism of the sort you see on college brochures. It's as though the show's creators assumed that simply writing in an immigrant or a person with a disability would magically create compelling television in and of itself—no need for intrigue or conflict or any of the flesh-and-blood details that make an audience care about whether or not a character gets sent off to the alien glue factory.

Yet, for all that, Invasion remains an interesting cultural document because it is doing something different from the great bulk of science fiction out there about what happens when creatures from another galaxy show up on our doorsteps. Namely, it presents a world in which the arrival of space invaders does not magically fix race or class divides by uniting the human race against a common enemy, a trope that has now been a staple of science fiction for more than a century….
(7) PAIZO UNION RECOGNIZED BY MANAGEMENT. Bleeding Cool says the recently-announced union has had a breakthrough: "Paizo Announces Recognition Of United Paizo Workers" reports Bleeding Cool.
Last night, Paizo formally announced that they have officially recognized a union of their own staff which has been named the United Paizo Workers. The company issued the statement and quote from their president below, which revealed they had voluntarily recognized the United Paizo Workers union, which is affiliated with the Communications Workers of America (CWA). This is a pretty major step for the company considering their staff announced they were unionizing just a week ago.

… Jeff Alvarez, President of Paizo [said:]

"The next steps will involve the United Paizo Workers (UPW) union electing their bargaining representatives and then meeting with Paizo management to negotiate terms for a collective bargaining agreement. We expect this process to take some time, but we are committed to the effort and hope to settle a contract in due course. Until an agreement is reached, the Paizo staff continues to focus on creating amazing Pathfinder and Starfinder products."
(8) SAND DOLLARS. Dune set a studio opening day record reports Deadline.
… Dune posted the best opening day for a Warner Bros. theatrical/HBO Max day and date title with $17.5M. While Warners is calling the weekend currently at $33M, rivals believes it's higher, in the high $30Ms range, which would also indicate a record weekend for a Warner/HBO Max title and filmmaker Denis Villeneuve as well.

The industry estimate for Saturday's drop is around -30%. Hopefully, the HBO Max of it all doesn't drag the movie further down, as US folks with HBO subscriptions discover they can watch Dune at home for free. Between Thursday and Friday, there was a significant amount of moviegoers who decided to see Dune at the last minute, with 67% of the crowd either buying their tickets the day of, or the day before.

Dune's Friday is bigger than that of Villeneuve's previous sci-fi reboot, Blade Runner 2049, which saw a Friday of $12.6M, and also that of Legendary and Warner Bros. previous reteaming, Godzilla vs. Kong, which saw a Friday of $11.8M, that being the first of the studio's tentpoles on HBO Max at Easter….
(9) WINDYCON DEAL. Chicago's annual Windycon is on the brink, financially, and is offering incentives to make its room block:
Windycon is giving away convention memberships with hotel room bookings, if you book a room for two nights by October 25.

Want to see Carlos Hernandez or Seanan McGuire in person? Come to suburban Chicago November 12-14! Help save a venerable fan-run SF convention that, I promise, is taking Covid precautions VERY seriously!

Per the press release:

We all know the last few years have been rough. We had to go virtual with Breezycon last year, and this year we are struggling to provide a safe environment for us to gather. In order to help keep Windycon going, we need to make our room block. We've extended our room block deadline to Monday, October 25 but we are still low.

Because of this shortfall we are offering free registration for the hotel reservations that meet these qualifications

If you don't have a room yet and book 2 nights, or more, you will receive a free registration for Windycon 2022. Book 4 or more and get 2 free registrations for Windycon 2022

If you already have a reservation but extend it for a 3rd night, or more, you will receive a free registration for Windycon 2022. Extend it for 4 and get 2 free registrations for Windycon 2022

If you have booked your room and it's for 2 nights we will put your name in a drawing for 10 registrations. Plus, as a reward for already booking early, you will qualify for a $10 reduction of your Windycon registration fee next year.
(10) ANOTHER CALL FOR ASSISTANCE. "StarShipSofa Is In Desperate Need of Funds" says Tony C. Smith. Obviously, it has evolved to have a very different model than when it won the Best Fanzine Hugo in 2010.
There's no getting away from it… StarShipSofa needs a little help in funding. We have been going 16 years now (wow) and I have had this silent goal to take SSS to 20 years, say goodbye one last time then bow out and walk away… or better still – drift into the deep universe and beyond.

Truth is… we won't get there if our funding keeps reclining. We have lost nearly 200 Patreon supporters since we started and now are stuck financially, scraping together enough funds each month to put out only two shows.

This is such a shame.

Please support via Patreon. Monthly donations are the perfect cure to help me achieve my goal. Let me get to 20 years of StarShipSofa – after that who knows.
(11) MEDIA BIRTHDAY.
1959 – "Picture of a woman looking at a picture. Movie great of another time, once-brilliant star in a firmament no longer a part of the sky, eclipsed by the movement of earth and time. Barbara Jean Trenton, whose world is a projection room, whose dreams are made out of celluloid. Barbara Jean Trenton, struck down by hit-and-run years and lying on the unhappy pavement, trying desperately to get the license number of fleeting fame."
Sixty two years ago, Twilight Zone's "The Sixteen-Millimeter Shrine" first aired on CBS. It starred Ida Lupino who was the only individual to have worked as both actress and though she was uncredited at the time as a director in the same episode of The Twilight Zone. She will be credited with directing of "The Masks" which she appeared in. She was thereby the only woman to direct an episode of The Twilight Zone.
(12) TODAY'S BIRTHDAYS.
[Compiled by Cat Eldridge.]
Born October 23, 1880 — Una O'Connor. Actress who appeared in the 1930s The Invisible Man as Jenny Hall. She had a bit part in Bride of Frankenstein, and a supporting role in the genre-adjacent The Adventures of Robin Hood. Though not even genre adjacent, she was Mrs. Peters in the film adaptation of Graham Greene's Stamboul. Great novel, I'll need to see if I can find this film.She's in The Canterville Ghost, and shows up twice in TV's Tales of Tomorrow anthology series. And that's it. (Died 1959.)
Born October 23, 1935 — Bruce Mars, 86. He was on Trek three times, one uncredited, with his best remembered being in the most excellent Shore Leave episode as Finnegan, the man Kirk fights with. He also had one-offs in The Time Tunnel, Voyage to the Bottom of The Sea, and Mission: Impossible. He is now Brother Paramananda with the Self-Realization Fellowship in Los Angeles which he joined shortly after ending his acting career in 1969.
Born October 23, 1953 — Ira Steven Behr, 68. Best remembered for his work on the Trek franchise, particularly Star Trek: Deep Space Nine, on which he served as showrunner and executive producer. As writer and or producer, he has been in involved in Beyond Reality, Dark Angel, The Twilight Zone, The 4400, Alphas, and Outlander.
Born October 23, 1955 — Graeme Reavlle, 66. New Zealand composer responsible for such genre soundtracks as The Crow, From Dusk Till Dawn, The Saint (the 1997 version), Titan A.E., Lara Croft: Tomb Raider, Daredevil and Sin City.
Born October 23, 1959 — Sam Raimi, 62. Responsible for, and this is not a complete listing, the Darkman franchise , M.A.N.T.I.S., the Jack of All Trades series that Kage loved, the Cleopatra 2525 series, Hercules: The Legendary Journeys and Xena: Warrior Princess series and the Spider-Man trilogy.
Born October 23, 1969 — Trudy Canavan, 52. Australian writer who's won two Ditmars for her Thief's Magic and A Room for Improvement novels and two Aurealis Awards as well, one for her "Whispers of the Mist Children" short story, and one for The Magician's Apprentice novel. It's worth noting that she's picked up two Ditmar nominations for her artwork as well.
Born October 23, 1986 — Emilia Clarke, 35. She'll be most remembered as Daenerys Targaryen on the Game of Thrones. Her genre film roles include Sarah Connor in Terminator Genisys and Kira in Solo: A Star Wars Story. She was also Verena in Voice from the Stone, a horror film. Not to mention Savannah Roundtree in Triassic Attack, a network film clearly ripping off Jurrasic Park.
Born October 23, 2007 — Lilly Aspell, 14. She's a Scottish-born performer best known so far for portraying the young Diana in Wonder Woman and its sequel. She voiced the role on DC Super Hero Girls. She was Newschild in Holmes & Watson, and Megan in the alien invasion flick Extinction.
(13) COMICS SECTION.
(14) FRIENDLY NEIGHBORHOOD HELL. Randee Dawn continues the "Halloween Haunts" series at the Horror Writers Association Blog with "Suburbia is Hell" – just as Pohl and Kornbluth foretold.
Suburbs are hell.

This said by someone who grew up on cul-de-sacs, down streets named after Ivy League universities, on parcels of farmland carved up into intentionally bland, vaguely descriptive development names, on land that was almost certainly stolen from the original inhabitants, then re-distributed and tamed. Or attempted to be tamed….
(15) MAKING MAGIC. The CBS Saturday Morning show a few weeks ago featured "Zach King on how his magic tricks reach millions". Watch the video at the link.
At 31 years old Zach King has already amassed an extensive catalog of accomplishments and compiled a massive catalog of accomplishments. His magic trick videos have reached millions and millions on several different social media platforms. King opens up to Dana Jacobson about how the fun isn't just making the magic, it can also be found when revealing the illusion.
(16) COUNTING THE DAYS. There's more than one reason not to let this collectible come in contact with water. "Gremlins Countdown Calendar review" at OAFE.
One of the oddest trends in 2020 was the rise of the geeky advent calendar. You may recall we reviewed the one from Boss Fight Studio, but it was far from the only one available – many were even in normal stores, like Walmart or Target. They began showing up on shelves in late October, which in at least one case was a problem.

This set is based on a horror movie. And it's got 31 days, not 24 – so obviously this was not meant to be a Christmas calendar, but a Halloween calendar. Not much use on October 20th. But hey, there's nothing saying it's only good for a specific year, right? So buy one on post-holiday clearance, and store it away for next October!
(17) ZOOM WITH GRADY HENDRIX ABOUT HAUNTING. Northern Illinois University's "Future Telling" webinar series features "The Haunted Mind," a free virtual presentation with Grady Hendrix, author (Horrorstör, My Best Friend's Exorcism) and Konrad Stump, Local History Associate, Springfield-Green County Library, on Wednesday, October 27, at 6:00 p.m. Central. Register here.
Why do some people believe they have experienced a haunting? Understand the science behind environmental and neurological conditions that shape people's belief in ghosts or their tendency to experience delusions. Join host Gillian King-Cargile as she talks with author Grady Hendrix (The Final Girl Support Group, The Southern Book Club's Guide to Slaying Vampires, Horrorstör), librarian Konrad Stump, a local history expert and co-chair of Horror Writers Association Library Committee, and other experts in psychology and neurology. Don't miss this spirited discussion on spooky science.
The goal of the "Future Telling" webinar series is to "introduce writers to bleeding-edge concepts, to invigorate STEM experts with mind-bending views of the future, and to celebrate the connections between STEM and storytelling."
(18) CINEMATIC INSPIRATION. [Item by Ben Bird Person.] Artist Bugboss did this piece based on the 1973 movie Fantastic Planet:
(19) NETFLIX ALL-TIME MOST-WATCHED SHOWS. [Item by David Doering.] More evidence we won the Culture War: Netflix announced last week their All-Time most watched shows. Their #2 and #3 shows globally were SF/F. "'Bridgerton' tops Netflix's list of most watched TV shows ever, while 'Extraction' leads among movies".
"Bridgerton," a period piece about 19th century British royalty produced by Shonda Rhimes, premiered in December. French series "Lupin: Part 1? and season one of "The Witcher," a fantasy series starring Henry Cavill, tied for second on the list, with 76 million accounts.
Naturally, as an anime fan I consider "Lupin" part of our genre. Some could even argue that Bridgerton has an element of "fantasy" to it as well.
(20) VIDEO OF THE DAY. [Item by Martin Morse Wooster.] In "Honest Game Trailers: Diablo II Resurrected," Fandom Games says this game is a barely revised version of Diablo, but Blizzard Games didn't want to face "the righteous anger of one billion nerds" by offering something gamers wouldn't already be used to.
[Thanks to John King Tarpinian, Andrew Porter, Michael Toman, rcade, Cassy B., Rob Thornton, Rich Lynch, Chris Barkley, Nancy Sauer, Ben Bird Person, David Doering, Danny Sichel, Cat Eldridge, Mike Kennedy, Martin Morse Wooster, and JJ for some of these stories. Title credit belongs to File 770 contributing editor of the day Andrew (not Werdna).]