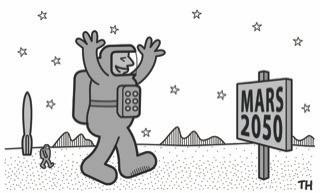 (1) TAKING TO THE LIFEBOATS. Jason Sanford's Patreon has an informative open post about the current social media upheaval triggered by Elon Musk's acquisition of Twitter: "Genre Grapevine Guide to Twitter's Last Days (Including Steps to Take and Options to Consider)".
Sanford begins with a roundup about Twitter's state of crisis, then discusses several alternative platforms. The one he has personal experience with is Mastodon, and he shares what's he's learned from migrating there.
…You'll also see the word "fediverse" a lot on Mastodon. As Lisbeth Campbell said, "Mastodon is 'federated' servers, not one unique platform," hence the use of fediverse to designate different servers focused on different communities.

The fediverse a lot of SF/F authors are joining is Wandering.Shop. That's also where I set up my account. Because Wandering.Shop has become so popular, they are currently limiting invitations to join. But invites should open again soon. And you can always join a different fediverse and follow and interact with people on different servers. The main Mastodon server page has a list of all these different fediverse and how to join them.

If you open a Mastodon account, be sure to use FediFinder to scan the people you follow on Twitter and locate those that are also on Mastodon. You can then export that list to CSV and import it into Mastodon, where the platform will automatically follow those people. FediFinder even shares the link on Mastodon where you need to go to upload the files….
(2) SPIEGELMAN HONORED. Maus creator Art Spiegelman received the Medal for Distinguished Contribution at the US National Book Awards gala reports Publishing Perspectives.
…Neil Gaiman, on hand to present the Medal for Distinguished Contribution to Maus author Art Spiegelman, told the audience about meeting Spiegelman, and watching as the writer-illustrator went on eventually to win a special Pulitzer Prize.

Having established that he has enjoyed a long, supportive friendship with Spiegelman, Gaiman pointed out that his own American Gods has been banned, and said of Spiegelman—who has taken many years of criticism for the Holocaust graphic-narrative Maus books, of course—"He's one of the kindest people I know. He's one of the wisest people I know. He is in every way a mensch. He is a New Yorker; he is a citizen of the world. He is a maker of comics that redefined what comics were capable of and how they were perceived. It changed the level of respect that comics got."…
(3) DOCTOR WHO COMPANION NAMED: "Millie Gibson is the new Doctor Who companion, Ruby Sunday" at BBC Doctor Who.
Millie Gibson has landed the role of Ruby Sunday, the Doctor's new companion.

Starring alongside Ncuti Gatwa, Millie will make her debut over the festive season in 2023 when the Fifteenth Doctor takes control of the TARDIS.

Best known for her role as CORONATION STREET's Kelly Neelan, 18 year old Millie was the recipient of the Best Young Performer Award at The British Soap Awards earlier this year. Millie has also appeared in dramas BUTTERFLY (ITV) and LOVE, LIES AND RECORDS (BBC).

Speaking of her new role, Millie Gibson said: "Whilst still being in total disbelief, I am beyond honoured to be cast as the Doctor's companion. It is a gift of a role, and a dream come true, and I will do everything to try and fill the boots the fellow companions have travelled in before me. And what better way to do that than being by the fabulous Ncuti Gatwa's side, I just can't wait to get started."…
(4) KSR'S SUGGESTED TOOL TO ADDRESS CLIMATE CRISIS. Wailin Wong, an NPR reporter for the economics show The Indicator— and Alec Nevala-Lee's wife — has a new episode featuring Kim Stanley Robinson. Listen at the link: "A monetary policy solution to to the climate crisis : The Indicator from Planet Money".
Kim Stanley Robinson's 2020 sci-fi novel The Ministry for the Future imagines a not-too-distant world where central banks worldwide come together to create a carbon coin, a monetary-policy-based solution to the climate crisis. The idea has been sparking real word debate in policy circles. What can a novel teach us about the role of central banks in addressing the climate crisis?
(5) SANDERSON KICKSTARTER NOVELS WILL ALSO GET TRADPUB. Tor US and Gollancz have announced they will also publish the four Brandon Sanderson novels marketed through his record-setting Kickstarter, which raised over $41 million.
Dragonsteel, Sanderson's company, will release the Kickstarter titles in January, April, July and October 2023.
The Gollancz hardcover editions will be published four months after each Kickstarter release: Tress of the Emerald Sea — 04/04/23; The Frugal Wizard's Handbook for Surviving Medieval England — 06/27/23; Yumi and the Nightmare Painter — 10/03/23; The Sunlit Man — 01/02/24
(6) DWINDLING VALUES. New York Times columnist Paul Krugman asks "Is This the End Game for Crypto?" Although he doesn't seem to think it is, his analysis of crypto's reasons for existing is informative.
…The question we should ask is why institutions like FTX or Terra, the so-called stablecoin issuer that collapsed in May, were created in the first place.

After all, the 2008 white paper that started the cryptocurrency movement, published under the pseudonym Satoshi Nakamoto, was titled "Bitcoin: A Peer-to-Peer Electronic Cash System." That is, the whole idea was that electronic tokens whose validity was established with techniques borrowed from cryptography would make it possible for people to bypass financial institutions. If you wanted to transfer funds to someone else, you could simply send them a number — a key — with no need to trust Citigroup or Santander to record the transaction.

It has never been clear exactly why anyone other than criminals would want to do this. Although crypto advocates often talk about the 2008 financial crisis as a motivation for their work, that crisis never impaired the payments system — the ability of individuals to transfer funds via banks. Still, the idea of a monetary system that wouldn't require trust in financial institutions was interesting, and arguably worth trying.

After 14 years, however, cryptocurrencies have made almost no inroads into the traditional role of money. They're too awkward to use for ordinary transactions. Their values are too unstable. In fact, relatively few investors can even be bothered to hold their crypto keys themselves — too much risk of losing them by, say, putting them on a hard drive that ends up in a landfill.

Instead, cryptocurrencies are largely purchased through exchanges like Coinbase and, yes, FTX, which take your money and hold crypto tokens in your name….
(7) GRRM STAYING FROSTY. A non-Westeros dragon story by George R.R. Martin will be turned into a movie: "Game of Thrones Author Announces Animated Film Adapting The Ice Dragon" at CBR.com.
Game of Thrones author George R.R. Martin recently announced an animated film adaptation of one of his early works, The Ice Dragon.

Martin, who penned the Song of Ice and Fire novels upon which Game of Thrones is based, announced the Ice Dragon movie during a promotional interview with Penguin Random House. "Some of you may know that I occasionally wrote other books that were not part of Westeros or that [story]," he said. "And one of them that I wrote way back in 1978 was a short story about a dragon, an ice dragon, and it's called The Ice Dragon. Just a short story, as I said. It's primarily a kid's story, but we are going to make that [into a movie]. Warner Bros. Animation has purchased the rights to it, and we're going to expand it to a fully animated film… a theatrical film, we hope, to be released in a motion picture palace near you, and David Anthony Durham will be writing the screenplay. And he better do a good job! [laughs]"
(8) ANNE HARRIS (1964-2022). Author Anne Harris died November 18. Their first genre publication, "Chango Was a Dog", appeared in Nova Express in 1991. Their novel Accidental Creatures tied for the 1999 Gaylactic Spectrum Award. Inventing Memory was longlisted for the Otherwise Award in 2005. "Still Life with Boobs", a short story, was a Nebula nominee in 2006. They also authored several novels under pen names, including a YA trilogy.
(9) ALICE DAVIS (1929-2022). Costume designer Alice Davis, whose work many of us have seen in person, died November 3. "Alice Davis, Costume Designer for Disney Rides, Dies at 93" in the New York Times.
Alice Davis, a Disney Company costume designer who created the outfits worn by the animatronic figures in two of the company's most enduring and popular rides, It's a Small World and Pirates of the Caribbean, died on Nov. 3 at her home in Los Angeles. She was 93.

Her death was announced on the Walt Disney Company's website.

Ms. Davis had been designing lingerie and other garments for several years when Walt Disney himself asked her in 1963 if she wanted to work on the costumes for It's a Small World.

She jumped at the chance.

"I could hardly wait to get there for the first day," she told The Los Angeles Times in 2014.

It's a Small World, a 10-minute boat trip through a land populated by singing and dancing robotic children representing dozens of countries while the attraction's titular earworm song plays, was to make its debut at the World's Fair in New York in 1964 as a tribute to UNICEF sponsored by Pepsi. It was a huge hit.

Clothing that accurately reflected the international theme was essential. So, working with the renowned Disney artist Mary Blair, Ms. Davis designed more than 150 costumes while researching the relevant nations to ensure the garments' authenticity….
(10) MEMORY LANE.
1947 — [By Cat Eldridge.] Miracle on 34th Street
Yes, let's have a feel good film, one of Mike's favorites as it turns out. It's set between Thanksgiving and Christmas so it is appropriate to telling about now, and I will. I like to as it is indeed a very upbeat movie.
Seventy-five years ago, Miracle on 34th Street was initially released as The Big Heart across the pond, written and directed by George Seaton and based on a story by Valentine Davies. Seaton did uncredited work on A Night at the Opera, and Davies would later be nominated for an Academy Award for Best Original Screenplay for The Glenn Miller Story, a most stellar film.
SNOWFLAKES ARE FALLING, AND ODDLY ENOUGH, THEY CONTAIN ,SPOILERS. REALLY THEY DO.
Kris Kringle, no I did not make his name up, is pissed off that Santa in the Macy's Thanksgiving Day Parade went missing because he was drunk. (I know that The Twilight Zone did this later.) When he complains to event director Doris Walker, she persuades him to take his place. He does so well that he is hired to play Santa at Macy's on 34th Street.
Most of the film is about faith. In this case believing that Kris Kringle is really Santa Claus — or not. Or that in a larger sense that individuals believe in him. The Judge rules that both are true and this Kris Kringle is not confined to Bellevue Hospital as certain parties were eager to do.
ANYONE FOR GINGERBREAD HOT FROM THE OVEN?
Everyone including the most curmudgeonly of critics loved it. Certainly the most excellent primary cast of Maureen O'Hara as Doris Walker, John Payne as Fred Gailey, and Edmund Gwenn as Kris Kringle charmed everyone.
It was shot on location in New York City, with the Macy's Thanksgiving Day Parade sequences filmed live while the 1946 parade was happening. The rest it was set during the Christmas season but the Studio insisted on a May premiere as that they thought was when Americans went to see films.
The Christmas window displays seen in the film have a very interesting history. They were first made by Steiff for Macy's. Macy's then sold the window displays to FAO Schwarz in New York and they in turn sold the windows to the BMO Harris Bank of Milwaukee where they are on display every December in the bank's lobby on North Water Street. 
It was remade with same name in 1994. Due to Macy's refusal to give permission to use its name, it was replaced by the fictitious "Cole's". Why so? "We feel the original stands on its own and could not be improved upon," said Laura Melillo, a spokeswoman for Macy's. So there.
A final note. One group didn't like it. The Catholic Legion of Decency found it "morally objectionable" largely due to the fact that O'Hara portrayed a divorcée here.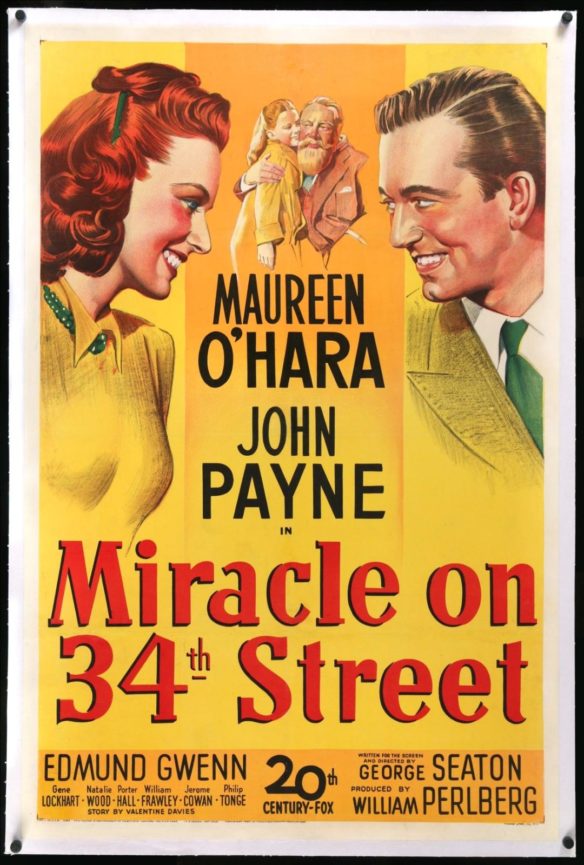 (11) TODAY'S BIRTHDAYS.
[Compiled by Cat Eldridge.]
Born November 18, 1939 — Margaret Atwood, 83. Well, there's that work called The Handmaid's Tale that's garnering a lot of discussion now. (Not my my cup of Tea, Earl Grey, hot.) There's the excellent MaddAddam Trilogy which I wholeheartedly recommend, and I've heard good things about The Penelopiad. What else do you like of hers?
Born November 18, 1946 — Alan Dean Foster, 76. There's fifteen Pip and Flinx novels?!? Well the first seven or so that I read oh-so-long ago were superb. The Spellsinger series is tasty too. Can't say anything about his Stars Wars work as I never got into it. Though I'm glad the Evil Mouse is paying him for it finally.
Born November 18, 1950 — Eric Pierpoint, 72. I'd say that he's best known for his role as George Francisco on the Alien Nation franchise. He has also appeared on each of the first four Trek spin-offs, a neat feat indeed. And he's got a very impressive number of genre one-offs which I'm sure y'all will tell me about.
Born November 18, 1952 — Doug Fratz. Long-time fan and prolific reviewer for the New York Review of Science Fiction and Science Fiction Age who also published a number of zines, and wrote a column superbly titled "Alienated Critic". He was nominated for Best Fanzine Hugo four times. Mike has a remembrance of him here. (Died 2016.)
Born November 18, 1953 — Alan Moore, 69. His best book is Voice of the Fire which admittedly isn't genre. Though the first volume of The League of Extraordinary Gentlemen is very close. Pity about the film which surprisingly has a forty-four percent rating among audience reviewers at Rotten Tomatoes. I'm also fond of The Ballad of Halo Jones and Swamp Thing work that he did as well. And let's not forget that the The Watchmen won a well-deserved Hugo at Nolacon II.
Born November 18, 1970 — Peta Wilson, 52. Wilhelmina "Mina" Harker in The League of Extraordinary Gentlemen film, a bit role as Bobbie-Faye in Superman Returns. Inspector (yes, just Inspector) in the "Promises" episode of the Highlander series. Though The League of Extraordinary Gentlemen was not well received, she received a Saturn Award Best Supporting Actress for being in it which is rather surprising I'd say.
Born November 18, 1981 — Maggie Stiefvater, 41. Writer of YA fiction, she has myriad series, of which I recommend The Dreamer trilogy, The Wolves of Mercy Falls and the astonishing Raven Cycle. With her sister, Kate Hummel, she writes and records a piece of music for each novel she releases. These are released in the form of animated book trailers. She's had two Mythopoeic Award nominations but so far no wins.
(12) WHICH CAME FIRST? The chicken, the egg, or the test tube? "Lab-Grown Meat Receives Clearance From F.D.A." reports the New York Times.
The Food and Drug Administration has cleared a California company's "slaughter-free" chicken, putting lab-grown meat one step closer to restaurant menus and grocery store shelves in the United States.

On Wednesday afternoon, the agency said it had completed an evaluation of chicken from the company, Upside Foods, and had "no further questions" about the product's safety, signaling that the agency considered it safe for consumption. It will probably take months, if not longer, before the product reaches consumers, and it first must get additional clearance from the Department of Agriculture.

… For nearly a decade, companies have been competing to bring the first lab-grown meat (or "cultivated" meat, the term the industry has recently rallied around) to market. In a process often compared to brewing beer, animal cells are grown in a controlled environment, creating a product that is biologically identical to conventional meat. But until now, cultivated meat had received regulatory approval only in Singapore, where Good Meat's lab-grown chicken was greenlit in 2020….
(13) JEOPARDY! Andrew Porter was tuned into last night's Jeopardy! episode and witnessed contestants flailing with these genre wrong questions about a non-genre author.
Final Jeopardy: Movies and Literature

Answer: Ridley Scott's first feature film, "The Duellists", was based on a story by this author to whom Scott's film "Alien" also pays tribute

Wrong questions: Who is [PK] Dick?; Who is A.C. Clarke?; Who is Lovecraft?

(All three contestants got it wrong!)

Correct question: Who is Joseph Conrad?
(14) WHIP IT GOOD. Find out what Indiana Jones looks like today in "Empire's World-Exclusive Indiana Jones 5 Covers Revealed".
…In a major world-exclusive, the new issue of Empire presents your first dive into the fifth (and still-untitled) Indiana Jones film – bringing back Ford (and his fedora), but teaming him with a new director in James Mangold, providing him with a fresh batch of allies and enemies, and pitching him into a whole different era of history. Inside, you'll find a very first look at what the top-secret film has in store, with a deluge of exclusive images – as well as world-first interviews with stars Harrison Ford, Phoebe Waller-Bridge, Mads Mikkelsen, Shaunette Renée Wilson and Boyd Holbrook, director James Mangold, writers Jez and John-Henry Butterworth, and producers Kathleen Kennedy, Frank Marshall and Simon Emanuel. The adventure is only just beginning – get ready to uncover the most exciting movie of 2023….
(15) VIDEO OF THE DAY. Elemental, from Disney and Pixar, will debut in June 2023.
Disney and Pixar's "Elemental," an all-new, original feature film set in Element City, where fire-, water-, land- and air-residents live together. The story introduces Ember, a tough, quick-witted and fiery young woman, whose friendship with a fun, sappy, go-with-the-flow guy named Wade challenges her beliefs about the world they live in.
[Thanks to Andrew Porter, Michael Toman, Cat Eldridge, Cliff, Alec Nevala-Lee, SF Concatenation's Jonathan Cowie, Mike Kennedy, JJ, John King Tarpinian, and Chris Barkley for some of these stories. Title credit belongs to File 770 contributing editor of the day Steve Davidson.]