(1) HE PUT THE BOMP. "Cyberpunk pioneer John Shirley survived Portland's 1970s music scene, discovers you can go home again" – the author is profiled by The Oregonian.
…Ultimately, he didn't make it as a punk rocker. And that was OK. He loved performing for an audience, creating noise and upheaval. But he loved sitting by himself in front of a typewriter too.

He wrote wild stories that took readers to distant worlds, and inside the heads of killers, sex fiends and sadists.

This was how he made his mark — his X.

Shirley pioneered cyberpunk (just ask William Gibson, the best-known writer associated with the influential science-fiction subgenre). He's published more than 50 novels and many more short stories, earning a dedicated fan base. He co-wrote the screenplay for the cult movie "The Crow" and penned a series of paperback novels that inspired the Sylvester Stallone movie "The Specialist."…
(2) JOCULARITY. "I Feel Funny: Humor Writing Tips for Novelists" by Kathy Flann at the SFWA Blog
Fairly or unfairly, the general public doesn't associate science fiction and fantasy (SFF) with hilarity. In fact, a recent fake survey revealed that 72% of readers expected these novels to be "Moby-Dick in space … (or the moors or wherever)." However, what is humor if not an observant reimagining of the familiar, typically with some kind of an unexpected twist? Writers of SFF create ten interesting twists before their well-observed breakfasts. So, why aren't our bookshelves and our zeitgeists chock-full of hilarious SFF novels? 

My guess is that SFF writers already feel overwhelmed. Not only do they face the challenges of any novel—including character development, plot, point of view, and so on—but also the mandate to build worlds for characters to inhabit and confront. I think writers suffer from knee-knocking fear of the additional layer of "trying" to be funny. A corny novel that makes readers groan may erode their suspension of disbelief. All that work for nothing!… 
(3) EATING THE FANTASTIC. Scott Edelman invites listeners to chow down on butter chicken with Paul Kupperberg in episode 169 of the Eating the Fantastic podcast.
It's time once again to step into the time machine, as this episode's guest, Paul Kupperberg, is one of the two people in comics I've known the longest. He, along with former guest of the podcast Paul Levitz, ran fanzine sales at Phil Seuling's 1971 4th of July weekend Comic Art Convention. We were both 16 then.

Paul's another one of those guests I'd planned to sit across the table from during a day trip north sometime during the past two years, but that couldn't happen, so to prevent the state of the world from stealing from us the conversation we would have had in better times, this became another one of the remote episodes I started doing once our world narrowed in early 2020, urged on by my Patreon supporters, who felt as much of a need for community during this difficult period as I did.

A lot has changed over the past half century since Paul and I met, as he's written more than 1,000 short stories and comic book stories during those years. Among the characters whose adventures he's scripted are Superman, Supergirl, Superboy, the new Doom Patrol, Green Lantern, the Justice League of America, Aquaman, Conan, and many others. He also scripted something near and dear to my heart — the first appearance of Keith Giffen's Ambush Bug character in DC Comics Presents #52 (Dec. 1982). He wrote the syndicated The World's Greatest Superheroes newspaper comic strip with José Delbo from 1981–1985. He's the author of more than three dozen books of fiction and nonfiction, including The Same Old Story, JSA: Ragnarok, Direct Comments: Comics Creators in Their Own Words, and Paul Kupperberg's Illustrated Guide to Writing Comics. He's been an editor at DC Comics, WWE Kids' Magazine, and the Weekly World News.

Paul ordered in Butter Chicken from Curry & Hurry in Riverside Connecticut, I ran over to Spice Connexion in Martinsburg, West Virginia for take-out Lamb Rogan Josh, and I hope you grab some Indian food so you can better pretend to be part of the gabfest.

We discussed which superhero starred in his first favorite comic book, the reasons we're in agreement when it comes to the Stan vs. Jack debate, why his introduction to Superman had nothing to do with comics, what we each felt was lacking in our own early comic book writing, the surprising identity of the DC editor whose books sold the best, what caused legendary artist Don Heck to curse him out, the special challenges of writing comic strips, how he needed to get ready (or not) before writing all those legacy characters, what it was like rebooting Doom Patrol, which Archie character's death upset him so much he had to step away from the keyboard, and much more.
(4) THE RESISTANCE. Publishers Weekly is "Confronting Cultural Illiteracy: LGBTQ Books 2022".
The recent spate of challenges to books with LGBTQ content has been met with equally vocal resistance from booksellers, librarians, parents, and other advocates. Caught in the middle are the people who create the books.

George M. Johnson's All Boys Aren't Blue, a YA essay collection revolving around themes of identity and family, was, according to the ALA, the third most challenged book of 2021; it was cited for LGBTQ content, profanity, and because it was considered sexually explicit. "It's never easy to wake up to Google alerts mischaracterizing your work as something that it isn't or seeing it used as a pawn for political partisanship," Johnson says. "It only makes me want to create more stories in the world—find newer, cooler mediums to tell my stories."

Another author, Jarrett Dapier, had a virtual presentation of his picture book Mr. Watson's Chickens cancelled when the school librarian told the principal that the story features a gay couple. The principal then suggested offering parents the choice to opt out of the event, which Dapier found unacceptable. The presentation was rescheduled, the author says, after the school agreed to his terms: he insisted that the principal not send the opt-out letter, and that "teachers would not change their approach to the book or point out the characters' relationship in anything but a positive, normal light, if they did at all."…
(5) DENIS MEIKLE (1947-2022). Author Denis Meikle, a scholar who wrote about Hammer Films, died this week reported his daughter. His books included A History of Horrors-The Rise and Fall of the House of Hammer (1996), Jack the Ripper-The Murders and the Movies (2001), Vincent Price-The Art of Fear (2002), Johnny Depp-A Kind of Illusion (2004), The Ring Companion (2006), Roman Polanski-Odd Man Out (2007), Mr Murder-The Life and Times of Tod Slaughter (2019). And he wrote numerous articles for magazines such as My Little Shoppe of Horrors, The Dark Side, etc. He was the publisher of The Fantastic Fifties, The Sensational Sixties, and The Age of Thrills magazines.
(6) MEDIA BIRTHDAY.
1964 — [Compiled by Cat Eldridge.] The cast of characters—a cat and a mouse, this is the latter. The intended victim who may or may not know that he is to die, be it by butchery or ballet. His name is Major Ivan Kuchenko. He has, if events go according to certain plans, perhaps three or four more hours of living. But an ignorance shared by both himself and his executioner, is of the fact that both of them have taken the first step into the Twilight Zone. — Opening narration of this episode.
On this evening fifty eight years ago, The Twilight Zone's "The Jeopardy Room" first aired on CBS. The plot is Major Ivan Kuchenko as played by Martin Landau, a KGB agent who is attempting to defect, is trapped inside a hotel room in an unnamed, politically neutral country with a bomb about to go off unless he can disarm it. I'm assuming that you've seen, but on the grounds that you might not have, I won't say more. It's a splendid bit of Cold War paranoia.
Not surprisingly, it was written by Serling. It was directed by Richard Donner who later on would be known for The Omen, Scrooged and Superman but this was very early on in his career and he had just three years earlier released X-15, an aviation film that presented a fictionalized account of the X-15 research rocket aircraft program. Neat indeed.
It is one of only a handful of The Twilight Zone episodes that has no fantastical elements at all. It's a classic Cold War story more befitting a Mission: Impossible set-up than this series. It even involves a message delivered by way of a tape recorder, but mine you that series is two years in the future so that has to be just a coincidence. Or The Twilight Zone being The Twilight Zone…
Like all of The Twilight Zone series, it's streaming on Paramount +.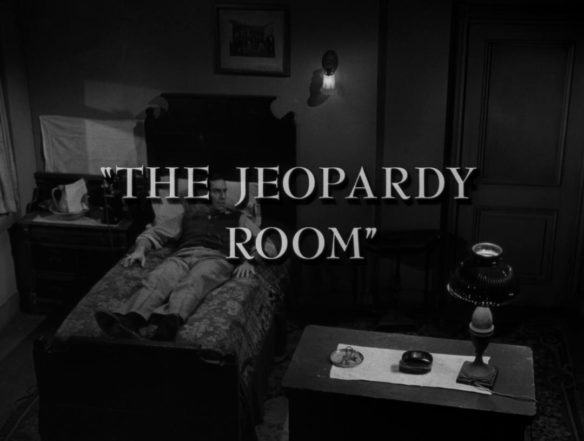 (7) TODAY'S BIRTHDAYS.
[Compiled by Cat Eldridge.]
Born April 17, 1919 — Julius Fast. He was the first recipient of the Edgar Award given by the Mystery Writers of America for the best first novel of 1945, Watchful at Night.  (He wrote a lot of mystery novels.) He was also a sff genre writer and he released Out of This World, a collection of SF stories while he was still in the Army during WW II. He only genre novel was written in the Seventies, The League of Grey-Eyed Women. (Died 2008.)
Born April 17, 1923 — Lloyd Biggle Jr. He was the founding Secretary-Treasurer of Science Fiction Writers of America and served as Chairman of its trustees for many years. Writing-wise, his best known series were the Jan Darzek and Effie Schlupe troubleshooting team, and the Cultural Survey. His "Monument" story published in Analog was a finalist at Chicon III for a Short Story Hugo. I find it interesting that he wrote his own Sherlock Holmes stories from the perspective of Edward Porter Jones, an assistant who began his association with Holmes as a Baker Street Irregular. There are two novels in this series, The Quallsford Inheritance and The Glendower Conspiracy. (Died 2002.)
Born April 17, 1923 — Earl Norem. An illustrator who signed his work simply Norem. He did a lot of work in Goodman's men's magazine but for our purposes I'm interested in the fact that he did a lot of for the same line of black-and-white comics magazines affiliated with his Marvel Comics division. Here is three of his covers, first for the trade paperback of Star Lord: Guardian of The Galaxy, next for Punisher/Black Widow: Spinning Doomsday's Web (1992) #1, and finally for Moon Knight #6. (Died 2015.)
Born April 17, 1942 — David Bradley, 80. It's his Doctor Who work that garners him a Birthday honor.  He first showed up during the time of the Eleventh Doctor playing a complete Rat Bastard of a character named Solomon in the "Dinosaurs on a Spaceship" episode. But it was his second role on the series as actor who was the First Doctor that makes him really worth noting. He portrayed William Hartnell in An Adventure in Space and Time and then played the role of the First Doctor again in "The Doctor Falls" and "Twice Upon a Time", both Twelfth Doctor stories.  He is also known for playing Argus Filch in the Harry Potter film franchise, Walder Frey in Game of Thrones and Abraham Setrakian in The Strain. 
Born April 17, 1948 — Peter Fehervari, 74. Ok I'll admit I'm including him because he's written a number of novels set in the Warhammer Universe and I've never read anything set there. Who here has read the fiction set there? Is it worth reading, and if so, is there a good starting point?  I'll admit that as a causal collector of action figures that some of those do seriously interest me as they have a definite SF vibe as you can see here.
Born April 17, 1959 — Sean Bean, 63. His current role that garners him recognition is Joseph Wilford on Snowpiercer, though he gave an iconic performance as Ned Stark in Game of Thrones, and he's been in our area of interest a long time.  His first genre role was in GoldenEye as the antagonist of Bond, Alec Trevelyan (Janus). Next he shows up as Boromir in the first of The Lord of the Rings films. He played Dr. Merrick in the horror SF film The Island and was James in horror flick The Dark which purports to be based off Welsh myth. Following in the horror vein, he's Chris Da Silva in Silent Hill (which gets a sequel later in Silent Hill: Revelation) and in yet more horror is John Ryder in the remake of The Hitcher. (Was it so good that it yearned for a remake? I doubt it.) Black Death — yes more horror — and the character of Ulric ensued next. Finally something not of a horror nature in playing Zeus in Percy Jackson & the Olympians: The Lightning Thief happened. I'm going to forgo listing the subsequent horror films he's in and just finally note that he's in The Martian playing Mitch Henderson. 
Born April 17, 1972 — Jennifer Garner, 50. Back before there was the Marvel Cinematic Universe, there were Marvel Comic movies which have not been retconned into the MCU reality. Such was the case with Elektra and its lead character of Elektra Natchios. She also had the same role in Daredevil which was at best an OK film though I'm fond of the Kingpin character. And yes, I know some of you don't like that Kingpin. 
Born April 17, 1973 — Cavan Scott, 49. To my thinking, there's somewhat of an arbitrary line between fanfic and professional writing. (Ducks quickly.) Which bring me to the world of fiction set in media universes where a lot of fanfic is set. This writer has apparently specialized in such writing to the extent that he has novels in the universes of Dr. Who (including the full blown subgenre of Professor Bernice Summerfield), Blake's 7, Judge Dredd, Skylanders Universe, The Tomorrow People, Star Wars and Warhammer Universe (yes again). Judge Dredd?  Novels? Who knew? 
(8) COMICS SECTION.
(9) ASIMOV PROFILE. The Jerusalem Post published this feature to mark the thirtieth anniversary of the author's death: "Isaac Asimov: The biochemist who created new worlds – The Jerusalem Post (jpost.com)
Isaac Asimov is considered one of the greatest science fiction writers, and definitely the most famous of them all. He has written some of the most influential and popular books of the genre, which contained ideas, prophecies and quotes that appear in multiple references to this day. He has written and edited more than 500 books in different fields and was legendarily prolific as a writer. The American writer Harlan Ellison once commented about Asimov, "He had writer's block once. It was the worst ten minutes of his life."

Owing to his huge success as an author, it's easy to forget that Asimov was also a scientist and a professor of biochemistry. Science was an integral part of his life and greatly influenced his stories…. 
(10) SELF-PUBLISHED BOOKS HONORED. Among those receiving medals in the 2022 Global Book Awards for Self-Published Authors this week in the science fiction categories were:
VS Holmes, author of Heretics won Silver for Sci Fi/ Hard
Kristina Rienzi, author of Among Us won Silver for Sci-fi / Space Exploration
Heretics
Hot-tempered Dr. Nel Bently is not cut out to save the world. After her last project ended in fire and death, Nel must put aside her distrust of just about everyone and embark on a lo-fi search for a deadly radio transmission.

Earth's survivors are torn between the austere superpower of IDH and the high-tech grassroots Los Pobledores. At every turn more allies go missing and Nel questions where everyone's true loyalties lie–and on which side Lin will fall when a line is finally drawn.

They need experts. They need firepower. But it looks like the only thing standing between Earth and devastation is Nel: archaeologist, asshole, and functioning alcoholic with anger issues.
Among Us
Marci Simon lives a double life: conservative professor of English by day, and controversial blogger of aliens by night. But when a classified document lands in her lap, her two worlds collide in an explosive revelation of shocking and deadly secrets.

Despite imminent danger at every twist, Marci embarks on an unstoppable quest to expose the terrifying truth. Only she never anticipated the entangled nebula of dark lies, nor the never-ending wormhole the government would spiral through to silence her forever.

Knowledge can kill.

And Marci knows too much. With global security at risk, no one can be trusted. To debunk the stratosphere of deceit, Marci races at the speed of light to escape the grips of the clandestine Extraterrestrial Security Agency (ESA) hunting her before she vanishes like all the others. But Marci is unique. Despite being the ESA's prime target, she's also the skeleton key to the deadliest truth in the history of the universe.

The nightmare is real, and it's only just begun. Marci must take a nefarious leap of faith before her options, and her breaths, evaporate into a black hole for all eternity.
(11) VOYAGER NEWS. An excerpt has been released from a new documentary on Star Trek: Voyager."To The Journey".
(12) GYGAX. [Item by Martin Morse Wooster.] The BBC interviews E. Gary Gygax, the great game creator Sid Sackson, and goes to a British national gaming convention in this Classic BBC Clip from a 1982documentary that dropped this week. "Why do we play TABLETOP GAMES?"
[Thanks to JJ, John King Tarpinian, Andrew Porter, Michael Toman, John Lorentz, Mickey Mikkelsen, Lise Andreasen, Cat Eldridge, Mike Kennedy, and Martin Morse Wooster for some of these stories. Title credit belongs to File 770 contributing editor of the day Ingvar.]