(1) PRONOUNS AND ROCKET STACK RANK. Bogi Takács wrote a series of tweets criticizing Greg Hullender's statements in reviews about the usage of pronouns for non-binary characters in stories reviewed at Rocket Stack Rank, adding many screenshots of examples. Takács also pointed out the reviews are given a certain implied authority because Rocket Stack Rank is linked from the official The Hugo Awards site as a "Third Party Recommendation Site."
Get into the thread here:
I will say it again in my main feed because this is important.

If a reviewer repeatedly states that nonbinary pronouns in a story are an automatic -1 star, that reviewer does NOT get to claim to be a trans ally.

That's not how any of this works.

— Bogi Takács PERSON (@bogiperson) November 26, 2017
The Hugo connection is illustrated here:
I would not bother if this was a random dude who spouts random dudedom.

This is a site EXPLICITLY promoted by the Hugo award website.

I highlighted it for you: pic.twitter.com/uMzq1DJFxN

— Bogi Takács PERSON (@bogiperson) November 26, 2017
The comments on the Hugo linkage include one from Patrick Nielsen Hayden:
I did not know that the official Hugo Awards site links to a tiny selection of "third party recommendation sites." Now that I do, I've written to the site administrators to opine that this is a terrible idea.

— P Nielsen Hayden (@pnh) November 26, 2017
For those who are unfamiliar, here is Bogi Takács' brief bio from Patreon:
I'm Bogi Takács, a Hungarian Jewish agender trans person (e/em/eir/emself or singular they pronouns) currently living in the US as a resident alien. I write speculative fiction and poetry – I have had work published in various professional venues like Clarkesworld, Lightspeed, Apex and Strange Horizons.
Other comments on RSR, Hullender's views, and their impact included —
Second of all, @bogiperson's long thread shows this is not new. This is not a case of "I messed up, whoops" but an ongoing trend of using an increasingly important platform to consistently downgrade stories that correctly use non-binary pronouns for non-binary characters

— Razorblade Snowflake (@Keffy) November 26, 2017
(2) COCO CASHES IN. On opening weekend in the U.S., "Pixar's 'Coco' feasts on 'Justice League' at box office".
Pixar's "Coco" sang its way to the fourth best Thanksgiving weekend ever with an estimated $71.2 million over the five-day weekend, a total that easily toppled Warner Bros.' "Justice League."

"Coco" rode strong reviews and an A-plus CinemaScore from audiences to the top spot at the domestic box office. According to studio estimates Sunday, it grossed $49 million from Friday to Sunday. Centered on the Mexican holiday Dia de Los Muertos (Day of the Dead), "Coco" has already set box office records in Mexico, where it has made $53.4 million in three weeks.
(3) BSFA AWARDS. The British Science Fiction Association invites members to "Nominate for the BSFA Awards" between now and December 31:
The BSFA awards are presented annually by the British Science Fiction Association, based on a vote of BSFA members and – in recent years – members of the British national science fiction convention Eastercon. They are fan awards that not only seek to honour the most worthy examples in each category, but to promote the genre of science fiction, and get people reading, talking about and enjoying all that contemporary science fiction has to offer.

…Nominations are open until 31st December. This will be the first round. Then from 1st January to 30th January the opportunity for members to vote for their shortlist from the collated suggestions will be provided. This will be the second round.

To nominate in the first round, fill in the form here: http://tinyurl.com/BSFA2017nominations

or email your nominations to [email protected]. A form and process for the second round will be made available on this page after the first round has closed.
(4) FLORIDA EXPANDS RIGHT TO CHALLENGE TEXTBOOKS. The Associated Press has the story: "New Florida law expected to increase textbook challenges".
A parent in Florida is citing profanity and violence in trying to get the local school to ban Ray Bradbury's "Fahrenheit 451" — itself a cautionary tale on the banning of books. Another wants to remove Walter Dean Myers' "Bad Boy" for using the word "penis" and a homophobic slur.

Elsewhere in Florida, some say global warming and evolution are a hoax and should not be taught in textbooks unopposed. Others say their local school's textbooks shortchange Islam's role in the world, while their opponents argue it's the danger posed by Muslim terrorists that's underexposed.

Under a bill passed by the Florida Legislature this year, any district resident — regardless of whether they have a child in school — can now challenge material as pornographic, biased, inaccurate or a violation of state law and get a hearing before an outside mediator.

The mediator advises the local school board, whose decision is final. Previously, challenges could only be made by parents to the school or district. There was also no mediator and fewer mandates. Districts must now also post online a list of all new books and material by grade level to make monitoring easier.
(5) THANKSGIVING AT THE ISS. A day like any other day, only turkey was there: "Happy Space Thanksgiving: How the Food-Stuffed Holiday Went Orbital".
One Thanksgiving party will literally look down upon them all, as the crew of the International Space Station (ISS) continues its longstanding tradition of observing the festive harvest holiday from orbit. This year's menu includes irradiated smoked turkey, rehydratable cornbread dressing, green beans and mushrooms, broccoli au gratin, mashed potatoes, candied yams, sweet tea, and thermostabilized cherry blueberry cobbler for dessert.
Space.com says "Thanksgiving in Space Means Turkey, Work and Football for Astronauts":
"They don't actually have the day off on Thursday," NASA spokesman Dan Huot told Space.com in an email, adding that the crew has "a lot of cargo-unloading tasks to complete" with the Cygnus spacecraft that arrived last Tuesday (Nov. 14). However, the astronauts will at least have Friday off, Huot said.

Along with over 7,700 lbs. (3,500 kilograms) of supplies and science equipment, the Cygnus cargo craft delivered the crew their Thanksgiving dinner and some other tasty treats, like pizza and ice cream. Holiday gifts and care packages from the astronauts' families also shipped with Cygnus. With that trove of holiday goodies just waiting to be unpacked, the astronauts have plenty of incentives for working through the holiday
(6) AFTER THE STUFFING. Here's how it looks from the Batcave:
— Heavy Metal Magazine (@HeavyMetalInk) November 24, 2017
(7) ANTHOLOGY APPEARANCE. Cora Buhlert highlights her recently-published story: "New science fiction anthology with a new "In Love and War" story available: The Guardian, edited by Alasdair Shaw".
The Guardian includes eleven science fiction stories by international authors, all featuring guardians of some kind. My own story in the anthology, "Baptism of Fire" is a prequel story to my In Love and War space opera romance series, so all you fans of Anjali and Mikhail (come on, I know there are some of you out there) rejoice.
(8) ALAS, POOR ALANTIM. Motherboard invites you to "Watch a Robot Eulogize Its 'Brother' at Moscow's New Cemetery for Dead Machines"; video at the link.
The sad news is that this Alantim could not be revived after the attack. But the silver lining is that its death inspired Olga Budnik, a spokesperson for the Muscovite tech hub Phystechpark, to create the world's first dedicated robot cemetery.

"Alantim was a really good robot," Budnik told me in an email. "It was supportive, always polite, always happy to see you. You know, like a pet. And [the cemetery] was an idea to bury it like a pet. Not disassemble or carry it to the trash. To say good-bye."

On October 31, Alantim's Earthly remains were placed at the Phystechpark cemetery site next to a box for collecting other dead robots. He was eulogized by another Alantim, who honored his dearly departed "brother" for being "very useful to your people and Russian science," according to a Russian-to-English translation of the ceremony as seen at the top of this article.
(9) COURT IS IN SESSION. Lauren Davis briefs io9 readers about "Six Strange Cases of Science Fiction Trademarks".
J.R.R. Tolkien
Ownership Claimed by: The J.R.R. Tolkien Estate

The J.R.R. Tolkien Estate owns numerous trademarks based on Tolkien's works, as well as registered trademarks on Tolkien's name. Last year, a fellow who sold buttons reading "While you were reading Tolkien, I was watching Evangelion" through Zazzle was contacted by Zazzle, who said that they were removing the buttons at the Tolkien Estate's request. Later, Zazzle restored the buttons, saying that they had been removed erroneously due to a miscommunication, but it shined a light on the estate's ownership of Tolkien's name and left lots of folks wondering where the line was. When are you invoking Tolkien the brand and when are you referring to Tolkien the man?

The estate also owns the right to publicity for Tolkien's name and image, which they used to challenge the publication of Steve Hillard's historical fiction book, Mirkwood: A Novel About JRR Tolkien. Eventually Hillard and the estate settled, with Hillard agreeing to make some changes to the book's appearance to make it look less like one of Tolkien's novels. A Mirkwood movie is in the works.

Bonus Round: Like any other trademark holder, the Tolkien Estate has to be vigilant about enforcing their trademarks. But some are stranger than others. In 2004, the estate issued a cease and desist letter to the owner of the domain Shiremail.com, claiming the estate owned the trademark on the word "shire." The word "shire," which means an administrative subdivision, such as a county, has been around since the 12th century.
(10) BOARDMAN OBIT. Perdita Boardman (1931-2017) died November 26 after a long illness. Mark Blackman writes:
Perdita was best-known in Northeast Fandom for hosting Lunarians meetings and running the Lunacon Con Suite for many years, and with her husband, John, hosting a monthly fannish gathering called First Saturday. For their long service, she and John were voted Honorary Members of the Lunarians.

Her younger daughter, Deirdre, shared the following on Facebook:

I wanted to share with family (& friends) about the passing of my mom this morning peacefully in her sleep.

Many know she has been suffering from severe dementia well over a decade now, but she became very sick about two weeks ago and moved to hospice care.

Born Dec 27, 1931 in Baxter Springs, KS she grew up outside of Detroit, bounced around a bit living in Chicago, San Francisco, Virginia and finally settling in New York City about 1960, first in Manhattan, then Park Slope and finally her well known home in Flatbush. She spent her final years in Frederick, MD to be closer to Karina & I.

She has loved science fiction & fantasy (as well as mysteries & regency romances) novels since the 50s and was an avid reader.

She was a talented artist, master seamstress and knitted the most amazing sweaters!

I could go on all.

One of her funny quotes from the other day after being annoyed by nurses prodding her was, "I am Perdita Ann Lilly Nelson Boardman and I am going to sleep"

Good night mom.
(11) LE GUIN AS CRITIC. Ursula K. Le Guin reviews "You Should Come With Me Now by M John Harrison – stories "for the uncommon reader" in The Guardian:
One of these brilliantly told stories, "The Walls", begins: "A man, let's call him D, is seen digging his way out through the wall of his cell. To help in this project, D has only the thinnest and least reliable tools: two dessert spoons (one stainless steel, one electro-plated nickel silver); half of a pair of curved nail scissors; some domestic knives lacking handles; and so on. The cell wall, constructed from grey, squarish cinder blocks about a foot on a side has been carelessly mortared and laid without much attention to detail. But this lack of artifice makes no difference; none of the knives is long enough to reach the last half inch of mortar at the back of each block, and the more D uses them the shorter they get. Each block must, eventually, be loosened and removed by hand, a task which can take several months, and which leaves him exhausted."

A close attention to detail characterises this story and contributes much to its effectiveness, and yet, like the careless mortaring of the cinder blocks, it makes no difference in the end. Why and how does D have two dessert spoons? What does he live on during these months (which become years)? Who brings it to his cell? We have nothing with which to fill in unstated facts, as we're used to doing when reading fiction, because the story is consistent only in pulling the carpet out from under its own feet. It is a play of imagination in a void. Its power is that of a dream, in this case a bad one, the kind that keeps repeating itself with variations in an endless loop of frustration.

This holds for all the stories collected in You Should Come With Me Now. Some of them are surrealistic, some are spoofs, some are fables; many are funny, all are inventive; none entirely escapes the loop….
(12) 25 WAYS TO RUB YOUR LAMP. A Yahoo! Movies piece, "Disney's 'Aladdin': 25 magical fun facts for 25th anniversary", has lots of trivia about Aladdin, including how Patrick Stewart nearly played Jafar but couldn't get out of his Star Trek: The Next Generation commitments and how there is a hidden Aladdin reference in Hamilton.
The animators crafted the Genie around Williams's rapid-fire improv. Co-director Ron Musker said Williams did 25 takes for the movie's first scene, "and they were all different." The entertainer would stick to the script for the first few takes, "then he would riff." Musker said Williams recorded 16 hours' worth of material, forcing the creative team to piece the character together "like a ransom note."
(13) COMICS SECTION.
Mike Kennedy quit groaning at the Tolkien pun long enough to send a link to today's Brevity.
(14) HE'S DEAD ED. The Smithsonian covers nine theories about "The (Still) Mysterious Death of Edgar Allan Poe" (2014 article.)
On September 27 [1849] —almost a week earlier—Poe had left Richmond, Virginia bound for Philadelphia to edit a collection of poems for Mrs. St. Leon Loud, a minor figure in American poetry at the time. When Walker found Poe in delirious disarray outside of the polling place, it was the first anyone had heard or seen of the poet since his departure from Richmond. Poe never made it to Philadelphia to attend to his editing business. Nor did he ever make it back to New York, where he had been living, to escort his aunt back to Richmond for his impending wedding. Poe was never to leave Baltimore, where he launched his career in the early 19th- century, again—and in the four days between Walker finding Poe outside the public house and Poe's death on October 7, he never regained enough consciousness to explain how he had come to be found, in soiled clothes not his own, incoherent on the streets. Instead, Poe spent his final days wavering between fits of delirium, gripped by visual hallucinations. The night before his death, according to his attending physician Dr. John J. Moran, Poe repeatedly called out for "Reynolds"—a figure who, to this day, remains a mystery.
(15) MISSING FROM THE MARQUEE. The project loses some name cachet as "Adam Nimoy Steps Down From Directing Deep Space Nine Doc, Release Pushed Back" – story at TrekMovie.com.
On Saturday there were two announcements from What We Left Behind, the upcoming crowd-funded Star Trek: Deep Space Nine documentary.  Adam Nimoy, while remaining involved, will no longer be directing, and the release date  is likely being pushed back.

Nimoy stepping back

In a statement posted on Facebook Saturday, Adam Nimoy revealed he was stepping down as director for What We left Behind, but he will continue to be a producer and advisor on the doc. The reason given for the change was that he needed more time to focus on other responsibilities. From the statement:

"The real creative force behind the DS9 documentary was well in place before I came along. I was happy to lend them support and guidance to push the project along so that it could be completed in time for the 25th anniversary of the show which is coming up in 2018. I wish the creative team all good things as they Boldly Go!"
(16) WINDOW ON THE UNIVERSE. Motherboard's article about the "Casting of a Giant Mirror for the First Extremely Large Telescope" has a good infographic comparing the relative sizes of all the existing large telescopes, as well.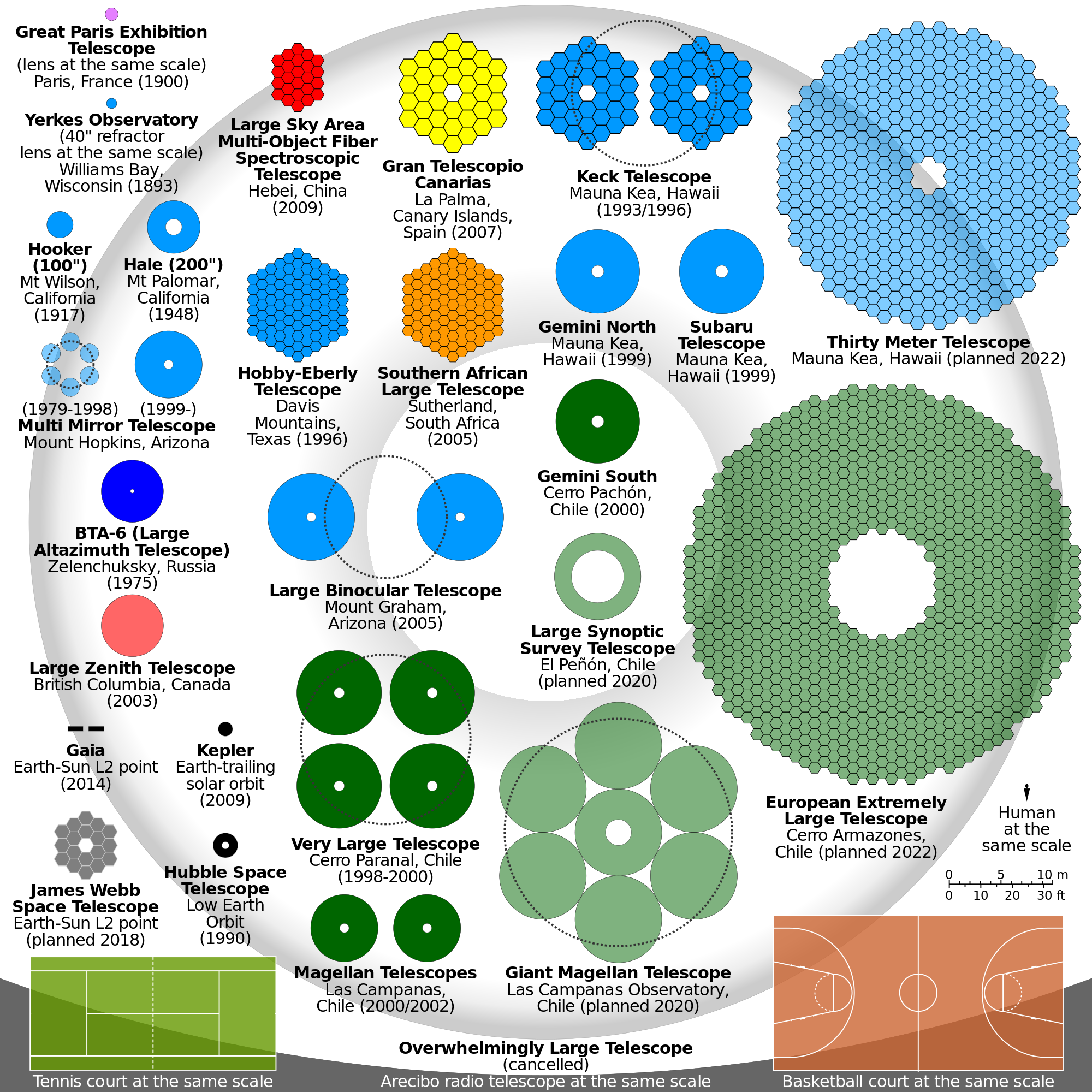 (17) HARD SF. Down these mean starlanes a man must go…. A Twitter conversation begins here:
there are so many dumb hard sf bros in my mentions. y'all hard sf is fine. I got no beef with it. "soft" sf just isn't an actual useful category descriptor.

— dongwon (@dongwon) November 26, 2017
(18) COMPLETE HORSESHOE. Here's another statistic I never knew anyone kept – the record for world's largest horseshoe sculpture: "Camberley artist's dragon 'could obliterate' world record".
Mr Poolman's sculpture is described as "not just a dragon but a tableau", telling the story of a village bringing a dragon from the sky with arrows and stones.

"It's partly collapsed," Mr Powell said, "brought to the ground, in its death throes."

Tens of thousands of old horseshoes were provided by farriers in Hampshire – some of them were used whole and others cut into smaller pieces.

"A complete horseshoe is quite limiting in what it can be made into," Mr Poolman said.
(19) NEW YORK TIMES BESTSELLER. Brandon Sanderson isn't just on the list, he's #1 —
I'm humbled and honored to say that because of all you wonderful readers out there, Oathbringer is the #1 New York Times bestselling hardcover book on the 12/03 list. I hope you've enjoyed reading it! pic.twitter.com/MLnLQcwv7I

— Brandon Sanderson (@BrandSanderson) November 22, 2017
(20) UNDER THE TREE. We continue our cavalcade of holiday presents with –
perfect holiday gift is here! HANDSOME HOLIDAY SWEATER great for proving love and getting hard by the fireside with a bud. also good for big time sweater parties where you want to be the talk of the dang town https://t.co/EY0T6l4ZtG pic.twitter.com/xAC4y735MB

— Chuck Tingle (@ChuckTingle) November 24, 2017
(21) MULTITASKING. It's a Jedi thing: "Elle UK Interviews Daisy Ridley While She Builds A Lego Millennium Falcon".
She's talented and beautiful and she plays Luke Skywalker's new padawan, Rey, in one of the most anticipated "Star Wars" films of all time, but now comes the true test: Can Daisy Ridley build the Millennium Falcon with Legos?

Elle UK interviewed the "Star Wars: The Last Jedi" actress, asking her things like when was the last time she cried, what color her lightsaber would be, and if her father still prefers "Star Trek" (ouch) ? all while she's tasked with building the Millennium Falcon out of Legos.
(22) VIDEO OF THE DAY. Happiness by Steve Cutts is a cartoon on Vimeo about rats trying to survive the rat race as commuters, consumers, and at work. I'm having trouble getting it to embed, so here's the link — https://vimeo.com/groups/motion/videos/244405542
[Thanks to JJ, John King Tarpinian, DMS, Carl Slaughter, Cat Eldridge, Martin Morse Wooster, Mark Blackman, and Andrew Porter for some of these stories, Title credit goes to File 770 contributing editor of the day Andrew.]