(1) B.C.V. / A.C.V. Kim Stanley Robinson argues "The Coronavirus Is Rewriting Our Imaginations" in an article for The New Yorker.
…On a personal level, most of us have accepted that we live in a scientific age. If you feel sick, you go to a doctor, who is really a scientist; that scientist tests you, then sometimes tells you to take a poison so that you can heal—and you take the poison. It's on a societal level that we've been lagging. Today, in theory, everyone knows everything. We know that our accidental alteration of the atmosphere is leading us into a mass-extinction event, and that we need to move fast to dodge it. But we don't act on what we know. We don't want to change our habits. This knowing-but-not-acting is part of the old structure of feeling.

Now comes this disease that can kill anyone on the planet. It's invisible; it spreads because of the way we move and congregate. Instantly, we've changed. As a society, we're watching the statistics, following the recommendations, listening to the scientists. Do we believe in science? Go outside and you'll see the proof that we do everywhere you look. We're learning to trust our science as a society. That's another part of the new structure of feeling.
(2) SOMETIMES IT DOES TAKE A ROCKET SCIENTIST. Here's an excerpt from yesterday's Wait, Wait… Don't Tell Me on NPR: "Who's Bill This Time"
SAGAL: Yes. And what do you do there when you're allowed out of your house?

TIBERI: I am an electrical test engineer for the spacecraft Orion, which is the world's only deep space human exploration spacecraft.

JOEL KIM BOOSTER: Whoa.

SAGAL: No kidding. So, wait a minute. You're helping to build the Orion, which is supposed to take us to Mars, right?

TIBERI: Yes, that is correct. So I work as a test engineer. I do software and electrical integration. And next year, we are launching for the moon.
(3) A VISIT WITH MANAGEMENT. "The Astronaut Maker: How One Mysterious Engineer Ran Human Spaceflight for a Generation" – video of a 2019 event.
The Baker Institute Space Policy Program hosts a conversation with senior space policy fellow George W.S. Abbey and author Michael Cassutt, whose new biography "The Astronaut Maker" chronicles Abbey's rise from Air Force pilot to NASA power broker.
(4) YOU WOULDN'T GUESS THIS. CinemaBlend writer Adam Holmes, in "John Belushi's Last Day On Earth Was Apparently Spent On The Set Of Star Trek II", quotes Star Trek historian Mark A. Altman saying that John Belushi's last activity before dying of a drug overdose was visiting the set of Star Trek II, because he "wanted to perfect his Shatner impersonation" and spent time watching William Shatner at work.
(5) RESISTING THE TEMPTATION. Roger Wolfson has "Advice for a Science Fiction Writer During the Time of Covid" – and where else but at ScienceFiction.com?
…Also like many writers, I have several projects in active development. But all my projects require answering the same question.

"How much or how little Covid do I put into this project?"

This is particularly important in the realm of Science Fiction, which is at heart, social commentary. And some of the best Science Fiction tries to take current social issues and expand them into the future in order to comment on them most effectively.

For me, when it comes to my projects, I want to talk about this pandemic. I want to talk about the social implications. The governmental implications. Personal implications.

Especially since I had Covid myself. I have a lot to say.

The problem is, any project I write won't be on air – – if I'm lucky – for another year, or more…..
(6) BREAKING IN AND REMAKING. "NK Jemisin: 'It's easier to get a book set in black Africa published if you're white'" – so the author told Guardian interviewer Alison Flood
…She wrote another, The Killing Moon, which got her an agent. Set in a world based on ancient Egypt, it had an almost exclusively black cast – and didn't find her a publisher. "It was the mid 2000s, and at that time science fiction and fantasy publishers were not super interested in stories with black casts by black writers. They had done some stories with black casts by white writers, but they were not interested in those stories coming from people who actually were black." Rejection letters would say things like, "we like this, but we're not sure how to market it. We like this but we're not sure who its audience would be"– the implication from publishers being "that fantasy readers don't want to read about black people. Black people don't want to read fantasy. So what do we do?"

Jemisin decided to rewrite The Hundred Thousand Kingdoms, making nearly the entire cast white. "All of them were horrible people. They'd shank each other for, like, nothing. And I wrote this angry story about this lone brown girl going into this place full of mean white people," she says. It went to auction, with three different publishers fighting over it. "And I'm like, this is what you want?" she says. "I was pretty bitter … I'd taken such care in [The Killing Moon] to include sympathetic white people, but that wasn't what they wanted." …
(7) MAY 8 DEADLINE IF YOU WANT IN. The UC San Diego Library is producing a new edition of Short Tales From the Mothership, time coming in a more futuristic/modern event format — via Zoom! The event is scheduled for May 19, 2020 from 4:00 pm – 5:00 pm.
In the 1970s, sci-fi magazine editor George Hay encouraged authors such as Arthur C. Clarke, the namesake of UC San Diego's Clarke Center, to write short postcard stories. Taking inspiration from Hay, this annual sci-fi micro fiction event allows participants to submit short stories inspired by UC San Diego's iconic Geisel Library building, designed by famed architect William Pereira.
You have a chance to participate. Submit a science fiction or fantasy story (250 words or less) to Exhibit and Events Coordinator Scott Paulson at [email protected] by May 8. Participants will be invited to read their works at our virtual event on Zoom on May 19. This virtual event is free and open to the public. Registration details are forthcoming.
(8) TODAY IN HISTORY.
May 3, 1996 — Barb Wire premiered. Brad Wyman produced the film, and It was directed by David Hogan from a screenplay by Chuck Pfarrer and Ilene Chaiken. The story was by Ilene Chaiken based on Chris Warner's Barb Wire comic series. It stars Pamela Anderson in the titular role with the additional cast of Temuera Morrison, Victoria Rowell, Xander Berkeley, Udo Kier and Steve Railsback. It received overwhelmingly negative reactions by critics and was a box office bomb. It holds a fourteen percent approval rating on Rotten Tomatoes among audience reviewers.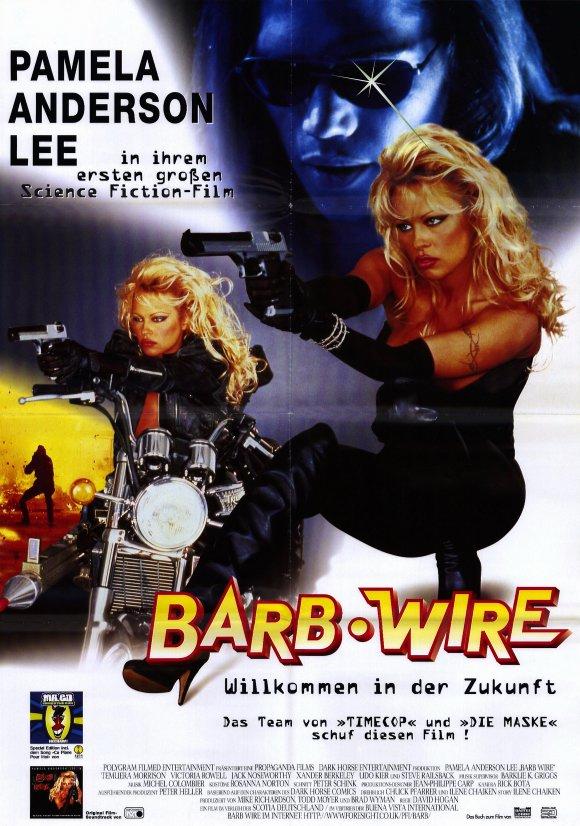 (9) TODAY'S BIRTHDAYS.
[Compiled by Cat Eldridge.]
Born May 3, 1896 — Dodie Smith. English children's novelist and playwright, best remembered for The Hundred and One Dalmatians which of course became the animated film of the same name and thirty years later was remade by Disney as a live action film.(Saw the first a long time ago, never saw the latter.) Though The Starlight Barking, the sequel, was optioned, by Disney, neither sequel film (101 Dalmatians II: Patch's London Adventure and 102 Dalmatians) is based on it. Elizabeth Hand in her review column in F&SF praised it as one of the very best fantasies ("… Dodie Smith's sophisticated canine society in The Hundred and One Dalmatians and The Starlight Barking…") she read. (Died 1990.)
Born May 3, 1928 — Jeanne Bal. In Trek's "The Man Trap" episode, she played Nancy Crater, in reality a lethal shape-shifting alien. This was the episode that replaced "The Cage" which the Network didn't like. She also had one-offs in Thriller and I-Spy. (Died 1996.)
Born May 3, 1939 — Dennis O'Neil, 81. Writer and editor, mostly for Marvel Comics and DC Comics from the Sixties through the Nineties, and was the Group Editor for the Batman family of titles until his retirement which makes him there when Ed Brubaker's amazing Gotham Central came out. He himself has written Wonder Woman and Green Arrow in both cases introducing some rather controversial storytelling ideas. He also did a rather brilliant DC Comics Shadow series with Michael Kaluta as the artist.
Born May 3, 1951 — W. H. Pugmire. S. T. Joshi has described Pugmire as "perhaps the leading Lovecraftian author writing today." Let the debate begin. I don't have a dog in this fight as I've never even heard of him. I will note that he shows up in most of the digital Cthulhu anthologies from the usual suspects and of course he's in all of the Joshi Cthulhu anthologies that I looked at. (Died 2019.)
Born May 3, 1962 — Stephan Martinière, 58. French artist who was the winner of the Best Professional Artist Hugo at Devention 3. He's done both genre covers such as Ken MacLeod's Newton's Wake: A Space Opera, and conceptual work for such films as The Fifth Element, Red Planet, and, errr, Battlefield Earth.
Born May 3, 1969 — Daryl Mallett, 51. By now you know that I've a deep fascination with the non-fiction documentation of our community. Mallett is the author of a number of works doing just that including several I'd love to see including Reginald's Science Fiction and Fantasy Awards: A Comprehensive Guide to the Awards and Their Winners written with Robert Reginald. He's also written some short fiction including one story with Forrest J. Ackerman that bears the charming title of "A Typical Terran's Thought When Spoken to by an Alien from the Planet Quarn in Its Native Language". He's even been an actor, appearing in several Next Gen episodes ("Encounter at Farpoint" and "Hide and Q") and The Undiscovered Country as well, all uncredited. He also appeared in Doctor Who and The Legends Of Time, a fan film which you can see here.
Born May 3, 1982 — Rebecca Hall, 38. Lots of genre work — her first role was as Sarah Borden in The Prestige followed by being Emily Wotton in Dorian Gray and then as Florence Cathcart in The Awakening which in turn led to her being Maya Hansen in Iron Man 3. Next up? Mary in Roald Dahl's The BFG. Is she done yet? No as next up is the English dub of the voice of Mother of Mirai no Mirai. (She might've wanted to have stopped there as her most recent role was Dr. Grace Hart in Holmes & Watson which won an appalling four Golden Raspberries!)
Born May 3, 1985 — Becky Chambers, 35. Her Wayfarers series won the Best Series Hugo at Dublin 2019: An Irish Worldcon. A Closed and Common Orbit was a finalist at WorldCon 75 for Best Novel but lost out to another exemplary novel, N. K. Jemisin's The Obelisk Gate. Record of a Spaceborn Few would be on the ballot at Dublin 2019 but lost out to yet another exemplary novel, Mary Robinette Kowal's The Calculating Stars. (A digression: The Wayfarers are the best series I've listened to in a long time.) "To Be Taught, if Fortunate" is a finalist this year at ConZealand in the Best Novella category and I've got in my short list to be listened to.
(10) COMICS SECTION.
What might other planets be like? Here's Garfield's idea.
Free Range shows what happens when someone opens the wrong door.
(11) TIME TO REFILL YOUR LID. Alasdair Stuart's "The Full Lid 1st May 2020" takes a look at newly announced Doctor Who transmedia story "Time Lord Victorious" and what it tells about the show and its relationship with fans and the world it exists in.
Also, this week, Stuart looks at Lorcan Finnegan's chilling suburban horror Vivarium and Jules Scheeles' wonderful comics work. Interstitials are some of the best bits of week one of DC Comics' daily digital offerings.
The Full Lid publishes weekly at 5 p.m. GMT on Fridays. Signup is free and the last six months are archived here.
Earlier this week, Time Lord Victorious was announced. It's Doctor Who's first (as far as I can tell) trans-media project, telling one story from multiple perspectives across audio drama, books, comics, escape rooms (!!) and collectibles. It's Crisis on infinite Gallifreys, it's X-Men vs UNIT, it's a crossover. A big 'we fill the stage with goldfish and angst!' crossover that will tell a massive flotilla of new stories forming one unified narrative. Oh and it features three of the Doctor's best loved faces.

So of course a lot of people have decided this is a bad thing.

Let's talk about the crossover, about why some folks feel that way, and why I don't.
(12) SUPERMARIONATION REVIVED. Two episodes so far. Be sure to watch the "Making Of" at the end of the first episode – begins at 10:35.
'Nebula-75' is a new puppet lockdown drama made entirely during confinement in 2020 using only existing puppets and materials. Filmed in Supermarionation, it follows in the tradition of 'Thunderbirds', 'Stingray' and 'Fireball-XL5' while at the same time also being filmed in SuperIsolation and Lo-Budget! 'Nebula-75' charts the exploits of Commander Ray Neptune and the crew of the spaceship NEBULA-75 as they make their way across the stars, encountering strange worlds and forms of life hitherto unknown by mankind. It has been created and produced by a small group of filmmakers during the British lockdown on 2020. Although team members from around the world contributed remotely to pre and post production, the entirety of the filming for NEBULA-75 was undertaken by a crew of three who happened to already live together in a small flat in London. Their living room was transformed into a makeshift movie studio – with bookshelves, cardboard boxes and other household objects becoming the interior of the show's hero spacecraft. This flat was also fortunately home to many of the puppets, props, and costumes that have been accumulated over the course of different productions.
(13) NOT MORE SPARKLY VAMPIRES! J-14 tries to interpret the cryptic clues — "OMG: Author Stephenie Meyer Drops Major Hint She's Releasing New 'Twilight' Book".
Get ready, people, because it looks like Bella Swan and Edward Cullen's story may not be over just yet! Yep, that's right. Almost 15 years after the first Twilight came out, the author of the book series, Stephenie Meyer, just dropped a major hint that she's got a new book in the works, and fans are seriously freaking out over it!

Get this, you guys — Stephenie has upgraded her website with a very mysterious countdown that has everyone convinced she's dropping another part of the series.

…The countdown is set to stop at midnight on May 4, 2020.

For those who forgot, back in 2008, rumors spread that the author was working on a new Twilight book, called Midnight Sun, which was going to be the same story but told from Edward's point of view instead. The first twelve chapters were seemingly leaked online at the time, which in the end, caused Stephenie to shut down the book….
(14)NO TIME LIKE THE PRESENT. [Item by Martin Morse Wooster.] In "Stanley Johnson Pushes For New Release of His 40-Year-Old Virus Novel" in The Guardian, Mark Brown says the British prime minister Boris Johnson's father, technothriller author Stanley Johnson, is trying to get British publishers to reissue his 1982 novel The Marburg Virus, saying it's topical and that copies of the paperback are currently selling for 57 pounds on Amazon.
The SF Encyclopedia says this novel is sf (I looked it up!)
…In Johnson's story, the equivalent of Wuhan is New York, the virus breaks out at the Bronx zoo. Soon the rest of the world bans planes travelling from the US. The main characters are involved in a desperate attempt to track down a rare breed of green monkey, which was the source of the virus.

Some subplots are more improbable than others. One involves the Brazilian head of the World Health Organization and his deputy, a sinister, monocle-wearing Russian with an upper-class English accent, travelling to the Congo to personally oversee the destruction of monkeys responsible for the virus … or so they thought….
(15) RETIRE TO A SAFE DISTANCE. "Coronavirus Fears Have NASA Urging Space Fans To Stay Away From Historic Launch" – NPR has the story.
Because of the coronavirus, NASA's top official is asking space fans not to travel to Florida later this month to watch astronauts blast off from American soil for the first time since the retirement of the space shuttles in 2011.

"When we look back to the space shuttle launches, we had hundreds of thousands of people that would descend on the Kennedy Space Center," NASA Administrator Jim Bridenstine said in a pre-flight briefing. But, he noted, now is unfortunately not a good time for people to gather in large crowds.

"We're asking people not to travel to Kennedy, but to watch online or watch on your television at home," said Bridenstine, who confessed that it made him feel "sad" to have to say this.

The upcoming test flight is historic because the two astronauts, Robert Behnken and Douglas Hurley, won't be flying in a NASA vehicle. Instead, they'll go up inside a capsule created by SpaceX, the rocket firm founded by wealthy entrepreneur Elon Musk.

This first launch of people in a company-owned spacecraft, currently scheduled for 4:32 p.m. EDT on May 27, will be a milestone for both NASA and commercial spaceflight.
(16) REMEMBER THAT MAN-MADE VIRUS? "Love Bug's creator tracked down to repair shop in Manila".
The man behind the world's first major computer virus outbreak has admitted his guilt, 20 years after his software infected millions of machines worldwide.

Filipino Onel de Guzman, now 44, says he unleashed the Love Bug computer worm to steal passwords so he could access the internet without paying.

He claims he never intended it to spread globally.

And he says he regrets the damage his code caused.

"I didn't expect it would get to the US and Europe. I was surprised," he said in an interview for Crime Dot Com, a forthcoming book on cyber-crime.

The Love Bug pandemic began on 4 May, 2000.

Victims received an email attachment entitled LOVE-LETTER-FOR-YOU. It contained malicious code that would overwrite files, steal passwords, and automatically send copies of itself to all contacts in the victim's Microsoft Outlook address book.

Within 24 hours, it was causing major problems across the globe, reportedly infecting 45 million machines. It also overwhelmed organisations' email systems, and some IT managers disconnected parts of their infrastructure to prevent infection.
(17) FROST ON THE PUMPKIN. Bob Burns' Hollywood Halloween shows a unique haunted house put together in 2002 by some well-known special effects creators.
[Thanks to Cat Eldridge, Chip Hitchcock, John King Tarpinian, JJ, Martin Morse Wooster, Lise Andreasen, Michael Toman, Contrarius, Mike Kennedy, Cliff Ramshaw, and Andrew Porter for some of these stories. Title credit goes to File 770 contributing editor of the day Daniel Dern.]