The Science Fiction and Fantasy Writers of America (SFWA) will present the Kate Wilhelm Solstice Award to Arley Sorg and Troy L. Wiggins, and posthumously, to Petra Mayer at the 57th Annual SFWA Nebula Awards® ceremony.
The ceremony will stream live on SFWA's YouTube and Facebook channels on Saturday, May 21, 2022, at 5:00 p.m. Pacific.
The Kate Wilhelm Solstice Award is given by SFWA for distinguished contributions to the science fiction and fantasy community. Sorg, Wiggins, and Mayer join the ranks of previous Solstice Award winners, including Octavia E. Butler, James Tiptree, Jr., and Carl Sagan.
ARLEY SORG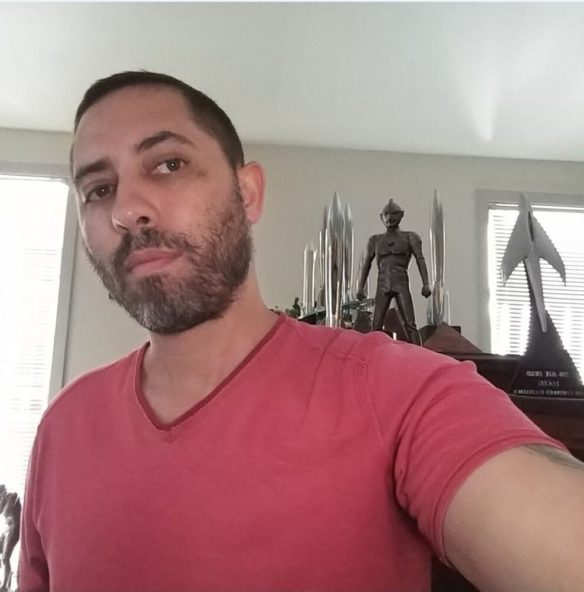 Arley Sorg has attended many sff conventions, primarily in his role as a senior editor and photographer for Locus Magazine. His convention reports, interviews, and book reviews have given many up-and-coming and established creators a moment in the spotlight. But Sorg's work with several of the genres' most celebrated short fiction markets is arguably more influential, including his recent reprisal of Fantasy Magazine with Christie Yant. Sorg has also been a relentlessly empowering voice for many storytellers behind-the-scenes, giving countless pep talks and good advice online and in person.
Arley Sorg is co-editor-in-chief at Fantasy Magazine, a 2021 World Fantasy Award Finalist and a 2022 Locus Award Finalist. He is also a finalist for two 2022 Ignyte Awards, for his work as a critic as well as for his creative nonfiction. Arley is a senior editor at Locus Magazine, associate editor at both Lightspeed & Nightmare, and a columnist for The Magazine of Fantasy and Science Fiction. He takes on multiple roles, including slush reader, movie reviewer, and book reviewer, and conducts interviews for multiple venues, including Clarkesworld Magazine and his own site: arleysorg.com. He has taught classes and run workshops for Clarion West, Augur Magazine, and more, and has been a guest speaker at a range of events. He is a frequent reader of File 770.
TROY L. WIGGINS
Troy L. Wiggins has been supporting Black speculative fiction storytelling for years through curation, criticism, editorial work, and of course, his own fiction. For over a decade, he's contributed both commentary on the influence of Black writing in the speculative genres and helped shape it, most recently through his contribution to Black Panther: Tales of Wakanda. As the publisher and former co-editor at the groundbreaking FIYAH Magazine, Wiggins carries this important work to the African diaspora at large.
Troy L. Wiggins is an award-winning writer and editor from Memphis, Tennessee. His short fiction has appeared in the Griots: Sisters of the Spear, Long Hidden: Speculative From the Margins of History, and Memphis Noir anthologies, and in Expanded Horizons, Fireside, Uncanny and Beneath Ceaseless Skies Magazines. His essays and criticism have appeared in the Memphis Flyer, Literary Orphans Magazine, People of Colo(u)r Destroy Science Fiction, Strange Horizons, PEN America, and on Tor.com.
Troy is the former co-editor of the Hugo and World Fantasy Award-winning FIYAH Magazine of Black Speculative Fiction. He was inducted into the Dal Coger Memorial Hall of Fame for his contributions to Speculative Fiction in Memphis in 2018. Troy infrequently blogs about writing, nerd culture, and race at afrofantasy.wordpress.com. He lives in Memphis, Tennessee, with his wife and entirely too many books.
PETRA MAYER
Petra Mayer loved the speculative fiction genres, and passionately celebrated them throughout her career in the news media. In choosing what writers she worked with and what books to feature, she repeatedly uplifted marginalized creators and introduced a host of readers to their stories. Mayer made space for unheard voices and developed guides like the Book Concierge, that fans of all backgrounds could use to discover new favorites. Her work and joy were gifts to the industry.
Petra Mayer was an editor at NPR Books. She shared her enthusiasm for genre fiction on air at NPR in the form of book reviews, as a regular guest on the podcast Pop Culture Happy Hour, through her reporting on the San Diego Comic-Con, and through the Book Concierge book recommendation tool. In her earlier career, Mayer was an associate director and producer for All Things Considered. She began working in the news media in 1997.
Mayer passed away at the young age of 46 in November 2021. Her parents established the Petra Mayer Memorial Fund for Internships. This dedicated fund "will support internships with NPR's Culture Desk, helping to develop passionate journalists who—like Petra—can inspire audiences with a love of learning, passion for books, and dedication to sharing stories that matter."
SFWA President Jeffe Kennedy remarks, "Arley, Troy, and Petra are shining examples of how people contribute to the greater genre community by pursuing their own personal passions. I'm delighted to celebrate Arley's and Troy's wonderful contributions and look forward to what they'll go on to do. I mourn the loss of Petra and all she contributed to the SFF genre and community. I hope this award will help put a light on someone we lost far too young."
The 57th Annual Nebula Awards Ceremony will stream live on SFWA's YouTube and Facebook channels for the public. The ceremony takes place during the 2022 Nebula Conference Online, an annual professional development conference organized by SFWA for aspiring and established professionals of the speculative fiction industry. Registration is $150 and may be purchased at events.sfwa.org.
[Based on a press release.]