(1) FILER SUMMIT MEETING. I got to meet Steve Vertlieb and his brother Erwin for the first time today! Steve was visiting from the East Coast. His earliest contributions to File 770 date to 2009. I'm glad we finally got together.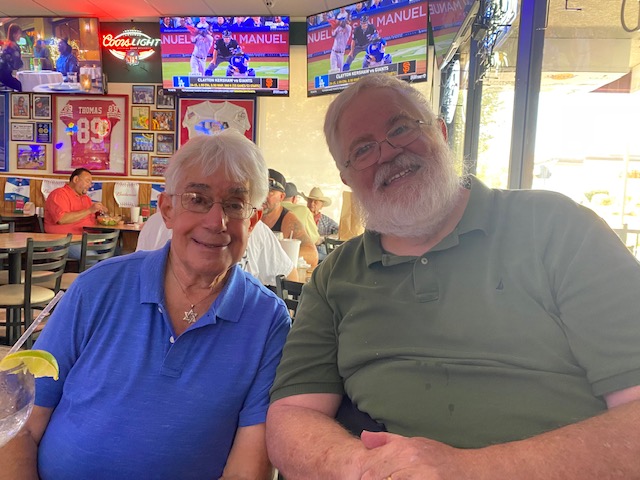 (2) GILLER PRIZE. The 2022 Scotiabank Giller Prize longlist was released September 6. The Prize is a celebration of Canadian literary talent. There are two works of genre interest:
Kim Fu's story collection Lesser Known Monsters of the 21st Century
Sheila Heti's Pure Colour
The complete longlist is here.
(3) KGB. Fantastic Fiction at KGB reading series hosts Ellen Datlow and Matthew Kressel present Nicholas Kaufmann and Naseem Jamnia in-person at the KGB Bar on Wednesday, September 14 at 7:00 p.m. Eastern.
Nicholas Kaufmann
Nicholas Kaufmann is a Bram Stoker Award-nominated, Thriller Award-nominated, Shirley Jackson Award-nominated, and Dragon Award-nominated author. He's written numerous works of horror and fantasy, including the bestsellers 100 Fathoms Below (written with Steven L. Kent) and The Hungry Earth. His short fiction has appeared in Cemetery Dance, Black Static, Nightmare Magazine, Interzone, and others. In addition to his own original work, he has written for such properties as Zombies vs. Robots, The Rocketeer, and Warhammer. He and his wife Alexa live in Brooklyn, NY.
Naseem Jamnia
Naseem Jamnia is the author of The Bruising of Qilwa (Tachyon Publications), which introduces their queernormative, Persian-inspired world. Their work has appeared in The Washington Post, Cosmopolitan, The Writer's Chronicle, The Rumpus, and other venues. They've also received fellowships from Lambda Literary, Bitch Media, and Otherwise, and were named the inaugural Samuel R. Delany fellow. A Persian-Chicagoan, Naseem now lives in Reno with their husband, dog, and two cats.
At the KGB Bar, 85 East 4th Street, New York, NY 10003 (Just off 2nd Ave, upstairs) on September 14 at 7:00 p.m. Eastern.
(4) 3DOA. Austin McConnell looks at the 2004 Indian film Aabra Ka Daabra, a Harry Potter imitation that featured 3D gimmicks, dancing, and some incredibly intrusive product placements and bombed spectacularly."Why Bollywood's Harry Potter Was A Box Office Bomb".
(5) STRAUB'S DAUGHTER PAYS TRIBUTE. [Item by Andrew Porter.] Emma Straub wrote about her father on Twitter. Includes never-before-seen by us photos. Thread starts here.
Emma Straub will be one of the many writers at the Brooklyn Book Festival 2022 to be held from September 25 through October 3. She and A. M. Holmes will be on the "Alternative Histories" panel on October 2.
(6) PHILLIP MANN (1942-2022). New Zealand sff author Phillip Mann died September 1. His first science fiction novel, The Eye of the Queen appeared in 1982. His novel The Disestablishment of Paradise was a 2014 finalist for the Arthur C. Clarke Award and John W. Campbell Memorial Award.
Her wrote four novels in the A Land Fit for Heroes series, and two in the Gardener series.
He celebrated his 80th birthday last month at the launch of his most recent novel Chevalier & Gawayn: The Ballad of the Dreamer with family, friends, colleagues and former students.
He won the Sir Julius Vogel Award for services to science fiction, fantasy and horror in 2010. In 2017, he was made a Member of the New Zealand Order of Merit for services to theatre and literature.
(7) MEMORY LANE.
1985 – [By Cat Eldridge.] Star Wars Ewoks (1985 – 1987)
The Star Wars video universe is vast and full of series that likely you didn't know existed. Such is the case with the animated Star Wars Ewoks series that lasted but two years thirty-seven years ago. Panned by many critics at the time as excessively cute, and well it was, it was a children's show after all.
The press kit at the time described it thusly: "A stand-alone collection of stories, Star Wars Ewoks focuses on the fur-balls from Return of the Jedi and their many misadventures into the unknown, the magical and downright absurd. So is the life of an Ewok."
It was released the same time as Star Wars Droids which I think was better series but – alas — lasted but a single season.
It featured the characters introduced in Return of the Jedi (yes, I won't used the revisionist titles later introduced) and further known through Caravan of Courage: An Ewok Adventure and its sequel Ewoks: The Battle for Endor.
I was surprised to discover Paul Dini along with Bob Carrau were involved in this project and Star Wars Droids was his only work in this universe. It had an extensive voice cast with Cree Summer who I recognize from Batman: The Animated Series work being the only one knew.
Critics either were hostile or just didn't like it. Syfy thought it was a market scheme to sell toys, toys and more toys. Well if it was meant to do that it failed as the ratings were poor and it was cancelled after two seasons. Oh, and ironically it was later broadcast in reruns on Sci-Fi Channel's Cartoon Quest where it was used to sell product.
Was it any good? Really? You're asking me? I'm not the right person to ask that but yes, I'll say that they did a reasonable job with storytelling here.
It lasted two seasons and twenty-six episodes. It is now on Disney + as is all is all such material.
(8) TODAY'S BIRTHDAYS.
[Compiled by Cat Eldridge.]
Born September 7, 1795 — John William Polidori. His most remembered work was "The Vampyre", the first modern vampire story published in 1819. Although originally and erroneously accredited to Lord Byron, both Byron and Polidori affirmed that the story was his. Because of this work, he is credited by several as the creator of the vampire genre of fantasy fiction. (Died 1821.)
Born September 7, 1937 — John Phillip Law. He's probably best remembered as the blind angel Pygar in the cult film Barbarella which featured Jane Fonda in that bikini. He shows up in Tarzan, the Ape Man as Harry Holt, and he's in a South African SF film, Space Mutiny, as Flight Commander Elijah Kalgan, that's set on a generation ship. Look actual SF! (Died 2008.)
Born September 7, 1955 — Mira Furlan. Another one who died far, far too young. She's best known for her role as the Minbari Ambassador Delenn on the entire run of Babylon 5, and also as Danielle Rousseau on Lost. She's reunited with Bill Mumy and Bruce Boxleitner at least briefly in Marc Zicree's Space Command. She had a recurring role as The Traveller in Just Add Magic YA series. (Died 2021.)
Born September 7, 1960 — Christopher Villiers, 62. He was Professor Moorhouse in "Mummy on the Orient Express", a Twelfth Doctor story. It's one of the better tales of the very uneven Capaldi run. He's also Sir Kay in First Knight and is an unnamed officer in From Time to Time which based on Lucy M. Boston's The Chimneys of Green Knowe.
Born September 7, 1966 — Toby Jones, 56. He appeared in "Amy's Choice", an Eleventh Doctor story, as the Dream Lord. In Harry Potter and the Chamber of Secrets, he voiced Dobby the house elf. And in Finding Neverland, Mr. Smee, Captain Hook's bo'sun. Guess what work that film was based on. Finally, I'll note that he was — using motion capture — Aristides Silk in The Adventures of Tintin.
Born September 7, 1973 — Alex Kurtzman, 49. Ok, a number of sites claim he destroyed Trek. Why the hatred for him? Mind you I'm more interested that he and Roberto Orci created the superb Fringe series, and that alone redeems them for me. Fringe is streaming now on Amazon Prime and HBO Max.
Born September 7, 1974 — Noah Huntley, 48. He has appeared in films such as 28 Days Later, The Chronicles of Narnia: The Lion, the Witch and the Wardrobe (excellent film), Snow White and the Huntsman (a truly great film), Event Horizon (surely you've something else to do) and Dracula Untold (woo, not so great). He's Gawain in The Mists of Avalon series (ok, so he's got a truly mixed track record) and shows up as Donovan Osborn in the CW series Pandora which, I'm not kidding, got a Rotten Tomatoes zero percent approval rating, a phenomenal thing to do. Ouch.
Born September 7, 1993 — Taylor Gray, 29. He's best known for voicing Ezra Bridger on the animated Star Wars Rebels which I highly recommend if you're into Star Wars at all as it's most excellent. He also played Friz Freleng in Walt Before Mickey.
(9) COMICS SECTION.
Headline: Not at all costs.

Text: I still think it's a good idea that we insisted that climate projects shouldn't decrease the level of jobs and welfare.
(10) FANTASTIC FOUR. This month, Ross returns to the Marvel comics universe with Fantastic Four: Full Circle, a long-awaited passion project. Publishers Weekly interviewed him about it: "Alex Ross Comes Full Circle".
Why was it important for you to be the artist as well as the writer for this work?

For one main reason: Jack Kirby. Jack plotted his comics and did not work from full scripts for the majority of his career, but he wasn't able to get that autonomy of single-creator status on the Fantastic Four because he did develop it with Stan Lee and it became identified with Stan's style of voice. He yearned to take the reins of everything, and it didn't happen on that book, despite the fact that the creative contribution he gave to it was so extensive and unfortunately underappreciated. It's his work history and example that drove me to make sure that the work I do here and all storytelling I personally draw in the future benefits from his experience. I will still collaborate with others, but my fully drawn works need to be just me so there is no confusion as to whom to attribute the effort.
(11) WE'RE NOT EVOLVED TO LIVE IN SPACE. Which you already know. Space.com reports "Astronauts' blood shows signs of DNA mutations due to spaceflight".
Astronaut cancer risk needs careful monitoring, concludes a study that stored spaceflyer blood for 20 years.

All fourteen astronauts in the study, from NASA's space shuttle program, had DNA mutations in blood-forming stem cells, a Nature Communications Biology study(opens in new tab) Aug. 31 concluded. The mutations, though unusually high considering the astronauts' age, was below a key threshold of concern, however.

While the study is unique for keeping astronaut blood around for so long, the results are not show-stopping. Rather, the researchers suggest that astronauts should be subject to periodic blood screening to keep an eye on possible mutations. (And it should be considered in context; another 2019 study, for example, found that astronauts are not dying from cancer due to ionizing space radiation.)…
(12) ROARING OTTER. Did we hunt these guys out of existence, too? "In Ethiopia, scientists identify a fossil otter the size of a lion" – Phys.org has the specifications.
Scientists have identified a new species of long-extinct otter in Ethiopia that was the size of a modern lion. Weighing an estimated 200 kilograms, or 440 pounds, it is the largest otter ever described; it would have rubbed elbows, and possibly competed for food, with our much smaller ancestors when it lived alongside them 3.5 million to 2.5 million years ago. A paper describing the animal just appeared in the French scientific journal Comptes Rendus Palevol.

"The peculiar thing, in addition to its massive size, is that [isotopes] in its teeth suggest it was not aquatic, like all modern otters," said study coauthor Kevin Uno, a geochemist at the Columbia Climate School's Lamont-Doherty Earth Observatory. "We found it had a diet of terrestrial animals, also differing from modern otters."
(13) FORWARD, MARCH! [Item by Daniel Dern.] Another "I'll take 'What could possibly go wrong?' for $200…" "Scientists Create Cyborg Cockroaches Controlled By Solar-Powered Backpacks" – Slashdot restrains its enthusiasm.
An anonymous reader quotes a report from CNET:

In a new study, published Monday in the journal npj Flexible Electronics, an international team of researchers revealed it has engineered a system to remotely control the legs of cockroaches from afar. The system, which is basically a cockroach backpack wired into the creature's nervous system, has a power output about 50 times higher than previous devices and is built with an ultrathin and flexible solar cell that doesn't hinder the roach's movement. Pressing a button sends a shock to the backpack that tricks the roach into moving a certain direction.

Cockroach cyborgs are not a new idea. Back in 2012, researchers at North Carolina State University were experimenting with Madagascar hissing cockroaches and wireless backpacks, showing the critters could be remotely controlled to walk along a track….
(14) VIDEO OF THE DAY. [Item by Martin Morse Wooster.] In "Honest Game Trailers: Cult of the Lamb," Fandom Games says this "well-crafted Indy" begins with the premise: what happens if cuddly animal characters were bloodthirsty advocated of evil? The characters are "adorable idiots you can manipulate" So in one game you can have huggable characters and grisly human sacrifice.
[Thanks to Michael Toman, Cat Eldridge, Mike Kennedy, Daniel Dern, Lise Andreasen, Martin Morse Wooster, JJ, John King Tarpinian, Andrew Porter, and Chris Barkley for some of these stories. Title credit belongs to File 770 contributing editor of the day Jack Lint.]