(1) RUSSIA PUTS SF WRITER ON WANTED LIST. [Item by Olav Rokne.] Popular Russian science fiction author Dmitry Glukhovsky has been put on a list for prosecution based on his anti-war comments. He's one of the first major figures to be targeted under a new law in Russia that criminalizes opposition to the war in Ukraine. "Russia Adds Popular Sci-Fi Writer to Its Wanted List" on Reuters.
"Stop the war! Admit that this is a war against an entire nation and stop it!" he wrote on Instagram. (The post is here. It's in Russian.)
Russia on Tuesday placed Dmitry Glukhovsky, a popular science fiction writer, on its wanted list after accusing him of spreading false information about its military intervention in Ukraine.

…The Interior Ministry's website listed Glukhovsky, best known for the "Metro 2033" sci-fi novel and its sequels, as wanted under an unspecified article of the criminal code.

Russia has already targeted opposition figures and journalists with a law seeking jail terms of up to 15 years for those convicted of intentionally spreading "fake" news about Russia's military.

Glukhovsky is the first major cultural figure to be put on the wanted list due to the new law, adopted days after Russia sent troops into Ukraine on Feb. 24….
Glukhovsky is not in Russia according to the BBC.
(2) PIX THAT SELL TIX. In "'Prey': Intense New Trailer Brings Back the Predator in Ferocious, Deadly Fashion", Variety introduces the trailer.
From 20th Century Studios, the newest installment in the "Predator" saga features a face-off between the alien super-hunter and the Comanche Nation 300 years ago. Throughout the two-minute trailer, viewers get to see the Predator in full apex-hunter mode, murdering bears with ease, showing off its skilled hand-to-hand combat and invisibly chasing down human prey through a field.

"Prey" is set to follow the story of a young Comanche woman, Naru, played by Amber Midthunder. The vicious and deadly warrior sets out to protect her people from the horrifying killing machine, vowing that she can kill the creature. Of course, that task is easier said than done. Nevertheless, Naru must use wit and intense skill to stand a chance against the ancient alien being.

Directed by Dan Trachtenberg of "10 Cloverfield Lane" and "The Boys," the filmmakers behind "Prey" aimed to create an accurate portrayal of the Comanche. The film thus features numerous Native American identities in front of and behind the camera, including Native Comanche producer Jhane Myers and a cast made up almost entirely of Native and First Nations talent. Joining Midthunder is Dakota Beavers, Michelle Thrush, Stormee Kipp and Julian Black Antelope. Dane DiLiegro plays the Predator….
(3) WOODEN YOU LIKE TO BE A PEPPER TOO? Joan Acocello explores "The Transformations of Pinocchio" in The New Yorker. "How Carlo Collodi's puppet took on a life of his own."
Of the half-dozen or so films that turned Walt Disney, in the public's mind, from the father of Mickey Mouse to the creator of the animated fairy-tale feature—thereby making his work a fixture in the imaginative life of almost every American child—"Pinocchio" (1940) feels like the odd one out. Many people say it is their least favorite. It is surely the most frightening. Go to anyone you know who was in grammar school in the nineteen-forties and fifties and ask, What was the Disney movie that scared you the most? Was it "Snow White and the Seven Dwarfs" (1937), where the evil queen falls off a cliff to her death? (Dr. Benjamin Spock once wrote that all the seats in the vast auditorium of Radio City Music Hall had to be reupholstered because so many children wet their pants while watching the film.) Well, what about "Dumbo" (1941), where the baby elephant has to watch as his mother is whipped and chained, howling for her child? O.K., what about "Bambi" (1942), where the fawn's mother is shot to death a few feet away from him? You can't beat that, can you?

But, for some reason, "Pinocchio" does. Perhaps the answer lies not in any one scene but in the movie's over-all bleakness….
(4) FREE READ. Issue 5 of Whetstone Magazine of Sword and Sorcery is now available, and Cora Buhlert has a story called "Village of the Unavenged Dead" in it. There also are stories by G.T. Wilcox, Michael Burke, George Jacobs, Dariel Quiogue, T.A. Markitan, Robert O'Leary, Charles Dooley, Jason M. Waltz, Gregory D. Mele, H.R. Laurence, Anthony Perconti, Chuck Clark, Nathaniel Webb, Patrick Groleau, J. Thomas Howard, B. Harlan Crawford, Rev. Joe Kelly, Rett Weissenfels and Scott Oden as well as an evocative cover by Carlos Castilho. And it's 100% free.
(5) VERTLIEB MEDICAL UPDATE. Steve Vertlieb, who made it through heart surgery, told Facebook friends his recovery from another procedure to fix a pseudoaneurysm and blood clot is not going well and will require more work by the surgeon.
I remain in a weakened and fragile condition due to these latest setbacks. My vital signs for my heart and lungs appear strong, however. Everyone's continued prayer support would be deeply and most genuinely appreciated. Thanks most sincerely.
(6) OH, YOU RASCAL! John Scalzi will do it his way. Of course!
(7) SHALLOWFAKE. How a crisis actor conspiracy theory rises in times of tragedy: "Don't Believe Everything You Read About the Man in This Photo" says the New York Times.
In the outpouring of grief immediately after the recent school shooting in Uvalde, Texas, posts appeared on Twitter and other social media platforms about a man named "Bernie." He was a teacher at Robb Elementary School who died sheltering his students from gunfire, the posts said. Many of the posts included a picture of a grinning, bearded man in glasses.

Some commenters piped up, saying they had seen that face, and that name, before.

On that point, they were right. "Bernie" and the photograph had appeared before on some Twitter accounts that looked as if they were from news organizations like CNN, Fox News and the BBC. One of those accounts said the man was a journalist executed in Kabul by the Taliban. A second one said he was an activist killed in Ukraine by a mine planted by Russian-backed separatists. A third said he was murdered in last month's massacre at a grocery store in Buffalo.

For those inclined toward conspiracy theories, the conclusion was obvious: "Bernie" was a so-called crisis actor, employed by the left to drum up sympathy for causes like gun control. His repeated appearances were used to prop up theories that major tragedies were hoaxes and that the mainstream media was complicit.

On all those points, the conspiracy theorists were wrong. There is no "Bernie," he's not a crisis actor, and news organizations are not behind the posts. And the photo? It is of a 36-year-old online gamer, Jordie Jordan. He's alive, and he had nothing to do with the posts.

Instead, the posts are part of a yearslong harassment campaign against him, taking place on online platforms like Twitter, Reddit and Discord….

…Mr. Jordan, who streams himself playing video games on YouTube under the Wings of Redemption handle, has nearly 440,000 subscribers. He began playing Call of Duty for an online audience in 2008, after losing a job at a steel mill. Before that, he regularly appeared on a podcast, where he attracted some criticism for his statements, including some homophobic and racial slurs, and comments in support of lowering the age of consent. "I have apologized profusely for the error of my juvenile thought process and live with the ramification of that every day," he said, attributing the comments to his "shock jock" routine.

He said he had first learned of the "Bernie" meme from Reddit posts in 2020. The photo that is used is a selfie he took on his front porch in 2018 and posted on Twitter….
(8) MEDIA BIRTHDAY.
1997 – [By Cat Eldridge.] If you had HBO back a quarter of a century ago on this night, you might have seen the first episode of the Perversions Of Science series. It is a spin-off of the horror series Tales from the Crypt, another HBO series, and like that series, all of its episodes were based on EC Comics's Incredible Science Fiction, Weird Fantasy and Weird Science books.
William Gaines, the publisher and co-editor of EC Comics, gets credit as creator of this series.
Perversion of Science is hosted by a computer-generated female robot named Chrome which is voiced by Maureen Teefy. Chrome both introduces the story and adds a coda. Unlike the Crypt Keeper who was decidedly grim, Chrome preferred a light banter with element of sex tossed in.
There was but one season of ten episodes — unlike Tales from the Crypt which lasted seven seasons and eighty-nine episodes. It was supposed to be pure SF with the added elements being HBO of graphic violence, nudity, profanity and sex. I did say it was HBO.
It really had a lot of well-know performers — Will Wheaton, William Shatner, Sean Astin, Jeffery Coombs, Yancy Butler and Keith Carradine are but some of the actors you'll recognize there.
The stories I remember as being, well, not bad, not great. HBO never did really get the jones for doing true SF. They were more comfortable with horror. A lot more comfortable.
As Chris Varner of Dallas Morning anew summed up neatly: "The formula goes something like this: Take liberties with sex and psychopaths whenever possible and let the plot chips fall where they may. ADVERTISEMENT Unfortunately, they tend to fall in big, ungainly heaps. No one expects Serling-esque profundity from an after-hours HBO fantasy. But with only one of the first four episodes transcending the series' comic-book source material, the future of Science looks dim."
It has no rating at Rotten Tomatoes because to my knowledge it was never released on any digital media, and it's not available anywhere to buy, rent or stream anywhere. I think they put it back in the vault and decided to keep it there.
(9) TODAY'S BIRTHDAYS.
[Compiled by Cat Eldridge.]
Born June 7, 1915 — Graham J. Ingels. Illustrator best remembered for his work in EC Comics during the Fifties, most notably on The Haunt of Fear, Tales from the Crypt and The Vault of Horror. He illustrated one genre magazine, Planet Stories cover as you can see here. Though he didn't do any other covers, he was a regular interior artist for both Planet Stories and Planet Comics. (Died 1991.)
Born June 7, 1932 — Kit Reed. Her first short story, "The Wait" (1958), was published by Anthony Boucher in The Magazine of Fantasy & Science Fiction. She would write more stories than I care to count over her career for which she was nominated for the James Tiptree Jr. Award three times. I'm not at all familiar with her novels, so do tell me about them please. The usual suspects now have a generous amount of her fiction available which wasn't true a few years ago. (Died 2017.)
Born June 7, 1937 — Jack Zipes, 85. A truly amazing academic who once royally irritated a friend of mine for having an unrelentingly negative attitude towards Walt Disney whose films, he believes, corrupted the original works of folklorists such as Charles Perrault and the Brothers Grimm. Disney, according to Zipes, completely distorted those stories. Need I add that friend lived near Disney World and had met Disney more than once? I like him and think that he's a folklorist of the first order. His Oxford Companion to Fairy Tales is required reading for anyone interested in that subject, and if can accept if his anti-Disney bias, The Enchanted Screen: The Unknown History of Fairy-Tale Films is fascinating reading. Again setting aside that matter of the anti-Disney bias, Happily Ever After: Fairy Tales, Children, and the Culture Industry is really great reading. He did a lot of fairy tale anthologies of which I'll single out Victorian Fairy Tales: The Revolt of the Fairies and Elves and Beauty and the Beast and Other Classic French Fairy Tales. Both are most excellent reading. 
Born June 7, 1952 — Liam Neeson, 70. He first shows up in genre films as Gawain in Excalibur and as Kegan in Krull. He plays Martin Brogan In High Spirits, a film I enjoy immensely. Next up is the title role in Darkman, a film I've watched myriad times. He's Dr. David Marrow In The Haunting which I'd contend is loosely off of The Haunting of Hill House by Shirley Jackson. Now we get him as Qui-Gon Jinn in The Phantom Menace. Followed unfortunately by his horrid take as Ra's al Ghul in Batman Begins and as a cameo in The Dark Knight Rises. Now he voiced Aslan with amazing dignity in The Chronicles of Narnia franchise and I hope voiced Zeus as well in the Titans franchise. Recently he showed up on The Orvillle — who hasn't? — as Jahavus Dorahl in "If the Stars Should Appear" episode. He's in the new Obi-Wan Kenobi series as Qui-Gon Jinn in two episodes by using archive material and in the Tales of the Jedi series voicing the same character.  
Born June 7 1954, — Louise Erdrich, 68. Writer of novels, poetry, and children's books featuring Native American characters and settings. She is an enrolled member of the Turtle Mountain Band of Chippewa Indians. Her genre work includes according to ISFDB the Ojibwe series of The Antelope Wife, a work which won a World Fantasy Award, and The Painted Drum, plus stand-alone novels of The Crown of Columbus (co-written with her husband Michael Dorris) and Future Home of the Living God. She's amply stocked at the usual suspects at reasonable prices.
Born June 7, 1955 — Mark Schultz, 67. His best work I think is his own written-and-largely-illustrated-by-him Xenozoic Tales book series about a post-apocalyptic world where dinosaurs and other prehistoric creatures coexist with humans. He's done more mainstream work including Star Wars and Aliens (Dark Horse), The Flash (DC) and Prince Valiant currently at King Features.
Born June 7, 1960 — Bill Prady, 62. Impressively, he's co-creator with Chuck Lorre of The Big Bang Theory and The Muppets series which he did in 2015 with Bob Kushell. Well maybe not impressively in the case of the second… He wrote one episode of Voyager, "Bliss".  And he's the writer of a Munsters film I've never heard of, Here Come the Munsters.
Born June 7, 1968 — Sarah Parish, 54. In "The Runaway Bride", a Tenth Doctor story, she got to play, with the assistance of extensive CGI, one of the nastiest Who villains to date, The Empress of the Racnoss, an oversized vicious spider with a human face. Great episode. It's our introduction to Donna Noble, his Companion for quite some time to come. In a much lighter role, she played Pasiphaë on BBC's Atlantis series. 
(10) UNICORN RETURNING. Paste Magazine boats an "Exclusive Cover Reveal: Peter S. Beagle's The Last Unicorn Reissued in Author's Preferred Text Edition". See the design at the link.
…Though the new edition of The Last Unicorn will officially arrive on July 26, 2022, we can exclusively reveal its (gorgeous!) new cover below….
(11) WHEN IT'S EASY BEING GREEN. Quartz offers an explanation why green screens are – guess what color? — in "A brief history of green screens".
Where would Superman be without the red flutter of his cape, the yellow light of Earth's sun—and the green screen behind him? The green screen never makes it into the movies, of course; it's replaced by a sky full of stars, or the skyline of Metropolis. For more than a century, filmmakers have been using the "green screen" technique—or, to be precise, chroma key compositing—to allow us to believe that their actors are doing the impossible. That they're soaring above the Earth, or investigating a crime in Toontown, or assembling the Avengers, or encountering a T. rex.

In fact, green-screen filmmaking is so easy—and, studio execs will admit thankfully, so cheap—that it's even used for less fantastic scenes. Men getting out of a car near a motel in David Fincher's series Mindhunter? Green screen: there was no motel, just a sign on a studio set in front of a big ol' screen of green. Man explaining the cold front on the nightly news? Green screen. It's gotten to the point where not using green screens, as in the recently released (and box office smash) Top Gun: Maverick, is a matter of sweaty, hard-working pride.

So where did the green screen come from? And why is it so popular? And most importantly: why is it green?….
(12) QUEEN'S PLATINUM JUBILEE. SF Concatenation's Jonathan Cowie found a video of the "Platinum Party at the Palace" that is watchable outside the UK. He advises, "For optimal viewing include one large mug of builders tea and/or pint real ale served at cellar temperature (4 – 5'C) and commence viewing 1 hour 50 minutes before sunset (to get a feel of the live experience)."
(13) YIKES. Meanwhile, Cliff photographed this off-trail celebration of the Jubilee: "Imagine my wife and I's surprise when, during a hospital visit, we stumbled upon the lair of the Lich Queen of Chelsea And Westminster!"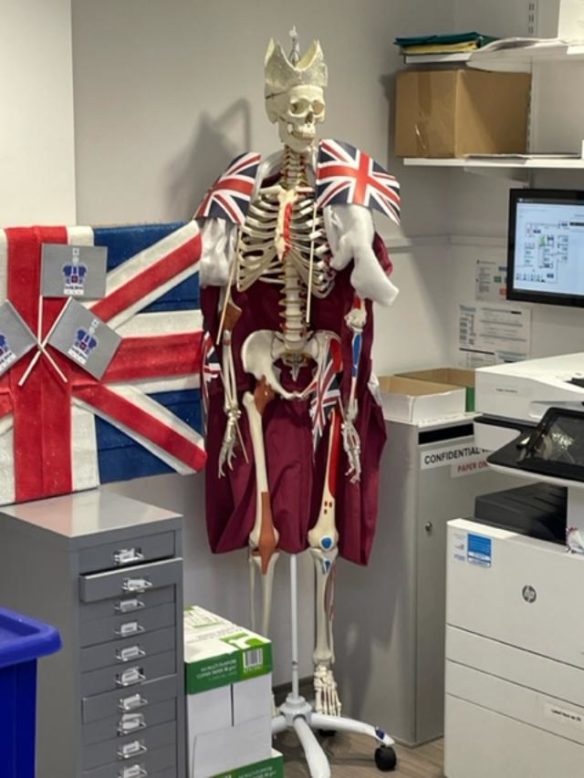 (14) CLASSIC BRICKWORK. "The Vincent van Gogh 'Starry Night' LEGO Set Is Now Available: It's Created in Collaboration with MoMA" reports Open Culture.
…A collaboration between MoMA and LEGO, the set reinterprets Van Gogh's thick impasto brushwork in 2316 tiny plastic bricks, including a mini figure of the artist, equipped with paintbrush, palette, easel, and an adjustable arm for positioning him at sufficient distance to gain perspective on his world famous work.

… The set is the winning entry in a LEGO Ideas competition. Designer Truman Cheng, a 25-year-old LEGO fan and PhD candidate focusing on medical robotics and magnetic controlled surgical endoscopes. He had long wanted to render The Starry Night in LEGO, but its execution required a lightbulb moment…
(15) VIDEO OF THE DAY. [By Martin Morse Wooster.] In "Honest Trailers: Fantastic Beasts: The Secrets of Dumbledore," the Screen Junkies say the film has "magic politics" and "Magic black-site prisons and execution chambers" that "bleeds the child-like wonder from this franchise like a necromancer's jacuzzi." But what glop is in this film that reminds the narrator of "The Mexican pizza at Taco Bell?"
[Thanks to Andrew Porter, Michael Toman, Cora Buhlert, Jan Vaněk jr, Olav Rokne, Cora Buhlert, SF Concatenation's Jonathan Cowie, Cliff, Cat Eldridge, Mike Kennedy, Martin Morse Wooster, JJ, John King Tarpinian, and Chris Barkley for some of these stories. Title credit belongs to File 770 contributing editor of the day Daniel Dern.]