(0) Been having a lot of monitor trouble, so today's Scroll is short.
(1) IN THE FALL. Mark Lawrence calls it the "Goodreads Droop". He shared a graph of the performance of his novel The Book That Wouldn't Burn.
… When a book has ten or twenty ratings, many or all of them might come from friends and family, and the tendency is for these to rate highly. The first few hundred ratings will often come from highly motivated people – they may be fans of the author, or interested in new authors, and are generally predisposed to be generous. So that intitial high rating falls but not too much.

Next come the general readers who like the genre and specifics of the book but may have no general good feeling towards the author, and rate purely on what's in front of them. Over the first few thousand ratings the average will generally drop swiftly…..
(2) PIECES OF EIGHT. "Paul McGann 'to return as Eighth Doctor in new Doctor Who spin-off'" reports Radio Times.
… But just when you think things couldn't get more exciting, the Doctor Who rumour mill has been churning out news of some very special potential spin-offs.

As reported by The Mirror, it looks as though Paul McGann could be set to make his return as the Eighth Doctor in a brand new series.

According to the newspaper, the spin-off will work in the same way as the Disney-created series for Star Wars and the Marvel Cinematic Universe, which also stream on Disney Plus, the new international home for Doctor Who.

A source told The Mirror: "Russell likes the idea of bringing back McGann with his own set of episodes in the TARDIS.

"Disney are on board as they want more original content and want to fully exploit the franchise as they know how big it could become."…
(3) SWEET EMOTION. "'Inside Out 2′ Makes History as Disney's Biggest Animated Trailer Launch" by Variety's count.
People can't get enough of Anxiety.

Not the emotion, but rather Pixar's newest animated character played by Maya Hawke, as "Inside Out 2" marks the biggest animated trailer launch in Disney history.

The trailer to the animated sequel about personified feelings garnered 157 million views in 24 hours, according to Disney. "Inside Out 2" unseated the previous record holder, 2019's "Frozen 2." Of those 157 million views, 78 million came from TikTok.

"We are thrilled so many people have tuned in to check out the new trailer for 'Inside Out 2,'" said Pete Docter, chief creative officer of Pixar. "When the first film came out, we knew that by telling a story where we could see our emotions — those little voices inside your head — there would be so much more to explore than we could possibly fit into one film."…
(4) CHENGDU WORLDCON ROUNDUP. [Item by Ersatz Culture.]
The final part of Arthur Liu's con report
The penultimate part – which was covered in Sunday's Scroll – documented what could be thought of as more typical con activity, and was more upbeat than the earlier installments. However the conclusion perhaps returns to the mood of the earlier parts, which is unsurprising when you read the opening paragraphs, which are very intense and perhaps not for all readers.
(Disclosure: I'm mentioned a couple of times in this report.)
Some extracts, via Google Translate with manual edits:
While we were waiting for the bus [well past midnight following the Hugo ceremony and party, after visiting RiverFlow in hospital], we looked across the road and saw the bright neon lights of a science fiction convention illuminating the ground in the cold night, like a gaudy cyberpunk street scene.

It was still dark on this side of the road, with only the screens of everyone's mobile phones shining brightly.

We returned to the hotel in this atmosphere and went upstairs to rest.

Svetlana Alexievich once wrote a book titled [in Chinese] "I Don't Know What to Say, About Death or Love". This state of wanting to say something, but being speechless due to continued depression, together with a nameless anger, continued to linger in my heart while attending the rest of the con. At 20:36 on Saturday 21st, after the Hugo Awards were presented, RiverFlow released the full text of his Hugo Award acceptance speech on his WeChat/Weixin account. In the acknowledgments, he individually thanked all the friends who had supported Zero Gravity News. At the end, he said:

Grasp the things you can control, ignore the things you cannot control, and let go of your obsession with these uncontrollable things. This is maturity. Let your mentality be better. After all, the body is sinking, but the soul can be upward. Thank you, [Hugo Finalist] Lu Ban, for letting me understand this truth and sharing with me Marcus Aurelius' famous saying: "Always remember, your soul is Invincible. As long as you are unwilling to be sad, nothing can make you sad. As long as you want to smile, you can smile immediately when you lift the corners of your mouth. Always remember, your heart is invincible, my friend." [Note: I couldn't find an English-language quote that matched this one; perhaps the Chinese version is a fairly loose translation?]

But "letting go of your obsession with things you can't control" doesn't mean you have to silently swallow all the hurt you receive. In China, what science fiction fans need most is a kind of self-esteem when facing so-called "professionals", because the industry will not respect you just because you love science fiction. The industry will always only love the industry…
[From the Hugo acceptance speech Arthur prepared]
Five days ago, I came here with two identities; one as an invited guest because I was shortlisted for this award. The other was a staff member [of CSFDB and the Tsinghua University SF Society]. In the latter capacity, I had to host two panels and organize two fan tables.

When I first arrived on-site as a staff member five days ago, the reception we received was anything but friendly. To this day, I continue to use my status as a finalist to try to resolve the various obstacles that have come in my role as a staff member. I don't like using this privilege, but in this situation, it is the last resort.

Even so, I'm still enjoying the parts I can as much as possible. I think this is a common goal of all the science fiction fans who have come here. Meet up colleagues from both and abroad, whom you have never met before; make friends with them; take photos with them; exchange gifts, thoughts and imagination; and try to remember it all. At DisCon III in Washington, it was precisely in order to share this experience and this memory with our international neighbors that we cast our votes to make the convention come true here.

This is a moment for all science fiction fans; this convention belongs to you.

On the night of the opening ceremony, when most people were waving flags and cheering, my friend RiverFlow, who was also a finalist for Best Fan Writer and Best Fanzine in this year's Hugo Awards, was, due to physical reasons and venue reasons, sent to the hospital. That night was a sleepless night for many of us. That contrast makes me want to stand here and ask, "Why do we science fiction fans love science fiction? What has science fiction brought us? Why are we burdened with fatigue, illness, and all the inconveniences, yet still persevere?"

To me, the answer to these questions is this: science fiction gives us the power to use our imagination to understand these things, and to fight them. …
[End of extract from his prepared acceptance speech.]
On the way, [Dip Ghosh, who presented a panel about Indian SF] said that the "acceptance speech" I posted on WeChat Moments last night deeply touched him, and maintained the spirit of "Trufans". I asked him, can you read Chinese? He replied no, but he could use machine translation.

At the fan tables, he gave me a copy of "Adventures of Ghanada", and also the second volume of "The Gollancz Book of South Asian Science Fiction", and Indian director Satvajit Ray's memoir "Travails with the Alien"… I was really humbled by these gifts, and it was a pity that the conference catalog was sold out, and I had no way to repay him. He also said that if a science fiction convention is held in India in the future, I can be a guest, and he will help me go through the procedures to go to New Delhi. His enthusiasm not only moved me, but also made me feel ashamed and sad at this time. I sincerely hope that this encounter will lead to a lasting friendship.

By now it was almost noon, so I stayed at the table, dismantling the display panels piece by piece, and handed them to Hua Wen [see the November 1st, 2nd and 5th Scrolls] along with the stickers for storage. I then took the last stack of commemorative cards and waited for someone to pick them up. Around twelve o'clock, Helen [Montgomery] came over again and gave Chicon 8 commemorative patches (the kind that can be ironed on clothes) to RiverFlow, Ling Shizhen and me. After handing over the two physical copies of "Journey Planet" to Liza [Groen-Trombi] of Locus Magazine and Vincent [Docherty] of Glasgow 2024, it was finally time to leave.

This time, it went very smoothly, except that I almost left my suitcase on the shuttle bus…

On the way to the airport, it seemed that I really had caught a fever, and it felt unbearable. On the way, Ann [Gry] sent her greetings and asked if the RiverFlow's had improved, how I was doing, and expressed her agreement with the remarks I had made the day before. She said that while she was saddened by some of the organizational aspects, she hoped only the good memories would remain in her mind. I think she is right, but it is precisely because of those bad memories, that the shining moments retrospectively seem more beautiful and more fragrant.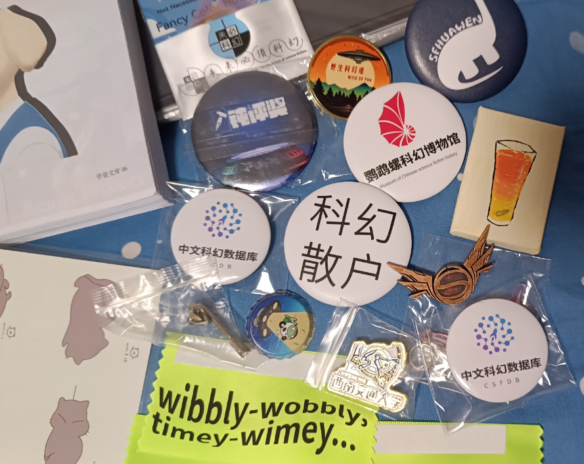 Taiyo Fujii posts about two more panels

The November 2nd Scroll linked to his "Decolonize the Future" panel, but he has since posted similar write-ups on the How I Became a Professional Science Fiction Writer and Localization Paths of Science Fiction in Non-English-Speaking Countries panels.
The first of those posts is also available in a Japanese language version, which seems to be a slightly different version of the text; the extracts below are a mix of the English post, and the Google Translate rendition of the Japanese post, with minor manual edits.
In Japan, many authors make their debut through awards for new writers, but many of the panel members did not go through that route, and I was able to hear some interesting stories.

Hosuke Nojiri made his debut with a novelization of a game that was developed by his employer. As such, Mr. Nojiri was a professional writer from the very first work, but he then talked about how he moved into science fiction novels….

Yugen Yashima is from the SF writing school founded by Nozomi Omori. His works were published on the class website. Later, he won several contests. He's a good example of how Omori's writing school became a notable gateway for writers to become professionals.
Two bilingual Bilibili videos by Hong Hong
The aforementioned Localization Paths panel comes up in the second of two videos posted to the Bilibili video sharing site by Hong Hong, a Chengdu resident who I came into contact with on the HelloTalk language exchange app. Her videos are in English with bilingual subtitles.
The first video is a 4-minute wander around the vicinity of the venue, on the day before the con started, plus a visit to a restaurant.
The second one is a 12-minute compilation of various footage from the con. We see some of the catering facilities, which have been mentioned in previous items, but I don't think we've actually seen them in any of the photos or videos that have been posted. Content warning: the final minute of this second video features a cat who is clearly unimpressed at having to appear on camera.
Video of the water fountain show
Also from Bilibili, here's a 23-minute video of the water fountain display that took place on the lake outside the SF museum. There seems to be some sort of video projection or hologram sequences visible from around 09:00, maybe projections onto a continual spray of water? Perhaps someone who was there knows more about what exactly those were?
(5) TODAY'S BIRTHDAYS.
[Compiled by Cat Eldridge.]
Born November 10, 1946 — Jack Ketchum. Winner of four Bram Stoker Awards, he was made a World Horror Convention Grand Master Award for outstanding contribution to the horror genre. Oh, and he wrote the screenplays for a number of his novels, all of which he quite naturally performed in. He's deeply stocked at the usual suspects, most of the Meredith Moments, and if you like listening to your fiction, an impressive number of his novels had been done that manner. (Died 2018.)
Born November 10, 1948 — Steven Utley. Best known for his short stories of which he had two series, the first being his Silurian tales (collected in two volumes, The 400-Million-Year Itch and Invisible Kingdoms), and his time travel stories have been collected in Where or When. The Silurian tales Are available on iBooks and Kindle, Where or When isn't either place. His "Custer's Last Jump" novelette was nominated for Nebula and his "Invisible Kingdoms" story was nominated for a Sturgeon. (Died 2013.)
Born November 10, 1950 — Dean Wesley Smith, 73. Editor of Pulphouse magazine, about which fortunately Black Gate has provided us with a fascinating history which you can read here. Pulphouse I first encountered when I collected the works of Charles de Lint who was in issue number eight way back in the summer issue of 1990. As a writer, he is known for his use of licensed properties such as StarTrek, Smallville, Aliens, Men in Black, and Quantum Leap. He is also known for a number of his original novels, such as the Tenth Planet series written in collaboration with his wife, Kristine Kathryn Rusch.
Born November 10, 1960 — Neil Gaiman, 63. Where to start? By far, Neverwhere is my favorite work by him, especially the version narrated by him, followed by the Sandman series and Stardust. Stardust is wonderful, particularly when voiced by him. And I sort maybe possibly kind of liked American Gods. I've not seen the video series. Who here has? Coraline is just creepy. By far, I think his best script is Babylon 5's "Day of The Dead" though his Doctor Who episodes, "The Doctor's Wife" and "Nightmare in Silver" are interesting, particularly the former. Anansi Boys is a tasty soufflé of a novel.
Born November 10, 1971 — Holly Black, 52. Best known for her Spiderwick Chronicles, which were created with fellow writer & illustrator Tony DiTerlizzi, and for the Modern Faerie Tales YA trilogy. Her first novel was Tithe: A Modern Faerie Tale. (It's very good.) There have been two sequels set in the same universe. The first, Valiant, won the first Andre Norton Award for Young Adult Science Fiction and Fantasy. Doll Bones which is really, really creepy was awarded a Newbery Honor and a Mythopoeic Fantasy Award. Suffice it to say if you like horror, you'll love her. Definitely not horror, she and Ellen Kushher, co-edited the last Bordertown anthology, Welcome to Bordertown.
Born November 10, 1982 — Aliette de Bodard, 41. Author of the oh-so-excellent Xuya Universe series of which the latest is A Fire Born of Exile. Her Xuya Universe novella "The Tea Master and the Detective" won a Nebula Award and a British Fantasy Award, and was nominated for the Hugo and World Fantasy Award. "The Shipmaker", also set herein, won a BSFA Award for Best Short Fiction. Her other major series is The Dominion of the Fallen which is equally lauded. More Hugos noms? Oh yes indeed. LoneStarCon3 saw her nominated both for her oh so amazing "On a Red Station, Drifting" novella and her "Immersion" short story; Loncon 3 for her "The Waiting Stars" novelette (a Nebula winner); "Children of Thorns, Children of Water" novelette nominated at Worldcon 76; at Dublin2019, In a Vanishers' Palace was nominated as was the ever so stellar The Tea Master and The Detective novella (a Nebula winner), a favorite of mine ever more; DisCon III saw another novelette, "The Inaccessibility of Heaven", nominated . Her excellent Fireheart Tiger novella was nominated for a Hugo at Chicon 8.
(6) AS THE CHILD IS BENT. Avatar: The Last Airbender Official Teaser Trailer.
Live-action adaptation of the animated series centering on the adventures of Aang and his friends, who fight to save the world by defeating the Fire-Nation.
(7) ONE IS THE LONELIEST NUMBER. "When Will the Singularity Happen? Scientist Says by 2031" in Popular Mechanics.
… Ben Goertzel, CEO of SingularityNET—who holds a Ph.D. from Temple University and has worked as a leader of Humanity+ and the Artificial General Intelligence Society—told Decrypt that he believes artificial general intelligence (AGI) is three to eight years away. AGI is the term for AI that can truly perform tasks just as well has humans, and it's a prerequisite for the singularity soon following….

… Getting to the singularity, though, will require a significant leap from the current point of AI development. While today's AI typically focuses on specific tasks, the push towards AGI is intended to give the technology a more human-like understanding of the world and open up its abilities. As AI continues to broaden its understanding, it steadily moves closer to AGI—which some say is just one step away from the singularity….
[Thanks to Chris Barkley, Cat Eldridge, SF Concatenation's Jonathan Cowie, Mike Kennedy, Andrew Porter, Ersatz Culture, and John King Tarpinian for some of these stories. Title credit belongs to File 770 contributing editor of the day Daniel Dern.]