(1) WHITTAKER SHALL RETURN.The Hollywood Reporter quashes rumors to the contrary: "Jodie Whittaker Confirms Return for 'Doctor Who' Season 12". Shame on rumor-spreading clickbait sites that got fans all stirred up about this, like, uh — let's go right to the story, shall we?
The first female Doctor Who, Jodie Whittaker, will be returning for another season. 
While it was largely presumed that Whittaker wouldn't be handing over her sonic screwdriver anytime soon, the typically tight-tipped BBC hadn't yet confirmed who would be playing Doctor Who for season 12 of the cult sci-fi series, and there was always the chance that she could go the way of Christopher Eccleston, who managed just one stint as the Time Lord. 

"I really can't wait to step back in and get to work again," Whittaker told The Hollywood Reporter."It's such an incredible role. It's been an extraordinary journey so far and I'm not quite ready to hand it over yet."
(2) NEW SFF ZINE DEBUTES NEXT WEEKEND. Future Science Fiction Digest, a new quarterly publication with a strong focus on translation and international fiction, will be available December 15, with the stories to be posted on the web over the next several months
It is a collaboration between Future Affairs Administration (a media and technology brand in China) and UFO Publishing (a small press from Brooklyn, NY) and is edited by Alex Shvartsman.

Our first issue features fiction from the United States, China, Nigeria, Italy, and the Ukraine, as well as several articles, totaling 65,000 words. It will be published on December 15, with stories posted on the web over the course of several months. The next issue will be published on March 15.
(3) TODAY'S BRADBURY REFERENCE. Dennis Howard got permission to share this image with File 770 readers:
My ex emailed me this photo she took at Walmart and asked if I remembered Alfred Hitchcock's "The Jar". Of course, I remembered that creepy episode based on a Ray Bradbury story. I wonder if the manufacturer of this thing remembers.
(4) KGB. The hosts of the Fantastic Fiction at KGB reading series, Ellen Datlow and Matthew Kressel, present Maria Dahvana Headley & Nicole Kornher-Stace on December 19.
Maria Dahvana Headley
Maria Dahvana Headley is a New York Times-bestselling author of seven books, most recently The Mere Wife,a contemporary retelling of Beowulf for the McD imprint at Farrar, Straus& Giroux, which will be followed in 2019 by a new translation of Beowulf, for the same publisher. She's also the author of the young adult novels Magonia and Aerie. With Neil Gaiman, she edited Unnatural Creatures, and with Kat Howard, she wrote The End of the Sentence. Her short fiction has been nominated for the Nebula, World Fantasy and Shirley Jackson Awards, and included in many Year's Bests, including Best American Fantasy & Science Fiction, in which, this year, she has two stories. @MariaDahvana on Twitter, or www.mariadahvanaheadley.com
Nicole Kornher-Stace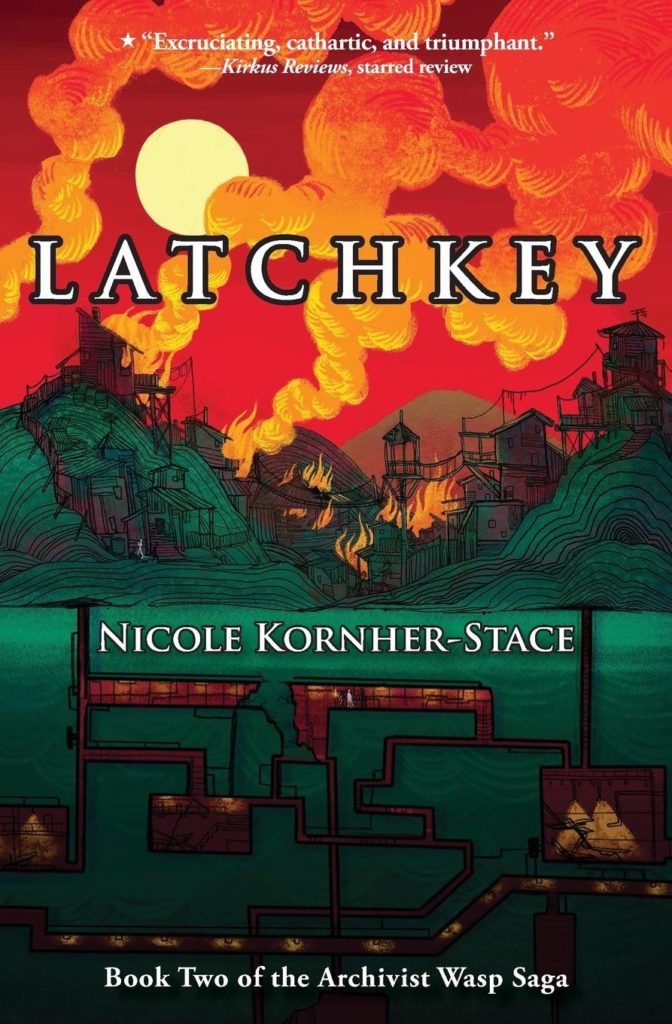 Nicole Kornher-Stace is the author of Desideria, The Winter Triptych, the Norton Award finalist Archivist Wasp, and its sequel, Latchkey. Her short fiction has appeared in Clarkesworld, Apex, and Fantasy, as well as many anthologies. She lives in New Paltz, NY with her family. She can be found online at www.nicolekornherstace.com, on Facebook, or onTwitter @wirewalking.
Things begin Wednesday, December 19, 2018, 7 p.m. at the KGB Bar, 85 East 4th Street (just off 2nd Ave, upstairs), New York, NY.
(5) PRATCHETT REFERENCE. Quoting an article by Simon Ings in the December 1 Financial Times about artists who have residencies at the CERN particle physics laboratory —
In The Science of Discworld 4: Judgment Day, mathematician Ian Stewart and reproductive biologist Jack Cohen have fun at the expense of the particle physics community.  Imagine, they say, a group of blind sages at a hotel, poking at a foyer piano.  After some hours, they arrive at an elegant theory about what a piano is–one that involves sound, frequency, harmony, and the material properties of piano strings.

Then one of their number, still not satisfied, suggests that they carry the piano upstairs and drop it from the roof. This they do–and spend the rest of the day dreaming up and knocking over countless ugly hypotheses  involving hypothetical 'trangons' and 'thudons' and, oh I don't know, 'crash bosons.'
(6) BUTLER. Samuel Delany encourages sff readers to get familiar with this Octavia Butler story and a parallel case of injustice.
Three years before she died, Octavia E. Butler wrote her last two science fiction stories: One of them, "Amnesty," was published in 2003. Though it received no awards, it is arguably the most important SF story written in this the last quarter of a century. It is the penultimate story in the revised and expanded edition of this book (2005). You should have read it but if, for some reason, you haven't; then you should learn who the models for the alien "Communities" were and the story's general political inspiration. It is one of the last two story in the second edition of this book.
Wikipedia is a good start. <https://en.wikipedia.org/wiki/Wen_Ho_Lee> After you familiarize yourself with this frightening case of injustice, probably you should read the story again.
(7) IMAGINING TECH. Brian Merchant covers the sci-fi/industrial complex for Medium: "Nike and Boeing Are Paying Sci-Fi Writers to Predict Their Futures".
One of the most influential product prototypes of the 21st century wasn't dreamed up in Cupertino or Mountain View. Its development began around a half-century ago, in the pages of a monthly pulp fiction mag.

In 1956, Philip K. Dick published a short story that follows the tribulations of a police chief in a future marked by predictive computers, humans wired to machines, and screen-based video communications. Dick's work inspired a generation of scientists and engineers to think deeply about that kind of future. To adapt that same story into a $100 million Hollywood film 50 years later, Steven Spielberg sent his production designer, Alex McDowell, to MIT. There, a pioneering researcher?—?and lifelong Dickfan?—?named John Underkoffler was experimenting with ways to let people manipulate data with gloved hands. In 2002, a version of his prototype was featured in the film, where it quickly became one of the most important fictional user interfaces since the heyday of Star Trek. Bas Ording, one of the chief UI designers of the original iPhone, told me his work was inspired directly by the gesture-based system showcased in Minority Report.

For the past century, this messy, looping process?—?in which science fiction writers imagine the fabric of various futures, then the generation reared on those visions sets about bringing them into being?—?has yielded some of our most enduring technologies and products. The late sci-fi author Thomas Disch called it "creative visualization" and noted there was no more persuasive example of its power "than the way the rocket-ship daydreams of the early twentieth century evolved into NASA's hardware." Submarines, cellphones, and e-readers all evolved along these lines.

Minority Report produced a hundred patents and helped rapidly mainstream the concept of gesture-based computing?—?not just the iPhone but all touchscreen tablets, the Kinect, the Wii?—?and became cultural shorthand for anyone looking to point their ventures toward the future.
(8) SEIDEL OBIT. Myla Seidel, who more fans would have known as Anne Cox, died December 7 reports her son Kevin. Ed and Anne Cox were among the first fans I met in person in the Seventies. They later divorced. Ed died in 1997, and the last time I saw Anne was at a memorial gathering for him.
(9) TODAY IN HISTORY
December 8, 1954 — Atomic Kid, starring Mickey Rooney, was released on this day.
(10) TODAY'S BIRTHDAYS
[Compiled by Cat Eldridge.]
Born December 8, 1861 — Georges Méliès. Director of A Trip To The Moon which I know was one of Kage Baker's most-liked films. It surely must be one of the earliest genre films and also one of the most visually iconic with the rocket ship stuck in the face of the moon. He did some other other genre shorts such as Baron Munchausen's Dream and The Legend of Rip Van Winkle. (Died 1938.)
Born December 8, 1894 – E.C.Segar. Creator of Popeye who of course is genre.Who could not watch Altman's film and not know that? Segar created the character who first appeared in 1929 in Segar's comic strip Thimble Theatre. Fantagraphics has published a six-volume book set reprinting all Thimble Theatre daily and Sunday strips from 1928–38. (Died 1938.)
Born December 8, 1950 – Rick Baker,68. Baker won the Academy Award for Best Makeup a record seven times from a record eleven nominations, beginning when he won the first award given for An American Werewolf in London. So what else is he know for? Oh I'm not listing everything but his first was The Thing with Two Heads and I'll single out The Exorcist, Star Wars, The Howling which I love, Starman for the Starman transformation, Beast design on the Beauty and the Beast series and Hellboy. 
Born December 8, 1951—Brian Attebery, 67. If I was putting together a library of reference works right now, Attebery would be high on the list of authors at the center of my shopping list. I think The Fantasy Tradition in American Literature: From Irving to Le Guin is still essential reading and his Parabolas of Science Fiction recently published with Veronica Hollinger is very close to a Grand Unification Theory of the Genre. 
Born December 8, 1965 – David Harewood, 53. First genre appearance is the BBC adaptation of Philip Pullman's The Ruby in the Smoke and The Shadow in the North (Billie Piper plays the lead). He played Tuck in the BBC's Robin Hood series and showed up as Joshua Naismith in Doctor Who's 'The End of Time ' episode. Currently he plays two separate characters on Supergirl, J'onnJ'onzz/Martian Manhunter / Hank Henshaw and Cyborg Superman. 
Born December 8, 1976 – Dominic Monaghan, 42. He  played Meriadoc "Merry" Brandybuck in Peter Jackson's version of the Lord of the Rings.He's also the narrator of Ringers: Lord of the Fans, a look at the early days of the Tolkien fandom when it was part of the hippie culture. He has a role as Maverick in X-Men Origins: Wolverine, and will be appearing in the forthcoming Star Wars: Episode IX.
(11) COMICS SECTION.
Shoe questions the constant recycling of familiar movie franchises. Sort of.
Incidental Comics has a book lover's holiday wish list.
(12) KEY INGREDIENTS. [Item by Mike Kennedy.] Have you ever felt the need to spend $250 on a set of replacement keycaps for your computer keyboard? If so, Novel Keys has you covered with this set captioned in Aurebesh characters. SYFY Wire has the full story ("Star Wars keyboard senses a great disturbance in your command of Aurebesh"). The keycaps are expected to ship"late April 2019" for preorders through 5 January. Two models are available,with only Aurebesh or with English legends added.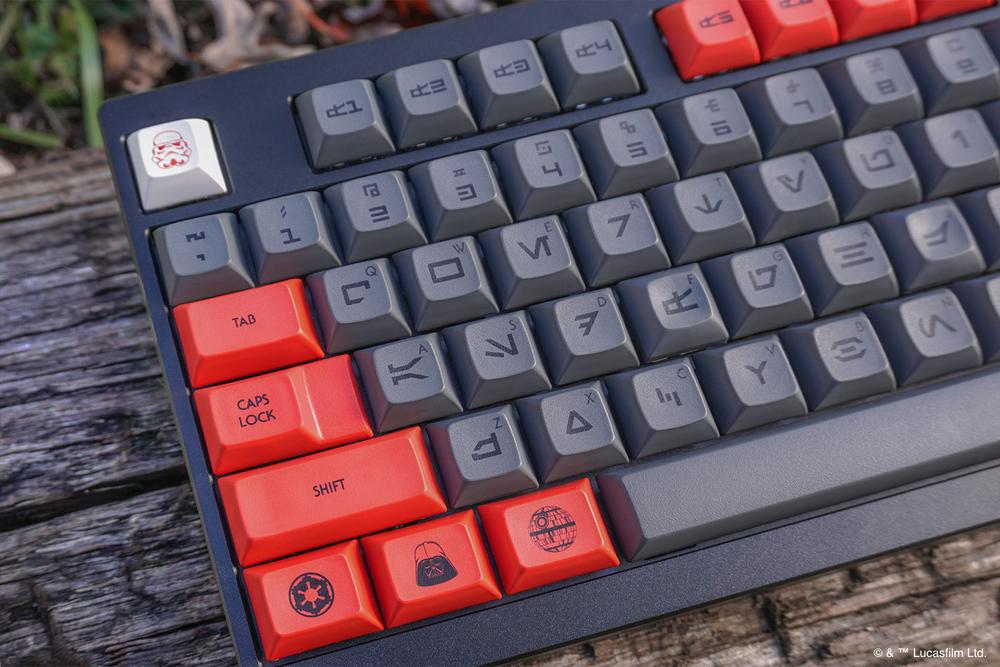 Alright, C-3PO, it's time to break out those awesome translating skills you're always humblebragging about — and while you're at it, break out your wallet, too. Star Wars has just licensed its first-ever official computer keyboard replacement set, coded in Aurebesh, the written version of the official language spoken throughout the Galactic Empire.

This new key replacement set is color-themed to appeal more to the Death Star crowd than to supporters of the gauzy-hued Rebellion. That means don't even bother looking for X-Wing symbols and Yoda silhouettes here; rather, the Galactic Empire DSA Set sports the cool iconography of the galactic alphabet, plus some killer stand-in Dark Side symbols (like TIE Fighters, AT-ATs, and Darth Vader helmets) for commonly used commands. A red lightsaber in place of an enter/return key? Swish, swish.
(13) THOSE WERE THE DAYS. An article in the December 1 Financial Times by David McWilliams about the possibility that Brexit would lead to the unification of Northern Ireland with Ireland includes this ST:TNGreference:
In 2990 an episode in the third series of Star Trek:  The Next Generation was deemed so incendiary that it was censored in Britain and Ireland.  In that Episode, "The High Ground,'the Starship Enterprise's android officer data, musing on terrorism, noted from the vantage point of the year 2364 that Ireland had been unified in 2024. The episode was pulled for fear it might encourage more political violence; 1990 was the year the IRA bombed the London Stock Exchange, assassinated Conservative political Ian Gow and when 81 people on both sides of the conflict were murdered in Northern Ireland.
(14) EVEN OLDER DAYS. At theinferor4, Paul Di Filippo shared an antique poem he rediscovered: "Lament for 1999 from the Year 1911".
…Think of the thrill to him who first took flight,

When all the vast familiar continent

Of air was unexplored….
(15) PLASTIC RAPS. A character who debuted in 1941 might be getting his own movie. The Hollywood Reporter thinks "'Plastic Man' Could Be DC's Answer to 'Deadpool'".
And not just because both characters are dressed in red, have criminal backgrounds and smart mouths that don't know when to shut up. That Warner Bros. is developing a Plastic Man movie perhaps shouldn't come as quite the surprise that it does; after all, not only did the DC superhero headline his own ABC animated series for a couple of years, but he's also the perfect choice to give Warners something that it never even knew it needed: A comedic foil to the rest of the DC cinematic universe.
This wouldn't be a new role for Plas, as the character's often called for short. Unusually for a superhero — and especially one whose origin involves having been a criminal who was left for dead by his gang after being exposed to some mysterious chemicals— Plastic Man has traditionally been a comedy character throughout his 75-plus year career. Indeed, his 1970s animated series underscored this appeal by being called The Plastic Man Comedy/Adventure Show. (The series ran from 1979 through 1981; he's also appeared in other DC animated shows, including Batman:The Brave and the Bold and Justice League Action.)
(16) HIGH SCHOOL MUSICAL HAGGIS. NPR interviews the star of "'Anna And The Apocalypse': The Scottish Zombie Christmas High School Musical".
Anna and the Apocalypse is a [checks notes] Scottish zombie Christmas high school musical.

It drew raves in Great Britain, and has now been released in the United States. It's based on a short film by the writer-director Ryan McHenry, who died of bone cancer at age 27, and did not get to complete this feature-length production.

Anna and the Apocalypse is directed by John McPhail. Ella Hunt (who is English) stars as the young Scottish teen who's about to graduate from school, but first has to contend with the zombie takeover of her village and perhaps the world — with a little help from her friends.

"I love that this film glorifies teenage friendship and not teenage romance," Hunt says in an interview. "To me, it's a much truer thing to glorify."
(17) BONDING. In the Weekly Standard, Tony Mecia visits the James Bond museum in Murren, Switzerland, which was built to be Blofeld's lair in On Her Majesty's Secret Service and which gives visitors the chance to pick up a red phone to hear instructions from M and "graft a photo of your face onto (George) Lazenby's face as he aims a pistol." —"High-Altitude Hideout"
In real life, the filming location called Piz Gloria was not destroyed. For decades, it was merely an observation point and restaurant. In 2013, its owners decided it needed more. They added a small museum, known as"Bond World 007," and have been adding Bond-related features ever since.

Among serious Bond fans, the site "is the Holy Grail of Bond film locations," says Martijn Mulder, a Dutch journalist who leads occasional Bond tours and coauthored On the Tracks of 007: A Field Guide to the Exotic James Bond Filming Locations Around the World. That's because filmmakers bankrolled construction of Piz Gloria, which looks just as it did in the late 1960s.

Bond enthusiasts list other prime destinations, too, such as a site near Phuket, Thailand, that has come to be called "James Bond Island" after appearing in 1974's The Man with the Golden Gun. Last year, Mulder led 40 people on a two-week tour of Japan to visit locations used in 1967's You Only Live Twice. He was forced to scrap a two-hour hike to a volcano crater that was an earlier Blofeld hideout because the volcano showed signs of erupting.
(18) MAN'S BEST FIEND. Doctor Strangemind's Kim Huett begins "Bad Mad Vlad" with this unusual comparison —
Vampires are a lot like dogs, you know.

No. Don't scoff. They really are if you think about it in just the wrong way (that's always been the Doctor Strangemind way of course).

Here, let me explain.

So what is the single most noticeable feature of the animal known as dog? That's right, the seemingly endless plasticity of the species.The fact is humanity has been able to twist and turn and breed dogs into a startling wide array of forms from poodles to corgis to dobermans. If the average Martian visited our planet what are the chances that this visitor from space would guess right off that all dogs are of the same species? Not likely is it? Instead the average Martian would probably decide that dogs make no sense to them. Which is probably why they don't visit Earth all that often,they find this planet too weird and confusing to be a satisfactory holiday destination.

So what has this to do with vampires I've no doubt you're wondering. Well, the answer to that is to point out how humanity has been able to twist and turn and write vampires into a startling wide array of types and situations, far more than any other supernatural creature….
(19) FIGHT TO THE FINNISH. NPR hopes "World's First Insect Vaccine Could Help Bees Fight Off Deadly Disease".
Bees may soon get an ally in their fight against bacterial disease — one of the most serious threats the pollinators face — in the form of an edible vaccine. That's the promise held out by researchers in Finland, who say they've made the first-ever vaccine for insects, aimed at helping struggling honeybee populations.

The scientists are targeting one of bees' most deadly enemies:American foulbrood, or AFB, an infectious disease that devastates hives and can spread at a calamitous rate. Often introduced by nurse bees, the disease works by bacteria feeding on larvae — and then generating more spores, to spread further.
(20) BREAKING MARTIAN WIND. BBC shares a sound clip: "Nasa's InSight probe listens to Martian winds".
The British seismometer package carried on Nasa's InSight lander detected the vibrations from Martian air as it rushed over the probe's solar panels.

"The solar panels on the lander's sides are perfect acoustic receivers," said Prof Tom Pike, who leads the seismometer experiment from Imperial College London.

"It's like InSight is cupping its ears."

Prof Pike compares the effect to a flag in the wind.As a flag breaks up the wind, it creates oscillations in frequency that the human ear perceives as flapping.
(21) DRAGONS HAVE GAS. Space flatulence is a real problem closer to home. Wired lays out the story: "A SpaceX Delivery Capsule May Be Contaminating the ISS". Evidence is accumulating that the Dragon capsule is outgassing and the contaminants are, well, accumulating on the outside of the International Space Station.
In February 2017, a SpaceX Falcon 9 rocket lifted through low clouds, pushing a Dragon capsule toward orbit. Among the spare parts and food, an important piece of scientific cargo, called SAGE III  rumbled upward. Once installed on the International Space Station, SAGE would peer back and measure ozone molecules and aerosols in Earth's atmosphere. Its older siblings (SAGEs I and II) had revealed both the growth of the gaping ozone hole and,after humans decided to stop spraying Freon everywhere, its subsequent recovery.

This third kid, then, had a lot to live up to. Like its environmentally conscious predecessors, SAGE III is super sensitive. Because it needs unpolluted conditions to operate optimally, it includes contamination sensors that keep an eye on whether and how its environment might be messing up its measurements. Those sensors soon came in handy: When the next three Dragons docked at the Space Station, over the following months, SAGE experienced unexplained spikes in contamination. Something on these Dragons was outgassing—releasing molecules beyond the expected, and perhaps the acceptable, levels. And those molecules were sticking to SAGE.
(22) VIDEO OF THE DAY. In "The Artificial Intelligence That Deleted a Century" on YouTube, Tom Scott shows what happened when a program released in 2028 to hunt down copyright violators on YouTube achieves artificial general intelligence.
[Thanks to Kevin Cox, Chip Hitchcock, John King Tarpinian, Mike Kennedy, JJ, Martin Morse Wooster, Cat Eldridge, Carl Slaughter, Dennis Howard, Alan Baumler, and Andrew Porter for some of these stories. Title credit goes to File 770 contributing editor of the day Kip Williams.]