(1) WHO NOVELIZATION. The Irish Times profiles Dave Rudden, an Irish writer of Doctor Who tie-in fiction: "Meet the Irish author who is reinventing Doctor Who". The article includes a sweet story about how Rudden dedicated one of the first 13th Doctor stories to an elderly lady and longterm Who fan, who was bullied by the nuns at her school for her love and science and SF.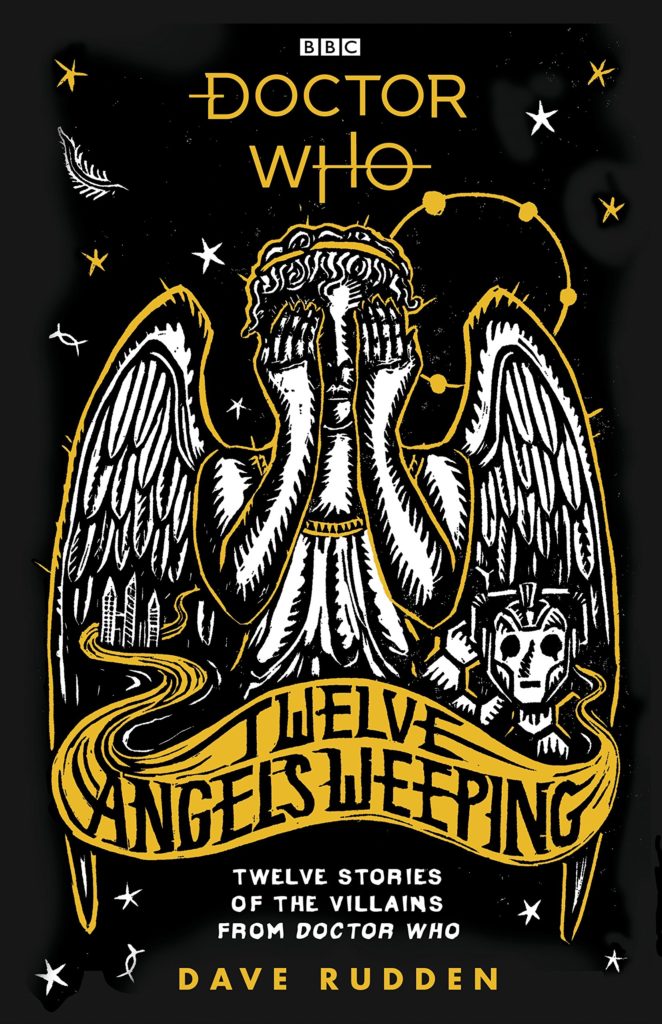 At the invitation of the franchise's custodians at Puffin and the BBC, he has written a new anthology of Doctor Who stories for kids (he has no idea why he was chosen beyond hypothesising that someone must have felt he would do the franchise justice). Get even the tiniest detail wrong – he is, of course, confident he hasn't – and the internet will emit a mighty howl of outrage.

"I know I am stepping into an established canon," says Rudden. "People have a preconceived notion as to what a Doctor Who short story should be. And I am little nervous about that. There are people who will say, 'that's not how [iconic Fourth Doctor] Tom Baker would speak . . . I hope I get it right. If not, I'll take the criticism on board."

Doctor Who: Twelve Angels Weeping represents another feather in the cap of a writer who has built a fanbase with his Knights of the Borrowed Dark fantasy saga (a TV adaptation is in the works). The collection also makes a small piece of sci-fi history. It's the first Dr Who book to feature Whittaker's Thirteenth Doctor, rainbow braces and all.
(2) EMOTIONAL LIVES OF WRITERS. Peter M. Ball returns to the subject of "Writing and Shame" at Man Versus Bear.
…I've written about the connections between writing and shame before–the first time back in 2010, when I talked about the connection between shame, writing, and money, and more recently in 2013 when I pondered the narratives of shame that come with the gig of writing. I found myself hinting at it yesterday, talking about cohorts, and it comes up again and again when I start looking at my recurring anxieties.

I often talk about the fear inherent in being a writer, but often it should be phrased as shame: so much of the fear is a consequence of being ashamed at what's achieved, or more often, what is hoped for.

It starts early, the moment you decide to start writing and the world conspires to tell you that decision is wrong. The terms by which your work will be valued are laid out for you in the rhetoric you hear as a constant refrain: There is no money in writing. Can i buy your work in a bookstore? You should try writing the next Harry Potter. Oh, what have you had published? 
(3) NO PREMIO MINOTAURO IN 2018. Ediciones Minotauro has issued a statement that the XV edition of the Minotauro Award will be given in 2019.
The Minotauro Award has been awarded since 2004, and is the one with the highest endowment among fantastic genre awards in Spanish. In 2004, the winner (León Arsenal , with Mascaras de Matar) was awarded 18,000 Euros, although, due to the crisis, that amount was reduced to 6,000 that Pablo Tébar won in 2017 with Nieve en Marte.
(4) 'TIS THE HWA SEASON. The Horror Writers Association blog is counting down to Halloween. Here are a few highlights:
One of the main things to remember when world building, especially for horror, is to strike a balance between the suspension of disbelief and logic. If you're creating a serial killer or monster with supernatural powers, for instance, there should be some limitations on what they can and can't do so their victims have somewhat of a fighting chance, even if the odds are never in their favor.
"My name is Victoria Winters and my journey is beginning…a journey that will take me to a strange, dark house, high atop Widows' Hill.  A house called Collinwood…"

So begins the first episode of "Dark Shadows" (DS), a popular 1960's soap opera featuring an otherworldly cast of vampires, werewolves, ghosts, witches and other spooks germane to the Halloween season.  As each episode opens with a monologue to set the scene, so it opens with a view of "Collinwood," the sprawling chateau where the show's action unfolds.

The image of Collinwood, with its tower, dormers, and multiple chimneys, is as iconic as the vampire Barnabas. Although the interiors of the great estate were stage sets, the exterior of the house and the grounds belong to Seaview Terrace, a mansion in Newport, RI, where I have been privileged to spend Halloween in the company of other DS fans.  This Halloween will be our tenth in the house.  Over time, party attendance has grown from two-dozen people to nearly 100.
Before there were TV horror hosts, haunted houses, and the Rocky Horror Picture Show, there were spook shows. Now a nearly forgotten bit of Americana, these once incredibly popular shows toured around the country on the movie theater circuit from the 1940's through the 1960's. In some ways the last vestige of vaudeville, they featured comedy, spooky magic, a little burlesque and often a séance. A half-century before it was a term, the spook shows were also on the cutting edge of "immersive" theater. The climax of every show was a "blackout sequence," in which the audience was placed in total darkness, surrounded by supernatural phenomena they could see, hear and feel. They had all kinds of tricks to make that happen.
(5) HEAR KRUGMAN. Tyler Cowen interviews Paul Krugman in an episode of the "Conversations With Tyler" podcast — "Paul Krugman on Politics, Inequality, and Following Your Curiosity (Ep. 51)".  The episode has a lot of sfnal content.  Krugman talks about a paper on interstellar travel he wrote in the early 1990s, and answers the question of "Star Trek or Star Wars?" by saying he doesn't particularly like either show, but likes some of the speculation in Star Trek.  Krugman also discusses his love of Isaac Asimov, and said he became an economist because he wanted to be a psychohistorian, and then explains why Asimov's psychohistory won't work.  Finally, he says his favorite contemporary sf writer is Charles Stross, and his favorite Stross series are the Merchant Princes novels, which he says is "a type of development economics."
(6) DEATH BY CHOCOLATE. Adweek promises "These Brazilian Candy Ads Are Undeniably Dark Yet Surprisingly Entertaining".
"Chocolate World" for the Lacta 5Star bar is a series of ads where this community of confection is under siege by a raft of cookies, cocoa and caramel, the three ingredients in the candy. All of the spots grab your attention pretty quickly and, despite their graphic nature and dark storylines, are compelling to watch—but be forewarned, this might not be the candy advertising you're used to.

In one ad, asteroids, in the form of delicious cookies, destroy everything in sight, resulting in rivers of caramel.

In another, an astronaut attempts to flee a massive baked boulder to no avail as a planet explodes into celestial caramel goodness.

And, in probably the most graphic spot in the set, a skier tries to outmaneuver an angry squirrel, only to have his head snipped by a tree before falling into a lake of caramel.
(7) TODAY IN HISTORY.
October 14, 1926 — A. A. Milne's classic, Winnie-the-Pooh, was published.
(8) TODAY'S BIRTHDAYS.
[Compiled by Cat Eldridge and JJ.]
Born October 14, 1891 – Dorothy McIlwraith, Editor from Canada. She was the third editor of the long-running horror fiction and fantasy fiction venue Weird Tales, one of the earliest pulp magazines, and was responsible for buying some of the first published stories by Fritz Leiber and some of the earliest covers and interior art by Hannes Bok. She edited Weird Tales for more than fourteen years, starting in 1940 until the end of its publication in 1954. She also edited Short Stories magazine, an adventure-oriented pulp magazine. She was a finalist for the 1941 Retro Hugo for Best Short Form Editor.
Born October 14, 1916 – Jack Arnold, Actor and Director, best known as one of the leading filmmakers of 1950s science fiction films, whose works included Creature from the Black Lagoon, Tarantula, the Hugo-winning adaptation of Richard Matheson's The Incredible Shrinking Man, and the Hugo-nominated It Came from Outer Space, for which the screenplay by Harry Essex was derived from an original treatment by Ray Bradbury (screen legend says that Bradbury wrote the screenplay and Harry Essex merely changed the dialogue and took the credit). He also directed several episodes of the TV series Science Fiction Theatre and It's About Time. In 1985 he was given a special Saturn Award, the President's Award, for his career contributions to science fiction cinema.
Born October 14, 1944 – Udo Kier, 74, Actor from Germany who emigrated to England, has appeared in more than 200 films, and has become a well-known face in genre movies (especially of the vampire variety), frequently cast as the villain. Some of his more notable appearances include Johnny Mnemonic, Blade, End of Days, Shadow of the Vampire, BloodRayne, Barb Wire, and Grindhouse. He has also done considerable voice work in animated series including recurring roles in Scooby-Doo! Mystery Incorporated and Beware the Batman.
Born October 14, 1946 – Katy Manning, 72, Actor from England, later Australia, who appeared in 77 episodes in three years playing Companion to the Third Doctor, a role she reprised with the Eleventh Doctor in 2010 in The Sarah Jane Adventures episode "Death of the Doctor".
Born October 14, 1947 – David Day, 71, Writer and Artist from Canada known for numerous illustrated reference works in the Tolkien domain. Don't where Tolkien falls for JJ but for me, he is a creature of Autumn, and I love the reference works about him and his fiction, so here's an academic to my liking and here's a few of his works: The Hobbit Companion (which I highly recommend), An Atlas of Tolkien, and his newest work, The Dark Powers of Tolkien.
Born October 14, 1953 – Richard Christian Matheson, 65, Writer of both horror fiction and screenplays, including the film Nightmare Cinema, the TV series Splatter, and a thankfully-unproduced miniseries of The Chronicles of Amber. He has had dozens of short fiction works published, and his only genre novel was nominated for a Stoker Award.
Born October 14, 1953 – Greg Evigan, 65, Actor and Singer who played the lead in William Shatner's TekWar TV films and series, and had genre roles in the movies DeepStar Six, House of the Damned, Cerberus, and Journey to the Center of the Earth, and in episodes of the TV series The Six Million Dollar Man, The Outer Limits, and Alfred Hitchcock Presents.
Born October 14, 1963 – Lori Petty, 55, Actor, Writer, and Director probably best known within the genre for her turn as the eponymous character in Tank Girl; she has an extensive genre acting history, including films Dead Awake, Route 666, Cryptid, and Bates Motel, guest roles in TV series The Twilight Zone, Alien Nation, Star Trek: Voyager, Gotham, and Freddy's Nightmares, and voice parts in several animated series.
Born October 14, 1974 – Itoh Keikaku, Writer from Japan whose breakout 2007 novel Genocidal Organ won a Nihon SF Taisho Award (the Japanese equivalent of the Nebula) and is considered one of that country's best SF novels of the last decade. Harmony, the sequel, won a Seiun Award and its English translation was a finalist for a Philip K. Dick Special Citation; the translation of his novella The Indifference Engine was a Shirley Jackson finalist; and his novel The Empire of Corpses won a Seiun. All three of his novels were adapted into anime films. His early promise was cut short by his death from cancer in 2009 at the age of 34.
Born October 14, 1980 – John Edgar Browning, 38, Writer, Editor, and Critic. It being that month, I've got an academic who focuses on the horror genre and vampires. He's edited nonfiction anthologies of reviews and essays, such as Draculas, Vampires, and Other Undead Forms: Essays on Gender, Race, and Culture, and Graphic Horror: Movie Monster Memories, and co-written the work Zombie Talk: Culture, History, Politics.
(9) RUN AWAY! Mashable issues a warning with this news item — "Jon Favreau teases his Star Wars TV series with an alarming set photo".
It's time to pack it in, my fellow Star Wars fans. The atrocious(ly amazing) Holiday Special is officially canon.

Jon Favreau treated Instagram followers to a teasing visual nugget tied to his upcoming TV series, The Mandalorian. You might look at the photo and think, "So what? It's just a funky Star Wars blaster, right?"

Right. And wrong. This image contains multitudes. Look upon it and weep, Star Wars faithful.

That's not just any blaster, you see. That blaster contains multitudes. It bears a striking resemblance to the one an animated version of the notorious bounty hunter carried around in the infamous Star Wars Holiday Special, a made-for-TV assault on the senses driven by hilariously bad writing and excessive holiday schmaltz.
(10) MIB. SYFY Wire boosts the signal — "Tessa Thompson shares photo from new Men in Black set".
With the sneak peeks Tessa Thompson and Chris Hemsworth are giving us of the upcoming Men in Black film, we have to hope no one with a neuralyzer shows up at our door any time soon. The two have been doing an excellent job of teasing the film, from sharing their travels from the set to that of Avengers 4 to giving us an initial image of themselves as MIB agents. Now we have an even better idea of what the two will look like in the movie thanks to a photo Thompson shared on Instagram Friday from the set.
(11) SCREAM QUEEN. Leonard Maltin interviews "Jamie Lee Curtis on Her Return to Halloween".
At one point, she recalls making a conscious effort to leave the horror genre behind. Then the son of late producer Moustapha Akkad, who launched the Halloween films, convinced her in 2011 to attend an event to benefit a children's charity called sCare dedicated to corralling horror fans, and stars, to fight poverty and homelessness among America's youth.

She agreed and met her fans en masse for the first time. It made her realize she'd made the right decision, movie-wise, and that being scared could, indeed, be a good thing, with very positive vibes.

"I had a bucket," she recalls. "People would come up with a hundred bucks and say, 'I believe in what you're doing. Thank you for those movies.' It was crazy. It was fantastic. What I ended up getting back from that group is love—pure, beautiful love of the genre. Love of Laurie, love of the story, love of it all."
(12) REFASHIONING SCI-FI. Dazed, in "New zine Vagina Dentata is exploring sci-fi through a feminist lens", speaks to founder Smin Smith "about the importance of representation, reclaiming science fiction from the cis, white hands of Hollywood and how minorities are biting back in a post-Trump world."
Hey Smin, can you start by telling us a bit about where you interest in sci-fi and fashion came from?
Growing up, I didn't watch any science fiction or fantasy, but I loved designing as a child and would watch Alexander McQueen catwalks on YouTube, so this probably all stems back to the Plato's Atlantis collection. I was 15 at the time and can remember having it in every sketchbook at school, finding a way I could incorporate it into every project – that's how I discovered science fiction.

I went on to study at UCA (Epsom) and one of my first projects at university was a zine inspired by film culture, so I drew my favourite characters in collections from that season – Tom Ripley in Commes Des Garçons, Barbarella in Vivienne Westwood and Princess Leia in McQueen. Science fiction, fashion, and feminism have always been the biggest influences upon my creative practice (whether as a stylist or writer), and the concept evolved over the next few years and became the much more collaborative and photographic zine that you see today.

So what was your mission when launching Vagina Dentata Zine?
I wanted to explore the symbiotic relationship I saw between science fiction, fashion and feminism. Recent theories like Xenofeminism have proposed a shift in technology production away from white, cis men, and into the hands of minorities. This feels particularly poignant when you realise that sci-fi film employs less women than any other film genre (both in front and behind of the camera). The zine provides a platform for those excluded by Hollywood (women, LGBTQIA+, POC and non-binary creatives) to interact and engage with science fiction – so it's both a love letter and a burn book to the genre that shaped me.
(13) BARREL OF LAUGHS. "Whisky Wonka-style tour creates a boozy wonderland" – the Calgary Herald tells an LA story.
… Hidden behind a Queen of Hearts painted wall where the eyes rotate to see who is walking into the warehouse-come-distillery in the heart of the Los Angeles Arts District is a wonderland of amusements and whisky….

…As we continue our journey, we enter the vast lab to hear about "Project One Night Stand." In the middle of the room sits a lonely nightstand made in the 1880s from a now-extinct American chestnut. The team of beakerheads are trying to recreate a whisky that was aged in barrels matured in that American chestnut. To do that, they scour antique stores to find old furniture to chip into the reactor.

We move on to taste more spirits in a tent with first edition novels by H.G. Wells lining the walls, then to another room to drink from ornate tea cups. But then, the tour takes a spin. Serious … we spin on a carousel where someone in the dark starts reciting that creepy Willy Wonka Tunnel song … "there's no way of knowing … which direction we are going …" As it borders on creepy, the curtain opens to a new land and, yeah … more booze and it's tasting better all the time.
(14) BURNING BOOKS. Carolyn Kellogg finds the mystery irresistible: "Who started the 1986 fire at the Los Angeles Library? Susan Orlean investigates in her new book" in the Los Angeles Times.
Hundreds of L.A. firefighters fought the devastating fire.at downtown's Central Library on April 29, 1986. Thousands of people contributed to the Save the Books campaign afterward. Millions heard the news that the library was burning and then that it was caused by arson. But more than three decades later, only Orlean was asking who did it and why, and wondering whether anyone today should care. In a reverse "Fahrenheit 451," Orlean took a fire and turned it into a book.

Titled — aptly and ingeniously — "The Library Book," it tells the story of the mysterious fire that burned 400,000 books while also tracing Orlean's love of libraries, from trips with her mother to taking her son….

Tapping a concrete wall, she explained where the fire had started, in the stacks. Built as two secure concrete chutes within the original 1926 building, the stacks held hundreds of thousands of books and were connected by a catwalk for librarians. After the fire started — leaping across the catwalk from the first stack to the second — the chutes served as dual furnaces, books trapped inside with the fire.

"Their covers burst like popcorn. Pages flared and blackened and then sprang away from their bindings, a ream of sooty scraps soaring on the updraft. The fire flashed through fiction, consuming it as it traveled," Orlean writes in her book. "It reached for the cookbooks. The cookbooks burned up. The fire scrambled to the sixth tier and then to the seventh. Every book in its path bloomed with flame."
(15) SUPERHERO SPECTRUM. Here's an interesting concept – where else would you find Watchmen's Doctor Manhattan, the Genie from Disney's Aladdin, and Sadness from Inside Out teamed together? "This Artist Sorted Famous Characters By Color And Here's What She Found Out" at deMilked.
The artist said she tried to classify these pop culture characters to see how different shades and tones interact in a group of characters of supposedly the same color. "Unlike humans, fictional characters are very different from one another – they have different, sometimes very odd, forms, they are made of different unearthly substances, and lastly, they are, undeniably, different colors – even when they seem the same. Is the blue color of a Smurf the same as Megaman's? I don't think so," said Linda about her project.

Check out the color-coded characters in the gallery below!
[Thanks to Cora Buhlert, Chip Hitchcock, Mike Kennedy, John King Tarpinian, JJ, Cat Eldridge, Martin Morse Wooster, Carl Slaughter, and Andrew Porter for some of these stories. Title credit goes to File 770 contributing editor of the day Jamoche.]