(1) ONE CRITIC'S CHOICE. Adam Roberts anoints the "Best science fiction and fantasy books of 2019" in the Guardian.
My pick for the book of the year, Tim Maughan's Infinite Detail (MCD x FSG Originals), is a before-and-after tale of near-future social collapse after a coordinated attack takes the internet down. It's hard to believe it is a debut, so assured and evocative is Maughan's writing. As a portrait of the fragility of our current status quo it is as thought-provoking as it is terrifying; you won't ever take your wifi for granted again.
(2) RESERVATIONS OPEN FOR 2020 NASFIC. The Columbus in 2020 NASFiC hotel room block is now open.
Click on the above link to take you to the Hotel page to book your room for The Columbus NASFIC in 2020 at a cost of $129.00 per night. Room Nights will be available at the discounted rate from August 16th thru the 27th.

You can also go to our website http://columbus2020nasfic.org/our-facilities and click on the link to make your reservation.
Dennis Howard sent the link with this advisory:
I tried to book for 5 nights starting the Wednesday before the convention, but the hotel's system said that there were no rooms available on Wednesday. So I booked for 4 nights starting Thursday and emailed the con about the issue. Within 24 hours they had added Wednesday to my reservation. So I'm happy. I was probably not the only person having issues because they have now added a note about booking problems on their facilities webpage. But they are obviously working on it.
The note on the Columbus website says —
Apparently there are people who are having issues making extended reservations.
If you are having these issues try and make the reservation for just the weekend of the convention. Until we can get this straightened out, Email the confirmation number to [email protected] with the dates you want to add and we'll get them added.
(3) THESE ARE THE VOYAGES. "Star Trek TOS Captain Kirk Cat Polystone Statue" in shops December 18.
James T. Kirk Cat is the inaugural release in Chronicle Collectibles' new line of the legendary original Star Trek crew, reimagined as cats. This adorable 1:9 scale James T. Kirk Cat comes with his official command chair so that he can direct the furry crew of the Enterprise. Just the right size for any office desk at 7.5 inches tall, you just know this is going to be the right conversation starter at work that combines your love of Star Trek and cats.
(4) TENTACULAR SPECTACULAR. Ursula Vernon weighed in on a question about Disney love interests. Thread starts here.
(5) NEW WORLDS AND OTHERS. Hannah Nussbaum finds forgotten literary connections in UK speculative fiction: "'An inward looking outer space': a brief history of Corridor".
What follows is an abridged excavation of the history of Corridor8, under which hides a dense archive of art and literary material reaching back to the 1960s.

The history of Corridor8 begins with Michael Butterworth, the Manchester-based writer, editor, and artist who originally conceived of a publication called Corridor in the early 1970s. This first issue of Corridor can be understood as one discrete point amid a trail of interrelated literary projects fomenting at the time. Before Corridor there was a broadsheet called Concentrate, and before (and during) Concentrate there was a thriving publication called New Worlds. These iterations were surrounded by a succession of other broadsheets and half-imagined projects consigned to the wastebaskets of avant-garde history. The resultant archive relays a history of experimental writing in the North of England, and leads us by way of papery trail to our present Corridor8 platform.

… With these aims (of creating slippages between reader, writer, and editor), Butterworth published the fourth issue Corridor later in 1972, with renewed commitment to destabilising and hybridising form. The teaser language on the cover of the issue shows the extent to which Corridor had evolved into a magazine dedicated to dissolving edges between text-art, criticism, and fiction. This new issue contained a new Jerry Cornelius story by Moorcock, a 'word movie' by John Riley, a long poem by Kevin Dixon-Jackson, 'acid head fantasy' by Chris Naylor, a review of William Burroughs written by Jay Jeff Jones, experimental work by Trevor Hoyle's 'the constant copywriter' as well as a healthy smattering of letters to the editor. It was an issue that particularly reflected the post-industrial landscape of Manchester: Kevin Dixon-Jackson's long poem evoked the strange, derelict geometry of Manchester's city centre, alongside a photo series, also by Jackson, ringing with a palpable hauntology for lost Northern futures.
(6) THE INVISIBLE WOMAN. "Space ageing: where are the galactic grandmas?" According to Nature's Sylvia Spruck Wrigley, "The lack of older women in sci-fi novels reflects and reifies ageism and sexism."
As women get old, they gain a superpower: invisibility. And not only in real life. 'Young adult' fantasy and science-fiction hits such as Suzanne Collins's novel series The Hunger Games and Stephenie Meyers's Twilight series have been taken to task for doing away with mature women. In fantasy generally, older women mainly occupy supporting roles, such as fairy godmothers, wise crones and evil witches. The best are subversions — George R. R. Martin's Queen of Thorns in A Song of Ice and Fire, for instance, or Terry Pratchett's wonderful Granny Weatherwax and Nanny Ogg in the Discworld series. All of them embrace old age with gusto. I expected better from science-fiction novels, where alternative worlds and alien nations explore what it means to be human. In 1976, after all, Ursula K. Le Guin argued in her essay 'The Space Crone' that post-menopausal women are best suited to representing the human race to alien species, because they are the most likely to have experienced all the changes of the human condition. And Robert A. Heinlein offers a fantastic galactic grandmother in The Rolling Stones (1952): Hazel Stone, engineer, lunar colonist and expert blackjack player irritated by the everyday misogyny of the Solar System.
(7) CHANDLER AWARD. Nominations for Australia's A. Bertram Chandler Award for Outstanding Achievement in Australian Science Fiction will open in December. A jury picks the winner.
Nominations for the A Bertram Chandler Award for Outstanding Achievement in Australian Science Fiction will open in December and close 1 February 2020. The Award was established in recognition of the contribution that science fiction writer A. Bertram Chandler made to Australian Science Fiction and to Australian fandom in general. It is Australia's premier award for lifetime achievement in science fiction.

You are encouraged to nominate a person who fulfils the criteria on the nomination page here at ASFF.

Please read the guidelines carefully before making a nomination. The winner of the award will be announced at the 2020 Natcon — which is Swancon in Perth — over the Anzac Day weekend 2020.
(8) THAT BITES. Andrew Porter was in front of his TV when another group of Jeopardy! contestants plotzed on a genre answer.
Category: Classic British Novels.

Answer: "The title character of this novel says of his home, 'The wind breathes cold through the broken battlements and casements.'"

Wrong questions:

"What is The Hunchback of Notre Dame?'

"What is Tristam Shandy?"

Correct question (which no one got): "What is Dracula?"
(9) TODAY IN HISTORY.
November 30, 1959 – On UK screens, The Man Who Could Cheat Death premiered. Starring Anton Diffring and Christopher Lee, Hammer Story: The Authorised History of Hammer Films says the film "suffers from an excess of dialogue and a lack of action." Not surprisingly, it gets only 37% at Rotten Tomatoes.
(10) TODAY'S BIRTHDAYS.
[Compiled by Cat Eldridge.]
Born November 30, 1835 — Mark Twain. It's been decades since I read it but I still know I loved A Connecticut Yankee in King Arthur's Court when I read it. His other genre work is The Mysterious Stranger In which Satan might be visiting us went unpublished in his lifetime and it's only relatively recently with the University of California Press editions of all his completed and uncompleted versions in one volume that a reader can see what he intended. (Died 1910.)
Born November 30, 1906 — John Dickson Carr. Author of the Gideon Fell detective stories, some of which were decidedly genre adjacent. The Burning Court with Fell is on this list as is his vampire mythos backstoried novels, Three Coffins and He Who Whispers. And I really should note his Sir Henry Merrivale character has at one genre outing in Reader is Warned. (Died 1977.)
Born November 30, 1937 — Ridley Scott, 82. Alien: Covenant, which did surprisingly well at the box office, is his most recent genre work of note but he's got a long and distinguished list that includes Blade Runner, Alien, the 1984 Apple advert, Exodus: Gods and Kings , Legend,  Alien: Covenant,  Prometheus and Robin Hood. I've watched Blade Runner sans the narration and I'll say I prefer the original version. 
Born November 30, 1945 — Billy Drago. Best remembered, I think, as the evil John Bly in The Adventures of Brisco County, Jr.  He was certainly booked in a lot of genre roles as he has appearances in Cyborg 2,  Sci-Fighters,  Supernatural and X-Files. He also played the demon Barbas in the original Charmed series. He also was in Tremors 4: The Legend Begins, a film I'm sure no one was begging for. He was in the Masters of Horror "Imprint" episode, which Showtime pulled due to "disturbing content" which you can read about here. (Died 2019.)
Born November 30, 1950 — Chris Claremont, 69. Writer in the comic realm. Best known for his astounding twenty year run on the Uncanny X-Men starting in 1976. During his tenure at Marvel, he co-created at least forty characters. Looking at his bibliography, I see that he did Sovereign Seven as a creator own series with DC publishing it.  And then there's the matter of Lucas providing the notes for The Chronicles of the Shadow War trilogy to follow the Willow film and then contracting our writer to make them exist.  Anyone ever encountered these?
Born November 30, 1955 — Andy Robertson. A fan and editor who worked as an assistant editor on Interzone and contributed myriad  reviews and interviews. He published some fiction and edited two anthologies based on the works of William Hope Hodgson's Night Lands, Volume 1: Eternal Love, featuring tales set in Hodgson's world, and William Hope Hodgson's Night Lands Volume 2: Nightmares of the Fall. Alas, they never made into digital editions. (Died 2014.)
Born November 30, 1955 — Kevin Conroy, 64. Without doubt, best known for voicing Batman on Batman: The Animated Series. Justice League Action which just just had its twofirst seasons on the Carton Network saw him reprise that role with the other characters often noting his stoic personality.  I've not seen it, but on  Batwoman, he plays  Bruce Wayne in the "Crisis on Infinite Earths: Part Two" episode. 
Born November 30, 1957 — Martin Morse Wooster, 62. He discovered fandom in 1974 when he heard about "a big sci-fi con" in downtown Washington where admission was $10 at the door.  He had ten bucks, and so attended Discon II at 16.  A year later, he discovered fanzines through Don Miller, and discovered he liked writing book reviews.  He has been turning them out ever since.  In 1975, he was one of twelve founders of the Potomac River Science Fiction Society, which split from the Washington Science Fiction Association, and regularly attends PRSFS meetings to discuss books.  He has contributed to File 770 since 1978.
Born November 30, 1965 — Andrew Tiernan, 54. British actor who, yes, did show up on Doctor Who playing Purcell in "Night Calls", an Eleventh Doctor story. He's also played Banquo in MacBeth on The Estate, was a Paris vampire in Interview with the Vampire and, skipping several decades worth of performances, is The Manager in Autómata, a neat sounding Spanish-Bulgarian SF film.
(11) TEN BEST. CBR.com celebrates a famous creator in "Osamu Tezuka: 10 Best Works That Aren't Astro Boy, Ranked".
Osamu Tezuka is well known for being "the father of manga", and for good reason. His prolific and pioneering works, and the way he redefined genres has rightfully earned him that title. It was Tezuka who developed and shaped the modern style of manga that we know today. Many considered him the Japanese equivalent of Walt Disney. Tezuka's most famous work is arguably Astro Boy, which tells the story of an android with human emotions who is created by Umataro Tenma after the death of his son. But what about Tezuka's other works? They deserve some love, too. So, here's Osamu Tezuka's ten best works that aren't Astro Boy, ranked.

10. Kimba the White Lion

Kimba the White Lion tells the story of a young cub whose family is killed en route to a zoo before being shipwrecked on the Arabian Peninsula. After the stars form the face of his mother, Kimba must journey back to his home in Africa to become his father's successor.

Kimba was written early in Tezuka's career and he drew inspiration from post-WW2 Japan and the hardships and struggles they were facing. Kimba's story is an emotional tale about self discovery and overcoming adversity, serving as a touching metaphor for Japan's journey toward prosperity following World War II.
(12) ONE LAST LANDING. "The best holiday displays in NYC, mapped" at Curbed New York helps everyone navigate their way to the showiest decorations around town. Some are genre —
3. Bloomingdale's

Bloomingdale's is looking to the stars for its holiday windows this year. Inspired by the 50th anniversary of the first lunar landing, the store pays tribute to space travel with "An Out of This World Holiday Windows." The first diorama begins the journey with a silver flying saucer beaming up beings dressed in futuristic fashions followed by a series of extraterrestrial holiday scenes….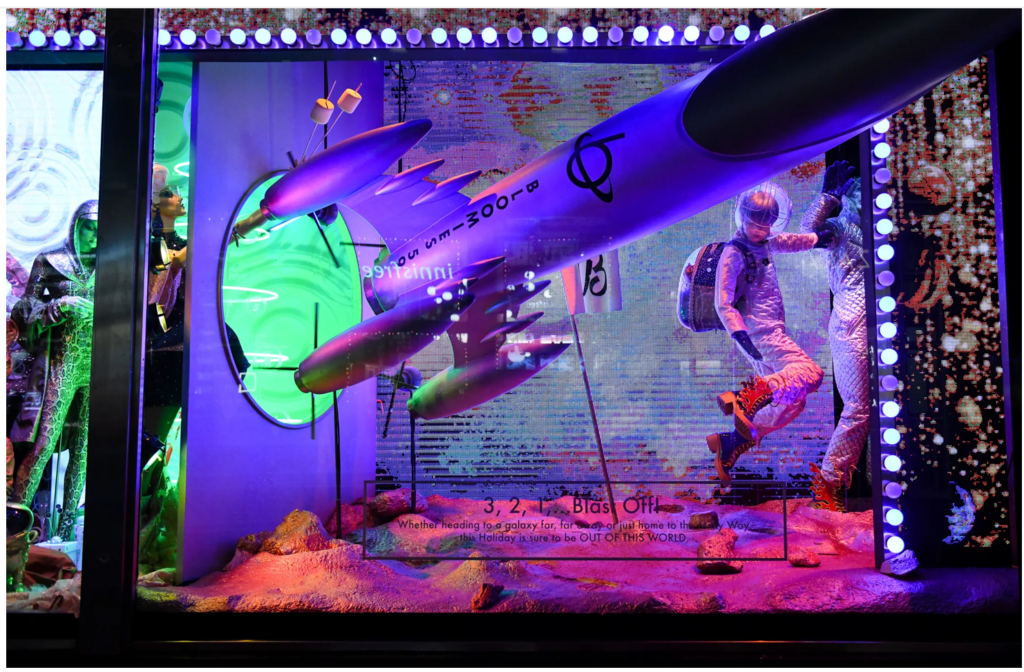 (13) BACK IN THE NEIGHBORHOOD. The LA Times' Amy Kaufman writes "How befriending Mister Rogers' widow allowed me to learn the true meaning of his legacy", her profile of Sarah Joanne Byrd Rogers.
…On the flight home, I became oddly emotional thinking about Fred and Joanne — about how much they'd affected so many simply by expressing genuine care and kindness toward their neighbors. As she told the moviemakers, Fred wasn't a saint. Since his death, she feels as if he's been placed on an even higher pedestal. And she doesn't like it.

"He's out there now as somebody who's somehow way above all the rest of us," she said. "People invariably say, 'Well, I can't do that, but I sure do admire him. I would love to do it.' Well, you can do it. I'm convinced there are lots of Fred Rogerses out there."
(14) PULP IN NEW JERSEY. Gary Lovisi and Paperback Parade takes a tour of the "Bold Venture" Annual Pulp Fest in Bordentown NJ.
(15) DC PULLS POSTER. "DC Comics Comes Under Fire for Deleting Batman Poster That Sparked Chinese Backlash" – Variety has the story.
DC Comics has yanked a poster for a new Batman title from its social media accounts after the image drew criticism from Chinese commenters who said it appeared to support the ongoing pro-democracy protests in Hong Kong.

The artwork depicts Batman throwing a Molotov cocktail against a backdrop of hot-pink words spelling out the new comic book's tagline, "the future is young." It was posted on DC Comics' Twitter and Instagram accounts; both platforms are blocked in mainland China. The poster was meant to promote a forthcoming DC Black Label comic called "Dark Knight Returns: The Golden Child," due to hit shelves Dec. 11. DC Black Label is an imprint that seeks to appeal to an older-skewing readership through reprints and original limited series.

But the poster came under fire from Chinese internet users who contended that it contained coded messages in support of Hong Kong's pro-democracy protests. They said that the Molotov cocktail alluded to young Hong Kong protesters' more violent tactics, that the "dark knight's" choice of black attire referred to the black-clad Hong Kong protesters, and that the "golden child" of the book's title was a veiled reference to the color yellow, which was taken up by previous pro-democracy protesters in Hong Kong five years ago….
(16) CAN YOU DIG IT. NPR has learned that "A 'Mole' Isn't Digging Mars: NASA Engineers Are Trying To Find Out Why".
There's a mole on Mars that's making NASA engineers tear their hair out.

No, they haven't discovered a small, insectivorous mammal on the red planet.

The mole vexing engineers at the Jet Propulsion Laboratory in Pasadena is a scientific instrument known as the Heat Flow and Physical Properties Package, or HP3 — or just "the mole" — carried on NASA's InSight probe that landed on Mars a year ago.

"The mole is designed to measure heat flow coming out of the interior of Mars," says Troy Hudson, InSight's instrument system engineer.

Scientists are interested to know how much heat is still being generated inside the core of the once geologically active Mars. To do that, the mole has to bury itself about 16 feet below the Martian surface so it won't be affected by daily temperature fluctuations.

The mole is basically a tube about 16 inches long and an inch in diameter. It has a pointy tip and an internal hammer that works like a kind of pile driver to pound the instrument into the ground.

The frustrations began last February when the digging started. Instead of going down to 16 feet, it got stuck after just 14 inches.
Maybe they need to send for the crew from Armageddon?
(17) FROM GO TO GONE. Yonhap reports: "Go master Lee says he quits unable to win over AI Go players"
South Korean Go master Lee Se-dol, who retired from professional Go competition last week after gaining worldwide fame in 2016 as the only human to defeat the artificial intelligence (AI) Go player AlphaGo, said his retirement was primarily motivated by the invincibility of AI Go programs.

"With the debut of AI in Go games, I've realized that I'm not at the top even if I become the number one through frantic efforts," said Lee.

"Even if I become the number one, there is an entity that cannot be defeated," he said in an interview with Yonhap News Agency in Seoul on Monday.

AlphaGo, built by Google's DeepMind Technologies, won four of its five matches against Lee in March 2016, but Lee's sole win in Game 4 remains the only time a human has beaten the AI player.
A documentary about the epic match was released in 2017.
With more board configurations than there are atoms in the universe, the ancient Chinese game of Go has long been considered a grand challenge for artificial intelligence. On March 9, 2016, the worlds of Go and artificial intelligence collided in South Korea for an extraordinary best-of-five-game competition, coined The DeepMind Challenge Match. Hundreds of millions of people around the world watched as a legendary Go master took on an unproven AI challenger for the first time in history.

Directed by Greg Kohs with an original score by Academy Award nominee, Hauschka, AlphaGo chronicles a journey from the halls of Oxford, through the backstreets of Bordeaux, past the coding terminals of Google DeepMind in London, and ultimately, to the seven-day tournament in Seoul. As the drama unfolds, more questions emerge: What can artificial intelligence reveal about a 3000-year-old game? What can it teach us about humanity?
[Thanks to Dennis Howard, JJ, John King Tarpinian, Chip Hitchcock, Mike Kennedy, Martin Morse Wooster, Cat Eldridge, SF Concatenation's Jonathan Cowie, and Andrew Porter for some of these stories. Title credit goes to File 770 contributing editor of the day Andrew.]