(1) THESE ARE THEY. More core from James Davis Nicoll: "Twenty Core Alternate Histories Every True SF Fan Should Have On Their Shelves". Here are three – are they on your shelves?
Lion's Blood by Steven Barnes
On a Red Station, Drifting by Aliette de Bodard
Sorcerer to the Crown by Zen Cho
(2) THE WU CANDIDACY. Her Glamour interview is now online — "Brianna Wu Faced Down the Alt-Right and Now She's Running for Congress"
Now the 40-year-old video game developer is launching herself into a different kind of firestorm: She's running for Congress in Massachusetts' Eighth District on a platform crafted, in part, from her experience facing off against white-supremacist groups, which, she notes, have been against not only women gamers but also public policies that benefit anyone not white, heterosexual, and male. Her goal is economic and political parity for women, LGBTQ Americans, people of color, and the working poor. "All these forces are tied together," Wu told ­Glamour from her headquarters in Walpole, Massachusetts. "The system is not working for any of them."

The idea that the system is broken has motivated thousands of women to launch political campaigns; eleven thousand have told She Should Run, a nonpartisan group that offers resources to women interested in seeking office, that they are actively planning to run for office. Founder and CEO Erin Loos Cutraro says this new crop of political talent is "sick of not having their voices and perspectives represented" and recognizes "the impact they can make at all levels of government."
(3) TOP 40. Nicholas Whyte told Facebook readers:
According to scientific calculation, I am #37 in the list of the top 40 EU digital influencers as calculated by EurActiv, and revealed at a ceremony today.

It's for what he writes about the EU and Brussels, rather than what the rest of us know him for — his work as the 2017 Hugo Administrator. Whyte's only wish is that they'd gotten his photo right.
The full list of digital influencers is posted here. If you want to know how the list was compiled, the formula is here.
(4) ROMANTIC POTENTIAL. M.C.A. Hogarth's Kickstarter for Thief of Songs, "Lush and lyrical high fantasy romances set in a world with four human sexes!", hit 400% of its funding target in the first 24 hours.
I have loved romance novels all my life, and love has always threaded itself, like incense, into every fantasy and science fiction story I've written. But for the longest time I didn't allow myself to consider writing a romance novel of my own. Until I did.

The result was Thief of Songs, a novel that ended up on the Tiptree Award's Long list. Set in a secondary fantasy world with four human sexes (male, female, hermaphrodite, and neuter), it's the story of an imperial composer and the music en inadvertently stole while touring the highlands conquered hundreds of years ago by ens birth country. Dancer's kingdom is unfairly privileged: all the magic in the world runs into the bowl of its lowest point and collects there, and using that magic its armies annexed the entire continent. So you can imagine the issues that arise when one of those conquered sons comes to the capital… and finds himself in love, irrevocably and inexorably, with a foreigner, a hermaphrodite… and God help him, a musician of such genius he couldn't help but adore en.

Those issues were not solvable in a single book. Last year I took them forward into a new book, Cantor for Pearls, where Amet–our highland man–continues to struggle with his ambivalence while navigating the wholly unfamiliar relationship to him possible between man and neuter. This is an unabashed asexual romance, with sea serpents. (This book also made the Tiptree Long List!)
With the funding in hand, Hogarth will soon go to press.
My goal is to have both these books ready this week! So that when the Kickstarter ends on November 1st, I'll be shipping within a few days. I've also already set up the e-book download pages. One less thing to do when the project wraps up! I like turning things around quickly… you all are trusting me with your hard-earned money, and I like to honor that trust. 🙂
(5) BUTLER. Gabrielle Bellot delivers a triumphal retrospective profile in "Octavia Butler: The Brutalities of the Past Are All Around This" at Literary Hub.
As a preteen, Octavia Butler decided she'd had enough of second-rate science fiction. "Geez," she said after watching Devil Girl from Mars, a 1954 B-movie. "I can write a better story than that." Anybody could, really, she mused. "Somebody got paid for writing that awful story," she concluded in high dudgeon. A year later, she was submitting stories to magazines.

They were "terrible pieces of fiction," she admitted jocularly in a 1998 talk at MIT, but she had embarked on her journey to write something epochal, a story that could forever reshape a genre's landscape. A dream architect, she wished to be, whose fabulous and frightening creations would remain after we woke up. One of those transformative stories appeared in her 1979 novel, Kindred, which strikingly reimagined the neo-slave narrative genre by making a 20th-century black woman (and, once, her white husband) slip back into 19th-century Maryland through unceremonious, frightening time-travel. (Though time travel is often associated with science fiction, thanks largely to H.G. Wells' The Time Machine, Butler instead describes Kindred as fantasy because its temporal traversing is never explained scientifically.) Kindred, a novel explicitly designed to make its readers uncomfortable, has a special, if controversial, resonance for America today: how we teach and talk about texts that contain depictions of bigotry and violence.

Butler was accustomed to the weight of others' bigotries; she grew up with insecurities about her body, some of which stayed with her into adulthood. Her body was large—she was six feet tall by the time she was a teen—and her voice was deeper than that of the girls around her, its gentle rumbling tone and pitch varying from androgynous to masculine, and students teased her mercilessly. Some of them called her a boy, others a lesbian. Butler did not identify as gay, as she told Larry McCaffery and Jim McMenamin in 1998, but she ruminated about her sexuality and sense of gender, at times musing that she might indeed be what others called her and even going twice to a "Gay and Lesbian Services Center" to "talk about such things… at which point I realized, Nope, this ain't it… I'm a hermit." Already socially awkward and lonely, the schoolyard taunts and jeers pushed her into a cavernous isolation. An outsider, she retreated inward, carving out a deep inner space, a lamplit palace of the self.
(6) TRIVIAL TRIVIA
The "Plan 9" in the title of Plan 9 from Outer Space refers to an alien scheme to create chaos by resurrecting the Earth's dead as shambling ghouls.
(7) TODAY IN HISTORY
October 19, 1952 — Fahrenheit 451 was first published.  Trivial trivia:  The paperback is the true first, as it came out a week before the hardback.
(8) HISTORIC FIGURES. The Women of NASA LEGO set goes on sale November 1. The collectible was produced after winning fan approval through the LEGO Ideas website.
Four trailblazing figures from NASA's history are set to launch as new LEGO minifigures on Nov. 1. NASA astronauts Sally Ride and Mae Jemison, astronomer Nancy Grace Roman and computer scientist Margaret Hamilton are celebrated for their contributions to space exploration and astronomy in the new LEGO Ideas set, "Women of NASA." Based on a fan-proposed and supported design, the set includes representations of the four female space pioneers, as well as three LEGO builds that recreate the spacecraft and settings where the women made their mark on space history. "Great for role playing space exploration missions," LEGO said in a press release announcing the set on Wednesday (Oct. 18). "Explore the professions of some of the groundbreaking women in science, technology, engineering and mathematics (STEM) with the LEGO Ideas Women of NASA set," The 231-piece building toy is recommended for ages 10 and older. It will retail for $24.99.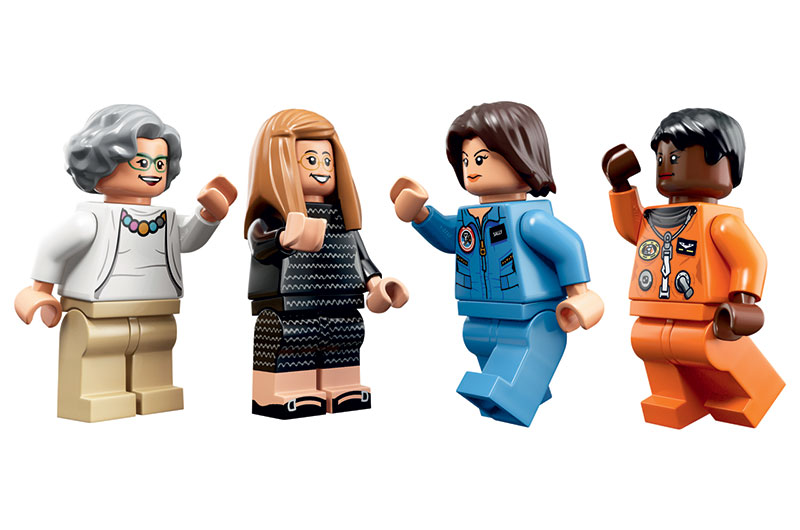 (9) THE ENVIRONMENT. No, this isn't The Onion.
#ThisWeek First it was cow burps and now it's oyster farts. Climate scientists are worried by the bodily excretions of shellfish and their effect on the environment https://t.co/iAbc3uannl

— EURACTIV Energy (@eaEnergyEU) October 19, 2017
(10) PULPHOUSE IS COMING. The Pulphouse Kickstarter has fully funded, and then some, bringing in $35,215.
(11) COST BENEFIT ANALYSIS. BBC film critic Mark Kermode discusses why it's box office disappointed, and he doesn't care.
(12) IN A HOLE IN THE GROUND. A place to live underground on the moon? "Huge cave found on moon, could house astronauts: Japan scientists". (Does this sound familiar, and are you also wondering if the orbiter's first name is "Adam"?)
Data taken from Japan's SELENE lunar orbiter has confirmed the existence of the 31-mile-long and 328-foot-wide wide cavern that is believed to be lava tube created by volcanic activity about 3.5 billion years ago.

The major finding was published this week in U.S. science magazine Geophysical Research Letters.

"We've known about these locations that were thought to be lava tubes … but their existence has not been confirmed until now," Junichi Haruyama, a researcher at the Japan Aerospace Exploration Agency, told AFP on Thursday.

The underground tunnel, located under an area called the Marius Hills, would help protect astronauts from huge swings in temperature and damaging radiation that they would be exposed to on the moon's surface, he added.

"We haven't actually seen the inside of the cave itself so there are high hopes that exploring it will offer more details," Haruyama said.
(13) CITIES. Camestros Felapton brings us his "Review: City of Miracles by Robert Jackson Bennett".
City of Miracles is a shining example of a brilliant use of the trilogy format to tell fantastical stories. The third book in a series that follows City of Stairs and City of Blades, Bennett again shifts point-of-view character, this time to Sigurd – the almost impossibly bad-ass fighting machine side-kick of spy/politician Shara Komayd (whose career is traced through all three books but who was the specific focus of the first).

Each of the novels has leaped forward several years in the post-fantastical history of the Saypuri Republic and the formerly magical and imperialistic Continent. In doing so Bennett gets to show a world that is undergoing its own version of industrialization and 19th-century European-colonial hegemony without using a cookie-cutter. The political divides are rich enough to feel real and complex and the bad is given at least equal prominence with the bad.
(14) REPEATED HAUNTINGS. The second annual "Ghost Stories at Keele Hall" will be held Monday, November 6, 7:30-9:30 p.m. in the atmospheric surroundings of the Senior Common Room, Keele University.
Join us for the second Ghost Stories at Keele Hall. This will feature unsettling readings from Robert Shearman (writer for Dr. Who, and author of Remember Why You Fear Me, the World Fantasy Award-winning Tiny Deaths, and the Shirley Jackson Award-, the British Fantasy Award-, and the Edge Hill Short Story Reader's Prize-winning Love Songs for the Shy and Cynical), V.H. Leslie (author of World Fantasy Award-, and the British Fantasy Award-nominated Skein and Bone, and Bodies of Water), and D.P. Watt (author of Almost Insentient, Almost Divine, and The Phantasmagorical Imperative: and Other Fabrications). There will then be a panel discussion and audience Q&A. Free admission. For further details contact the Box Office.
(15) WHERE POKEMON DON'T GO. The Washington Post's Peter Hermann reports that Curtis Combs, of Somerset, Kentucky, was arrested after he jumped over the White House fence in a Pikachu outfit because he wanted to post a video on YouTube and become famous.
But the man, identified as Curtis Combs, of Somerset, Ky., told arresting officers that the Secret Service closed in too quickly, interrupting his recording of a "pre-jump" ritual.

With police nearing, Combs told police he decided to try getting over the fence anyway, and he made it into a restricted area where he was caught and handcuffed….

The court document does not indicate a reason for the Pokémon costume. Combs reportedly told police that he had researched others who had attempted or successfully gotten onto White House grounds and knew the type of criminal sentences they received. He said he knew he would be arrested. A man in 2014 was caught on the White House lawn dressed in a Pikachu hat and carrying a Pokémon doll.
(16) ALT COMICS.  As might be expected, PJ Media planted a big smooch on Vox Day and his crowdfunded AltHero comics project in "Vox Day's AltHero Comic Book Challenges SJW Marvel, DC Comics", uncritically passing on every claim he's ever made about himself.
"I was astonished, actually. I knew that people were angry about the way social justice warriors have destroyed traditional superheroes, but I didn't realize just how eager they were for an alternative," he said. "Of course, the way the SJWs on Twitter completely freaked out over Rebel and the existence of the project didn't exactly hurt."

Rebel has become the stand-out hero of the upcoming series and she seems to resonate the most with fans. She is beautifully drawn in the classic superhero style but seems to always be losing part of her costume.

… "The idea that there can be politics-free comics when everything from going to the ladies room to playing video games has been politicized is utterly absurd," he quipped. "It would be like ignoring the existence of Nazis during World War II or of Soviets during the Cold War," he argued. "The problem with Marvel and DC is not so much that they have injected politics into comics, but that they ruthlessly sacrifice the stories and even the traditional superheroes on the altar of their social justice agenda."

Day is one of the godfathers of the much-maligned Alt-Right. But those who try to call him a white nationalist or supremacist fail miserably because he is only part white, claiming Native American and Mexican heritage and speaking out vocally against any form of racial supremacism.
(17) VALUES REVEALED. Earlier this month, LGBTQ Nation's Jeff Taylor lit into the new comics line in "'Alt-Right' comic book meant to 'trigger' progressives is as awful as you'd expect".
Theodore Beale, aka Vox Day, said in a Periscope video that he "intended to challenge and eventually replace the SJW (short for "social justice warrior) converged comics of DC and Marvel."

"They believe that comics is their turf, and SJWs have been moving forward, advancing for decades," he added. "They have been methodically eradicating traditional values, they have been methodically eradicating Western civilization."

He has said that "they know they are the true villains and the enemy in the cultural war."

At time of writing, Beale's fundraiser has raised over $66,000 dollars.

What, exactly, are these sacred values being erased from comic books that must be saved? Advertising smoking, pushing the concept of undocumented immigrants as dangerous criminals worthy of vigilante justice, and the promotion of the traitorous Confederate flag.
(18) TRAILER PARK. Marvel's Punisher, official trailer #2:
[Thanks to IanP, James Bacon, John King Tarpinian, David K.M.Klaus, Andrew Porter, Martin Morse Wooster, and Cat Eldridge for some of these stories. Title credit goes to File 770 contributing editor of the day Daniel Dern.]