(1) SCIENCE IS A MOVING TARGET. James S.A. Corey thought they had the science right but a NASA spacecraft proved them gloriously wrong. National Geographic got the creators of The Expanse to write Dawn a fan letter — "Dear Dawn: How a NASA robot messed up our science fiction".
Dear Dawn:

Did we do something to piss you off? Because to tell you the truth, your attacks on our books seemed kind of personal.

In 2011, we came out with a science-fiction novel called Leviathan Wakes that featured a big plotline on the dwarf planet Ceres, the largest object in the asteroid belt. In particular, we imagined a hard, nickel-iron Ceres with a population of millions thirsty for water harvested from the rings of Saturn. We did pretty well with the story; it got a Hugo nomination, and the publisher bought some follow-ups.

Four years later, we were launching a television show based on the book, starring the embattled crew of an ice hauler trying to keep Ceres Station hydrated. That was 2015—the same time you became the first spacecraft to orbit a dwarf planet. And as we gathered in the writer's room and on set, what did you tell us? Ceres has water. Lots of it. Not only that, you found large deposits of sodium carbonate on Ceres's surface, which doesn't sound that impressive until you realize it's evidence of ice volcanoes. Seriously. Ice volcanoes….
(2) WHAT NEEDS TO BE IN THE DEAL. SF author Ramez Naam (Nexus series) is a "futurologist" as well, and he just wrote an excellent extended tweet about the Green New Deal and how it might be better. Thread begins here.
(3) ENTERPRISE. "Jeff Bezos, long known for guarding his privacy, faces his most public and personal crisis" is an article by Craig Timberg, Peter Whoriskey, Christian Davenport, and Elizabeth Dwoskin in the Washington Post about how Jeff Bezos broke his long-standing efforts to remain as private as possible in his battle against the National Enquirer. Not the most titillating part of the story, but there is a sci-fi reference in it —
in the early 2000s, Bezos started quietly acquiring hundreds of thousands of acres in West Texas, where Blue Origin now launches its New Shepard rocket.  He purchased the land under corporate entities named for explorers.  Thee was Joliet Holdings and Cabot Enterprises, the James Cook and William Clark Limited Partnerships and Coronado Ventures.

All were linked to a firm with a Seattle post office called Zefram LLC, namedafter Zefram Cochrane, a character in the Star Trek franchise.
(4) WISHING HIM A RAPID RECOVERY. Apex Magazine Editor-in-Chief Jason Sizemore wrote about the burdensome and painful health problems he's been coping with in his February editorial.
…One of the diagnostics for stroke the doctor ran on me at the emergency room was a CT scan. He said, "Good news, I'm confident you are not having a stroke. But … some bad news, your scan shows a sizable lesion on the front of your mandible."
(5) CROSS-GENRES. Vicki Who Reads picks out eight niche favorites in "Fantasci Book Recs: Books In Between Science Fiction and Fantasy!"
I love fantasy and I love science-fiction (though, sci-fi a little more than fantasy). And I think it's really interesting when authors sort of combine the two–mixing sci-fi and fantasy (and ends up just being labeled under fantasy, typically).

But this leads to the creation of the fun, intermediate genre (at least, that's what it is in my mind), fantasci. The intersection of science-fiction and fantasy where it's not magic, but it's not science either….

A Spark of White Fire by Sangu Mandanna

This book is so darn underappreciated, and it deserves ALL the love! I was sucked into the story and had such a hard time stopping, and then the ending completely wrecked me.

Like . . . is it legal to inflict these types of emotions upon me? Idk, but this book had me CRYING late at night as I read a bout [redacted]. And it's a sort of space fantasy that's based on Indian mythology and has me swooning.

Gosh. My heart still hurts and I need the sequel ASAP. If this book isn't on your TBR, you're doing something wrong because it is AMAZING and the ending is so horrible (for my heart) but so worth it.

You can read my review here!
(6) ACADEMY FOR WAYWARD WRITERS. Cat Rambo livetweeted highlights from Rachel Swirsky's "Detail and Image" online writing class today. The thread is here.
(7) WORLDCON REUNION. Kees van Toorn, Chairman ConFiction1990, today announced plans for Reunicon 2020:
It all started with a phone call from a fan in New York way back in 1984. Then it took three years of bidding to win the race in Brighton in 1987. Another three long years to make ConFiction1990 a fact in The Hague, the first true World Science Fiction Convention on the continent of Europe. We are still creating a website and social media avenues to preserve the past for the future and… to promote our intended Reunicon 2020 to commemorate 30 years after ConFiction 1990. We look forward hearing from you or seeing you in 2020 in The Hague.
(8) PLEASE BE SEATED. ThinkGeek s offering a Star Trek TOS 1:6 Scale Captain's Chair FX Replica for $59.99.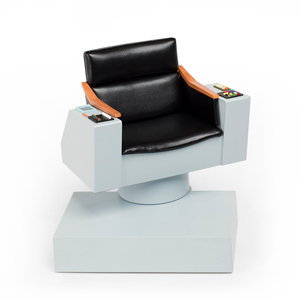 THE CENTERPIECE OF EVERY STARSHIP
Is that the ship intercom, or the self-destruct button? You better read up on your engineering schematics before sitting in a captain's chair, or your tenure will be shorter than Spock's patience for illogical behavior.  
 
Quantum Mechanix has created an extremely detailed FX replica of the most important part of the original USS Enterprise: the captain's chair. This 1/6 scale replica doesn't just look good – it also lights up and makes sounds. Powered by either three AA batteries or a mini-USB plug (not included), this captain's chair replica has four different light and sound settings including: standard bridge operations, ship-wide announcement, viewscreen scanning, and of course, red alert.
(9) TODAY'S BIRTHDAYS.
[Compiled by Cat Eldridge.]
Born February 9, 1863 – Anthony Hope. He is remembered predominantly for only two books: The Prisoner of Zenda and its sequel Rupert of Hentzau. Well so says Wiki but I never heard of the latter novel. Any of you heard of It? The Prisoner of Zenda was filmed in 1936 with Douglas Fairbanks Jr. in the lead role. (Died 1933.)
Born February 9, 1877 – George Allan England. His short story, "The Thing from—'Outside'", which had originally appeared in Gernsback's Science and Invention, was reprinted in the first issue of the first SF magazine, Amazing Stories, in April 1926. Unfortunately, his later Darkness and Dawn trilogy is marked by overt racism as later critics note. (Died 1936.)
Born February 9, 1928 – Frank Frazetta. Artist whose illustrations showed up damn near everywhere from LP covers to book covers and posters. Among the covers he were Tarzan and the Lost Empire, Conan the Adventurer (L. Sprague de Camp stories in that setting) and Tarzan at the Earth's Core. He did over-muscled barbarians very well! Oh and he also helped Harvey Kurtzman and Will Elder on three stories of the bawdy parody strip Little Annie Fanny in Playboy. Just saying. In the early 1980s, Frazetta worked with Bakshi on the feature Fire and Ice. He provided the poster for it as he did for Mad Monster Party and The Fearless Vampire Killers, or Pardon Me, But Your Teeth Are in My Neck, two other genre films. He was inducted into both Will Eisner Comic Book Hall of Fame and the Jack Kirby Hall of Fame. (Died 2010.)
Born February 9, 1953 – Ciaran Hinds, 66. I can't picture him but he's listed as being King Lot in Excalibur, that being being his credited his genre role. He next shows up in Mary Reilly, a riff off the Hyde theme, as Sir Danvers Care. I've next got him in Jason and the Argonauts as King Aeson followed by being in Lara Croft: Tomb Raider – The Cradle of Life as Jonathan Reiss. (Yes I like those films.) before being replaced in the next film, he played Aberforth Dumbledore in Harry Potter and the Deathly Hallows – Part 2. Two final roles worth noting. he played The Devil in Ghost Rider: Spirit of Vengeance and Steppenwolf In Justice League.
Born February 9, 1956 – Timothy Truman, 63. Writer and artist best known in my opinion for his work on Grimjack (with John Ostrander), Scout, and the reinvention of Jonah Hex with Joe R. Lansdale. His work with Ostrander is simply stellar and is collected in Grimjack Omnibus, Volume 1 and 2.  For the Hex work, I'd say Jonah Hex: Shadows West which collects their work together. He did do a lot of other work and I'm sure you'll point out what I've overlooked… 
Born February 9, 1981 – Tom Hiddleston, 38. Loki in the Marvel film universe. And a more charming bastard of a god has never been conceptualised by screenwriters. Outside of the MCU, I see he shows up in Kong: Skull Island as Captain James Conrad and The Pirate Fairy as the voice of James Hook as well in a vampire film called Only Lovers Left Alive as Adam. 
(10) COMICS SECTION.
In the world of Brewster Rockit, some newspaper columns are very easy to write.
(11) IN RE VERSE. A star of Spider-Man: Into the Spider-Verse (labeled on Wikipedia as a "actor, singer, dancer, and rapper") told The Hollywood Reporter he hopes to write a song for the sequel ("'Spider-Verse' Star Shameik Moore Hopes to Record a Song for the Movie's Sequel"). The interview also ranges into Moore's other genre interests. It turns out he's a fan of the Harry Potter movies.
The Hollywood Reporter: The Spider-Verse soundtrack had a few hits, including Post Malone and Swae Lee's "Sunflower." Have you pitched yourself to do a track for the Spider-Verse sequel?

Shameik Moore: They were asking me to make a song for Spider-Man before any of the songs on the soundtrack were even being considered. The only reason I am not on the soundtrack is because I couldn't quite come up with a song myself to write from Miles' point of view. So next time, hopefully. The music that I've been making is for me. It's not really for Spider-Man. It's for who I am. My music is a bit edgier.
(12) THE GREAT SKY ROAD. Andrew Porter sent screenshots of some flights of fancy seen on the February 4 episode of Antiques Roadshow.
(13) LOCUS LIST CONSIDERED. Adri Joy and Joe Sherry have actually read a lot of these books so their discussion of what did and did not make the list is quite substantial: "Adri and Joe Talk About Books: Locus Recommended Reading List" at Nerds of a Feather.
…What did you expect, or want, to see here that isn't?

Joe: The first thing I specifically looked for was Matt Wallace's final Sin du Jour novella Taste of Wrath. I'm not entirely surprised it didn't make the list simply because I'm not sure it's received a fraction of the attention and love that the series deserved. I passionately and sometimes aggressively love those stories and it has been a perpetual disappointment to me that they haven't been nominated for everything they are eligible for and even for some things they aren't. I'm holding out for a Best Series Hugo nod, but maybe I shouldn't hold my breath.

The second thing i looked for, and this was mostly out of curiosity, was whether anything from Serial Box made the cut. Nothing did. Because I'm that sort of wonk, I did a super quick check of previous years and the first season Tremontaine made the list. I'm not surprised by that either, because Tremontaine is an expansion of the Swordspoint world and I would expect to see Locus recognize Ellen Kushner. I do wonder if next year we'll see recognition for The Vela or Ninth Step Station. Both seem like something that might get some extra attention, eyeballs, and acclaim.
(14) LOOK FOR THE BEAR NECESSITIES. BBC reports "Russia islands emergency over polar bear 'invasion'". They must be running out of Coca-Cola.
A remote Russian region has declared a state of emergency over the appearance of dozens of polar bears in its human settlements, local officials say.

Authorities in the Novaya Zemlya islands, home to a few thousand people, said there were cases of bears attacking people and entering residential and public buildings.

Polar bears are affected by climate change and are increasingly forced on to land to look for food.

Russia classes them as endangered.

Hunting the bears is banned, and the federal environment agency has refused to issue licences to shoot them.
(15) SLIP-AH-DEE-DOO-DAH. [Item by Mike Kennedy.] 2017? No way. 2018? Um, negatory. January 2019? Nope. February? Nope, nope, nope. March? Well, maybe. SpaceX has announced another slip (albeit a modest one) in the schedule for the first (un-crewed) launch of the to-be-crewed version of the Dragon capsule (ExtremeTech: "SpaceX Pushes Crewed Dragon Test Back to March 2"). Boeing is aiming for April for Starliner—their competing capsule—to have its first launch.
NASA kicked off the Commercial Crew Development Program in 2010 to support the development of new crewed spacecraft. Here we are, almost a decade into the program and on the verge of a manned launch. It's taken a long time to get here, and it may be a little longer still. SpaceX has announced yet another delay in its Dragon 2 test flight, which was supposed to take place this month. 
The precise date has slipped numerous times, and this is after ample delays in earlier phases of the program. We're in the home stretch now, so each change in the schedule is that much more frustrating. SpaceX initially wanted to conduct the first test launch of its crewed Dragon capsule in 2017. Then the timeline slipped to 2018, and then it was late 2018. More recently, SpaceX promised a January 2019 launch… and then it decided February was more likely. You can probably blame the government shutdown for that one. Now, we're looking at March 2, according to SpaceX. 
(16) ROLE PLAYING. Last summer Simon Pegg talked about characters he's played – including one that was a bit autobiographical.
Simon Pegg breaks down his favorite and most iconic characters, including Tim from "Spaced," Shaun from "Shaun of the Dead," Nicholas Angel from "Hot Fuzz," Gary King from "The World's End," Scotty in "Star Trek," Unkar Plutt in "Star Wars: The Force Awakens," and Benji Dunn in the "Mission: Impossible" movies.
(17) CAN A BOT BE AN INK-STAINED WRETCH? [Item by Mike Kennedy.] This story has a personal edge for me as I encounter robot-written stories quite often when using MaxPreps to catch up on various high school sporting events. (Though, those particular stories are obvoiusly written by an Artificial Stupidity.) Forbes, which has dipped a toe in AI journalism itself, takes a look at the growing phenomenon ("Did A Robot Write This? How AI Is Impacting Journalism").
How do you know I am really a human writing this article and not a robot?  Several major publications are picking up machine learning tools for content. So, what does artificial intelligence mean for the future of journalists?

According to Matt Carlson, author of "The Robotic Reporter", the algorithm converts data into narrative news text in real-time.

Many of these being financially focused news stories since the data is calculated and released frequently. Which is why should be no surprise that Bloomberg news is one of the first adaptors of this automated content. Their program, Cyborg, churned out thousands of articles last year that took financial reports and turned them into news stories like a business reporter.

Forbes also uses an AI took called Bertie to assist in providing reporters with first drafts and templates for news stories.
(18) UNHEARD OF. Part of the experiment has failed says Gizmodo: "Small Satellites That Accompanied InSight Lander to Mars Go Silent".
A pair of small satellites that joined the InSight mission on its way to Mars haven't been heard from in over a month—but the experimental mission is still an important success for NASA.

Mars Cube One, or MarCO, consisted of two 30-pound satellites named WALL-E and EVE. The relatively inexpensive satellites were the first time that CubeSats had entered the space between planets. The mission could foretell a future of spacecraft bringing more CubeSats with them in the future. 

[…] NASA lost contact with WALL-E on December 29 and with EVE on January 4. It's possible that the probes' antennae aren't pointed at Earth properly, or that their solar panels aren't pointed at the Sun and their batteries died, according to the press release.
(19) I CAN HELP. A little bit of sibling rivalry in Washington state:
[Thanks to JJ, John King Tarpinian, Greg Hullender, Cat Eldridge, Alan Baumler, Chip Hitchcock, Mike Kennedy, Martin Morse Wooster, Carl Slaughter, and Andrew Porter for some of these stories, Title credit goes to File 770 contributing editor of the day Ingvar.]