(1) WORLDCON PROGRAM. DisCon III has posted a basic outline of the times programming will take place – on their website here. They've also included specific times on significant events and for important DisCon III locations, such as Registration and the Exhibit Hall.
(2) OP-ED. Nicholas Whyte writes about the "2021 Worldcon Business Meeting agenda: my comments" at his LiveJournal, From the Heart of Europe. Here's an excerpt:
… A.3.2: Hugo Awards Study Committee – I was one of the original proposers of this committee. I am very disappointed with the results. The only concrete output that it has achieved in four years of existence is the addition of the words "or Comic" to the category title of "Best Graphic Story". In the meantime other proposed changes have been killed off by referring them to this committee, which has then failed to consider them. I would not support the continuation of this committee's mandate. I do not blame anyone, especially in the circumstances of the last two years, but I think we have proved that this is not a format that will deliver change.

On the other hand, if it is renewed, I would prefer to continue as a member, and I strongly urge (yet again!) that it takes the reform of the Best Artist categories as a priority. This was the main motivation for my proposing the committee in the first place. It is the single issue that has caused most headaches in my four years of Hugo administration. The Artist category definitions are very out of date, and present a risk to the future reputation of the awards because it would be very easy to make a public and embarrassing mistake. A bit more on this further down….
(3) C.J. CHERRYH HEALTH UPDATE. In a public Facebook post, C.J. Cherryh discusses the effects of her chemotherapy.
Coming to grips with chemo and change…

I've decided to go with the Gandalf look. I had reconciled myself to the Yul Brynner or Zhaan look, but I didn't lose the hair with chemo. It just went snow-white and brittle. It's not bad, now that I'm not trying to be Cher. I think I'll let it grow and see if I can rock the look. I have a light hat I can wear when the wind's blowing, so I don't look like sfx surround me—it's super light, and doesn't stay put.

Complexion—well, that's aged a whole lot. Dropping 40 sudden pounds will do that to you: I am developing…character. That's my take on it. Always wondered where the lines would go. Not too bad.

Strength: that's the big one. I don't have much stamina for standing upright—or for walking very far…
She is getting a portable powered scooter and plans to attend cons as they continue to open up again.
(4) ROWLING DOXXED? "J.K. Rowling condemns activists for posting her address to Twitter" reports Yahoo!
…[On] on Friday, …activist-performers Holly Stars, Georgia Frost and Richard Energy held a protest ahead of Saturday's Trans Day of Remembrance in front of Rowling's Scotland home to protest what many see as the author's anti-trans viewpoints. They held signs that read "Don't Be a Cissy" and 'Trans Liberation Now" and, while there, took a photo in front of Rowling's house in which the address was visible, then posted it on Twitter.
Rowling's thread starts here.
Rowling's response included the Twitter URLs of the three who had tweeted the picture – they have since deleted their accounts.
Forbes has subsequent developments: "J.K. Rowling Slams 'Activist Actors' Who Doxxed Her During Trans Rights Protest".
… According to Pink News, their demonstration outside Rowling's home in Edinburgh, Scotland, was in support of the International Transgender Day of Remembrance, an annual event to memorialize the scores of trans and gender nonconforming people murdered every year.

The Post Millennial reported Stars, Frost and Energy stood by their tweeting of the photo, but Stars tweeted they made the decision to delete it after a backlash from Rowling supporters:

"Yesterday we posted a picture we took at JK Rowling's house. While we stand by the photo, since posting it we have received an overwhelming amount of serious and threatening transphobic messages so have decided to take the photo down. Love to our trans siblings."
(5) PLAYING MONOPOLY. Kristine Kathryn Rusch thinks about what-might-have-been if the DOJ had been on the job sooner: "Business Musings: The If-Only Lawsuit".
…The United States Justice Department is suing to stop the big merger of Penguin Random House and Simon & Schuster. That I can write about without a lot of research, because I've been following this merger for a long time….

All the promises in the world mean nothing when large companies merge.

I read the complaint for the suit the day the suit was announced. The complaint is worth reading because, if nothing else, it's a what-if. What if the DOJ had been on this as the mergers started twenty years ago? What would the traditional publishing landscape look like now?

I can tell you: It would look completely different. Instead of the traditional part of the industry being dominated by five large conglomerates, the traditional part of the industry would look the same or better than it did in the early 1990s. There would be a lot of publishing houses, a lot of working editors, a lot of imprints, and a lot of competition….
(6) DC METRO NEWS. [Item by Martin Morse Wooster.] This article about the problems of the Washington Metro is important because it's going to affect DisCon III attendees. The short version: one of the 7000 series of Metrorail cars derailed on October 12 and Metro pulled these cars out of service. They haven't brought them back yet. So Discon attendees should factor in extra time when using the troubled Washington D.C. subway. "Metro extends limited rail service through December".
Metro will operate with reduced rail service through the end of the year as it works to return its 7000-series rail cars to the tracks, the transit agency announced Monday.

The trains, the newest in Metro's inventory, make up 60 percent of the transit agency's fleet but have been sidelined since the October derailment of a Blue Line train near the Arlington Cemetery station….

[Manager Paul J. Wiedefeld] said a more likely scenario would be a gradual ramp-up of service as trains are cleared to resume carrying passengers. In all, Metro has 748 rail cars in the series. The transit agency is operating with about 45 trains using its older 2000-, 3000- and 6000-series rail cars.

Wiedefeld said rail ridership, which had been around 30 percent of pre-pandemic levels, has dipped to about 28 percent in recent weeks.

No one was injured in the Oct. 12 incident, but an initial investigation by the National Transportation Safety Board found defects in the trains' wheelsets that could make them more prone to derailment.
(7) OKORAFOR IN THE NEWS. In the Chicago Tribune, an article (which you may find blocked by a paywall) refers to fantasy writer Nnedi Okorafor in reporting on Black residents who have moved out of the Chicago area. "Black residents leaving Chicago with few regrets". Here are the paragraphs about her:
Award-winning fantasy writer Nnedi Okorafor said she moved from the south suburbs to Phoenix earlier this year, drawn there by its year-round warmth. The author of 19 books, Okorafor said her resolve to stay in the Southwest grew after her daughter, Anyaugo, was accepted at Arizona State University.

"Each time I've gone (to Arizona), I've gradually fallen in love with the area because I love heat and the desert," she told the Tribune. "Once (my daughter) got into ASU, it all just lined up and made sense."
(8) MEDIA BIRTHDAY.
1996 — Twenty-five years ago, Star Trek: First Contact premiered. It was the eighth film of the Trek films, and the second of the Next Gen films following Star Trek Generations. It was directed by Jonathan Frakes from the screenplay by Brannon Braga and Ronald D. Moore. The story was written by Rick Berman, Brannon Braga and Ronald D. Moore. It of course starred the Nex Gen cast plus guest stars Alfre Woodard, James Cromwell and Alice Krige, the latter as the Borg Queen.
First Contact received generally positive reviews upon release. The Independent said "For the first time, a Star Trek movie actually looks like something more ambitious than an extended TV show." And the Los Angeles Times exclaimed, "First Contact does everything you'd want a Star Trek film to do, and it does it with cheerfulness and style." It did very well at the box office making one hundred fifty million against a budget of fifty million. Audience reviewers at Rotten Tomatoes currently give it a most excellent rating of ninety percent.
It was nominated for a Hugo at LoneStarCon 2, the year that Babylon 5's "Severed Dreams" won.
(9) TODAY'S BIRTHDAYS.
[Compiled by Cat Eldridge.]
Born November 22, 1932 — Robert Vaughn. His best-known genre work was as Napoleon Solo in The Man from U.N.C.L.E. with other genre work being in Teenage Caveman, Starship Invasions, The Lucifer Complex, Virus, Hangar 18, Battle Beyond the Stars, Superman III,  C.H.U.D. II: Bud the C.H.U.D. (seriously who penned that awful title?), Transylvania Twist and Witch Academy. Oh, and he wrote the introduction to The Man from U.N.C.L.E. series companion that came out a generation after the series aired. (Died 2016.)
Born November 22, 1940 — Terry Gilliam, 81. He's directed many films of which the vast majority are firmly genre. I think I've seen most of them though I though I've not seen The Man Who Killed Don Quixote, Tideland, The Zero Theorem or The Imaginarium of Doctor Parnassus. I've seen everything else.  Yes, I skipped past his start as the animator for Monty Python's Flying Circus which grew out of his work for the children's series Do Not Adjust Your Set which had the staff of Eric Idle, Terry Jones, and Michael Palin. Though he largely was the animator in the series and the films, he did occasionally take acting roles according to his autobiography, particularly roles no one else wanted such those requiring extensive makeup.  He's also co-directed a number of scenes. Awards? Of course. Twelve Monkeys is the most decorated followed by Brazil with two and Time Bandits and The Fisher King which each have but one.  He's not won any Hugos though he has been nominated for four — Monty Python and the Holy Grail, Time Bandits, Brazil and Twelve Monkeys. My favorite films by him? Oh, the one I've watched the most is The Adventures of Baron Munchausen followed by Time Bandits.
Born November 22, 1943 — William Kotzwinkle, 78. Fata Morgana might be in my opinion his best novel though Doctor Rat which he won the World Fantasy Award for is in the running for that honor as well. And his short stories of which there are many are quite excellent too.  Did you know Kotzwinkle wrote the novelization of the screenplay for E.T. the Extra-Terrestrial? The usual digital suspects are well stocked with his books.
Born November 22, 1949 — John Grant. He'd make the Birthday list solely for being involved in the stellar Encyclopedia of Fantasy which won a Hugo at BucConeer.  And he did win another well-deserved Hugo at Noreascon 4 for Best Related Work for The Chesley Awards for Science Fiction and Fantasy Art: A Retrospective.  Most of His short fiction has been set in the Lone Wolf universe though I see that he did a Judge Dredd novel too. (Died 2020.)
Born November 22, 1957 — Kim Yale. Married to John Ostrander until 1993 when she died of breast cancer, she was a writer whose first work was in the New America series, a spin-off of Truman's Scout series. With Truman, she developed the Barbara Gordon Oracle character, created the Manhunter series, worked on Suicide Squad, and was an editor at D.C. where she oversaw such licenses as Star Trek: The Next Generation. For First Comics, she co-wrote much of the amazing Grimjack with her husband.
Born November 22, 1958 — Jamie Lee Curtis, 63. Can we agree that she was the best Scream Queen for her film debut in the 1978 Halloween film in which she played the role of Laurie Strode? No? Well, that's my claim. She followed up with yet more horror films, The Fog and Prom Night. In all, she's the only character that survives.  She would reprise the role of Laurie in six sequels, including Halloween H20, Halloween: Resurrection, Halloween II and Halloween III: Season of the Witch, Halloween (a direct sequel to the first Halloween) and Halloween Kills.  She shows up in one of my fav SF films, The Adventures of Buckaroo Banzai Across the 8th Dimension as Sandra Banzai but you'll need to see the director's extended version as she's only there in that version. Is True Lies genre? Probably not, but for her performance, Curtis won the Golden Globe Award for Best Actress – Motion Picture Musical or Comedy and the Saturn Award for Best Actress. Damn impressive I'd say.  No, I'm not listing all her films here as OGH would likely start growling. Suffice to say she's had a very impressive career. 
Born November 22, 1979 — Leeanna Walsman, 42. Spoiler alert. She's best known as the assassin Zam Wesell from Attack of The Clones.  Being Australian, she's shown up on Farscape, a Hercules series (but not that series), the BeastMaster and Thunderstone series, and Spellbinder: Land of the Dragon Lord. 
Born November 22, 1984 — Scarlett Johansson, 37. Best known perhaps for her role as the Black Widow in the MCU films including the present Black Widow film but she has other genre appearances including playing Motoko Kusanagi in Ghost in the Shell which was controversial for whitewashing the cast, particularly her character who was supposed to be Japanese. 
(10) REUBEN WINNER. In the Washington Post, Michael Cavna has a profile of Ray Billingsley, creator of "Curtis," who is the first Black winner of the Reuben Award, given by the National Cartoonists Society for best cartoonist of the year. "Cartoonist Ray Billingsley has been portraying Black family life for decades — and now he's getting his due".
Ray Billingsley didn't much like his second-floor Harlem home on Bradhurst Avenue back then. It was affordable — this being the mid-'80s — but he felt isolated, and he knew crime was a threat: "One evening while in bed with the window open, I actually heard three guys planning on burglarizing my apartment."Yet this setting was also where, later that night after going to bed, Billingsley drew inspiration. He awoke with a creative burst. "I had a vision of these two kids. I sketched them down in the dark and went back to sleep. That morning, I found the first images of Curtis and Barry."

There they were, two cartoon brothers — the taller one wearing Curtis's signature ball cap, the shorter one in suspenders. With minimal line work, he had rendered his future….
(11) TAKE A BOW (WOW). "League of Super-Pets: John Krasinski Teases Role as Superman" at Comicbook.com.
…When DC's League of Super-Pets comes to theaters next year, fans will get an odd pairing as Superman and Lex Luthor: facing off against Marc Maron's scheming Luthor will be a Man of Steel voiced by The Office star John Krasinski. Sharing a still from the upcoming, animated movie, Krasinski revealed not only that he is Superman, but what his Superman will look like. The costume owes a debt to the one from the Max Fleischer cartoons of the 1940s — a look that recently popped back up again in flashbacks of Tyler Hoechlin's character on Superman & Lois.

While the Super-Pets getting their own feature film may seem strange, the movie has an absolutely stacked cast providing the voices for its characters. Dwayne "The Rock" Johnson is starring in the film as Krypto the Superdog, the canine pal of one Superman. Kevin Hart, Johnson's friend and frequent collaborator, will be voicing Batman's four-legged friend, Ace the Bat-Hound….
(12) FAMOUS LIGHTSABERS AND WANDS. Julien's Auctions "Icons And Idols: Hollywood" auction starts December 2. "I am almost grateful that I don't have unlimited funds," says John King Tarpinian, who sent links to such items as this lightsaber.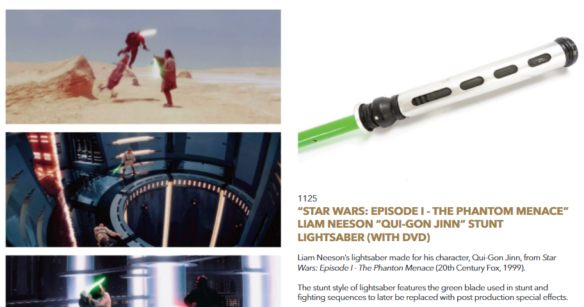 Collectors Hype ran a feature about some items on their "Original Movie Prop and Costume Blog":
From the Harry Potter franchise: David Thewlis' wand in his role as Professor Remus Lupin from the 2004 installment Harry Potter & The Prisoner of Azkaban ($5,000-$7,000), a wand used by Death Eater "Alecto Carrow" in the 2011 film Harry Potter & The Deathly Hallows and Rupert Grint's hero wand in his role as "Ron Weasley" from the same film as well as signed stamp sheets by the cast members, Daniel Radcliffe, Emma Watson, and Rupert Grint, call sheets and Hogwarts acceptance letter;
Julien's is also hawking "Bugs Bunny and Daffy Duck voice artist Mel Blanc's personal memorabilia" according to the Daily Mail.
Also included in the collection is a signed animation cel from 1958 featuring five of Blanc's famous characters, Porky Pig, Tweety Bird, Bugs Bunny, Sylvester the Cat, and Daffy Duck.

The cel is inscribed in black fountain pen ink on the background page, which reads, 'For Pat/ with love from/ 'Uncle' Mel Blanc/ 4/8/58.'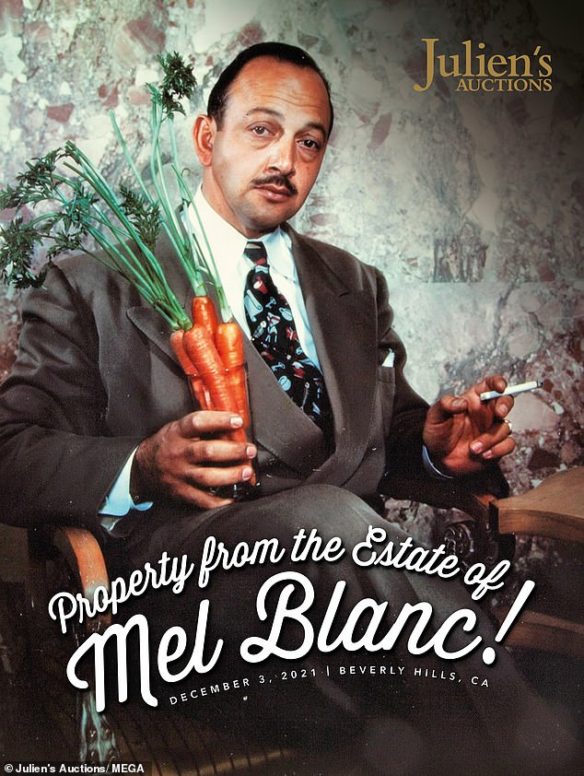 (13) FIRST BLACK VOICES MATTER ACQUISITION. Angry Robot Books has officially announced their first signing through the Black Voices Matter unagented submissions.
Denise Crittendon is a former editor of NAACP's The Crisis, and her debut Where it Rains in Colour infuses romance, mystery and the mythology of the Dogon tribe of Mali, West Africa in a magical mythological retelling. Significantly inspired by her time in Zimbabwe, Crittendon questions and plays with universal beauty standards, and challenges the structure and system in which they live. Where it Rains in Colour will be published in December 2022.
Launched as an open submissions program for sff novels by Black authors in the wake of the Black Lives Matter protests last year, this window was originally meant to run from July to September 2020, but Angry Robot Books has since announced it would be extended indefinitely. For more details, click through here.
(14) ZERO GRAVITY NEWS. [Item by Martin Morse Wooster.] In the Washington Post, Christian Davenport talks about how he experienced weightlessness for only $7,500 on a Zero-G flight from Dulles Airport, as he talks about adapting to weightlessness and how these flights give a lot of encouragement to disabled people who get to stand for the first time in years. "You don't have to go to space to experience weightlessness".
… I did the flips, flew arms wide like Superman, did the Spider-Man crawl along the ceiling, all in an airplane with a couple dozen others as part of a flight organized by Zero Gravity Corp. (Zero-G) that flew out of Dulles Airport in Northern Virginia earlier this month.

For years, the company has been able to create an experience for customers that mimics the weightless experience of going to space by flying in parabolic arcs. The plane flies up on a pitched ascent, and then crests over like a roller coaster into a steep dive that allows passengers to float for about 30 seconds at a time.

In a hollowed-out cabin of a 727 jet, with padding all around, your body rises involuntarily, and you float, effortlessly, as if you were a molecule in a state of matter that suddenly went from a solid to freewheeling gas, pinging around with abandon….
(15) ACRONYMS IN SPACE. "The Search for Life Around Alpha Centauri Just Took a Major Leap Forward" – Gizmodo tells how.
Our nearest neighbor, Alpha Centauri, is 4.37 light-years from Earth, which is super close from a cosmological perspective but achingly far from a human point of view. A new telescope promises to bring this intriguing star system, and any habitable planets it holds, into closer view.

The new mission, called TOLIMAN, was announced today in a press release. TOLIMAN is the ancient Arabic name for Alpha Centauri—the closest star system to Earth—but it's also an acronym for Telescope for Orbit Locus Interferometric Monitoring of our Astronomical Neighbourhood. Once in space, astronomers will use the orbital observatory to search for potentially habitable exoplanets around Alpha Centauri.

The international collaboration includes teams from the University of Sydney, Breakthrough Initiatives, Saber Astronautics, and NASA's Jet Propulsion Laboratory. Peter Tuthill from the Sydney Institute for Astronomy at the University of Sydney will lead the project.
(16) PUSHBACK. NPR tells how"NASA's DART spacecraft will smash into asteroid to test planetary defense tool".
…In the first real-world test of a technique that could someday be used to protect Earth from a threatening space rock, a spacecraft is scheduled to blast off from Vandenberg Space Force Base in California on Tuesday at 10:20 p.m. PST.

The golf-cart-size spacecraft will travel to an asteroid that's more than 6 million miles away — and poses no danger to Earth — and ram into it. Scientists will then watch to see how the asteroid's trajectory changes.

NASA has identified and tracked almost all of the nearby asteroids of a size that would cause world-altering damage if they ever struck Earth. For the foreseeable future, none that big are headed our way. But there are plenty of smaller asteroids, the size that could take out a city, that still haven't been found and tracked.

It's a space rock of that smaller size that the DART mission — short for Double Asteroid Redirection Test — will take head-on…
[Thanks to Michael Toman, Cat Eldridge, Mike Kennedy, Jim Meadows III, Chris Barkley, Martin Morse Wooster, JJ, John King Tarpinian, and Andrew Porter for some of these stories. Title credit belongs to File 770 contributing editor of the day Andrew (not Werdna).]