By Steve Vertlieb: My little brother, Erwin, and I visited with Ray Milland in 1967, during the theatrical run of Hostile Witness on stage in Philadelphia. Ray was both starring in and directing the production prior to its Broadway and, later, screen debut. He could not have been nicer to these two youthful admirers. We met him outside the theater by the stage door prior to his matinee performance. He ushered us into his dressing room, and was deeply appreciative of our admiration for his long, distinguished screen career. When we asked if he'd mind posing for a photograph with the two of us, he said that he'd be happy to do so. Then he smiled, and said … "Wait, let me put on my toupee first." Ray was the epitome of kindness, and a "class act" in every sense of that now over used term. He was, in short, exactly what one might have expected from a star of the golden age of Hollywood…a gentleman.
When he saw this early 1936 Paramount promotional photo of himself, he grinned and said "WOW, is that really me? I can't believe that I was ever that young. That was when I had my own hair." He then signed the photo with his name, followed by a question mark. He just couldn't believe that he had ever been so young. He was a genuinely nice man.
Here's Ray in a publicity still for his Oscar winning performance as alcoholic author Don Birnam in Billy Wilder's groundbreaking 1945 motion picture The Lost Weekend, which featured Miklos Rozsa's brilliant, Oscar-nominated score.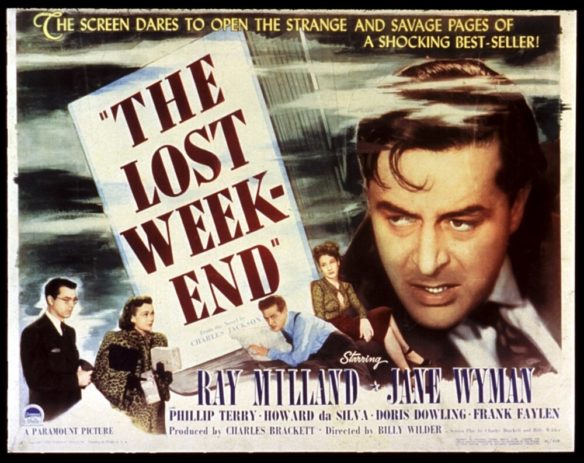 Memorably, here is a rare still advertising his starring performance in Paramount Pictures' unforgettable cinematic ghost story based upon Dorothy Macardle's novel "Uneasy Freehold." "No unseen or uninvited guests" but only "Stella By Starlight," as painted with notes and keys by Ray Milland, and composed by the great Victor Young in the classic ghost tale, The Uninvited (Paramount, 1944).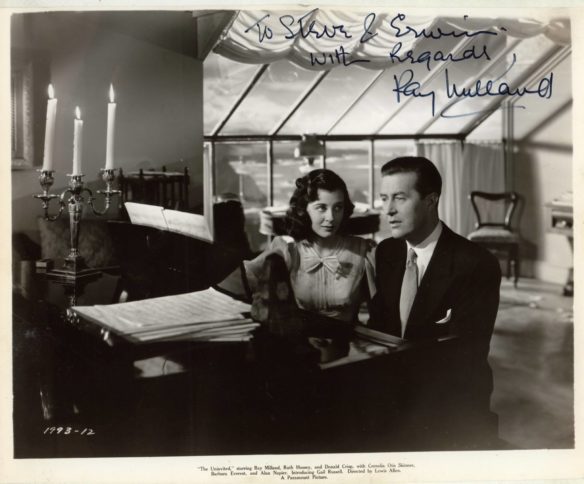 Wishing you a most gracious Happy Birthday in Heaven.