(1) DOCTOR WHO SEASON BEGINS. Plenty of Radio Timesy-Wimey stuff to start today's Scroll. First — "Doctor Who series 13 episode 1 review 'The Halloween Apocalypse'" – Radio Times does an episode recap, and beyond this excerpt it's rather spoilery:
…Flux – Chapter One: The Halloween Apocalypse gets off to a rollicking start. Mid escapade. High peril. No hanging about. Well, unless you're Yaz and the Doctor, who, as we join them, are dangling from a "gravity bar" over an ocean of roiling acid. The pace is set for a fast, fun-packed opener, impressively achieved by Chibnall and his team in the face of COVID.

Shorn of former sidekicks Ryan and Graham, the Doctor (Jodie Whittaker) and Yaz (Mandip Gill) make good sparring partners, fielding a balance of amity and antagonism, and falling into the trad pattern in which the Time Lord withholds vital information, imperilling the companion's life, who in turn proves to be plucky and resourceful….
(2) BOX SCORE. And how many watched the kickoff of Season 13? Let Radio Times tell you: "Doctor Who overnight ratings revealed for The Halloween Apocalypse".
The overnight viewing figures for yesterday's episode of Doctor Who are in, with the series 13 premiere drawing in almost 4.5 million viewers.

BBC News entertainment correspondent Lizo Mzimba shared the audience statistics on Twitter, writing that an audience of 4.43 million watched series 13's first episode – Chapter One: The Halloween Apocalypse.

While the figures are higher than most of series 12's overnight statistics, they are lower than those for last season's premiere, which was watched by 4.88 million.
(3) RAMPANT SPECULATION. Don't read this if you're avoiding spoilers: Radio Times returns with the gossip being shared around the TARDIS' water-cooler: "Swarm Doctor Who regeneration theories – is Swarm a Time Lord?"
… Obviously, there's a lot to dissect from the episode – but one of the most striking moments had to be the introduction of new (or possibly old) baddie Swarm, who claims to be an ancient foe of the Doctor now wiped from her memory (thanks to events glimpsed in series 12 finale The Timeless Children)….
(4) WORK OF A LIFETIME. Artist James A. Owen has launched a Kickstarter appeal to fund an art book retrospective/meditation/collection of illustration, comics, pop culture, and stories celebrating his career: "Illustrations & Illuminations by James A. Owen". As of this writing, it's raised $13,421 of the $30,000 goal.
…I envisioned this book as the place where I could collect and display the very best of that work: the color covers and best pages from STARCHILD; the line art, color covers, and process drawings for illustrations from the IMAGINARIUM GEOGRAPHICA books; the drawings I made of J.R.R. TOLKIEN, C.S. LEWIS, and the other Inklings of Oxford from Diana Glyer's book BANDERSNATCH; the lost graphic novel proposal for Peter Beagle's THE LAST UNICORN; covers for books by Jeff VanderMeer & Cat Rambo, and Alma Alexander, and Catherynne Valente; illustrations and covers for the emagazine THE INTERGALACTIC MEDICINE SHOW; comics adaptations of a song by TORI AMOS and a story by F. PAUL WILSON; unseen art for LOST TREASURES OF THE PIRATES OF THE CARIBBEAN; the covers from my periodical WORDS & PICTURES; designs for the magazines ARGOSY and INTERNATIONAL STUDIO; spot illustrations and pinups from every era of my career; and much, much more….
(5) A FINE ROMANCE, WITH NO KISSES. Deadline reports "'Eternals' Banned In Saudi Arabia, Qatar, Kuwait, Bahrain & Oman".
… Eternals was originally scheduled to open in the region on Nov. 11.

While official reasons weren't provided by either the studio or the local territories, here's our understanding of what went down:

In Saudi Arabia, Bahrain and Oman, the censors were seeking further cuts beyond any scenes of intimacy and that Disney opted not to make the edits, hence distribution certificates weren't issued.

Meanwhile in Kuwait and Qatar, the Chloe Zhao-directed super-gods movie was blocked. The issue, we hear, may not solely be the same-sex kiss, but rather that overall these markets have historically had a problem with the depiction of gods and prophets, something they consider blasphemous.

In the United Arab Emirates, Jordan, Lebanon and Egypt we understand that a version of the film will be released that removes all scenes of intimacy — be they heterosexual or homosexual. This is generally normal practice for these markets…
(6) ALL THE ANGLES. At A Pilgrim in Narnia, Brenton Dickieson provides a fascinating in-depth review of a recent book about Tolkien's Chaucer scholarship: "The Doom and Destiny of Tolkien's Chaucer Research: A Note on John M. Bowers, Tolkien's Lost Chaucer (2019)".
Tolkien's Lost Chaucer is a book about a book that was doomed from the start….

… However, the entire book is really about how the fertile imagination and poetry of Chaucer provides an unceasingly rich bed for Tolkien's scholarship and mythopoeic work. Tolkien's Lost Chaucer really does reveal Tolkien's thinking about words, accents, language development, regional dialects, poetic beauty, storytelling, character development, and moral and creative rooting. It is also an excellent book for showing Tolkien's process as a thinker and editor. Readers of the Middle-earth histories and other Tolkien archival collections (like Christopher Tolkien's publication of Beowulf) will recognize the patterns of intensive work, attention to detail, harried productivity, and chronic procrastination endemic to Tolkien's lifetime at the desk.

When I mention "parallels" between Chaucer and Tolkien, I really mean that this is what the book is about. These parallels are often striking, sometimes surprising, and almost always thoughtful (even when they are peculiar). I wish, as I always do of writers about intertextual influence, that Bowers would have better distinguished the different kinds of probability of influence on a case-by-case basis. Usually, though, the reader can make that decision, deciding if this is a Chaucerian moment in Tolkien or merely a striking coincidence….
(7) MODEL LYRICS. [Item by Martin Morse Wooster.] In the Financial Times behind a paywall, Helen Brown says that Gilbert and Sullivan's "The Major General's Song" from The Pirates of Penzance (you know, "I am the very model of a modern major general") has surprising sf resonances because of Tom Lehrer.
The smart-alecky language and precision-engineered rhyme scheme of (W.S.) Gilbert's original lyrics made their way, via (Tom) Lehrer, into 20th-century science-fiction nerd culture, which made the song a perfect fit for tv shows.  On a 1978 episode of the BBC's Dr. Who written by Douglas Adams (The Pirate Planet) Tom Baker's incarnation of the Time Lord sang, 'I am the very model of a Gallifreyan Buccaneer.'  The song was also sung in episodes of Star Trek:  The Next Generation (1992), Babylon 5 (1997), and Star Trek:  Discovery  (2019)… In 2017, the adorably chaotic minions from Universal's animated film Despicable Me 3 turned the song into giddy gibberish as "Papa Mamma Loca Pipa." As their helium-high voices tear into lines like 'toka bocca pissa lalasagnaa,' you can imagine Gilbert laughing from beyond the grave.
(8) KRUGMAN, PALMER, WALTON & MORE. City University of New York will present "Imagining the Future: Science Fiction and Social Science", a free virtual event, on November 10 at 7:30 p.m. Eastern. Reservations required — register on Zoom. (The event will be available a few days later on their YouTube channel.)
What do science fiction and social science have in common? Much in the way economists and political scientists forecast the results of social and economic structures, science-fiction writers envision future civilizations, both utopian and dystopian, through systematic world-building. Paul Krugman, distinguished professor of economics at the CUNY Graduate Center, joins in a conversation about the connection between the social sciences and fantasy fiction, and how they often inspire each other. The panel, including sci-fi novelists and social scientists who often refer to fiction in their writing and interviews, includes: Henry Farrell, a professor working on democracy and international affairs at Johns Hopkins University and editor-in-chief of the Monkey Cage blog at The Washington Post; Ada Palmer, author of the Terra Ignota series and associate professor of history at the University of Chicago; Noah Smith, who writes about economics at Noahpinion and is a former Bloomberg columnist and assistant professor at Stony Brook University; and Jo Walton, whose many books include Tooth and Claw, Ha'Penney, and the recent Or What You Will.
(9) SLIME TIME. "Ghostbusters Confidential: Inside The Original Ghost Shop" is an in-person Artist Talk being presented at the Museum of Neon Art in Glendale, CA on Saturday, November 20 at 5:00 p.m. Pacific. If you're going to be in the neighborhood, tickets are available for $10 at the link.
To celebrate the release of Ghostbusters: Afterlife, neon and kinetic sculptor Stuart Ziff returns to MONA to share an entertaining, behind-the-scenes glimpse of the creatures in the original 1984 Ghostbusters movie. As "Head of Ghost Shop," Stuart managed over 50 artists and technicians to create the film's iconic monsters and creatures. Stuart will explain the creature-creation process–from concept drawings to filming on set– for fan-favorite creatures including "Slimer", "Terror Dogs", and The "Stay Puft Marshmallow Man." 
(10) ONCE A FANNISH MECCA. Daytonian in Manhattan profiles "The Doomed 1919 Hotel Pennsylvania", a famous NYC hotel remembered by fans like Andrew Porter under its operating name the Statler-Hilton as the site of the 1967 Worldcon, NyCon 3, and other sff events. Porter commented there:
In 1966, a bunch of science fiction fans, myself included, checked out holding our annual World Science Ficrtion Convention at the then-Statler-Hilton. I remember being shown around. Sights included the enormous drained swimming pools, over which were built office space, as well as all the function rooms, some of which no longer exist. We did indeed hold the convention there, with numerous problems, including that the elevator operators were on strike because they were being automated out of existence. I remember the hotel rooms had window air conditioners, but also had hot, cold, and ice water faucets in the bathrooms, from the days before air conditioning was installed. Over the 1960s to 1990s, numerous science fiction, comics and Star Trek conventions were held in the hotel, and I have numerous photos with those facilities behind the people. Or just Google "1967 World Science Fiction Convention" to see reports, photos, etc.
All the hotel fittings were auctioned in September, and the building is expected to be demolished .
(11) MEDIA BIRTHDAY.
1996 – Twenty-five years ago, DS9's "Trials and Tribble-ations" first aired in syndication. A most delightful episode, it blended footage from the original "The Trouble with Tribbles" into the new episode in a manner that allowed the characters from DS9 to appear to interact with the original Trek crew. The story was by Ira Steven Behr, Hans Beimler and Robert Hewitt Wolfe with Ronald D. Moore and René Echevarria writing the actual script.
Paramount promoted the episode by arranging the placement of around a quarter million tribbles in subways and buses across the United States. Huh. Critics loved it. Really. Truly. They all turned into fanboys. And everyone loved that they brought Charlie Brill back to film new scenes. It was nominated for a Hugo at LoneStarCon 2 but lost out to Babylon 5's "Severed Dreams". I personally think it should've won.
(12) TODAY'S BIRTHDAYS.
[Compiled by Cat Eldridge.]
Born November 4, 1912 — Wendayne Ackerman. Was the translator-in-chief of 137 novels of the German space opera series Perry Rhodan, the majority published by Ace Books. She left Germany before WWII to escape anti-Semitism, working as a nurse in France and London. After the war she emigrated to Israel where she married her first husband and had a son. Following their divorce she moved to LA in 1948, and soon met and married Forrest J Ackerman. (Died 1990.)
Born November 4, 1917 — Babette Rosmond. She worked at magazine publisher Street & Smith, editing Doc Savage and The Shadow in the late Forties. Rosmond's first story, co-written by Leonard M. Lake, "Are You Run-Down, Tired-" was published in the October 1942 issue of Unknown Worlds. Error Hurled was her only genre novel and she only wrote three short genre pieces. She's not available at the usual suspects. (Died 1997.)
Born November 4, 1920 — Sydney Bounds. Writer, Editor, and Fan from Britain who was a prolific author of short fiction, and novels — not just science fiction, but also horror, Westerns, mysteries, and juvenile fiction — from 1946 until his death in 2006. He was an early fan who joined Britain's Science Fiction Association in 1937. He worked as an electrician on the Enigma machine during World War II, and while in the service, he started publishing the fanzine Cosmic Cuts. The film The Last Days on Mars (an adaptation of "The Animators") and the Tales of the Darkside episode "The Circus" are based on stories by him. In 2005, two collections of his fiction were released under the title The Best of Sydney J. Bounds: Strange Portrait and Other Stories, and The Wayward Ship and other Stories. In 2007, the British Fantasy Society honored him by renaming their award for best new writer after him. (Died 2006.)
Born November 4, 1934 — Gregg Calkins. Gregg Calkins, Writer, Editor, and Fan. Mike Glyer's tribute to him reads: "Longtime fan Gregg Calkins died July 31, 2017 after suffering a fall. He was 82. Gregg got active in fandom in the Fifties and his fanzine Oopsla (1952-1961) is fondly remembered. He was living in the Bay Area and serving as the Official Editor of FAPA when I applied to join its waitlist in the Seventies. He was Fan GoH at the 1976 Westercon. Calkins later moved to Costa Rica. In contrast to most of his generation, he was highly active in social media, frequently posting on Facebook where it was his pleasure to carry the conservative side of debates. He is survived by his wife, Carol."
Born November 4, 1953 — Kara Dalkey, 68. Writer of YA fiction and historical fantasy. She is a member of the Pre-Joycean Fellowship (which if memory serves me right includes both Emma Bull and Stephen Brust) and the Scribblies. Her works include The Sword of Sagamore, Steel Rose, Little Sister and The Nightingale. And her Water trilogy blends together Atlantean and Arthurian mythologies. She's been nominated for the Mythopoeic and Otherwise Awards. 
Born November 4, 1953 — Stephen Jones, 68. Editor, and that is putting quite mildly, as he went well over the century mark in edited anthologies edited quite some time ago. The Mammoth Book of Best New Horror accounts for eighteen volumes by itself and The Mammoth Book of (Pick A Title) runs for at least another for another dozen. He also, no surprise, to me, has authored a number of horror reference works such as The Art of Horror Movies: An Illustrated History, Basil Copper: A Life in Books and H. P. Lovecraft in Britain. He's also done hundreds of essays, con reports, obituaries and such showing up, well, just about everywhere. He's won a number of World Fantasy Awards and far too many BFAs to count. 
Born November 4, 1955 — Lani Tupu, 66. He'd be here just for being Crais and the voice of the Pilot on the Farscape series but he's actually been in several other genre undertakings including the 1989 Punisher as Laccone, and Gordon Standish in Robotropolis. He also had roles in Tales of the South Seas, Time Trax and The Lost World. All of which we can guess were filmed in Australia. Lastly he appears in the Australian remake of the Mission: Impossible series which if you haven't seen it is quite excellent. I just found it in DVD format several years back. 
Born November 4, 1960 — James Vickery, 61. In Babylon 5, he played Neroon which is where I remember him from as he was a Right Bastard there. His major Trek universe role was as Rusot, a member of Damar's Cardassian resistance group, appearing in the DS9 episodes "The Changing Face of Evil", "When It Rains…" and "Tacking Into the Wind".  He also played a Betazoid in Next Gen's "Night Terrors" and a Klingon in Enterprise's "Judgment" episode. And he voiced the character Legolas in a radio adaptation of The Lord of the Rings.
(13) COMICS SECTION.
(14) REUBEN AWARD. Ray Billingsley, creator of the comic strip Curtis, won the Reuben Award for Outstanding Cartoonist from the National Cartoonists Society on October 17. Billingsley is the first Black person to win in the 75-year history of the award. A video of his acceptance speech is here. SVA profiled him in February: "'Curtis' Creator and SVA Alumnus Ray Billingsley on His Career, His Influences and Representation in Comics".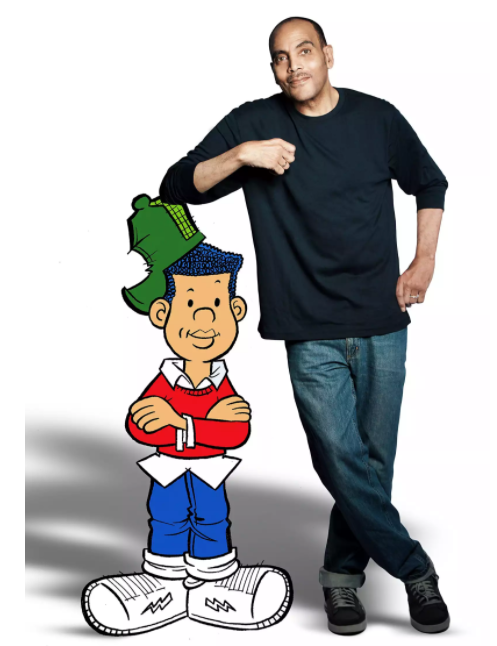 (15) STUFFING YOUR CHRISTMAS SCOFFING. The Guardian's Stuart Heritage enjoys a snarkfest at the expense of an annual UK TV tradition: "John Lewis Christmas advert 2021: this alien girl is here to ravage our planet".
There are plenty of theories why the John Lewis Christmas ad no longer hits as hard as it once did. You could look at the fortunes of John Lewis itself, which has spent the last couple of years locked in a nightmare of plunging revenues and store closures. You could look at how aggressively every other retailer has attempted to rip off the tear-jerky John Lewis Christmas ad formula, to the extent that sitting through an ITV commercial break in November or December is now exactly the same as suffering through the first 10 minutes of Up on a neverending loop in an abandoned corn silo full of crying children.

But judging by this year's offering, you might also suggest that John Lewis has run out of ideas. Because this year's ad is such a straight-down-the-line John Lewis Christmas advert that you can only imagine it was assembled by tombola.

Sweet children? Check. Bittersweet ending? Check. Maudlin cover version of a song you once liked? Check, in this case a version of Together in Electric Dreams that sounds like it was performed by someone who has tumbled down a well and just realised nobody is coming to rescue her…. 
(16) REN FAIRES. Maryland's NPR outlet produced a segment about "The Timeless Endurance Of Renaissance Faires". Listen to it at the link. The guests are Eleanor Janega, a guest teacher in women's history at the London School of Economics and Political Science; host, "Going Medieval;" author, "The Middle Ages: A Graphic History"; Kevin Patterson, executive director, Red Barn Productions; son of the founders of the original Renaissance Faire; and Rachel Lee Rubin, professor and chair of American Studies, University of Massachusetts-Boston; author, "Well Met: Renaissance Faires and the American Counterculture." There's also a sizable photo gallery.
The modern Renaissance Faire blossomed from a children's arts education program in Agoura, California, in 1963.

Now, almost 60 years later, it's a nationwide industry.

More than 200 festivals operate around the country — complete with jousters, performers, carnival games, vendors selling bespoke costume pieces, and various meats on a stick.

So why has the Renaissance Faire endured, nay, proliferated, all these years later?
(17) VIDEO OF THE DAY. An Audi is such a powerful car that it lets customers buy scary houses!
[Thanks to Martin Morse Wooster, JJ, John King Tarpinian, Andrew Porter, John A Arkansawyer, Bill, Michael Toman, Cat Eldridge, and Mike Kennedy for some of these stories. Title credit belongs to File 770 contributing editor of the day Andrew (not Werdna) riffing off an idea by Jon Meltzer.]