(1) WORLDCON 76 HOTEL RESERVATIONS. Worldcon 76 emailed the passkey to members today and opened reservations today at 1 p.m. Pacific time.
Wow.

Worldcon 76 members reserved over 4000 room nights since we distributed the reservations link this afternoon.

Wow.

If you have any reservation questions, please contact [email protected]

— Worldcon 76 San Jose (@worldcon2018) November 23, 2017
The Marriott and the Hilton, the two hotels directly connected to the CC, and the least expensive of the official hotels, almost immediately became unavailable, presumably due to being booked up.
The Fairmont, the party hotel ($199/night), The Hyatt Place, Westin and The AC Hotel by Marriott remain available on the convention dates (Thursday-Monday) at this writing. However, when I added Wednesday to my request, only The Fairmont was available.
(2) NEW "NOTHING TO READ" UPDATE. North Carolina schoolteacher Becky Sasala (sister of John Joseph Adams) has received hundreds of donated books for her classroom library since her appeal was posted in September (item #2).
There's no rest for the English teacher. You guys have compiled just over 700 books for my school! This was the first batch. We filled that cart twice more! pic.twitter.com/AV6bSUSJpE

— Becky Sasala (@Becky_Sasala) November 22, 2017
(3) NEW HUMBLE BOOK BUNDLE. The "Humble Book Bundle: Stellar Sci-Fi & Fantasy by Tachyon" is offered for a short time at the usual pay-what-you-want rates. Pay more, unlock more books.
$1+

Falling In Love with Hominids by Nalo Hopkinson (World Fantasy Award Winner)
The Third Bear by Jeff VanderMeer
In Calabria by Peter S. Beagle
Invaders by Junot Diaz, Katherine Dunn, Jonathan Lethem, contributors
Wicked Wonders by Ellen Klages

$8+

The Very Best of Kate Elliott
The Very Best of Tad Williams
Beyond the Rift by Peter Watts
Rewired: The Post-Cyberpunk Anthology by John Kessel, James Patrick Kelly, contributors
Wonders of the Invisible World by Patricia A. McKillip
Pirate Utopia by Bruce Sterling

$15+

Context: Further Selected Essays on Productivity, Creativity, Parenting, and Politics in the 21st Century by Cory Doctorow
Darkness: Two Decades of Modern Horror by Stephen King, Clive Barker, George R. R. Martin, contributors
Slow Bullets by Alastair Reynolds (Locus Award Winner)
Not So Much, Said the Cat by Michael Swanwick (Hugo Award Winner)
Hap and Leonard Ride Again by Joe R. Lansdale
Steampunk II: Steampunk Reloaded by Ann and Jeff VanderMeer, contributors
The Emperor's Soul by Brandon Sanderson (Hugo Award Winner)

$18+

Central Station by Lavie Tidhar (Campbell Award Winner)
Yesterday's Kin by Nancy Kress (Nebula Award Winner)
Led Astray: The Best of Kelly Armstrong
Hap and Leonard: Blood and Lemonade by Joe R. Lansdale
Steampunk III: Steampunk Revolution by Ann and Jeff VanderMeer, contributors
The New Voices of Fantasy by Peter Beagle, Jacob Weisman, contributors
(4) SPEED SHOPPING. Pornokitch's 2017 gifting guide begins with Becky Chambers' suggestions:
Becky recommends:

If they need a laugh after this garbage fire of a year, then get them season one of The Good Place, because we're all messy humans, we're all caught up in stupid systems beyond our control, and we all could use some frozen yogurt.

If they're still ride or die for Game of Thrones while simultaneously nursing a bitter resentment over how much better this show could do by its female characters, then get them the Skyrim Special Edition and let them live their own high fantasy adventure. It's got all the time-sucking goodness of the original game, but the art's gloriously remastered, the DLC's unlocked, and the bugs are (mostly) fixed.

If they aren't religious but love the winter holidays for symbolizing love and kindness in the face of the freezing dark, then give them The Bonobo and the Atheist by primatologist Frans de Waal. It's a thought-provoking, perspective-altering, brain-calming book about compassion as natural instinct….
(5) PIXAR EXEC PLACED ON "SABBATICAL". The Washington Post's Steven Zeitchik, in "Disney animation guru John Lasseter takes leave after sexual misconduct allegations" follows up The Hollywood Reporter piece about John Lasseter being sidelined on sexual harassment allegations by noting that Lasseter is "one of the most important figures in modern entertainment…in charge of hundreds of people, making discipline a more fraught affair."
Citing a six-month "sabbatical," Lasseter closed the letter to employees saying he looked forward to "working together again in the new year."

It remains unclear whether Disney could extend the leave or make it permanent. The company released a short statement late Tuesday saying that it is "committed to maintaining an environment in which all employees are respected and empowered to do their best work. We appreciate John's candor and sincere apology and fully support his sabbatical."

…The Hollywood Reporter piece cited one woman as saying Lasseter was prone to "grabbing, kissing, making comments about physical attributes." Another woman said that Lasseter's statement Tuesday that centered on hugs minimized the alleged offenses. Many of the accusers were anonymous.

The story said that the writer-actor Rashida Jones had left "Toy Story 4" because of Lasseter's behavior. But she and writing partner Will McCormack later issued a statement that "we did not leave Pixar because of unwanted advances.  That is untrue." They said instead that diversity concerns played a role. "There is so much talent at Pixar and we remain enormous fans of their films.  But it is also a culture where women and people of color do not have an equal creative voice," they wrote.
(6) BLABBING FOR DOLLARS. SyFy Wire says "J.J. Abrams is selling Star Wars spoilers for a good cause".
When J.J. Abrams directed Star Wars: The Force Awakens, he was his usual secretive self right up until the end. But something seems to have changed in the Star Wars/J.J. Abrams universe since he was tapped to direct Star Wars Episode IX. He's now selling Star Wars spoilers to the highest bidder.

After Ron Howard's masterful use of social media when it came to getting fans engaged with Solo: A Star Wars Story, Lucasfilm's Kathleen Kennedy announced a shift in the company's attitude toward sharing more information with the fans, and we even saw a verified Twitter handle pop up for Abrams (no tweets yet, but we remain hopeful), but J.J.'s appearance on HBO's Night of Too Many Stars definitely qualifies as a new development.

To help raise money for autism, J.J. offered up the plot of Star Wars Episode IX to one lucky bidder. What happened next? Well, you'll just have to watch….
(7) UNLIKELY PAIR. Yahoo! Entertainment writer Gwynne Watkins, in "'Star Wars: The Last Jedi': 7 things we just learned", summarized  the Entertainment Weekly issue devoted to the film, and says that a reunion between Luke and Leia is highly unlikely and General Leia's successor is her childhood friend Admiral Holdo, played by Laura Dern.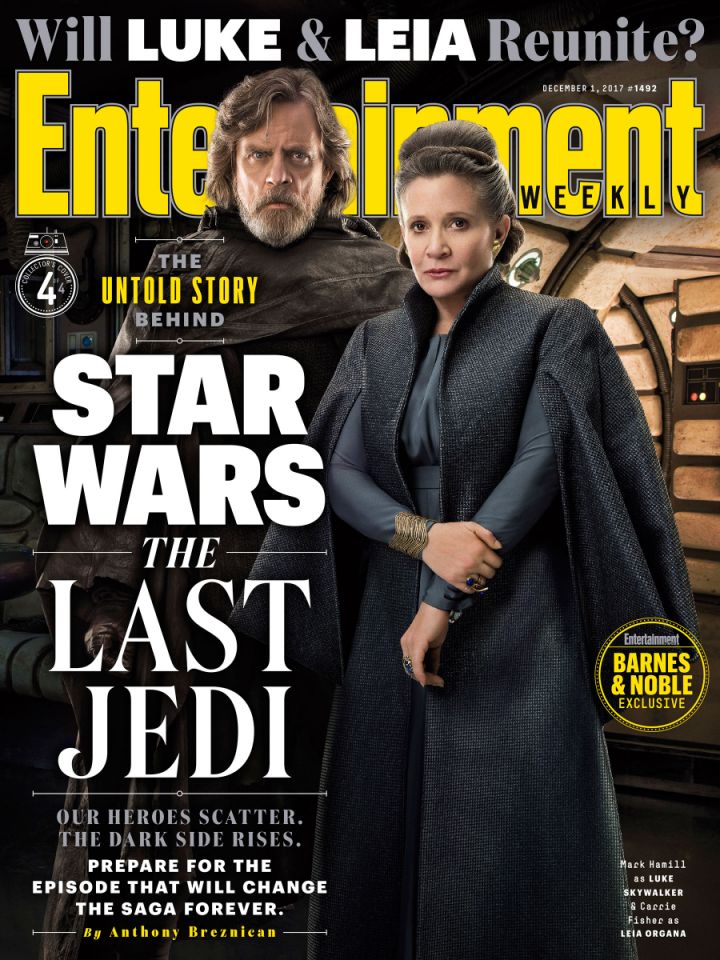 One of the biggest questions for longtime Star Wars fans is whether estranged twins Luke and Leia will find one another in The Last Jedi, since Carrie Fisher died before shooting any scenes for Episode IX. (Lucasfilm has said they will not digitally recreate the character to conclude her storyline.) EW won't say either way, but their coverage suggests that a reunion may have been planned for the third part of the trilogy, which is slated for 2019 and hasn't begun production. Nevertheless, director Rian Johnson chose to pair Luke (Mark Hamill) and Leia on one of EW's four covers. "It's nice seeing them on the cover though. Even if all we have is that," Johnson told the magazine.
(8) PROP WORTH MORE THAN MOVIE. After Bonham auctioned Robby the Robot for over $5.3M, Phil Nichols of Bradburymedia did a little checking —
According to Wikipedia (so it MUST be true!), the movie cost $1,968,000. It took in $2,765,000 at the box office. So Robby alone has earned nearly double what the film earned.
(9) TWENTY THOUSAND LEAGUES FOR FORTY THOUSAND BUCKS, Another sff treasure sold at yesterday's auction was "A Harper Goff scrapbook pertaining to 20,000 Leagues Under the Sea", for $40,000 including premium.
"Forget Robby," says Andrew Porter. "Click on images to see gorgeous preproduction paintings and behind-the-camera photos."
Titled "A history in informal photography," this is production designer Harper Goff's personal scrapbook documenting every stage of the making of his masterpiece, Walt Disney's 20,000 Leagues Under the Sea. This is a mother lode of original artwork, rare photographs, and ephemera from the film, curated throughout with Goff's handwritten captions. Goff's original art in this lot includes an incredible series of 5 vividly-colored, action-packed sequential paintings of the submarine Nautilus' attack on the USS Abraham Lincoln.
(10) PHOENIX EVENT CANCELLED. From Nerdvana we learn — "LepreCon 44 cancels 2018 Phoenix Science Fiction and Fantasy Art Expo".
The Phoenix Science Fiction and Fantasy Art Expo, which was scheduled for March 16-18, 2018, in conjunction with and presented by LepreCon 44, is apparently canceled — but may be retooled.

…According to the group's Facebook page and website, "LepreCon 44, in the form of the Phoenix Sci-Fi & Fantasy Art Expo, which was scheduled for March 2018 at the Unexpected Art Gallery, has been cancelled. LepreCon, Inc. is no longer associated with any event of that name.
(11) UNDER THE HAMMER. Dominic Winter Auctioneers will be handling the sale of The Library Of Richard Adams on  December 14. The catalog is now available in print and online.
Comprising 1500 books sold singly and in groups in a total of 134 lots, the antiquarian highlights include a Shakespeare Second Folio, 1632, a uniformly calf-bound set of the first editions of Jane Austen, a very rare first edition of John Milton's Lycidas, 1638, and a two-volume first edition of Samuel Johnson's Dictionary, 1755. Among the highlights of the children's books are first editions of Alice in Wonderland, Wind in the Willows and the four Winnie-the-Pooh books. Adams's deep interest in the history of English literature, poetry, nineteenth-century fiction and country matters is also reflected throughout the collection, many of the highlights of which bear his bookplate.
(12) COCO. NPR's Bob Mondello says: "In 'Coco,' Pixar Finds Joyous Life — In Death"
We get there alongside young Miguel (voiced by Anthony Gonzalez), who lives with his shoemaking family in a Mexican village. He's a happy kid, except for one thing: His family has lived an entirely music-free existence for three generations. His grandmother (Renee Victor) has forbidden it all — no blowing into soda bottles, no listening to passing car radios and absolutely no mariachis.

Miguel knows why. Years ago, his musical great-great-grandfather grabbed his guitar and left, never to return. On Dia de Muertos — the Day of the Dead — when it's said the deceased return to visit their families, no one so much as mentions great-great-granddad. Which means Miguel gets a bit of a shock when he strums a guitar in a cemetery on that day and finds himself and his street puppy Dante — get it? — transported to the land of the dead.
(13) TANZER REVIEWED. NPR's Jason Sheehan approves of subtlety: "'Creatures Of Will And Temper' Is A Slow-Burn Slide Into Deviltry"
The biggest problem with most urban fantasy is that, by nature, it becomes alternate history. It's Renaissance Italy, but with vampires. Or Victorian England, but everyone wears cool goggles and has an airship!

And there's nothing wrong with that. There are stories out there that have done wonders with their skewed versions of our shared past. I'm just saying it's rare for a writer to be able to do one (insert a fantasy element into a historical setting) without doing the other (letting the dragons eat the townsfolk, thereby giving rise to Bert the Dragonbasher, hero of West Crudwell, or whatever). And when someone pulls it off as well as Molly Tanzer in her new novel, Creatures of Will and Temper, it's worth checking out just to see the restraint and careful worldbuilding gymnastics required.

Honestly, if that was the only thing Tanzer accomplished here, I'd be impressed. She has created a Victorian England which is, in all noticeable ways, exactly the Victorian England we know — the mother of our modern world, by turns smoky, smutty, gross and backward, then beautiful, wondrous and louche with the turn of a corner. And yet, embedded in it — woven so closely into the fabric of normalcy that almost no one can see it — Tanzer has given us … demons.
(14) DON'T SPARE THE ROD. John W. Campbell would have been thrilled to hear it: "U.K. Water Companies Sometimes Use Dowsing Rods To Find Pipes".
Most of the major water companies in the United Kingdom use dowsing rods — a folk magic practice discredited by science — to find underwater pipes, according to an Oxford Ph.D. student and science video producer who accidentally discovered the practice is still in use.

Ten out of the U.K.'s 12 regional water and sewer utilities confirmed to Sally Le Page that they at least occasionally use dowsing rods, also known as divining rods or "witching sticks," to locate underground water sources. Many of the companies later emphasized that dowsing is done by individuals, not as a company-wide policy, and that it does not cost any money.

Le Page began asking water companies about the practice after her parents told her that they saw a water technician holding "two bent tent pegs" to decide how much of the road needed to be closed off. Le Page was incredulous and started asking water companies if this was an actual practice they used.
(15) FREQUENT VISITOR. It's been in and out of Europe multiple times: "Plague reached Europe by Stone Age".
Plague was present in Europe during the late Stone Age, according to a study of ancient remains.

Writing in Current Biology journal, researchers suggest the deadly bacterium entered Europe with a mass migration of people from further east.

They screened more than 500 ancient skeletal samples and recovered the full genomes of plague bacteria from six individuals.

These six variously date to between Late Neolithic and Bronze Age times.

The plague-positive samples come from Russia, Germany, Lithuania, Estonia and Croatia.

"The two samples from Russia and Croatia are among the oldest plague-positive samples published. They are contemporary with [a] previously published sample from the Altai region [in Siberia]," co-author Alexander Herbig from the Max Planck Institute for the Science of Human History in Jena, Germany, told BBC News.

The plague bacterium, Yersinia pestis, was responsible for several major historic pandemics, including the infamous Black Death in the 14th Century, which is estimated to have killed between 30% and 60% of Europe's population.
[Thanks to Cat Eldridge, JJ, John King Tarpinian, Andrew Porter, Martin Morse Wooster, Chip Hitchcock, and Carl Slaughter for some of these stories. Title credit goes to File 770 contrinbuting editor of the day Kip W.]