(1) SUPERVULNERABLE. If you want every moviegoer to have a shot at breaking your password, use one of these: "DC and Marvel superheroes top breached password lists" at TechRepublic.
Specops Software, a password management and authentication company, released a roundup of "Star Wars"-themed breached passwords for the sci-fi holiday May 4 also known as Star Wars Day. On Monday, the company brought the DC and Marvel universes into the fold and released a roundup of commonly used superheroes found on compromised password lists.

…To determine the list, the company said it assessed more than 800 million breached passwords from a subset of more than 2 billion breach passwords in Specops Breached Password Protection. Having appeared on lists of breached passwords more than 151,000 times, Marvel's Loki ranked No. 1 in Specops findings. Runner-up "Thor" appeared on breached password lists nearly 148,000 times to edge out No. 3 "Robin." In order, "Joker" and "Flash" round out the top five.

Interestingly, the top 10 includes six DC characters compared to Marvel's four appearances with "Batman" (DC), "Superman" (DC), "Vision" (Marvel), "Falcon" (Marvel) and "Penguin" (DC) topping the list. The findings add a cybersecurity fold to the classic debate about the two comic book universes.
(2) ESSENCE OF WONDER. "'For All Mankind': Reimagining Space, Society, and History on the Apple TV+ Show" will be the topic of Essence of Wonder with Gadi Evron on Saturday, July 10 at 3:00 p.m. Eastern. Register at the link. Can be viewed on StreamYard, YouTube, and Facebook Live.
Gadi couldn't stop talking about "For All Mankind" until we promised to build an episode around it. Joining him and Karen to share their impressions of the show will be R.W.W. Greene (author of The Light Years and Twenty Five to Life), Helen Montgomery (Chair of Chicon 8), and Alex Fayette (board member of both Karen's and Gadi's startups).
(3) NOT JUST MASKS. [Item by Martin Morse Wooster.] In the Washington Post, Lauren Orsini discusses how cosplayers coped during the pandemic. She focuses on professional cosplayers such as Yaya Han, who shifted to making masks during the early part of the pandemic but has managed to recoup some of her income streams through social media and promotional material for videogame companies. "Cosplaying in the pandemic, after E3 and other conventions were cancelled".
…Ejen Chuang, a cosplay photographer and the author of Cosplay In America, said that based on his informal polls in the fandom, it wasn't unusual for cosplayers to have pared down their participation during the pandemic. However, there have been a few opportunities over the past year: Even as some events took on a virtual format, a handful brought cosplay along with them. Hashtags like Anime Expo's #MaskYourMasquerade and #DragonConGoesVirtual encouraged cosplayers to show off their looks and win prizes, even while they were staying safe at home.

Some cosplayers also found ways to meet safely in person during the pandemic. Chuang organized multiple socially-distanced photoshoots in his local Austin, Texas. By shooting with a long lens, he could photograph from six feet away or more while simulating proximity.

"You usually show the back of the camera to the cosplayer as you go," he said, referring to the LCD screen found on the photographer's side of a modern digital camera. "What I had to do was put my camera on a bench, walk six feet away, and then the cosplayer would look at the camera, give me feedback, walk away, and then I would pick it up again."…
(4) THE SJW CREDENTIAL THAT ATE TOKYO. "A super realistic giant 3D cat has appeared on a Shinjuku billboard" in Japan and Time Out has the story:
… The digital billboard spans over three floors and stands out from the rest as it features a curved LED screen, which can display 4K images, and is accompanied by speakers…

To introduce the new 3D technology to the streets of Tokyo, Cross Shinjuku has started teasing a short video of a giant 3D calico cat. The cat will have its official debut on Monday July 12, when it will wake up when the screen turns on at 7am every morning and go to sleep in the evening before the screen turns off at 1am. The cat will also appear every so often in between ads throughout the day and meow at nearby pedestrians.

For now, the cat is only showing up briefly during the day, so you'll have to keep your eyes peeled.
There's a dedicated live YouTube video that let's you monitor the billboard for feline appearances in realtime. When the cat shows up, this is what you see —
(5) INSTANT SEQUEL. Yahoo! looks back at the late director's impact as a blockbuster creator: "How Hollywood idiocy almost killed Richard Donner's Superman".
…Donner was a proven commercial entity when he was given the project, having just had an enormous (and shamelessly enjoyable) smash with the first Omen (1976). So it was that the producers – Ilya Salkind, his father Alexander, and their partner Pierre Spengler – handed him a 550-page monster of a script by Godfather scribe Mario Puzo, and assigned him the job of directing not only Superman, but Superman II, which they intended to film at the same time.

This kill-two-birds production strategy has been fairly common practice in the decades since – it happened with the Back to the Future sequels, the Matrix sequels, the entire Lord of the Rings trilogy, and the second and third Pirates of the Caribbeans. James Cameron is doing it with Avatars 2 and 3. But it was really breaking new ground in the 1970s, when the very concept of the numbered sequel was in its infancy, and it seems to have caused teething troubles from start to finish.
(6) MEMORY LANE.
1968 — Fifty-three years ago at BayCon, Roger Zelazny was nominated for two Hugos. He would win the Best Novel Hugo for Lord of Light where the other nominated works were The Einstein Intersection by Samuel R. Delany, Chthon by Piers Anthony, The Butterfly Kid by Chester Anderson and Thorns by Robert Silverberg. He was also nominated for a Best Novella for "Damnation Alley" but would lose out to Philip José Farmer's "Riders of the Purple Wage". Zelazny's acceptance speech according to the BayCon Hugo Awards Ceremony Transcription cleaned version was concise: "Completely unexpected. Thank you very much. End of speech."
(7) TODAY'S BIRTHDAYS.
[Compiled by Cat Eldridge.]
Born July 6, 1916 — Donald R. Christensen. Animator, cartoonist, illustrator, writer. He worked briefly at Warner Bros. studio, primarily as a storyboard artist for Bob Clampett's animation unit.  After that, he worked for Dell, Gold Key and Western Publishing comic books, as well as Hanna Barbera, Walter Lantz Productions and other cartoon studios. He wrote and provided illustrations for such comic book titles as Magnus, Robot Fighter, Donald Duck, and Uncle Scrooge. (Died 2006.)
Born July 6, 1918 — Sebastian Cabot. He's here because he's in the Hugo nominated The Time Machine as Dr. Philip Hillyer. Several years later, he'll be in the animated The Sword in the Stone voicing both Lord Ector and The Narrator. Likewise he'd be Bagheera in The Jungle Book, and The Narrator in The Many Adventures of Winnie the Pooh. Lastly he shows up in the Sandman film as Count, Conrad Nagel Theater. (Died 1977.)
Born July 6, 1945 — Burt Ward, 76. Robin in that Batman series. He would reprise the role in voicing the character in The New Adventures of Batman and Legends of the Superheroes, and two recent animated films, Batman: Return of the Caped Crusaders and Batman vs. Two-Face. (Has anyone seen these?) The latter are the last work done by Adam West before his death. 
Born July 6, 1951 — Rick Sternbach, 70. Best known for his work in the Trek verse sharing with Star Trek: The Motion Picture where he designed control panel layouts and signage for the Enterprise. He's next hired for Next Gen where communicator badge, phasers, PADDs and tricorders are all based on his designs. These designs will also be used on DS9 and Voyager. He also pretty much designed every starship during that time from the Cardassian and Klingon ships  to the Voyager itself. He would win the Best Professional Artist Hugos at SunCon and IguanaCon II, and he was the Artist Guest of Honor at Denvention 3. 
Born July 6, 1952 — Hilary Mantel, 69. Though best remembered as the author of the Wolf Hall franchise, she's actually written some genre fiction. The Mysterious Stranger involves supernatural occurances in a small British town in the Fifities; and Beyond Black is about a psychic who sees more than she wants to. She also indulged in alternative history in the short story, "The Assassination of Margaret Thatcher – August 6th 1983". 
Born July 6, 1952 — Geoffrey Rush, 69. First genre role is like the Mystery Men series which I'll bet everyone has forgotten, followed by House on Haunted Hill, Finding Nemo and some other genre work as well with his major genre role being as Barbossa in the Pirates of the Caribbean franchise. And I'll include his role in Shakespeare in Love as Philip Henslowe even if strictly speaking it's not genre related as I really, really love that film. 
Born July 6, 1946 — Sylvester Stallone, 75. Although I think Stallone made a far less than perfect Dredd, I think the look and feel of the first film was spot on for the 2000 A.D. series which was something the second film, which though it had a perfect Dredd in Karl Urban, utterly lacked. And Demolition Man with him as Sergeant John Spartan was just perfect.
Born July 6, 1957 — John Barnes, 64. I read and really liked the four novels in his Thousand Cultures series which are a sort of updated Heinlein-style take on the spread of humanity across the Galaxy. What else by him do y'all like? I see he's not put out a novel in a decade now, a pity that. Much of his fiction is available at the usual suspects though not most of the Thousand Cultures series.
(8) CLOUD CITY ON HOLD. [Item by Mike Kennedy.] JEDI (cloud computing services) contract with Microsoft cancelled; replacement contracts with both Amazon & Microsoft to be let. Unclear which is to be Master & which to be Padawan. "Pentagon cancels disputed JEDI cloud contract with Microsoft".
The Pentagon said Tuesday it canceled a disputed cloud-computing contract with Microsoft that could eventually have been worth $10 billion. It will instead pursue a deal with both Microsoft and Amazon and possibly other cloud service providers.

"With the shifting technology environment, it has become clear that the JEDI Cloud contract, which has long been delayed, no longer meets the requirements to fill the DoD's capability gaps," the Pentagon said in a statement.

The statement did not directly mention that the Pentagon faced extended legal challenges by Amazon to the original $1 million contract awarded to Microsoft. Amazon argued that the Microsoft award was tainted by politics, particularly then-President Donald Trump's antagonism toward Amazon's chief executive officer, Jeff Bezos. Bezos owns The Washington Post, a news outlet often criticized by Trump.

The Pentagon's chief information officer, John Sherman, told reporters Tuesday that during the lengthy legal fight with Amazon, "the landscape has evolved" with new possibilities for large-scale cloud computing services. Thus it was decided, he said, to start over and seek multiple vendors.

Sherman said JEDI will be replaced by a new program called Joint Warfighter Cloud Capability, and that both Amazon and Microsoft "likely" will be awarded parts of the business, although neither is guaranteed. Sherman said the three other large cloud service providers — Google, IBM and Oracle — might qualify, too.
(9) CROSSING ONE GAME WITH ANOTHER. "Animal Crossing Edition Monopoly arrives in August" reports Yahoo!
Tom Nook apparently isn't content to sell houses to millions of Animal Crossing: New Horizons players. It seems he wants Monopoly players to fork over their bells as well. That's right, as leaks suggested in recent days, Animal Crossing Edition Monopoly is on the way.

Rather than the traditional Monopoly format of buying properties and charging other players rent when they land on one of them, you'll be collecting bugs, fish, fossils and fruit. You'll also meet some other characters and carry out island tasks. When you stop by Nook's Cranny, you can use bells to buy decorations, which are worth Nook Miles. Whoever collects the most Nook Miles is the winner….
(10) FURNISH YOUR UFO. "Ikea Believes In Aliens: Their New Assembly Manuals Are Proof" – and Print Magazine posted several pages of examples.
The US government recently released a statement that essentially declared that aliens aren't not real. With the recent spat of unexplained aerial phenomena, they stopped themselves short of saying "I believe," X-Files style and offered zero evidence of extraterrestrial life existing.

Because of this announcement, IKEA is ready to open its doors to new customers, especially if they have seven eyes and green lizardy skin. In recent work with Ogilvy Dubai, the beloved furniture brand created a unique collection of assembly manuals explicitly made for, you guessed it, aliens.

At first glance, these manuals might not seem all that different than the brand's typical guidebooks. When looked at a little closer, you'll find alien-like creatures and an undecipherable language made precisely for the little beings depicted.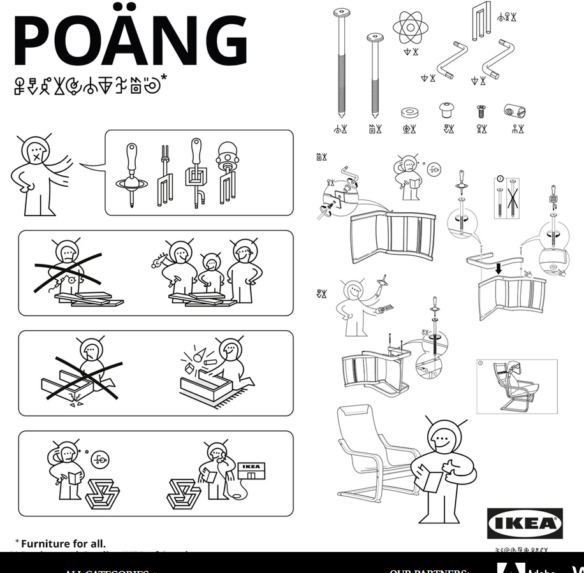 (11) NEW CHAMPION. "The Largest Comet Ever Found Is Making Its Move Into a Sky Near You" says the New York Times.
Astronomers spy rocky and icy wanderers of all shapes and sizes zipping past Earth all the time. But earlier this month, they were flabbergasted when they caught sight of the largest comet they'd ever seen.

One of its discoverers, Pedro Bernardinelli, an astrophysicist at the University of Pennsylvania, conservatively estimates the object's dusty, icy nucleus is between 62 and 125 miles long. That means this comet is as small as five Manhattan Islands, or it's larger than the Island of Hawaii. Hale-Bopp, which lit up night skies in the late 1990s with its 25-mile-long nucleus, was long perceived to be a giant among comets. But the nucleus of this comet, Comet C/2014 UN271, "is still two or three Hale-Bopps across," said Teddy Kareta, a planetary astronomy graduate student at the University of Arizona. "It's just wild."

"With a reasonable degree of certainty, it's the biggest comet that we've ever seen," said Colin Snodgrass, an astronomer at the University of Edinburgh.

The comet is currently inside Neptune's orbit. Over the next decade, it will scoot toward the inner solar system. More of its ices will be vaporized by the sun's glare, causing it to effervesce and brighten. In 2031, it will get within a billion miles of the sun — almost but not quite making it to Saturn — before journeying back to the coldest, darkest fringes of our galactic neighborhood.
(12) VIDEO OF THE DAY. [Item by Martin Morse Wooster.] In "Honest Trailers: Demon Slayer Mugen Train," the Screen Junkies say that if you're a fan of the Demon Slayer anime series, you'll "wipe that Pocky dust off your wall scroll" to see this film. But if you don't know anything about the series, you'll be as confused as someone who starts the MCU with Age of Ultron.
[Thanks to John King Tarpinian, Cat Eldridge, Mike Kennedy, Rob Thornton, Theoryman, Andrew Porter, Martin Morse Wooster, JJ, and Michael Toman for some of these stories. Title credit belongs to contributing editor of the day Jim Janney.]