(1) TWITTER SUSPENDS CHUCK TINGLE. Chuck Tingle's Twitter account has been suspended for reasons he explains on Facebook. He used music with some of his tweets, believing it was fair use, but the rights holder served Twitter with "many" DMCA takedown notices and his entire account was locked. Since this morning Tingle has been trying to get social media users to pressure the rights holder to withdraw the takedown notices. Getting paid for use of the music is what the rights holder would want, one expects.
(2) LEVAR BURTON'S TURN IS HERE. "LeVar Burton Shares His Excitement Over Finally Hosting 'Jeopardy!'" at TV Insider. Includes some great tweets.
From Emmy-nominated actor to children's television host to movie director to Grammy-winning Spoken Word artist, LeVar Burton has nearly done it all in his career. However, one dream has alluded him until now, and that is to host Jeopardy! But that is about to change.

The Star Trek: The Next Generation actor — and self-confessed Jeopardy! superfan — finally gets his go at hosting the long-running quiz show Monday, July 26 to Friday, July 30, as the conveyor belt of guest hosts keeps moving. Burton and his fans have actively been campaigning for the Reading Rainbow host to permanently take over from the late Alex Trebek.
(3) WHEEL OF TIME SERIES. Lots of media stuff from today's Comic-Con@Home, like this Deadline item: "Amazon Debuts 'The Wheel Of Time' S1 Teaser Poster, Previews Premiere Date".
During its Comic-con gig on Friday, the streamer unveiled the teaser poster which features Pike's Moiraine. The series adaptation of Robert Jordan's books, is set in a sprawling, epic world where magic exists, but only women can use it. The Wheel of Time is co-produced by Amazon Studios and Sony Pictures Television and comes from Agents of S.H.I.E.L.D and Chuck writer Rafe Judkins, who is showrunner and exec producer.
(4) SPARE CLIMATE CHANGE? Last night The Late Show with Stephen Colbert started off with a local St. Louis weather report: "And Now For Your Weather Update… Everything's On Fire Or Underwater".
(5) MANGA'S OLYMPIC AMBASSADORS. In the Washington Post, Kyle Melnick says customers at Purple Narwhal Music and Manga in Rockville, Maryland are buying lots of Olympics-related manga and anime. "Anime and manga take center stage at the Olympics". Nine Japanese anime characters are ambassadors for the Tokyo Olympics.
…Many anime — an umbrella term for animation produced in Japan — are adapted from manga, similar to how American comics are shaped into movies. The Olympics ambassadors, who are featured on official Olympics merchandise, are Son Goku (from the Dragon Ball series), Usagi Tsukino ("Sailor Moon"), Naruto Uzumaki ("Naruto"), Monkey D. Luffy ("One Piece"), Astro Boy ("Astro Boy"), Cure Miracle and Cure Magical ("Pretty Cure"), Shin-chan ("Crayon Shin-chan") and Jibanyan ("Yo-kai Watch").

Goku is perhaps the most well-known of the group. He's a naive but determined warrior who is the main character of "Dragon Ball Z," which was one of the first popular anime in the United States in the 1990s and introduced many fans to the genre. Usagi Tsukino, whose alter ego is Sailor Moon, is the star of another popular 1990s anime, and she welcomed many women into what had previously been a predominantly male fan base.
(6) RICK BOATRIGHT (1955-2021). Rick Boatright, stalwart supporter of and contributor to the 1632 series, died Thursday July 22 of pancreatic cancer at the age of 66. Eric Flint mourned him on Facebook:
My old friend Rick Boatright died today. It wasn't exactly unexpected, because he'd been diagnosed with state four pancreatic cancer, but it came quicker than anyone had expected. I talked to him on the phone just a few days ago and he was in pretty good spirits and thought he still had at least a few weeks left and possibly even a few months. But… he didn't.
I don't have anything more to say about it right now. I'll be writing encomiums about him in the future. But today… Today just sucks.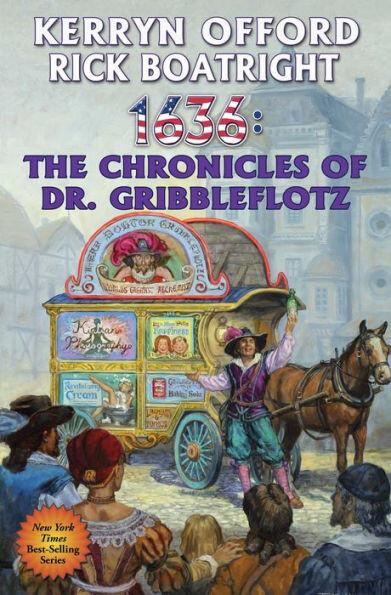 His ISFDB bio notes Boatright had been a software developer since the early 1970s for not-for-profit social service agencies. Since 2001 he'd been a writer and editor, as well as the Head Geek, for Eric Flint's 1632 alternate history world. (He also held the Head Geek title for Jim Baen's Universe magazine.) He also was famous for providing tech support for other authors at Baen Books. Boatright taught high school physics and chemistry in his home town of Topeka, Kansas.
Boatright said in 2014 that despite his fiction credits his real gift was, "… explaining science fiction from the inside. What are the limits and potentials of a slower-than-light multi-stellar civilization? What happens to radio in a time travel story to the 17th century? How do you make records in the 17th century? What is the likely social impact and the biological effect of the English War Unicorn on 21st century warfare?"
(7) ANDERSSON OBIT. Horror/fantasy writer C. Dean Andersson, who also wrote as Asa Drake, passed away July 5 after a long illness. He published 8 novels, the first in 1981 co-authored with Nina Romberg. His short fiction "The Death Wagon Rolls On By" received a Bram Stoker Award nomination in 2008. G.W. Thomas did an in-depth interview with him for Dark Worlds Quarterly.
(8) MEMORY LANE.
2002 – Nineteen years ago, Jo Walton wins the Astounding Award for Best New Writer. She had finished second in the balloting for that award the previous year. It was her first major award. A year later, she would win the World Fantasy Award for her ever so tasteful Tooth and Claw.
(9) TODAY'S BIRTHDAYS.
[Compiled by Cat Eldridge.]
Born July 23, 1888 — Raymond Chandler. He of the hardboiled detective genre who I hold in very high esteem is listed by ISFDB as doing some stories of a genre nature, to be exact "The Bronze Door", "The King In Yellow", "Professor Bingo's Snuff" and "English Summer: A Gothic Romance". I've neither heard it nor read these. So who here has read them? (Died 1959.)
Born July 23, 1914 — Virgil Finlay. Castle of Frankenstein calls him "part of the pulp magazine history … one of the foremost contributors of original and imaginative art work for the most memorable science fiction and fantasy publications of our time."  His best known covers are for Amazing Stories and Weird Tales. "Roads", a novella by Seabury Quinn, published in the January 1938 Weird Tales, and featuring a cover and interior illustrations by him, was originally published in extremely limited numbers by Arkham House in 1948. It's now available from the usual suspects. (Died 1971.)
Born July 23, 1923 — Cyril M. Kornbluth. I certainly read and really liked The Space Merchants and The Syndic which are the two I remember reading these years on.  His only Hugo was at Torcon II (1973) for "The Meeting" which he wrote with Frederik Pohl (the co-winner was "Eurema's Dam" by R. A. Lafferty). He later was awarded a Retro Hugo for "The Little Black Bag" at Millennium Philcon, and was inducted into the First Fandom Hall of Fame. (Died 1958.)
Born July 23, 1938 — Ronny Cox, 83. His first genre role was in RoboCop as OCP President Dick Jones who comes to a very bad end. Later roles Gen. Balentine  in Amazon Women on the Moon in "The Unknown Soldier" episode, Martians Go Home as the President, Total Recall  as Vilos Cohaagen, Captain America as Tom Kimball and a recurring role for a decade on Stargate SG-1 as Senator Robert Kinsey/Vice President Robert Kinsey. 
Born July 23, 1956 — Kate Thompson, 65. Author of the New Policeman trilogy which I highly recommend. Though written for children, you'll find it quite readable. And her Down Among the Gods is a unique take on a Greek myths made intimate. She got nominations for the Hal Clement (Golden Duck) Award and Mythopoeic Fantasy Award for Children's Literature. 
Born July 23, 1947 — Gardner Dozois. He was founding editor of The Year's Best Science Fiction anthology and was editor of Asimov's Science Fiction magazine for twenty years. He won fifteen Hugos for his editing and was nominated for even more. He also won the Nebula Award for Best Short Story twice, once for "The Peacemaker" and once for "Morning Child". Stories selected by him for his annual best-of-year volumes have won, as of six years ago, 44 Hugos, 32 Locus, 41 Nebulas, 18 Sturgeon Awards and 10 World Fantasy. Very impressive! (Died 2018.)
Born July 23, 1982 — Tom Mison, 39. He is best known as Ichabod Crane on Sleepy Hollow which has a cross-over into Bones. He's Mr. Phillips in The Watchmen. It's barely (if at all) genre adjacent but I'm going to note that he's Young Blood in A Waste of Shame: The Mystery of Shakespeare and His Sonnets. Currently he's got a main role in second season the See SF series on Apple TV which has yet to come out.
Born July 23, 1989 — Daniel Radcliffe, 32. Harry Potter of course. (Loved the films, didn't read the novels.) Also Victor Frankenstein's assistant Igor in Victor Frankenstein, Ignatius Perrish in Horns, a horror film, and Rosencrantz in Rosencrantz and Guildenstern Are Dead at the Old Vic in London.  
(10) COMICS SECTION.
Mother Goose and Grimm show how you break the fourth wall of a comic strip.
Ziggy encounters a strange example of truth in advertising.
xkcd has a guide to commonly mispronounced equations. I know you'll find it as helpful as I did. Daniel Dern says it reminds him of this equation from Fritz Leiber's "Nice Girl With 5 Husbands" in the April 1951 issue of Galaxy –
(11) MEET PUERTO RICO'S SUPERHERO. Publishers Weekly's Brigid Alverson spotlights "La Borinqueña: A Puerto Rican Superhero for Our Time".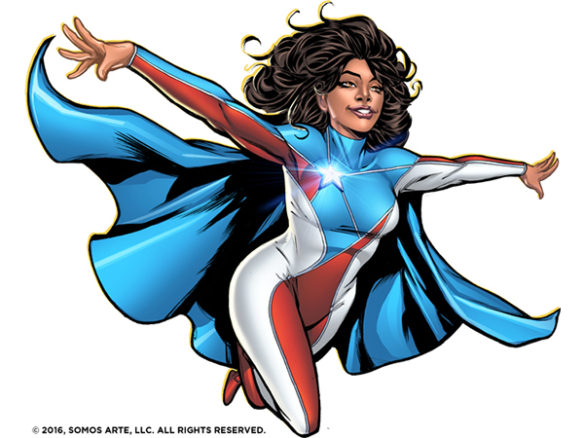 In Edgardo Miranda-Rodriguez's comics series La Borinqueña, the eponymous superhero swoops down to Puerto Rico to solve problems that range from guiding lost turtles to rescuing people from a hurricane. Turns out the Puerto Rican superwoman comes to the rescue in real life, too.

Miranda-Rodriguez created La Borinqueña five years ago as a superhero who would entertain readers with her superpowered adventures, express Puerto Rican pride, and make more people aware of the island's economic problems. Just like in the comics, though, there have been unexpected twists, and La Borinqueña and her creator are not only raising awareness of Puerto Rico and its dilemmas, but is also raising cold, hard cash to help Puerto Ricans recover from Hurricane Maria, fend off the pandemic, and move toward self-determination.

The third volume of La Borinqueña (with artist Will Rosado) will come out this month, and Miranda-Rodriguez plans to do a book tour in the fall. He will be bringing chocolate: He contracted with the 92-year-old chocolate maker Chocolate Cortés P.R., to include an original, four-episode La Borinqueña story on the inner wrappers of its bars. Proceeds from the sale of the limited-edition chocolate bars will go to the Fundación Cortés as part of the La Borinqueña Grants Program, which distributes grants to local nonprofits….
(12) JOHN NO LAST NAME. Stephen Haffner previewed some of the beautiful work on The Complete John the Balladeer by Manly Wade Wellman, which can be preordered from Haffner Press.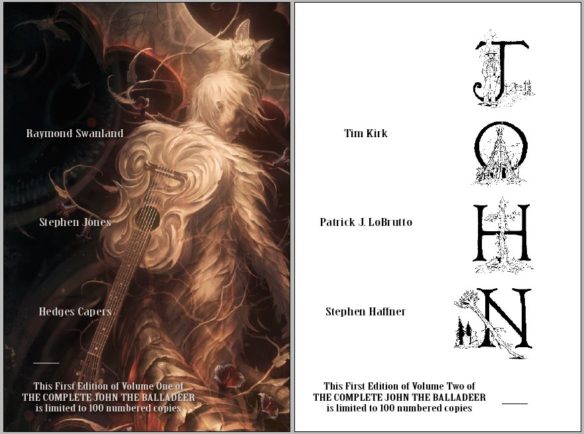 (13) PRODIGY. This teaser trailer for the new animated Nickelodeon series, Star Trek: Prodigy debuted during the "Star Trek Universe" panel at Comic-Con@Home 2021.
Developed by Emmy® Award-winners Kevin and Dan Hageman ("Trollhunters" and "Ninjago") the CG-animated series STAR TREK: PRODIGY is the first "Star Trek" series aimed at younger audiences and will follow a motley crew of young aliens who must figure out how to work together while navigating a greater galaxy, in search for a better future. These six young outcasts know nothing about the ship they have commandeered – a first in the history of the Star Trek Franchise – but over the course of their adventures together, they will each be introduced to Starfleet and the ideals it represents
(14) CHEAPER THAN BEZOS: THIS, SURELY, IS A NO-SMOKING FLIGHT. "You can ride a hydrogen balloon to outer space for $125K" reports the New York Post.
Space flight company Space Perspective has debuted a $125,000 package that brings travelers to the edge of our atmosphere on a space-age hot air balloon.

The Florida-based firm aims to usher in a "new era in luxury travel experiences" with their groundbreaking — or air-breaking, if you will — tour aboard the Spaceship Neptune, a massive, hydrogen-supported balloon with a passenger capsule in tow that can float atop Earth's atmosphere. There, amateur astronauts can soak up the splendor of our home planet, thanks to panoramic windows and reclining seats.
(15) DINO DRIVE-BY. Jurassic Quest has returned to the Rose Bowl in Pasadena from July 23-August 1. The concept kind of reminds me of the Lion Country Safari that used to be in Orange County.

The new Jurassic Quest Drive Thru version of the show features over 70 life-like dinosaurs including the very popular T. Rex, Spinosaurus and Triceratops. Jurassic Quest's herd of animatronic dinos are displayed in realistic scenes that allow guests to experience them roaring and moving from their own vehicles as they drive their way through the tour. Baby dinosaurs greet guests and bring big smiles to explorers of all ages. During the drive-thru experience, guests are guided by an engaging and informative digital audio tour featuring show entertainers and dino wranglers that lasts about an hour. Guests stay in their cars throughout the tour with limited contact, if any, with staff who wear masks, social distance, and follow all state and local guidelines regarding health and safety. To further ensure the safety of patrons and staff, all equipment and workstations undergo regular sanitization throughout the show. All attendees receive a free, safari-style family photo in their vehicles set against a dinosaur backdrop as a memento of their experience.
(16) FRANK. Here's an alarming item you can squeeze into that empty space on your bookshelf. (As if any Filer would have that!) "Peeping On The Bookshelf Booknook" at Souamer.
(17) THANK GOD IT'S FRIDAY. Wait, we're not talking about just the end of the week — the End of the World is coming! But when and how? Isaac Arthur explores all the options from manmade to natural, tomorrow to a trillion years in the future.
(18) VIDEO OF THE DAY. [Item by Martin Morse Wooster.] In a spoiler-filled "Space Jam 2: A New Legacy Pitch Meeting" on Screen Rant, Ryan George says the writer at the pitch meeting's goal is to make a film that will convince children to tell their parents, "You know, Warner Bros. Entertainment Inc. really is my favorite multi-media and mass entertainment conglomerate."
[Thanks to Mike Kennedy, Andrew Porter, Paul Weimer, David K.M. Klaus, SF Concatenation's Jonathan Cowie, Daniel Dern, Michael J. Lowrey, Martin Morse Wooster, JJ, Michael Toman, John King Tarpinian, and Cat Eldridge for some of these stories. Title credit belongs to contributing editor of the day Jack Lint (suggested in June 2019).]