(1) BARGE INTO LUNCH. Scott Edelman invites listeners to binge on sushi with award-winning author Pat Cadigan in episode 77 of Eating the Fantastic.
The first of five meals recorded for my Eating the Fantastic podcast was a lunch with Pat Cadigan at Mizu Sushi Bar & Grill, which was a no-brainer when deciding where to host a writer who won the 2013 Hugo Award, as well as the Seiun Award, for her novelette "The Girl-Thing Who Went Out for Sushi."

She also won the Arthur C. Clarke Award twice—for her novels Synners (in 1992) and Fools (in 1995). She's a major fan of professional wrestling, and I'm pleased that when I was editing Rampage magazine during the '90s, she wrote many articles for me on that subject … when her duties as the reigning Queen of Cyperpunk didn't interfere. She's also written tie-in novels for Friday the 13th and Lost in Space, and forthcoming, the official movie novelization of Alita: Battle Angel. She also won a World Fantasy Award in 1981 for editing the magazine Shayol.

We discussed what it was like being Robert A. Heinlein's liaison at the 1976 Kansas City Worldcon, why John Brunner hated her when they first met and what she did to eventually win him over, her secret childhood life as a member of The Beatles, what she and Isaac Asimov had in common when it came to convincing parents to accept science fiction, her original plan to grow up and script Legion of Super-Heroes comics, what she learned about writing from her 10 years at Hallmark Cards, how editor Shawna McCarthy helped birth her first novel, what effect being dubbed the Queen of Cyberpunk had on her career, who's Thelma and who's Louise in her Thelma and Louise relationship with editor Ellen Datlow, our joint friendships with Gardner Dozois, how she came up with her stories in the Wild Cards universe, and much more.
(2) TICKETS TO A FROGGY EVENING. Kermit the Frog has been cast in a local production of Lythgoe Family Panto's The Wonderful Winter of Oz along with Marissa Jaret Winokur as Glinda. Winokur is known for her Tony-winning performance as Tracy Turnblad in the Broadway musical Hairspray.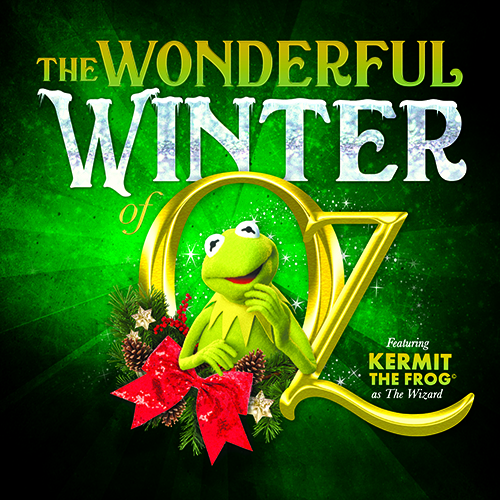 (3) NINE WORLDS. Escape Artists' Amy Brennan begins her "Convention Write Up: Nine Worlds 2018" by discussing accessibility issues, then does extensive coverage of the program:
…After this I was off the hook as it were and could fully relax – which was great because next on the p was Knightmare Live – a role playing game with improv actors and audience participation based on a kids show I grew up with.  It was hilarious and I could never do it justice (though I'm still going to try).

This was followed by Dr Magnet Hands run by the superb (and as described by Ian a Mad Genius when it comes to role playing games) Grant Howitt – plus panel including Helen Gould of the Rusty Quill Gaming podcast (It's one of the best podcasted roleplaying games out there.  I highly, highly recommended it, not least because the party's acronym is LOLOMG ) Dr Magnet Hands has a plan that the panel of heroes has to defeat.  The twist – they and their powers (and the villains they face on the way) are decided by little slips of paper the audience have filled in with random things.  Which is how one of the heroes was Grant Howitt and another was Grant Howitt's arms, and one was the empire snake building.  It was fun, and silly, and just slightly alcohol fuelled.
(4) QUICK SIPS. Charles Payseur starts with a warning in "Quick Sips – Nightmare #72" —
The September horror from Nightmare Magazine certainly lives up to the name, bringing two pieces that definitely lean toward the bloody and gruesome side of things, though in very different ways. The first takes splatter horror and runs with it, featuring hungry houses and the people who feed them. The second outweighs the first in terms of atrocities committed, though, if not perhaps on the grisly details. For it, though, the horror is more about how this kind of thing is normalized and even used as entertainment. And together they make for a rather unsettling, rather shocking, but very interesting issue of speculative horror. To the reviews!
(5) THE UNASSISTED WORD. Phil Plait tells the genesis of his "Science Speed Dating" program at SDCC in an article at SYFY Wire.
So I had the burgeoning field of exoplanetary science on my mind when I got a second invitation to SDCC: This time by my lgood friends at the Science and Entertainment Exchange, a group (a program of the National Academy of Sciences!) to work with the entertainment industry to get a better portrayal of science and scientists in venues like TV shows, movies, and games.

They were setting up an event called "Science Speed Dating", which (despite its name) is a panel where a few scientists talk about something exciting going on in their field… but the kicker is they only have 5 minutes to do it, and they can't use any visuals. So no graphics, nothing but their own voice and enthusiasm.

That sounded like a lot of fun, and I love the Exchange, so I agreed immediately. It turned out to be a good choice. I had a blast.

The event was live-streamed by Skybound Entertainment, and the folks involved were me, my pal and fellow astronomer Clifford V. Johnson, biochemist Jaime Marach, Google software engineer Anthony D. Mays, and economist Alison Sanchez, agricultural researcher Bobby Williams, with the whole thing moderated by Eric Heisserer, who wrote the screenplay for the wonderful movie Arrival….
(6) WOULD YOU LIKE TO OWN A FAMOUS BOOKSTORE? Terry Gilman and Maryelizabeth Yturralde of Mysterious Galaxy Bookstore told fans on their mailing list they are looking for new ownership for the San Diego store.
The key ingredients that will contribute to the success of a new owner are all in place: a loyal customer base, a dedicated, hard-working staff, the technological tools to remain current and relevant, and a beautiful environment that appeals to customers of all ages. We are also here to provide the new owner with the necessary resources to ensure a smooth transition.

We are looking for someone who is passionate about Mysterious Galaxy, who genuinely loves our community, and who understands what it takes to operate a retail business. The conversation begins with you. We know how much you care about Mysterious Galaxy, and perhaps you or someone you know – even a family member ready for a change of pace – would enjoy being the owner of our genre fiction stalwart.

…If you would like to learn more about the opportunity to become Mysterious Galaxy San Diego's new owner, please contact Terry Gilman at [email protected].
(7) A HALF CENTURY OF DOONESBURY. The Washington Post's Michael Cavna interviewed Garry Trudeau for a piece on the 50th anniversary of Doonesbury — "'Big Satire is the least of Trump's problems': Garry Trudeau weighs in on how humor has taken on the president".  Trudeau, who still does new strips on Sundays, explains his cartooning philosophy and discusses why he thinks Trump is much worse than Nixon.
One satiric tactic that Trudeau is finding particularly fruitful is the mimicry of President Trump's tweets. Right-leaning "Doonesbury" correspondent Roland B. Hedley Jr. has his own Twitter account, and his Fox News-like takes on this administration become comic-strip fodder for the left-leaning Trudeau.

"Writing for Roland must be what it was like creating material for Colbert on his old show," Trudeau says. "Every day is Opposite Day."

"I like the challenge of trying to think like the White House," he adds, "of finding a positive spin for words and actions that are basically indefensible — and doing it with only 280 characters is a kind of comedy haiku."
(8) TODAY IN HISTORY
September 21, 1937 — J.R.R. Tolkien's The Hobbit was published.
(9) TODAY'S BIRTHDAYS
[Compiled by Cat Eldridge.]
Born September 21, 1866 – H.G. Wells. Writer with The Time Machine, a novella in 1895, being his first genre work. Way, way too many genre works to list here so I'll single out The War of The Worlds, The Island of Doctor Moreau and The Invisible Man as works by him that influenced the genre in a very noticeable manner. He also wrote an impressive amount of short fiction and non-fiction as well.
Born September 21 – Stephen King, 71. On the grounds, y'all know more about him than I can recount here, I'll tell some encounters regarding him. The first was in the early 80s outside his favorite breakfast spot which was opposite the Bangor Public Library. He was dressed in very worn jeans and an old t-shirt leaning up against the wall near the doorway, possibly waiting for Tabitha, with his face deep in a paperback book. No, I didn't get close enough to see what the book was.My other memorable encounter was not with him but with the props for Pet Sematary which were shot at in part a location near Bangor, Maine. I knew the on-site EMTs and they got permission for me to tour the props area. What a chill that was as what is now digital was in the early 80s very much physical. And a dead cat mocked up is appallingly horrid!
Born September 21. Cassandra Rose Clarke, 35. Her contributions to The Witch Who Came in from the Cold, a serial fiction piece coauthored with Max Gladstone, Lindsay Smith, Ian Tregillis, and Michael Swanwick, are  superb. The Mad Scientist's Daughter was nominated for the Philip K. Dick Award, and her YA novel, The Assassin's Curse, was nominated for Young Adult Library Services Association's Best Fiction for Young Adults.
(10) DESIGNING DISNEYLAND. Jessica Leigh Hester's Atlas Obscura article "Creating Disneyland Was Like Building a Brand New City" is filled with diagrams – especially of the version of the park Disney originally proposed to build near his studio in Burbank. (News to me!)
The Disney theme parks are chock full of amusements, rides, and restaurants, but they're also small cities that must contend with deliveries, trash, and a steady stream of both employees and visitors. No kingdom, however magic, is exempt from all sorts of pesky needs and demands. People need to be able to move from one place to another, they have to refuel, and, every so often, they'll need to relieve themselves. Ideally, they'll accomplish all of this efficiently, and without getting frustrated or dizzyingly lost.

To cater to these less-than-wondrous requirements, the parks are, in reality, self-contained marvels of metropolis-building. Disneyland Park in California has a reliable transit system—the first monorail in the Western Hemisphere, which debuted just as many cities were expressing their love of cars and traffic by laying down ribbons of highway. Walt Disney World Resort, in Florida, innovated with trash: Cans are spaced precisely 30 feet apart, and all of them empty via underground tubes so that family vacations aren't interrupted by vehicles hauling sun-baked garbage juice.

None of this happened by accident. Long before the parks were magic, they were conceived as two-dimensional representations, or as miniatures. Like many city planners, Disney's chief urban brainstormers and engineers first imagined the parks' shapes, structures, and logistics, on a small scale….
(11) FANTASIA RELIC. A Walt Disney Signed Copy of "Ave Maria" From "Fantasia" is up for bidding at Nate Sanders Auctions until September 27.
Walt Disney signed copy of "Ave Maria", the "interpretation from Walt Disney's 'Fantasia"'. Disney signs in blue crayon on the front free endpaper, "To Mrs Geo Williams with my best wishes – Walt Disney". Printed by Random House, with a 1940 copyright by Walt Disney Productions, book is a beautiful presentation of "Ave Maria", with gilt accents throughout, paired with iridescent color pictures from "Fantasia". Sheet music appears in back, along with pictorial endpapers.
(12) JDA'S WORLDCON SUIT. Jon Del Arroz' lawsuit against Worldcon 76 has at last been successfully transferred to the Santa Clara Superior Court. The new venue shows a case record for "Jonathan Del Arroz vs. San Francisco Conventions, Inc. et al.", Case Number: 18CV334547 dated September 14.
Del Arroz originally filed the suit in San Joaquin County in April, and the parties agreed to transfer it to Santa Clara in June, but that ran into problems which have only recently been worked out.
Santa Clara's case record shows 18 co-defendants – however, other court records give reason to believe only one defendant – the corporation – was timely served.
Here is Rick Moen's breakdown of the latest online entries in the case:
The Events and Hearing section (of chronological case events) begins on Sept. 11, 2018 with the court formally accepting transfer from San Joaquin County, then it notes bulk scan of case documents from the period April 16 – July 3rd, doubtless from San Joaquin County. Then it says a/o Sept. 14th 'Notice of Transfer' (the date the new case record got opened). Last, the only real news: The new case management conference is shown as scheduled for Tuesday, December 18th, at 3:45 pm.

'Judicial Officer' is listed as 'Strickland, Elizabeth'. Ms. Strickland shows in public records as the court civil division's Alternative Dispute Resolution (ADR) Officer, which is of course a primary focus of a case management conference, e.g., seeing if the parties are amenable to mediation, arbitration, or a settlement conference.
(13) GALACTIC JOURNEY. Rosemary Benton's enthusiasm for The Haunting makes it sound well-worth a visit to 1963: "[September 21, 1963] Old Horror and Modern Women (Robert Wise's The Haunting)".
…When I read that there was to be a film adaptation of Shirley Jackson's 1959 novel The Haunting of Hill House I was over the moon. In this time of character driven thrillers blasting onto the silver screen thanks to Alfred Hitchcock and Orson Welles, I was excited yet apprehensive to have one of my favorite author's books translated into a film script. Upon learning that the talent of Robert Wise, director of The Day the Earth Stood Still and West Side Story, was going to be attached to the project I felt I could rest easy. Now that I have seen the end result I confidently predict that this movie will be remembered for the horror genre treasure that it is! Simply put, Robert Wise's The Haunting pays homage to its predecessors of gothic horror, yet breaks new ground in what has been an increasingly campy genre….
(14) SHORT WAVERS. [Item by Mike Kennedy.] OK, so if you're not a football fan you may not be familiar with holding up pictographic play cards on the sideline as a way to communicate play calls to your team without giving them away to the opposing team. Just trust me, it's a thing.
In the Temple University (Owls) football game against the University of Tulsa (Golden Hurricane) on Thursday 20 September, Temple introduced a new wrinkle to this. Stormtroopers. (Yahoo Sports: "Temple used Stormtroopers to hold up play cards on sideline")
Or, at least it looked like that's what they were doing. Whatever they were doing, it must have worked. The Owls survived the Golden Hurricane to take a 31-17 win versus a pre-game betting spread of about 7 points.
What is happening? ? pic.twitter.com/29cqfnHEVx

— ESPN CollegeFootball (@ESPNCFB) September 21, 2018
(15) ROVER ISSUES. NASA's solar powered Opportunity rover is still out of contact with Earth after the recent global Mars dust storm. Now the nuclear powered Curiosity rover is having a less serious issue. Stored data is not being sent, though live data is coming through (NASA blog: "NASA Mars Rover Curiosity: Mission Updates – Sols 2175-2176: Tell Us More, We Want to Help!").
Over the past few days, engineers here at JPL have been working to address an issue on Curiosity that is preventing it from sending much of the science and engineering data stored in its memory. The rover remains in its normal mode and is otherwise healthy and responsive.

The issue first appeared Saturday night while Curiosity was running through the weekend plan. Besides transmitting data recorded in its memory, the rover can transmit "real-time" data when it links to a relay orbiter or Deep Space Network antenna. These real-time data are transmitting normally, and include various details about the rover's status. Engineers are expanding the details the rover transmits in these real-time data to better diagnose the issue. Because the amount of data coming down is limited, it might take some time for the engineering team to diagnose the problem.

On Monday and Tuesday, engineers discussed which real-time details would be the most useful to have. They also commanded the rover to turn off science instruments that were still on, since their data are not being stored. They're also preparing to use the rover's backup computer in case they need to use it to diagnose the primary computer. That backup computer was the rover's primary one until Sol 200, when it experienced both a hardware failure and software issue that have since been addressed.

While the engineers work to understand the problem, Curiosity's science team is using the time to pore over data gathered on Vera Rubin Ridge and come up with the best location for another drilling attempt. We're looking at any clues that tell us the rocks are weaker and better for drilling. As the JPL-based project scientist, I really enjoy watching our scientists from all over the world take on these challenges. And, I also get to witness the brainpower that JPL brings to bear when the rover has a technical issue. We're rooting for the engineering team 100%!

This blog may be less frequent until science operations resume
(16) SAD SCIENCE. NPR reports on the reason behind the recent closure of the Sunspot Solar Observatory ("Shutdown Of New Mexico Observatory Was Part Of Investigation Into Child Pornography").
Officials have explained the mysterious closure of a New Mexico observatory earlier this month, saying they were investigating one of the facility's janitors for possession and distribution of child pornography.

The Sunspot Solar Observatory at Sacramento Peak was shut for 11 days for "a security issue," and its closure drew cheeky speculation that authorities were investigating the presence of UFOs.

According to unsealed federal court documents, the FBI was examining the observatory – but not for the presence of aliens. In an affidavit, an FBI agent wrote that she was looking at the "activities of an individual who was utilizing the wireless internet service of the National Solar Observatory in Sunspot, New Mexico, to download and distribute child pornography."
(17) TOO WOUND UP. Scott Tobias concludes "'The House With A Clock In Its Walls' Is An Eyesore" in an NPR review.
…The new film adaptation, written by Supernatural creator Eric Kripke and directed by Eli Roth, the horror-provocateur responsible for Cabin Fever and Hostel, doesn't have the patience for such grace notes. They've retrofitted Bellairs' book for the age of Harry Potter and Goosebumps, turning the house on High Street into a Hogwarts satellite where magic infuses every object and floorboard, and the CGI pops like the spring-loaded spooks at a carnival funhouse. Roth's instinct for horror maximalism is precisely the wrong approach to the material, which doesn't accommodate that much visual noise….
(The Boston Globe was more generous, giving 2.5/4 stars.)
(18) TIMELORD ANTICIPATION. Watch Mojo has screened the trailers and picked these as the Top 10 Things To Look Forward To In Doctor Who Series 11
(19) TRAILER PARK. At First Light will be in theaters and available on demand on September 28.
Sean (Théodore Pellerin) and Alex (Stefanie Scott, Insidious: The Last Key) go on the run after Alex has a close encounter with mysterious orbs of light that leave her with extraordinary powers. As they flee from their families, the police and a covert government agency, Alex and Sean find themselves at the center of an unprecedented event in human history. First contact. As her powers grow stronger and more dangerous, Sean must decide whether staying with Alex and discovering the truth behind her transformation is worth dying for. Directed by Jason Stone (The Calling), the film also stars, Kate Burton ("Scandal"), Saïd Taghmaoui (Wonder Woman), and Percy Hynes White.
[Thanks to JJ, Cat Eldridge, Andrew Porter, Carl Slaughter, John King Tarpinian, Mike Kennedy, Jim Kennedy, Martin Morse Wooster, SF Concatenation's Jonathan Cowie, and Chip Hitchcock for some of these stories, Title credit belongs to File 770 contributing editor of the day Ingvar.]