(1) WHO IS NUMBER ONE? At The Splintered Mind, Eric Schwitzgebel continues his annual ratings with the "Top Science Fiction and Fantasy Magazines 2022". The scoring is done in the following way:
(2.) I gave each magazine one point for each story nominated for a Hugo, Nebula, Sturgeon, or World Fantasy Award in the past ten years; one point for each story appearance in any of the Dozois, Horton, Strahan, Clarke, or Adams "year's best" anthologies; and half a point for each story appearing in the short story or novelette category of the annual Locus Recommended list.

(2a.) Methodological notes for 2022: Starting this year, I swapped the Sturgeon for the Eugie award for all award years 2013-2022. Also, with the death of Dozois in 2018, the [temporary?] cessation of the Strahan anthology, and the delay of the Horton and Clarke anthologies, the 2022 year includes only one new anthology source: Adams 2021. Given the ten-year-window, anthologies still comprise about half the weight of the rankings overall.
The ratings are followed by various observations, for example:
For the past several years it has been clear that the classic "big three" print magazines — Asimov's, F&SF, and Analog — are slowly being displaced in influence by the four leading free online magazines, Tor.com, Clarkesworld, Lightspeed, and Uncanny (all founded 2006-2014).  Contrast this year's ranking with the ranking from 2014, which had Asimov's and F&SF on top by a wide margin.  Presumably, a large part of the explanation is that there are more readers of free online fiction than of paid subscription magazines, which is attractive to authors and probably also helps with voter attention for the Hugo, Nebula, and World Fantasy awards.
(2) ALTERNATE SPACE. Polygon's article "For All Mankind season 3 showed how hard Star Trek's utopia is to achieve" is a spoiler-filled summary of the show, but also a good way to catch up if you haven't been watching.
After two seasons of an extended Cold War, For All Mankind moved into the technology boom of the '90s. If the real '90s were driven by a techno-optimism, For All Mankind explores an idea of what a utopian America driven by technology would actually look like. In this alternate space-focused timeline, the go-go '90s are filled with electric cars, videophones, and moon-mining. Sounds pretty good, right? But over the course of the season, For All Mankind shows how even if the utopianism of the actual '90s could have been translated into reality, we couldn't have left our problems behind.

By the third season, For All Mankind's alternate history has moved leaps and bounds beyond where our '90s found us. The larger powers have wound down their military snafus in Vietnam and Afghanistan to focus on building military bases on the moon. The Equal Rights Amendment entered the Constitution thanks to the prominence of female astronauts, electric cars are readily available thanks to investments in technology, and the Soviet Union never collapsed….
(3) MYTHIC MOMENTS. Rivera Sun and David Bratman were the Author and Scholar guests of honor, respectively, at Mythcon 52 in Albuquerque, New Mexico.
If you've never heard David Bratman speaking about Tolkien and other mythopoeic figures, don't miss the opportunity to at least read the text of his GOH Speech, hosted on the Southwestern Oklahoma State University site.
And you can listen to Rivera Sun's GoH speech in a video here.
(4) CRITICAL MASS. The Guardian interviews Namwali Serpell, who won the Clarke Award in 2020: "Namwali Serpell: 'I find uncertainty compelling in literature'".
As a critic, you've been sceptical about how we tend to construe literary value, not least in your 2019 essay The Banality of Empathy.

The idea that literature's ethical values stem from its ability to produce empathy has become the be-all and end-all of how we talk about it. The incredible immersion in the minds of others [that fiction offers] is something I wouldn't be able to live without, but I'd push against the notion that it is valuable for a kind of portable empathy that makes us better people. Many bad people don't read. Many good people never got to learn how to read. The equation of reading with morally positive effects [resembles] the neoliberal model of eating well and doing exercise. We can see that in the way books are commodified right now: pictures of your latte or smoothie next to a beautiful book cover on Instagram are meant to reflect one's engagement in a project of self-improvement, rather than actual engagement with other people, talking and thinking about that book. My scepticism isn't of art – it's of what we take art to be for.
(5) ONE SMELL IS WORTH A THOUSAND WORDS. Cora Buhlert posted a lengthy Masters of the Universe toy photo story about He-Man's long lost twin sister She-Ra: "Masters-of-the-Universe-Piece Theatre: 'The Mystery of He-Man's Long-Lost Twin Sister'".
Here is the long-awaited Masters-of-the-Universe-Piece Theatre Photo Story about She-Ra, He-Man's long lost twin sister. To recap, last year I bought myself a Masters of the Universe Origins He-Man and Battlecat and then a Teela figure, because I couldn't find my vintage figure. Gradually, they were joined by other Masters of the Universe Origins figures. I also started posing the action figures to re-enact scenes from the cartoons and my imagination and started posting the results first on Twitter and then here.

This is part 3 in a sub-series of posts called "Secrets of Eternia" about how much the entire Masters of the Universe franchise is driven by secrets….

"Halt! Put down the babies, fiends! You are under arrest."

"Tell Randor that he will never see his precious children again, bwahaha."

"Waaah!"

"Why is it making those sounds, Keldor? And what's that smell?"

"Just shut up and take the baby!"
(6) FRANKED BY URSULA. [Item by Kevin Standlee.] Today, we mailed the last batch of Westercon 74 program books to the members whose records showed that they did not pick up their membership badge, including supporting members. Whenever possible, we included that person's membership badge and one of the Westercon 74 ribbons that we gave to every member until they ran out. We excluded "Guest of" members and those people we knew to have died over the past three years. Of course, we also did not try to send a program book to any member who did not provide a valid postal mailing address. In total, we mailed 156 program books, which coincidentally was almost exactly the same number of members who did pick up their membership badges.
We mailed everything from Fernley, Nevada by first class mail. The last 27 in this batch went out a few days after the main mailing because we exhausted the supply of Ursula K. Le Guin high-value stamps from our local post office and had to wait for another shipment of stamps to arrive.
(7) MOURNING. [Item by Cora Buhlert.] Here is a very touching piece by Melissa Navia, who plays Lieutenant Erica Ortegas in Star Trek: Strange New Worlds, about losing her partner to cancer between seasons: "An Actor, a Helmsman, and My Brian: Boldly Going Where No Widow Has Gone Before" at Talkhouse.
…All I thought before now rings inconsequential and incomplete. Death will do that to you. Grief transforms you. Losing the love of your life breaks you. So, this is the beginning of a new story, one I am still finding the strength to tell. Of how I went from not being able to physically leave my couch, all of six months ago, to reluctantly leaving the country to film the much-anticipated second season of a yet-to-be-aired, internationally anticipated TV show. Of how I went from becoming a widow in an agonizing heartbeat to re-becoming Erica Ortegas, helmsman of the USS Enterprise on Star Trek: Strange New Worlds, and how the two will forever be inextricably linked….
(8) MEMORY LANE.
1951 – [By Cat Eldridge.] I was downstairs this morning as I as most mornings chatting with the usual group when someone mentioned that Yul Brynner's The King and I had played here at Merrill Auditorium and that she saw it.
So I got interested to see just what the history of The King and I was. It is based on Margaret Landon's Anna and the King of Siam novel which came out in 1944, which she based upon the memoirs of Anna Leonowens, governess to the children of King Mongkut of Siam in the early 1860s. Mongkut reigned for an astonishing sixty-four years.
(It has since been established by historians that the memoirs of Anna Leonowens are, to put it mildly more fiction than actual reality.)
I discovered it was a Richard Rodgers (the music) and Oscar Hammerstein II (the lyrics) affair (I didn't know that) that first opened in 1951 with, of course, Yul Brynner who had shaved his head for the role (something he never stopped doing) and Gertrude Lawrence as Anna Leonowens, the widowed Briton who was teaching his children.
It opened on Broadway's St. James Theatres and ran for nearly three years, making it the fourth-longest-running Broadway musical in history at the time,
Brynner would perform the role of the King of Siam four thousand six hundred and twenty-five performances on Broadway and off Broadway on stages in places like here in Portland.
He of course starred in the film version of The King and I whose screenplay was written by Ernest Lehman. The film starred Deborah Kerr as Anna Leonowens. The film made five times what it cost to make. The Variety review at the time praised it lavishly: "All the ingredients that made Rodgers & Hammerstein's The King and I a memorable stage experience have been faithfully transferred to the screen."
He also starred in 1972 in Anna and the King, the CBS series that lasted thirteen episodes. Samantha Eggar co-starred. Anyone see it?
Oh, and it was banned in Thailand but so is the book, and any adaptations of the book including other film versions.
Yes, I like it very much so and have watched the film a number of times.
The role would net Brynner two Tony Awards, and an Academy Award for Best Actor.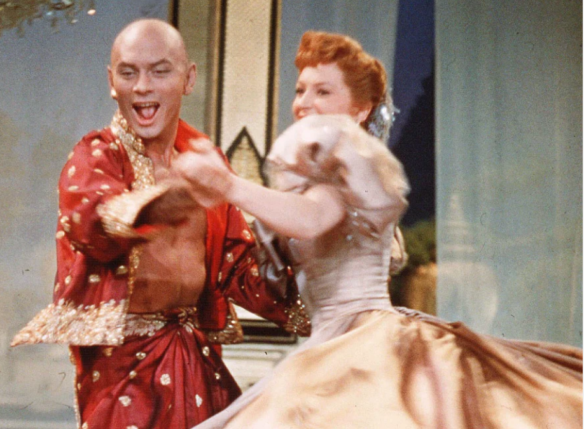 (9) TODAY'S BIRTHDAYS.
[Compiled by Cat Eldridge.]
Born August 15, 1858 — E. Nesbit. She wrote or collaborated on more than sixty books of children's literature including the Five Children Universe series. She was also a political activist and co-founded the Fabian Society, a socialist organization later affiliated to the Labour Party. (Died 1924.)
Born August 15, 1932 — Robert L. Forward. Physicist and SF writer whose eleven novels I find are often quite great on ideas and quite thin on character development. Dragon's Egg is fascinating as a first contact novel, and Saturn Rukh is another first contact novel that's just as interesting. (Died 2002.)
Born August 15, 1933 — Bjo Trimble, 89. Her intro to fandom was TASFiC, the 1952 Worldcon. She would be active in LASFS in the late 1950s onward and has been involved in more fanzines than I can comfortably list here. Of course, many of us know her from Trek especially the successful campaign for a third season. She's responsible for the Star Trek Concordance, an amazing work even by today's standards. And yes, I read it and loved it. She's shows up (uncredited) as a crew member in the Recreation Deck scene in Star Trek: The Motion Picture. Bjo and her husband John Trimble were the Fan Guests of Honor at the 60th Worldcon, ConJose. She was nominated at Seacon for Best Fanzine for Shangri L'Affaires, and two years later at DisCon 1 for the same under the Best Amateur Magazine category. 
Born August 15, 1952 — Louise Marley, 70. Winner of two Endeavour Awards for The Glass Harmonica and The Child Goddess. Before becoming a writer, she was an opera singer with the Seattle Opera, and so her works often feature musical themes.
Born August 15, 1943 — Barbara Bouchet, 79. Yes, I've a weakness for performers who've shown up on the original Trek. She plays Kelinda in "By Any Other Name".  She also appeared in Casino Royale as Miss Moneypenny, a role always noting, and is Ava Vestok in Agent for H.A.R.M. which sounds like someone was rather unsuccessfully emulating The Man from U.N.C.L.E. It will be commented upon by Mystery Science Theater 3000.  
Born August 15, 1945 — Nigel Terry. His first role was John in A Lion in Winter which is at least genre adjacent as it's alternate history, with his first genre role being King Arthur in Excalibur. Now there's a bloody telling of the Arthurian myth.  He's General Cobb in the Tenth Doctor story, "The Doctor's Daughter", and on the Highlander series as Gabriel Piton in the "Eye of the Beholder" episode. He even played Harold Latimer in "The Greek Interpreter" on Sherlock Holmes. (Died 2015.)
Born August 15, 1972 — Ben Affleck, 50. Did you know his first genre role is in Buffy the Vampire Slayer? He's a basketball player in it. He's Batman in Batman v Superman: Dawn of Justice and Justice League. IMDB claims he shows up in an uncredited spot in Suicide Squad as well. He's reprising his role as Batman in forthcoming Flash. He's Matt Murdock / Daredevil in Daredevil which I have seen. He's actually in Field of Dreams too as a fan on the stands in Fenway though he's not credited. Can I nominate Shakespeare in Love as genre? If so, he's Ned Alleyn in it.
Born August 15, 1972 — Matthew Wood, 50. He started out as, and still is, a sound engineer but he also became a voice actor with his best known role being that of General Grievous in The Revenge of the Sith and The Clone Wars. He often does both at the same time as on 2013 Star Trek Into Darkness where he was the lead sound editor and provided the ever so vague additional voices. If you've been watching The Mandalorian, he was Bib Fortuna in "The Rescue" episode. 
(10) TURN UP THE VOLUMES. "Exploring a literary gem: Milwaukee's Renaissance Book Store endures through decades of change" is the local CBS affiliate's love letter to an indie bookstore.
For some people reading is a hobby but for C Kay Hinchliffe it's a lifestyle. She's been working at Renaissance Book Store for more than 40 years.

"I started working for Renaissance in January of 1980 when we were still in the big building downtown," said Hinchliffe. "You meet all sort of people in used books. Part of the fun for me is the joy I can give people because they come in and say I'm looking for a book and I say okay what's the name?"

Renaissance Books is one of the only standing independent bookstores left in Milwaukee, first opening back in the 1950s when its original location was downtown in a five-story building.

In 1979, it opened a location inside Mitchell International Airport becoming the first used bookstore inside an airport in the country.

"At the airport store you have people coming from all over. There are people who fly into Milwaukee just so they can come to the store," said Hinchliffe.

…Working at Renaissance has become a family affair. Hinchliffe's husband Michael has worked at the store since the 1970's.

"Michael has worked for Renaissance since '76 and I started working at Renaissance because he worked at Renaissance," said Hinchliffe.

Since working at this location Hinchliffe estimates she's sold more than 25,000 books and says she will work at Renaissance for as long as possible.

"We're a dying breed but we're small but fierce," said Hinchliffe.
And the "Michael" referred to is TAFF delegate and Filer "Orange Mike" Lowrey.
(11) YOU'VE SEEN THIS FACE BEFORE. S.E. Lindberg is hosting videos of writing and literature panels from the 2022 GenCon Writer's Symposium here.
Paul Weimer is one of the panelists on "Sword & Sorcery Renaissance in Writing" along with Jaym Gates, Howard Andrew Jones, Matt John; Jason Ray Carney, and S.E. Lindberg.
(12) LET THE GAMES BEGIN. Variety reports "Viola Davis to Star in 'Hunger Games' Prequel as Head Gamemaker".
Viola Davis is headed to Panem as the head gamemaker in "The Hunger Games" prequel, "The Ballad of Songbirds and Snakes."

The Lionsgate movie is based on the 2020 book of the same name, which takes place decades before the adventures of Katniss Everdeen in "The Hunger Games." The prequel story is focused on 18-year-old Snow, who eventually becomes the tyrannical leader of the dystopia known as Panem. In "The Ballad of Songbirds and Snakes," he's chosen to be mentor during the 10th Hunger Games, a televised event in which teenagers are chosen via lottery to fight to the death.

Davis, who is playing Volumnia Gaul, the mastermind of the diabolical teen death-match, will star opposite Tom Blyth as young Coriolanus Snow, Rachel Zegler as tribute Lucy Gray Baird, Hunter Schafer as Snow's cousin and confidante Tigris Snow and Peter Dinklage as Academy dean Casca Highbottom….
(13) CALIFORNIA'S DROUGHT ISN'T ITS ONLY WORRY. [Item by Tom Becker.] Researchers from UCLA and National Center for Atmospheric Research have found that climate change has doubled the risk of a major "mega-flood" in California. The Great Flood of 1862 inundated the Central Valley. Steamships went along the main streets of towns, picking up passengers from rooftops. Sacramento was under ten feet of water. Climate change increases the severity of both droughts and floods. A major flood can occur when an "atmospheric river" melts the snowpack in the Sierra Nevada and it all runs off at once. It has happened before in California, hence the Great Flood of 1862. When it happens again, 5 to 10 million people may be in the path of the flood. Evacuating that many people would be an enormous task, never done before. There are ways to mitigate the flooding, but they would necessarily involve changes to water rights and land use policies that will be highly controversial. Science fiction writers, take note.
(14) VARIATION ON A THEME. From Jeff Blyth: "Wall-E's Old Man".
My latest tribute film about Wall-E, this time an "origin" story. Yes, I know the true background of the beloved character, but, like all fan fiction, I wanted to try putting out my own version of how he might have come to be. To those who have faithfully followed my other Wall-E films in the past, this one has been made especially for you. There are a few Easter eggs you'll find throughout the film and in the soundtrack as well. This is the longest and most complex animation project I'd ever attempted and took me over a year, working alone and on a single computer, with many new challenges.
(15) THE FUTURE IS HERE. It's a lovely trailer, I've got to say that. "L. Ron Hubbard Presents Writers of the Future Volume 38 Book Trailer".
(16) VIDEO OF THE DAY. Isaac Arthur picks out the "Dumbest Alien Invasions".
An Alien Invasion of Earth is a terrifying scenario, yet science fiction rarely has good reason for those invasions. Today we'll discuss the worst reasons aliens invade in fiction and some plausible scenarios for why they might do it in fact.
[Thanks to Mike Kennedy, Martin Morse Wooster, JJ, John King Tarpinian, Tom Becker, Cora Buhlert, SF Concatenation's Jonathan Cowie, Andrew Porter, Chris Barkley, Michael Toman, and Cat Eldridge for some of these stories. Title credit belongs to File 770 contributing editor of the day Soon Lee.]