(1) HINES ARC GIVEAWAY TO SUPPORT DISASTER RELIEF. Jim C. Hines is doing a giveaway of an advance copy of Terminal Alliance to encourage people to donate to flood/hurricane relief: "Disaster Aid and Terminal Alliance Giveaway":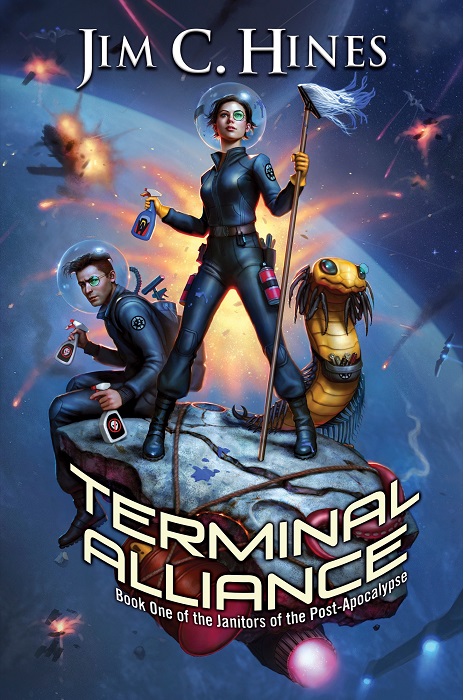 Two weeks ago, Sophie received advance review copies of Terminal Alliance. I've been meaning to do a giveaway, but I was struggling to come up with a good way to do it.

Then I started seeing the damage reports come in from hurricanes and flooding. The devastation they've left in their wakes, and the devastation yet to come. A million people without power in Puerto Rico. Record-breaking rain and flooding in the southwest U.S. 41 million affected by flooding and landslides in South Asia.

And now I know how I want to do this giveaway. You want to win an autographed ARC of Terminal Alliance? There are two things you need to do.

Donate to one of the organizations helping with disaster relief.
Leave a comment saying you donated.
(2) USE YOUR OWN DARNED IMAGINATION. Bestselling fantasy writer Mark Lawrence tells his fans "Why you're not getting a map".
A question posed to me on this blog.

Q: When are you going to draw a map for Book of the ancestors series? I'm dying to read Red Sister but can't bring myself to do it without a map.

A: I'm not going to. If you can't read a book without a map I guess it's not a book for you.

I'm often asked: "Did you draw the map first or as you wrote the book." This is frequently by people who haven't read any of my books.

There is an assumption there … fantasy books have maps. Which is odd, since I have read hundreds (possibly thousands) of novels without maps, many of them set in regions I'm unfamiliar with. The fact is that for a great many works of fiction maps are irrelevant, they are about what people are doing in their lives, if Sarah goes to visit her uncle in Vostok it is sufficient for me to know it took her several hours on the train and when she got there the forests were covered in snow. I don't need to look it up on a map. It doesn't matter.
(3) SELLING SHORT. Charles Payseur begins a new series of posts with "MAPPING SHORT SF/F: Part 1, A Key to the Kingdom" at Nerds of a Feather.
Really, the reasons I want to do this can be broken down thusly:

To provide a tool for readers to break down short SFF into meaningful, manageable chunks that will help them locate stories they will hopefully love.
To counter the narrative that short SFF is either too massive, too disparate, or too opaque to be successfully navigated.
To talk about short SFF, which is one of my great loves.
To highlight publications, authors, and trends within short SFF.

…One last thing before I close this down. People often come to me to ask how to find stories. How to refine their search. While I hope to help through this series, there are some tools that are available to you right now, and I find that not everyone thinks of this when they're considering where to look as readers for particular genres/styles/etc. Your best resource as a reader is…submissions guidelines. Yes, they are written for writers, but if you want to know what a publication is interested in, submissions guidelines are where to look. Skip the About Us section of publications. Read what they want. See if they have a diversity statement. Check to see what other tactics they might have to encourage marginalized writers to submit. This is a really easy "cheat" for readers to get a feel for a publication without checking out reviews or reading sample stories. And using a tool like The Submissions Grinder at Diabolical Plots allows you to search by genre, by length, by basically whatever you want. It's not what it was designed for, but it is amazing for searching out venues and stories to read.
(4) SINGULARITY SINS. Rodney Brooks has written an excellent article explaining in detail why the future of AI isn't going to be quite as scary or as exciting as most SF stories would have you think: "The Seven Deadly Sins of Predicting the Future of AI". Here's an excerpt from one of his seven main points.
Some people have very specific ideas about when the day of salvation will come–followers of one particular Singularity prophet believe that it will happen in the year 2029, as it has been written.

This particular error of prediction is very much driven by exponentialism, and I will address that as one of the seven common mistakes that people make.

Even if there is a lot of computer power around it does not mean we are close to having programs that can do research in Artificial Intelligence, and rewrite their own code to get better and better.

Here is where we are on programs that can understand computer code. We currently have no programs that can understand a one page program as well as a new student in computer science can understand such a program after just one month of taking their very first class in programming. That is a long way from AI systems being better at writing AI systems than humans are.

Here is where we are on simulating brains at the neural level, the other methodology that Singularity worshipers often refer to. For about thirty years we have known the full "wiring diagram" of the 302 neurons in the worm C. elegans, along with the 7,000 connections between them. This has been incredibly useful for understanding how behavior and neurons are linked. But it has been a thirty years study with hundreds of people involved, all trying to understand just 302 neurons. And according to the OpenWorm project trying to simulate C. elegans bottom up, they are not yet half way there. To simulate a human brain with 100 billion neurons and a vast number of connections is quite a way off. So if you are going to rely on the Singularity to upload yourself to a brain simulation I would try to hold off on dying for another couple of centuries.
(5) LUCASFILM HELPS DESIGN REAL WORLD MISSION PATCH. In space no one can hear you squee.
Taking a modern twist on a longstanding spaceflight tradition of mission patch design, the Center for the Advancement of Science in Space (CASIS) partnered with Lucasfilm to blend iconic images from the Star Wars franchise with a real-world space station for its latest mission patch.
BB-8 meets ISS

Though it should come as no surprise that the intersection of space science and science fiction fans is quite large, it isn't often the two areas come together in such overt fashion, even with something as basic as a patch. Indeed, mission insignia are usually designed by astronauts or engineers involved with a particular mission, not an outside organization.

CASIS, however, has a history of engaging third parties to influence – or outright design – its ensigns. Before the current collaboration with Lucasfilm, CASIS worked with Marvel to design its 2016 mission patch. That work featured Rocket Raccoon and Groot from Marvel's Guardians of the Galaxy looking upwards toward the International Space Station (ISS).
(6) TECHNOLOGY AND FREEDOM. Coming September 17 at the Brooklyn Historical Auditorium: "Structures of Power: Politics, Science Fiction, and Fantasy presented by the Center for Fiction"
Science fiction and fantasy are uniquely positioned to explore structures of power. Four authors examine how power struggles impact individuals and collectives, intersections between technology and politics, and methods of resistance to oppressive governments and technologies. N.K. Jemisin (The Stone Sky), Eugene Lim (Dear Cyborgs), Malka Older (Null States), and Deji Bryce Olukotun (After the Flare) will discuss how science fiction and fantasy respond to our hopes and fears for the future, offers alternatives to conventional politics, and examines how technology affects freedom. Moderated by Rosie Clarke.
(7) BRADBURY ALL THE TIME. Here's the first of "11 Deep Facts About The Beast From 20,000 Fathoms" from Mental Floss.
THE MOVIE WAS PARTLY BASED ON A RAY BRADBURY STORY.

It all started with a roar. One night, while he was living near Santa Monica Bay, legendary sci-fi author Ray Bradbury was awakened from his sleep by a blaring foghorn. Moved by the mournful bellow, he quickly got to work on a short story about a lovelorn sea monster. Called The Beast From 20,000 Fathoms (later retitled The Foghorn), it was published in The Saturday Evening Post on June 23, 1951.

At roughly the same time, Mutual Films was developing a script for a new action-packed monster movie. The finished product would ultimately bear more than a slight resemblance to a certain Saturday Evening Post story. For instance, both of them feature a scene in which a prehistoric titan lays waste to a lighthouse. According to some sources, Mutual had already started working on its marine creature flick when studio co-founder Jack Dietz happened upon Bradbury's yarn in the Post. Supposedly, he contacted the author without delay and bought the rights to this tale.

But Bradbury's account of what happened behind the scenes is totally different. The other co-founder of Mutual was one Hal Chester. Late in life, Bradbury claimed that when a preliminary script for what became Beast had been drafted, Chester asked him to read it over. "I pointed out the similarities between it and my short story," Bradbury said. "Chester's face paled and his jaw dropped when I told him his monster was my monster. He seemed stunned at my recognition of the fact. He had the look of one caught with his hand in the till."

In any event, Bradbury received a $2000 check and a shout-out in the movie's opening credits.
(8) TODAY'S DAY
Star Trek Day

[The anniversary of when the first episode aired in 1966.]

"I haven't faced death. I've cheated death. I've tricked my way out of death and patted myself on the back for my ingenuity; I know nothing." ~ James T. Kirk, Star Trek II: The Wrath of Khan

Long ago, in the depths of the cold war, America had a prophet arrive. He spoke not of religious texts and damnation, but instead provided us with a vision of the future so hope-filled, so compelling, that it has indelibly marked the imaginations of man-kind ever since. Star Trek Day celebrates that vision, and the man who created it, Gene Roddenberry.
(9) TODAY IN HISTORY
September 8, 1966 — Original Star Trek series debuted on television.
September 8, 1973 – Star Trek: The Animated Series premiered. (Talk about coincidences.)
(10) COMICS SECTION.
Chip Hitchcock rightly says, "Today's Rhymes With Orange is for the strong of stomach."
John King Tarpinian found a funny about cosplay – today's Lio.
(11) YOU'RE FROM THE SIXTIES. At Galactic Journey, The Traveler is giving out his annual Galactic Stars – this time in the TV category: "[Sep. 8, 1962] Navigating the Wasteland (1961-62 in (good) television)". These awards are not limited to sff – Route 66 and The Andy Griffith Show made the list – but The Twilight Zone a couple other genre series made the list.
Other stand-outs include:

Mr. Ed 1960-: despite being overly rooted in conventional gender roles, one can't ignore Alan Young's charm, the fun of the barbed banter between Young's married neighbors, or the impressive way they make a horse appear to talk.

Supercar 1961-62: this British import is definitely kiddie fare, but it's still fun to watch Mike Mercury and his two scientist associates defeat criminals and triumph over natural disaster. Of course, the acting's a bit wooden…
(12) WHEN BRUCE WILLIS ATTENDS YOUR OFFICE PARTY. Io9 reports "The Best Christmas Movie of All Time Is Being Turned Into a Must-Have Children's Book". I was thinking, A Christmas Story? Miracle on 34th Street? I was wrong….
It's unfortunate that Die Hard, the best Christmas movie of all time, isn't really a film you can watch with your kids. But this year, instead of suffering through Elf once again, you can spend some quality time with your PG-rated family members by reading a new holiday children's book based on the adventures of John McClane.

A Die Hard Christmas: The Illustrated Holiday Classic, written by comedian Doogie Horner, and illustrated by JJ Harrison, was inspired by the classic Christmas poem, Twas the Night Before Christmas. But instead of detailing Santa's attempts to deliver presents to good boys and girls, the book tells the timeless tale of a New York police officer single-handedly taking down a gang of European terrorists.
(13) THE IT FACTOR. The children's movie about a clown with a red balloon did well. SyFy Wire says "The weekend's only starting, and IT has already broken 4 box office records".
According to Deadline, the R-rated IT's record-breaking take of $13.5 million means it had:

The largest gross for a horror pre-show gross.
The largest gross for a R-rated preview gross.
The largest gross for a September preview, ever.
The largest gross for a movie based on a Stephen King novel.

This Thursday night preview kicked the stuffing out of the R-rated Deadpool, which only earned $12.7 from its pre-show screenings. Experts are predicting more record-shattering as the weekend progresses.
(14) KOWAL SIGNED FOR NARRATION. Parvus Press has contracted with Mary Robinette Kowal to perform the audiobook narration for the upcoming title Flotsam by R J Theodore. The book will be released in digital, print, and audio on January 30, 2018.
"We are incredibly excited to be able to work with a world-class talent like Mary Robinette Kowal on this title," said Colin Coyle, Publisher at Parvus Press. "We know that this book is going to find a dedicated fan base and we want to bring it to as many readers and listeners as possible."

…R J Theodore couldn't be more pleased with Parvus' choice for FLOTSAM's narrator. She says, "Mary's voice is a complex bourbon that bites with a wry humor on the way down. I am very excited to hear it applied to FLOTSAM's narration."

Cat Rambo, author of "Beasts of Tabat", describes FLOTSAM as "Combining the best elements of steampunk and space opera," and promises "[P]laced in a lavishly detailed and imagined world, Flotsam will hold you firmly till the final page."

…Mary Robinette Kowal, a professional puppeteer, also performs as a voice actor (SAG/AFTRA), recording fiction for authors including Seanan McGuire, Cory Doctorow, and John Scalzi. She lives in Chicago with her husband Rob and over a dozen manual typewriters.
(15) NEXT TURN OF THE WHEEL. Although the blog has devoted years to teaching indie authors how to put together and market their books, Mad Genius Club's Peter Grant has a new message: "It's time to face facts: online lending and streaming media is, increasingly, the future of books".
I've written before about the threat that streaming media poses to traditional book sales. I've had a certain amount of pushback about that, particularly from those who don't like the thought of their income from writing declining to such an extent. Some have even refused to make their books available on streaming services such as Amazon's Kindle Unlimited. Now, however, the signs are clear. We have to face up to the reality of streaming media in our future – or be swept aside.

Those signs are most clear in other areas of the entertainment industry. Let's not forget, that is our industry, too. We're not selling books. We're selling entertainment, and our products (books and stories) are competing with every other avenue of entertainment out there – movies, TV series, music, games, the lot. If we don't offer sufficient entertainment for consumers' dollars, they're going to spend them on another form of entertainment – and we're going to starve.
(16) TODAY'S THING TO WORRY ABOUT. At Phys.org they ask: "Are we being watched? Tens of other worlds could spot the Earth".
Thanks to facilities and missions such as SuperWASP and Kepler, we have now discovered thousands of planets orbiting stars other than our sun, worlds known as 'exoplanets'. The vast majority of these are found when the planets cross in front of their host stars in what are known as 'transits', which allow astronomers to see light from the host star dim slightly at regular intervals every time the planet passes between us and the distant star.

In the new study, the authors reverse this concept and ask, "How would an alien observer see the solar system?" They identified parts of the distant sky from where various planets in our solar system could be seen to pass in front of the sun – so-called 'transit zones'—concluding that the terrestrial planets (Mercury, Venus, Earth, and Mars) are actually much more likely to be spotted than the more distant 'Jovian' planets (Jupiter, Saturn, Uranus, and Neptune), despite their much larger size.

"Larger planets would naturally block out more light as they pass in front of their star", commented lead author Robert Wells, a PhD student at Queen's University Belfast. "However the more important factor is actually how close the planet is to its parent star – since the terrestrial planets are much closer to the sun than the gas giants, they'll be more likely to be seen in transit."
(17) THE MARTIAN HOP. Stephen Baxter is featured in "Tell Us 5 Things About Your Book: A Sequel to 'The War of the Worlds'" at the New York Times.
What's the most surprising thing you learned while writing it?

The work that Wells put into the original; the development it went through. There are some surviving drafts, at the University of Illinois. What really surprised me was how the narrator evolved. In the initial drafts, he's a much more competent character, much more purposeful. He loses his wife to the Martians; they destroy the town he lived in. He becomes enraged and wants revenge, so he falls in with the resistance, and he's going to blow up the Martians, like a suicide bomber.

But Wells clearly wasn't happy with that. In the final draft, the narrator is burned, wounded, but he follows the Martians in a way that's more "get it over with." Then he goes into a fugue, a kind of three-day dropout. I think Wells was groping for a prediction of shell shock, which wasn't a recognized condition until the First World War, 20 years later. So it's a tremendous prediction, which I think is underrated by critics. That discovery, of how much Wells worked on the book, was a real revelation for me.
(18) ANOTHER GLIMPSE. Victor Fernando R. Ocampo, in "My Late Post regarding the 2017 Hugo Awards", shares great photos from the ceremony.
(19) BEARS DISCOVER EMAIL. End of a bizarre story: "Judge dismisses email invention claim". The plaintiff was looking not for royalties on email but for libel damages for a story doubting his claim to have created the "definitive" email program — the modern equivalent of claiming to have invented fire?
Shiva Ayyadurai sued news website Tech Dirt earlier this year after it published several articles denying his claim….

Mr Ayyadurai's controversial claim revolves around a program he wrote in 1978, called EMAIL, that was used by staff at the University of Medicine and Dentistry of New Jersey. He was granted a copyright for this program in 1982.

Many news websites have published detailed rejections of his claim.

Tech Dirt was one of the most vocal critics of Mr Ayyadurai's campaign to establish his software as the definitive version.

Technology history suggests that modern email programs have a lot of influences, but much of the work was done prior to 1978 by many different developers.

Ray Tomlinson is widely acknowledged as the programmer who, in the early 1970s, first used the "@" symbol as a way to describe a particular user on a particular network.
(20) RIDE WEST, YOUNG MAN. Adweek tells about this bit of fictionalized history: "Lyft Travels Back to 1836 With Jeff Bridges in First Brand Work From Wieden + Kennedy".
Man invents the wheel. Man walks on the moon. Man calls a car to the East Village on a Friday night, when you can't flag a yellow cab to save your life.

These are some of the major developments in the history of human transportation, according to Lyft, whose big new brand campaign is set to debut during NFL games this Sunday.

…W+K made a splash with a summer activation in which Lyft "took over" an Los Angeles car wash, but the new work is even more ambitious. In the first spot, "Riding West," Jeff Bridges relays a few lessons about the importance of choice that are as relevant today as they were to the wagon trains of the early 19th century.
There are a few more videos at the link. I also like this one:
[Thanks to Andrew Porter, Greg Hullender, JJ, Cat Eldridge, Steven H Silver, Chip Hitchcock, and John King Tarpinian for some of these stories. Title credit belongs to File 770 contributing editor of the day Soon Lee.]