(1) WRITING ADVICE. Cat Rambo advises "Write What You Love" in a guest post at Stone Soup.
…Write what you love is one of those pieces of writing advice that gets trotted around and may even seem the equivalent of the LIVE LOVE LAUGH plaque hanging in some existential AirBnb of the soul. It's a piece of advice that is so basic, so simple that people ignore it, think it purely decorative.

But the thing about that sort of advice is that often it's worth taking the time to look again. Sometimes they're more like zen koans, or puzzle boxes that yield increasing levels of secrets the more you know about unlocking their depths.

Absolutely, write what you love, and know that there are a multitude of reasons for doing so….
(2) VIDEO GAME REVIEW. [Item by Martin Morse Wooster.] In the Financial Times behind a paywall, Tom Faber reviews Tunic.
…There are many games that keep their secrets hidden, but few are brave enough to refuse to tell you how to play. In Tunic you will have to work out for yourself how to run or level up your skills, often learning that you had an ability or an access to a shortcut that you could have been using all along, had you known it was there. There is something profound about a game that doesn't expect you constantly to acquire new moves, but asks you to look within and discover the true extent of your abilities.

This thoughtful ethos is threaded through every layer of Tunic, a passion project by Canadian developer Andrew Shouldice, who spent seven years making it, mostly alone. The result feels singular yet also indebted to gaming history. Its top-down perspective and endless waves of slashable monsters recall recent indie games such as Hades and Death's Door, but deeper in this game's DNA are more ambitious references: to the way Elden Ring plays with death and combat, the sophisticated meta-puzzles of Fez and the obscure secrets in classic Mario and Zelda….
(3) COULDN'T SPARE TIME TO BE TIME TRAVELER. Slashfilm remembers this lost opportunity: "The Star Trek Role That Was Actually Written For Robin Williams".
…[Whoopi] Goldberg is also, it turns out, old friends with comedian Robin Williams, as she, Williams, and Billy Crystal were the three headliners of the comedy charity event Comic Relief. And this is where we talk about how Williams wanted to follow Goldberg and make an appearance on "Star Trek: The Next Generation."

In 1991, when "Next Generation" was in its fifth season, the show's writers wanted to include Robin Williams. Williams was always an outspoken Trekkie — he even made a reference to killing off Spock in an episode of "Mork & Mindy" — and the "Trek" writers were, in turn, big Robin Williams fans. Williams' fast-talking, manic comedy wasn't necessarily a good match for the normally staid, composed, mature tone of "Star Trek: The Next Generation," so the writers would have to create a new role — likely not a Starfleet officer — for Williams…
(4) MEDIA BIRTHDAY.
2014 — [Compiled by Cat Eldridge.] One day the AIs are going to look back on us the same way we look at fossil skeletons on the plains of Africa. An upright ape living in dust with crude language and tools, all set for extinction. — Nathan, the programmer
Just eight years ago, Ex Machina premiered written and directed by Alex Garland in his directorial debut. He previously wrote and produced Dredd but let's not hold that against him. Too much. This is a story that follows a programmer who is invited by his CEO to administer the Turing test to an intelligent humanoid robot.
It had a core cast of Domhnall Gleeson, Alicia Vikander and Oscar Isaac.
It was made on a budget of just fifteen million, and it grossed thirty-six worldwide. Not bad at all.
The reception was quite good. The critic at The Reader liked and said, "What's amazing about Ex Machina is Garland's precise control over the audience both visually and through a singularly perfect script. The characters and the audience are both captive, processing the slightest information as fast as they can." Whereas Sunday People commented "Precision-tooled to perfection with sumptuously seductive design,it combines the brains of Blade Runner, the gloss of James Bond, and the sly satire of cult comic 2000AD." Finally I'll let NOW Toronto have the last word: "The film is at its best when the characters are simply talking to each other, creating a delicate, hypnotic back-and-forth between the humans and the new creature in their midst."
Released on the US in 2015, it was nominated for a Hugo for MidAmericaCon which was the year The Martian won.
And yes, the audience reviewers at Rotten Tomatoes really do like it giving an eighty-six percent rating.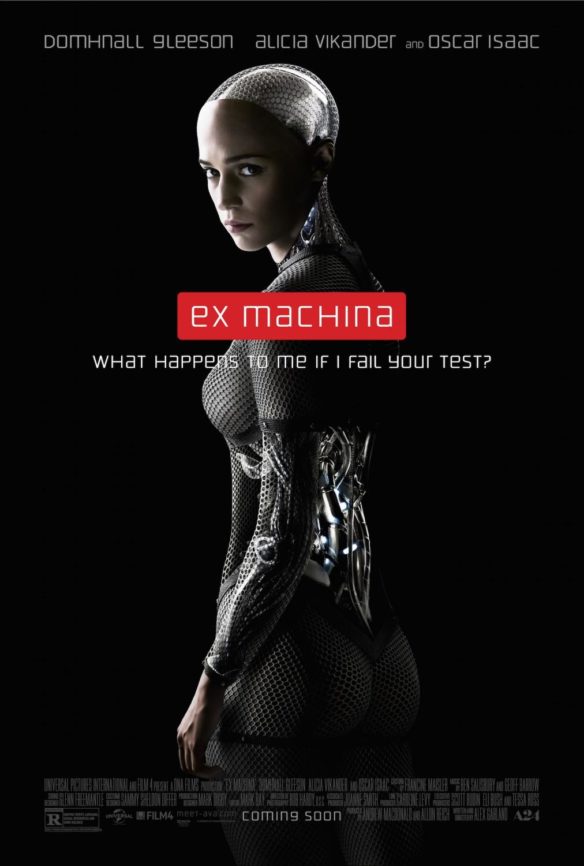 (5) TODAY'S BIRTHDAYS.
[Compiled by Cat Eldridge.]
Born April 24, 1910 — Albert Zugsmith. American film producer, film director and screenwriter who specialized in really low-budget exploitation films such as Sex Kittens Go to College and Female on the Beach through the Fifties and Sixties. So why am I giving him a Birthday, you ask? Why it's because he produced The Incredible Shrinking Man which won a Hugo at Solacon (1958). (Died 1993.)
Born April 24, 1925 — Virginia Huston. Not a long genre history but an interesting one. Her first role was as Jane in Tarzan and the Jungle Queen (which was originally released as Tarzan's Peril) and was advertised as being filmed on location in Africa. Next she was Lady Ellen Douglas in The Highwayman which is just genre adjacent, before being Carol Stratford in Flight to Mars. (Died 1981.)
Born April 24, 1930 — Richard Donner. He's credited in directing Superman which is considered by many to be the first modern superhero film. H'h. Well I'm instead going to celebrate him instead for Scrooged, The Goonies and Ladyhawke. Not to mention the horror he did — Tales from the Crypt presents Demon Knight and Bordello of Blood. Oh, and the first X-Men film which was superb. (Died 2021.)
Born April 24, 1936 — Jill Ireland. For her short life, she appeared in an amazing number of genre shows. She was on Star Trek romancing Spock as Leila Kalomi In "This Side of Paradise" episode. She had five appearances on The Man from U.N.C.L.E. as well as being on Night Gallery, My Favorite Martian, Voyage to the Bottom of the Sea, The Voodoo Factor and the SF film The Girl, the Gold Watch & Everything based on the 1962 novel of the same name by John D. MacDonald. (Died 1990.)
Born April 24, 1939 — David L. Ross, 83. He appeared on Trek as mostly Lt. Galloway eight times though occasionally as Security Guard or Guard. Since one of his appearances was on "Trouble with Tribbles", he also appeared on "Trials and Tribble-ations". His only other genre appearance was a one-one off on The Man from U.N.C.L.E. in "The Hot Number Affair".
Born April 24, 1947 — Michael Butterworth, 75. Author of, with Michael Moorcock naturally, two Time of the Hawklords novels, Time of the Hawklords and Queens of Deliria. He also wrote a number of Space 1999 Year 2 novels, too numerous to list here. He also edited Corridor8 magazine from 1971 to 1974. He also wrote a number of short fiction pieces including one whose title amuses me for reasons I'm not sure, "Circularisation of Condensed Conventional Straight-Line Word-Image Structures".
(6) SPECIAL DELIVERY. Cat Eldridge wrote about Ray Bradbury's special citation from the Pulitzer Board in the April 16 Pixel Scroll (item #9). We ran a photo of his agent accepting the plaque, but I just rediscovered the video of it being delivered to Ray Bradbury during his 2007 birthday celebration at a Glendale bookstore.
Unable to travel to the East-coast to accept the special Pulitzer in person, author Ray Bradbury accepts it on a special 87th birthday celebration held on August 25, 2007, at "Mystery and Imagination Bookstore", in Glendale, California. 'Logan's Run' author, William Nolan, presents the award, and 'Ocean's 11' author, George Clayton Johnson, waxes eloquently around the fond memories of Bradbury, his influences, and his work.
(7) DON'T LOOK. Moira Weigel, an assistant professor of communication studies at Northeastern University, tells readers "What You Don't Know About Amazon" in an opinion piece for the New York Times.
…If you are reading this, there's a good chance you're an Amazon customer. And if you feel guilty about that, it is probably because you are thinking about the warehouse and delivery workers whose labor Amazon exploits, the small merchants whose successful products Amazon copies, the beloved local bookstores whose bottom lines they undercut. Or maybe you just think about all the boxes piling up by your door.

You should feel guilty. I do, anyway. Convenience is not a good reason to participate in exploitation or waste. But guilt is a weak political emotion. In my experience, it can easily lose out to the 3 a.m. realization that Baby Two has soaked through her sleepsack and we need more Huggies Overnites ASAP.

But a series of product safety cases that have been brought against Amazon over the past few years makes clear that its rewiring of retail poses risks to customers as well. Above all, the cases highlight a significant gap between how most people understand the world's largest e-commerce company and what that company actually does.

Conversations about Amazon tend to emphasize the company's omniscience — the cutting-edge technologies that it uses to gather data on its competitors and customers and to discipline its workers. But in reality, as the scholar Miriam Posner has written, supply chains that drive global capitalism depend on "partial sight." Companies are able to get customers so many things so cheap and fast because they know only what they have to; toward everything else, they often turn a blind eye….
(8) SPACE CASE. In "Judge John Hodgman on a Deathbed Request", the New York Times columnist arbitrates an issue with a Martian twist.
(9) SCI-FI IDEA FOR LA SMOG. [Item by David Doering.] I can go months without finding anything off the wall, now I find several in a week!
Here's a sci-fi idea to clean up the air of LA in 1954. Big tubes would suck in bad air and expel it in the mountains. Wow. I love the phrase "…would be discharged harmlessly…"
(10) BOHEMIAN RHAPSODY. [Item by Daniel Dern.] These two renditions of Bohemian Rhapsody aren't new – though they may be to you.
Via Open Culture: "1910 Fairground Organ Plays Queen's "Bohemian Rhapsody," and It Works Like a Charm".
First built in Paris by Charles Marenghi in 1910, the organ above quickly found a home in a Belgian restaurant. And there it remained for many years … until 1967, when it traveled abroad, to a Texas fairground. Imagine the culture shock it must have felt. But that's not where it ends.

Nowadays, you can watch the 81-key organ play Queen's 1975 hit "Bohemian Rhapsody," quite different than whatever it was playing in Antwerp a century ago. Alexey Rom wrote the arrangement for the song, and programmed it using the strip of cards being fed through the instrument. Hopefully this isn't the last stop on this organ's grand journey.
"Literal Bohemian Rhapsody" visualized as a short live-action video via Uncrate:
You've belted it out in your car. Sang along during Wayne's World. But have you ever really listened to the lyrics to "Bohemian Rhapsody"? Corridor turned the Queen classic into a shot film, resulting in a dark tale of drugs, crime, and a poor boy.
(11) DASHCON. [Item by Jennifer Hawthorne.] The convention in question is from quite a few years ago, but this post-mortem video is recent and might be interesting to the Filers. You could call it "How to NOT run a convention." "Tumblr's Failed Convention: The Story of Dashcon" as told by Sarah Z.
[Thanks to Martin Morse Wooster, JJ, John King Tarpinian, David Doering, Jennifer Hawthorne, Chris Barkley, Rob Thornton, Andrew Porter, Michael Toman, Cat Eldridge, and Mike Kennedy for some of these stories. Title credit belongs to File 770 contributing editor of the day Soon Lee.]