(1) Rob Cottingham's "Ancillary Stapler" at Medium.com is highly recommended.
I am lost in thought when Coffeemaker speaks to me, timidly, to say she is almost empty.

Not the emptiness of a depleted urn; it is still half full. No, this is the emptiness that strikes at Coffeemaker's soul: there are no beans in her hopper. When Coffeemaker dreams, this is how her nightmares end.

Marketing Six checks the bean level regularly, even though that isn't in her job description, but Marketing Six isn't here this morning, is she? Off sick. I reach out, and find her iPhone's location coordinates.

"Address Book, where does Marketing Six live?" I ask silently.

"Not at a Starbucks in Eastgate Square Shopping Mall," she says. I didn't know Address Book could be wry.
(2) A previously unsuspected musical subgenre – Vulcabilly.
(3) Prowse Still Grumpy, Film at 11.
The original Darth Vader actor, asked about his interest Star Wars: The Force Awakens, told the Guardian:
"It depends," he said. "It depends if I'm playing the part of Darth Vader in it … Yes – then I'd be very interested. But if they're putting somebody else in Darth Vader's mask, then I'm not the slightest bit interested."
(4) At SF Signal – "SF/F Crowdfunding Roundup: Familiar, ZILF!, Spanish Women of Wonder".
(5) It will be even harder to be a "dirt farmer" on Mars. Jim Bell, a planetary scientist at Arizona State University, will discuss how hard in a lecture titled "Soils of Mars: Keys to Understanding the Habitability of the Red Planet" at the Soil Science Society of America's annual meeting on November 18.
(6) The "Journey To Space" exhibition opened today at the California Science Center in Los Angeles.
Of the more than 7 billion people on Earth, less than 600 have ever left our home planet to experience the beauty, wonder, and danger of space.

Now it's your turn….

In the harsh, airless environment of space, peril is everywhere. Meteoroids soar by at speeds that can make them deadly to astronauts. Temperature fluctuates from burning hot to unbearably cold. It's up to scientists to develop the technology that keeps astronauts safe. Journey to Space: The Exhibition's hands-on exhibits and immersive experiences give you a chance to not only see that amazing technology (including Neil Armstrong's glove), but to try handling some of the challenges of space travel yourself.

Take a turn managing the energy of a simulated orbiting space station, operate a robotic arm, and find out how astronauts eat, sleep, and even go to the bathroom in space. See if you have "the right stuff" to deal with the disorienting environment of zero gravity as you step into a rotating chamber, inspired by the International Space Station's Destiny Module, and feel what it's like to be in a place where there is no up and no down. Designed with the help of astronauts and space scientists, Journey to Space: The Exhibition will inspire the astronaut, engineer and scientist in all of us.
(7) Juliet McKenna appeals for donations to the GoFundMe benefitting Rochita Loenen Ruiz —
Rochita Loenen Ruiz is a brave, generous and talented author and all round lovely person. She has suddenly, tragically lost her beloved husband, the father of her two young children, to an ultimately fatal heart attack.

We cannot comprehend her bereavement. But we can understand the practical challenges she and her family will face in the next little while. That at least is something we can help with.

A fundraising campaign has been set up by her closest friends via GoFundMe

As you will see on clicking through, an array of writers and publishers are offering rewards by way of thanks to those offering their support.
(8) Tom Knighton applauds Wil Wheaton's refusal to let HuffPo post his stuff gratis.
Wheaton declined because he didn't figure he needed the exposure.  Frankly, I'm proud of him.

Any kind of creative type gets these "offers" all the time.  Someone likes what you're doing.  They like it so much they want to utilize it in some way, either have your band play in their bar or run your blog post or something.  "What do you pay?" you ask.

"Oh, we just pay in exposure," they reply.

My reply?  "Son, people die from exposure."

Huffington Post is one of the biggest news websites out there.  They can afford to pay for content.  Yet they don't.  You know why?  Because people will give it to them for free.
(9) Melinda Snodgrass will be executive producer overseeing the writing of Star Trek: Renegades.
Okay, so now I can talk about the work I'll be doing for Star Trek: Renegades. As many of you probably know there has been a tradition of fans of the show making their own episodes and putting them up on-line. They range in quality, but some are produced by people in "the Industry" as we call it. Renegades is one of those.

I was approached by executive producer Sky Conway and asked if I would come on board. I said I would have to look at the pilot they had produced and also that they had to be a WGA signatory. I don't work outside of my guild. I then went and watched Renegades and was very impressed.
A Kickstarter to fund production of Star Trek: Renegades episodes 2 and 3 is in progress. So far they have raised $100,535 of their $350,000 goal.
(10) If Alice Cooper has a middle name, it's not "Humility." Three of his own songs are in his Halloween Top 10.
There were monsters in rock songs before Alice Cooper surfaced in the early '70s with songs like "The Ballad of Dwight Fry," "Dead Babies," and "Killer," But there weren't monsters in rock. Cooper changed all that.

Yet despite his violence and gore, Cooper's style of horror has always been akin to a carnival ride or a monster movie. The thrills are real, but the terror is not, which makes Cooper the ultimate character for Halloween tricks and treats.

Cooper recently talked to Yahoo Music about his 10 favorite Halloween songs, 30 percent of which happen to be his own. "I'm going to have a lot of songs in this top 10," he explained, "because I'm the only one that really writes scary songs."
(11) Today In History
October 29, 1998 — In 1998, U.S. Sen. John Glenn, D-Ohio, who in 1962 became the first U.S. astronaut to orbit Earth, returned to space aboard the shuttle Discovery. At 77, he became the oldest person to travel in space.
October 29, 1969 — The first connection on what would become the Internet was made when bits of data flowed between computers at UCLA and the Stanford Research Institute.
(12) Today's Birthday Boy
Born October 29, 1947 — Actor Richard Dreyfuss, made famous by starring roles in American Graffiti, Jaws, and Close Encounters of the Third Kind, is born in Brooklyn.
(13) Vox Day, in collaboration with artist Red Meat, has a new cartoon that explains the difference between the Ilk, the Dread Ilk, and the Vile Faceless Minions of Vox Popoli.
(14) Emperor Palpatine has been elected to a Ukranian city council; Chewbacca was arrested for campaigning for him…
A candidate who dresses as Star Wars villain Emperor Palpatine has been voted on to a Ukrainian city council despite standing as a joke.

According to fellow candidate Aleksandr Borovik, the man posing as Sheev Palpatine, the Emperor of the Galactic Empire, won a place on Odessa City Council, in the south west of the country.

It comes after the local electoral commission revealed that 48 candidates from the Darth Vader Block political party were registered to stand in the local election.

It has been reported that Emperor Palatine won 54.4 per cent of the poll, causing Mr Borovik to speak of his disbelief, despite respecting the choice of voters

He told RT.com: 'This is beyond my understanding. People, what's wrong with you?'
(15) If you're an optimist about there ever being a Pacific Rim 2, you'll be glad to know that Guillermo del Toro has finished the script. He's still looking for somebody to greenlight production, of course.
(16) According to "The definitive list of werewolf-friendly cities"  Gregory Benford should beware – Irvine is #4 on this list. David Doering will be shocked to see which city is #1….
Werewolves, the cursed humans that turn into enormous beasts at the full moon, date back to the 15th century. Of old English folklore, supposed shapeshifters were put on trial in Switzerland in the 15th century, much like those believed to practice witchcraft.

In the spirit of Halloween, FindTheHome and FindTheCompany wanted to see where werewolves would live (if they do indeed exist) in the United States today. We looked at the following criteria to map likely werewolf haunts.

Cities deemed dog-friendly. Low number of gun shops and gunsmiths. Low prevalence of silver-producing companies (silver is rumored to be able to kill wolves).Low population density (where werewolves would be less easily found).
(17) Today is the day to see Son of Frankenstein at the Alex Theatre in Glendale.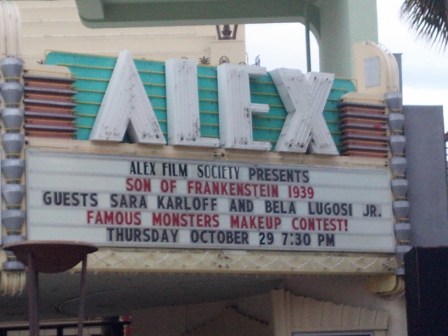 [Thanks to Arnie Fenner, Will R., Mark-kitteh, Jonathan Olfert, Janice Gelb, John King Tarpinian for some of these stories. Title credit belongs to File 770 contributing editor of the day Soon Lee.]