(1) RETRO ROCKET. [Item by Jeffrey Smith] A documentary crew's attempt to find a 100-year-old rocket: "Space Oddity" in The Washington Post Magazine. This one has special interest for me because this is where I live — not Venus, but Hampden. In fact, I was on Morling Avenue today when I went out to pick up our dinner. I've eaten at Holy Frijoles, but not at Rocket to Venus, though it's been here long enough and we've eaten everywhere else, so I don't know why not.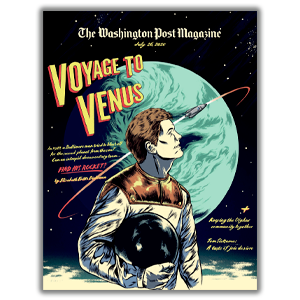 … Now, three longtime friends living in Baltimore — John Benam, Brian Carey and Geoff Danek — along with a film crew, are trying to fill out the story of Robert Condit and his rocket for a documentary titled "Rocket to Venus." In January, they retraced Condit's movements to Miami Beach, where they learned he had taken the rocket after leaving Baltimore. Condit had made international news when he announced that he would launch himself into space from the Florida beach, including a December 1927 mention in The Washington Post under the headline "A Jaunt to Venus."

"Time and again some hardy soul hoped to reach the stars," the article read. "Never, so far as is known, has the feat been attempted: but no one had possessed a machine such as Mr. Condit has developed."

…"It will not be very long until we know just what we have for neighbors," Condit wrote about space travel in a 1928 lecture discovered by the filmmakers, "and in the course of the next few years, we will probably be doing business with Venus as casually as we now transact our affairs across the ocean or go for an aeroplane ride of a few thousand miles before breakfast."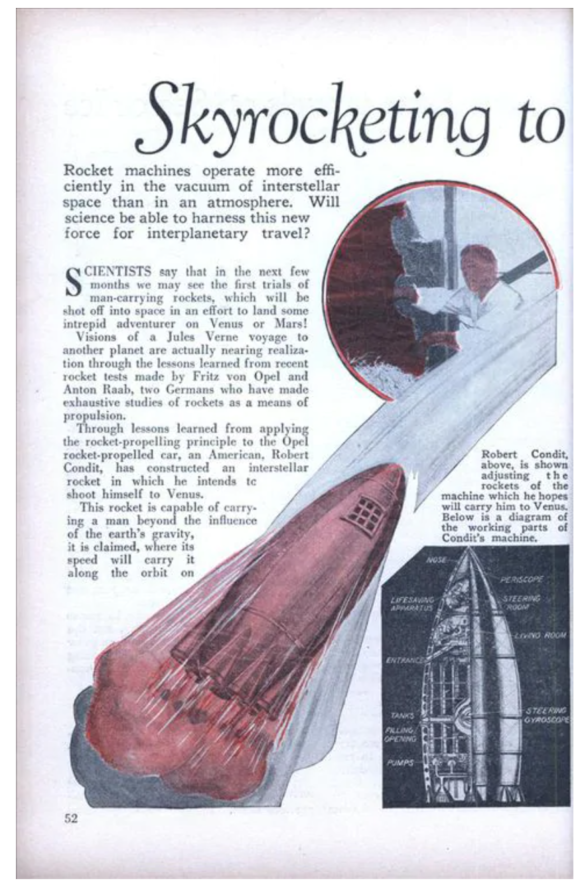 (2) EVEN HOTTER THAN WASHINGTON D.C. All the rocketship did was blow up in his garage, but the technology Condit used was not that different from rockets built at the time by Robert Goddard and Hermann Oberth. What would Condit have found if he'd made it? "Likely active volcanoes found on Venus, defying theory of dormant planet" says The Guardian.
Scientists have identified 37 volcanic structures on Venus that appear to have been recently active – and probably still are today – painting the picture of a geologically dynamic planet and not a dormant world as long thought.

The research focused on ring-like structures called coronae, caused by an upwelling of hot rock from deep within the planet's interior, and provided compelling evidence of widespread recent tectonic and magma activity on Venus's surface, researchers have said.

Many scientists had long thought that Venus, lacking the plate tectonics that gradually reshape Earth's surface, was essentially dormant geologically, having been so for the past half billion years.

…The researchers determined the type of geological features that could exist only in a recently active corona – a telltale trench surrounding the structure. Then they scoured radar images of Venus taken by Nasa's Magellan spacecraft in the 1990s to find coronae that fit the bill. Of 133 coronae examined, 37 appear to have been active in the past 2m to 3m years, a blink of the eye in geological time.
(3) DOCTOR TOO. "Tade Thompson: full-time doctor who finds energy for full-on writing career" – profiled in The Guardian.
After Anton Chekhov and Arthur Conan Doyle, Tade Thompson is the latest in a long line of medical doctors who have become writers.

Thompson is a full-time hospital psychiatrist, who writes science fiction, fantasy and crime thrillers that have received rave reviews and prizes, but he has no intention of giving up the day job, somehow fitting in everything by writing in the early hours.

A fierce bidding war has finally concluded over the film rights to his Molly Southbourne novellas, a nightmarish psychological story about a girl who, when she bleeds, creates duplicates of herself who want to kill her.

The rights have gone to Complete Fiction, the film company the director Edgar Wright and the producer Nira Park set up with their long-time collaborators the writer-director Joe Cornish and the producer Rachael Prior. They will transform the stories into a multi-season television series in collaboration with Netflix. Thompson is executive producing it and may write an episode or two…
(4) SPORTS SECTION. [Item by Steven H Silver.] Where else would you expect to find a mention of Gene Wolfe except in an article about an Argentine football manager published on an Indian website? "Marcelo Bielsa: Genius That's Hard to Miss, Harder to Notice, Impossible to Fathom".
In April last year, at the age of 87, the writer Gene Wolfe died of heart disease in Illinois. For science fiction fans, Wolfe was a cult figure, a modern day savant whose writing only a few could understand, and yet unanimously admired. His books never sold much, and yet he is widely regarded as the greatest American science fiction writer of all time. All his obituaries, while admiring and respectful, had an underlying theme, a question that invariably also followed a huge amount of his literary work. His writing, and its implications, were so challenging and polarising that everyone seemed to question what kind of greatness it was.

The reason to bring up Wolfe is because Marcelo Bielsa is back in business. Talking about Bielsa even more so. The mad stories, legends and myths about this football obsessed, workaholic, crazy, maniacal Argentinian cult figure, spoken about in hushed tones (and loud yells) in football circles across the world, have become mainstream over the past few years….
(5) AT THE ALTER. Lucas Adams reviews the exhibition in "Worlds Apart: Sci-Fi Visions of Altered Reality" in the New York Review of Books.
… Attempting to rework the past, at least on paper, has been the outlet of artists and authors for as long as people have been wishing for different endings. "As If: Alternative Histories From Then to Now," an exhibition at the Drawing Center, presents eighty-four works from 1888 to the present that "offer examples of how we might reimagine historical narratives in order to contend with the traumas of contemporary life."

…Among them is Futurian War Digest by J. Michael Rosenblum, a British science fiction zine the conscientious objector made during World War II, featuring spacefaring adventurers, robot love affairs, and more. The police kept an eye on Rosenblum during the war, out of concern that he was "publishing seditious materials and of collecting contraband ink and paper," the museum wall text explains, but one look at its simple but fanciful black-and-white illustrations, and it's clear this was simply a creative outlet in the midst of a war.

Also on view is work by Herman Poole Blount, better known as the Jazz musician Sun Ra, one of the pioneers of Afro-futurism. In the late 1930s, Sun Ra experienced a life-altering vision in which he went to Saturn and met aliens, and discovered he was not an Earthling, but actually a citizen of outer-space. Ra's creation of a new identity allowed him to free himself from societal constraints, or as the exhibition's free zine puts it: "As an interstellar visitor, Sun Ra wasn't subject to racial violence–he was someone, from somewhere, else."
(6) SAXON OBIT. Actor John Saxon, known for his roles in three Nightmare on Elm Street movies and Enter the Dragon died July 25 at the age of 83 reports the Chicago Sun-Times. His horror résumé also includes two films for Roger Corman: Queen of Blood (1966) and Battle Beyond the Stars (1980), playing a tyrannical warlord.
(7) MEDIA BIRTHDAY.
July 26, 1968 — Mission Mars premiered. (Called Murder in the Third Dimension in the U.K.) Directed by Nick Webster, it was produced by Everett Rosenthal from a screenplay by Mike St. Clair with the story being written by Aubrey Wisberg. The cast was  Darren McGavin, Nick Adams, George De Vries and Michael DeBeausset. Not a single critic at the time like it with one saying it was just a "conventional monster movie" and another commenting that it was "plodding, dull and amateurish". There's no rating at Rotten Tomatoes. (CE)
(8) TODAY'S BIRTHDAYS.
[Compiled by Cat Eldridge and John Hertz.]
Born July 26, 1856 – George Bernard Shaw.  This great playwright, radical, and wise guy did some SF; Man and Superman, Back to Methuselah, Androcles and the Lion, Too True to Be Good, a few more; two dozen short stories; outside our field, essays, music criticism, plays, preachments.  "My method is to take the utmost trouble to find the right thing to say, and then to say it with the utmost levity."  Nobel Prize.  (Died 1950) [JH]
Born July 26, 1885 – Paul Bransom.  Illustrated The Wind in the Willows, Just-So Stories; comic strip The Latest News from Bugville for The New York Evening Journal.  Fifty books of wildlife subjects.  Many fine Saturday Evening Post covers.  Clinedinst Medal.   Here are Ratty and the Wayfarer from Willows, and here is Pan.  Here is "The stork was as hungry as when she began" from An Argosy of Fables.  Here is Buck leaping in the air from The Call of the Wild.  Here is a cover with Joseph Gleeson for Just-So Stories.  (Died 1979) [JH]
Born July 26, 1894 – Aldous Huxley.  Many know his masterpiece Brave New World, with everything wrong and people made to love it, translated into Bulgarian, Dutch, French, Galician, German, Hungarian, Italian, Japanese, Portuguese, Serbian, Spanish; some, his other SF e.g. After Many a Summer Dies the Swan; his last, Island, with everything right, may be weaker.  More novels, essays, short stories, plays and screenplays, poetry, travel.  Pacifist and psychedelicist.  (Died 1963) [JH]
Born July 26, 1928 —  Stanley Kubrick. I'm reasonably sure 2001: A Space Odyssey was the first film I saw by him but Dr. Strangelove or: How I Learned to Stop Worrying and Love the Bomb was the one that impressed me the most. A Clockwork Orange was just too damn depressing. And I'm not a horror fan as such so I never saw The Shining. Barry Lyndon is great but it's not genre by any means. (Died 1999.) (CE)
Born July 26, 1929 – Lars-Olov Strandberg.  Co-founded SFSF (Scandinavian SF Ass'n); chairman, secretary, or treasurer of its board continuously 1965-2011.  Life-long photographer, thus documenting SF cons (see e.g. this fine photo of Kathy & Drew Sanders' entry in the Masquerade costume competition at Seacon '79 the 37th Worldcon).  Linked Swedish fandom to Denmark, Norway, the United Kingdom.  Alvar Appeltofft Award.  Fan Guest of Honor at Swecon 2, Interaction the 63rd Worldcon.  (Died 2018) [JH]
Born July 26, 1939 – Steve Francis, 81.  Some become all-round fans from fanzines; he, from the Dealers' Room.  With wife Sue, mainstays of Rivercon during its twenty-five years; together, Fan Guests of Honor at MidSouthCon 10, Marcon 27, DeepSouthCon 33, Con*Stellation XX.  Rebel and Rubble Awards.  DUFF (Down Under Fan Fund) delegates.  Big Heart, our highest service award.  Scheduled to be Fan Guests of Honor at the cancelled 14th NASFiC (North America SF Con, since 1975 held when the Worldcon is overseas) this year.  [JH]
Born July 26, 1945 — M. John Harrison, 75. TheViriconium sequence, I hesitate to call it a series, starting with The Pastel City, is some of the most elegant fantasy I've read. And I see he's a SJW as he's written the Tag, the Cat series which I need to take a look at. He's not published deep in digital form at this time. (CE)
Born July 26, 1945 — Helen Mirren, 75. She first graces our presences as Hermia in A Midsummer Night's Dream. She next shows up in a genre role as Alice Rage in The Fiendish Plot of Dr. Fu Manchu, Peter Sellers' last film. She's an ever so delicious Morgana in Excalibur and then leaps into the future as Tanya Kirbuk in 2010: The Year We Make Contact. She voices the evil lead role in The Snow Queen, and likewise is Deep Thought in The Hitchhiker's Guide to the Galaxy. (CE)
Born July 26, 1969 — Tim Lebbon, 50. For my money, his best series is The Hidden Cities one he did with Christopher Golden, though his Relics series with protagonist Angela Gough is quite superb as well. He dips into the Hellboy universe with two novels, Unnatural Selection and Fire Wolves, rather capably. (CE)
Born July 26, 1971 – Mary Anne Mohanraj, Ph.D., 49.  Co-founded Strange Horizons, editor four years; editor for ten issues of Jaggery. One SF novel, three others; two dozen shorter SF stories of which three in Wild Cards, a dozen others; essays in SH, Fantasy, Uncanny; interviewed in Lightspeed, Locus, Mithila; edited WisCon Chronicles9.  Gardener and cook.  [JH]
Born July 26, 1978 — Eve Myles, 42. She's a a Welsh actress from Ystradgynlais, convenient as she played Gwen Cooper on Torchwood which was set in and shot in Cardiff. She previously played the servant girl Gwyneth in the Doctor Who episode "The Unquiet Dead" during the Ninth Doctor's time. (CE)
Born July 26, 1978 – Elizabeth Tudor, 42.  Azerbaijani lawyer and SF author.  A dozen novels, as many shorter stories.  Here is her Authors Guild page.  [JH]
(9) COMICS SECTION.
Tom Gauld:
(10) RNZ BOOSTS THE SIGNAL. Here's a first taste of Worldcon coverage in New Zealand's mainstream media: "World Science Fiction Convention hosted by NZ" at RNZ. Hear audio of the broadcast at the link.
Ten years of planning have gone into New Zealand's first time hosting the World Science Fiction Convention. Several thousand ardent fans, guests and speakers were due to come to Wellington from around the world – about now.

But organiser Lynelle Howells says the show must go on – and it will this Wednesday to Sunday, in the virtual realm – more than 750 planned talks, sessions and workshops will be beamed out around the world online.

"The world science fiction convention is held in a different city every year, so for it to come down to New Zealand is a really big deal; then of course Covid happened. It's the first time anybody's tried to run a WorldCon virtually, but needs must," she says.
(11) WORDLESS IN GEHENNA. At The Wertzone, Adam Whitehead reports "Patrick Rothfuss's editor confirms she is yet to read a single word of THE DOORS OF STONE".
In somewhat surprising news, Patrick Rothfuss's editor Betsy Wollheim has reported that she is yet to read any material from his next novel, The Doors of Stone, the third and concluding volume in The Kingkiller Chronicle, and notes a lack of communication on the book's progress.

Rothfuss shot to fame with the first book in the trilogy, The Name of the Wind, in 2007. With over 10 million sales, The Name of the Wind became one of the biggest-selling debut fantasy novels of the century. The second book, The Wise Man's Fear, did as well on release in 2011. Nine years later, the third book remains unpublished.

The Doors of Stone is probably the second-most-eagerly-awaited fantasy novel of the moment, behind only George R.R. Martin's The Winds of Winter, which it actually exceeds in waiting time (though only by five months). Martin has provided updates on The Winds of Winter, albeit extremely infrequent ones, but has recently reported much more significant progress being made. Rothfuss, on the other hand, has maintained near constant zero radio silence on the status of book in recent years, despite posting a picture of an apparently semi-complete draft in 2013 that was circulating among his beta readers….
(12) THE GREATEST STAR TREK SERIES YOU'RE NOT WATCHING. So says Space Command creator Marc Zicree.
I'm the author of The Twilight Zone Companion and also a writer for such shows as Star Trek – The Next Generation, Babylon 5, Deep Space Nine, Sliders and many others.

Recently, I've been shooting a new show that I wanted to share with you. And if you can share it with your fans, that would be great (and let them know we have a Kickstarter campaign going in order to shoot more).

It's called Space Command,
The Kickstarter is to fund the fifth episode, which is a little bit confusingly called "SPACE COMMAND Episode 4 – FORGIVENESS PART 2". As of today they've raised $26,798 of the $48,000 goal, with 17 days left to go.
The show's cast (with some of their previous genre credits) includes Doug Jones (Star Trek Discovery, Shape of Water); Christina Moses (A Million Little Things); Neil deGrasse Tyson (Cosmos); Mira Furlan (Lost, Babylon 5); Nichelle Nichols (Star Trek); Robert Picardo (Star Trek Voyager, The Orville); Mike Harney (Orange is the New Black, Project Blue Book); Bruce Boxleitner (Supergirl, Babylon 5, Tron); Bill Mumy (Lost In Space, Babylon 5); Ethan McDowell (Doom Patrol); Barbara Bain (Space: 1999, Mission Impossible); Armin Shimerman (Deep Space Nine, Buffy).
The Animatic Prequel —  (combining the completed audio play with the work-in-progress graphic novel).
Our Special Two-Part Pandemic Episode
(13) WANDERERS. In Ken Kalfus' story "In Little America" at N+1 Magazine, Americans become the world's illegal migrants.
…For ten months or so I belonged to a crew on a container ship flying a flag of convenience. My passport wouldn't allow me ashore in most ports. The borderless, visa-free ocean was my home.

The American catastrophe had meanwhile entered a new phase that drained the world of any cruel pleasure it had taken in our downfall. Now the overwhelming sentiment was pity. I followed the news with averted eyes….
(14) YOU MAY HAVE ALREADY WON. "Human-sized robot presents lottery winner with check in Quebec".
The first in-person check presented to a lottery winner in Quebec since the start of the COVID-19 pandemic was presented by an official immune to the disease — a human-sized robot.

Loto-Quebec said it employed the use of a robot designed by a student club at the Montreal-based Ecole de Technologie Superieure, in partnership with Centech, to present Guylaine Desjardins with her check for $4.47 million.
[Thanks to Olav Rokne, John Hertz, Andrew Porter, Cat Eldridge, Chip Hitchcock, Mike Kennedy, Martin Morse Wooster, JJ, Michael Toman, Steven H Silver, Errolwi, and John King Tarpinian for some of these stories. Ttle credit goes to File 770 contributing editor of the day Camestros Felapton.]