(1) NOVELETTES ARE ADDED. David Steffan announced that the Indiegogo appeal to fund The Long List Anthology Volume 7 has achieved its final stretch goal —
Today, with 5 days to go in the campaign, we passed the Novelettes stretch goal which adds 10 novelettes to the anthology. Since novelettes have a longer word count, this more than doubles the word count of the book. Thank you to everyone who has backed to make this happen!
Steffan unveiled the complete cover when 75% of the novelette goal was reached earlier this month. Artwork by Elaine Ho.
(2) SUPER BLOOPERS. SYFY Wire alerted readers to these gems of unintentional comedy: "Peacemaker: James Gunn shares Season 1 gag reel".
The Suicide Squad's most muscled-up anti-hero put on a rambling, raunchy good show in the just-concluded debut outing of Peacemaker at HBO Max. Now that Season 1 is done (and with orders already placed for more new episodes), creator James Gunn has a parting gift for viewers: a huge 9-minute gag reel that's every bit as funny as the main event itself….
(3) FAUX POE. [Item by Martin Morse Wooster.] In the Baltimore Sun, Mary Carole McCauley says researchers at Johns Hopkins have unearthed a manuscript for an 1827 song called "Mr. Po" which allegedly has an inscription from Edgar Allan Poe to 13-year-old bride, Virginia Clemm. The researchers think the inscription is probably forged but have no idea why a Poe forger would want to fake sheet music. "Johns Hopkins curators examine musical mystery linked to Edgar Allan Poe".
… "It's very confusing," said Sam Bessen, who discovered the sheet music buried in a box at Johns Hopkins University's Sheridan Libraries. "If it's a forgery, it's a pretty bold one. Why would someone go to all this trouble?

"If you're going to try to forge a document by Poe, why would you forge something in musical notation instead of trying to pass off a 'lost poem'? If this were legitimate, it would be the only known example of musical notation in Poe's hand that I'm aware of."

The investigation into the document's origins and history is continuing; there's always a chance, experts say, that an as-yet undiscovered clue will resolve the question of authenticity beyond any doubt.

Meanwhile, Johns Hopkins curators are encouraging amateur sleuths to examine the sheet music for themselves when it goes on view next month at the George Peabody Library, in the exhibit "Grace Notes in American History: 200 Years of Songs From the Lester Levy Sheet Music Collection."
Reasons for suspecting forgery are given later in the article.
(4) FURY ROAD FUELLED BY … FURY? [Item by Olav Rokne.] Vanity Fair has an excerpt from a book on the making of Mad Max: Fury Road, which I still think is one of the best movies of the past two decades. But I gotta say, Tom Hardy does not come across very well in the behind-the-scenes discussions. "'It Was Horrible': Inside Charlize Theron and Tom Hardy's 'Mad Max' War". From the article:
He was quite aggressive. She really felt threatened, and that was the turning point, because then she said, "I want someone as protection."
(5) YOU CAN CHECK OUT ANY TIME YOU LIKE. The author of a "time travel hotel detective novel" chats with CrimeReads."Why Rob Hart Needed to Write a Time Travel Hotel Detective Novel".
DS: Was there an original inspiration for Paradox Hotel?

RH: I had gone to this interactive theater experience in New York called Sleep No More which I'm a huge fan of. It's structured as a play that you explore, following different actors and different scenes. It starts in a hotel and expands out: all of sudden you're in a graveyard or a psych ward or a forest. And I thought, "Man! Wouldn't it be cool if there was a hotel where you could go into a room and it was five minutes later or ten minutes ago?" I went home and opened a Google doc and wrote "time-travel hotel," and then closed it. I do that whenever I have an idea – I'll start a Google doc and rough something out: sometimes I come back to it, sometimes I don't. This one kept sticking with me especially because I love time-travel stories.
(6) ROBOTIC DRAMA. CNET's Jennifer Bisset admonishes readers, "Don't Skip This Impressive Sci-Fi Mystery in Prime Video's Back Catalog".
… Aside from cute robots, Archive explores a familiar story already covered by the likes of Black Mirror. But it's the delivery that makes Archive impressive. It's a story about artificial intelligence, grief and loss that moves at a steady pace but always keeps enough gears humming to hold your focus on the screen. Surprisingly, much of the tension simmers between the robots themselves.

The two big story strands come together for the final third, almost in perfect unison. You're set up to anticipate the mystery of George's past unfurling into the light, while the consequences of tinkering with sentient robots arrive right on cue. (And then that aforementioned final twist bonks us on the head.)…
(7) MEMORY LANE.
1954 — [Item by Cat Eldridge] Sixty-eight years ago, Rocky Jones, Space Ranger premiered in syndication. This was the first SF show to be entirely pre-filmed instead of being televised live as was the case with the Captain Video, Buck Rogers and Tom Corbett series.
It was also the first to use sets of unusual good quality, live location shoots, and quite decent special effects. Rocky Jones was played by Richard Crane. Sally Mansfield played Vena Ray, his navigator and translator. She had an unusually strong female role for the time.
It was created by Roland D. Reed and written by Warren Wilson, Arthur Hoerl and Marianne Mosner, with Hollingsworth Morse being the director. None of them had a background in SF.
It lasted but two seasons as it never really caught on with the public. Story wise, it actually had a great deal of continuity built into it unlike almost all of the other series at the time. Its thirty-nine episodes in length, each twenty-five minutes in length, aired originally between February 23rd and November 16th, 1954.
A pilot had been filmed two years earlier but much of the cast was recast for the series. And a publicity push was done leading up to the actual broadcast with lots of goodies including badges, buttons, clothing, records, comics books and space dollars produced to promote the show. Even model rocket ship kits were sold which you can find on eBay though they're not cheap these days.
You can see the first episode here.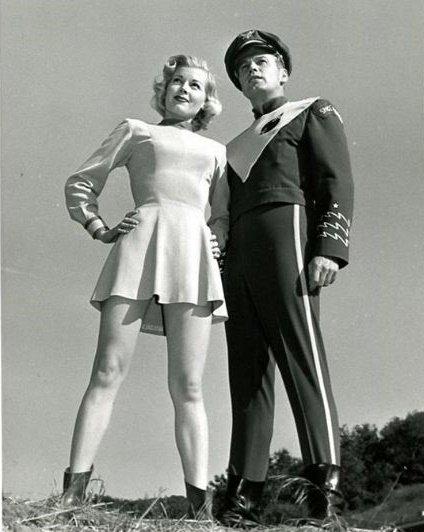 (8) TODAY'S BIRTHDAYS.
[Compiled by Cat Eldridge.]
Born February 23, 1930 — Gerry Davis. Mid-Sixties Story Editor on Doctor Who where he created companion Jamie McCrimmon and co-created the Cybermen along with unofficial scientific adviser Dr. Kit Pedler. They would create the Doomwatch series that ran in the Sixties on BBC. Davis briefly returned to writing for the series, penning the first script for Revenge of the Cybermen, though his script was largely abandoned by editor Robert Holmes. In 1989 he and Terry Nation, who created the Daleks, made a failed bid to take over production of the series and reformat it for the American market. (Died 1991.)
Born February 23, 1932 — Majel Barrett. No doubt best remembered for being Star Trek's Nurse Christine Chapel and Lwaxana Troi, as well as for being the voice of most of the ship computer interfaces throughout the series. I'll note that she was originally cast as Number One in the unused Pilot but the male studio heads hated the idea of a female in that role. Early Puppies obviously. (Died 2008.)
Born February 23, 1965 — Jacob Weisman, 57. Founder, Tachyon Publications, which you really should go look at as they've published every great author I'd care to read. Seriously Tidhar, Beagle and Yolen are among their newest releases! He also edited (with Beagle) The New Voices of Fantasy which I highly recommend as most excellent reading. He also wrote some early genre fiction but I've not read it.
Born February 23, 1970 — Marie-Josée Croze, 52. Champagne in Maelström which is genre if only because it's narrated by a talking fish. In Canada movie theatres, she was in Battlefield Earth: A Saga of the Year 3000 as Mara. Yeah that film with a long title. Doubt it improved it. It looks like her first genre acting was on The Hunger in two episodes, "A Matter of Style" as Dominique, and "I'm Dangerous Tonight" as Mimi. Oh, and she had the lead as Pregnant Woman in Ascension which just reads weird.
Born February 23, 1983 — Emily Blunt, 39. Her most direct connection to the genre is as Elise Sellas in the Adjustment Bureau film based off Dick's "Adjustment Team" story. Mind she's been in quite a number of other genre films including The Wolfman, Gulliver's Travels, Gnomeo & Juliet, The Muppets, Looper, Edge of Tomorrow, Into the Woods, The Huntsman: Winter's War, The Strange Case of Sherlock Holmes & Arthur Conan Doyle, and Mary Poppins Returns.
Born February 23, 2002 — Emilia Jones, 20. I'm reasonably sure this is one of the youngest Birthday individuals that I've done. She shows up on Doctor Who as Merry Gejelh, The Queen of Years, in the "The Rings of Akhaten", an Eleventh Doctor story. At nine years of age, she made her acting debut in Pirates of the Caribbean: On Stranger Tides as an unnamed English Girl. She's Young Beth in the horror film Ghostland. She's currently in Residue, an SF horror series you can find on Netflix.
(9) IMPENITENT. New York Times reviewer Dwight Garner is not a fan of a new nonfiction collection: "In Margaret Atwood's Essays and Speeches, Some Hazards of the Trade".
…In Atwood's new book, "Burning Questions: Essays and Occasional Pieces, 2004-2021," there are so many such speeches, including a PEN talk, that they quickly capsize the boat, threatening to drown even the good material.

The heart-sinking opening sentences start early, and they never entirely stop….
(10) HOW BAD ARE THEY? Dreamworks dropped another trailer for The Bad Guys today. Comes to theaters on April 22.
Nobody has ever failed so hard at trying to be good as The Bad Guys. In the new action comedy from DreamWorks Animation, based on the New York Times best-selling book series, a crackerjack criminal crew of animal outlaws are about to attempt their most challenging con yet—becoming model citizens.

Never have there been five friends as infamous as The Bad Guys—dashing pickpocket Mr. Wolf (Academy Award® winner Sam Rockwell, Three Billboards Outside Ebbing, Missouri), seen-it-all safecracker Mr. Snake (Marc Maron, GLOW), chill master-of-disguise Mr. Shark (Craig Robinson, Hot Tub Time Machine franchise), short-fused "muscle" Mr. Piranha (Anthony Ramos, In the Heights) and sharp-tongued expert hacker Ms. Tarantula (Awkwafina, Crazy Rich Asians), aka "Webs." But when, after years of countless heists and being the world's most-wanted villains, the gang is finally caught, Mr. Wolf brokers a deal (that he has no intention of keeping) to save them all from prison: The Bad Guys will go good.

Under the tutelage of their mentor Professor Marmalade (Richard Ayoade, Paddington 2), an arrogant (but adorable!) guinea pig, The Bad Guys set out to fool the world that they've been transformed. Along the way, though, Mr. Wolf begins to suspect that doing good for real may give him what he's always secretly longed for: acceptance.

So when a new villain threatens the city, can Mr. Wolf persuade the rest of the gang to become … The Good Guys?
(11) I'LL SEA YOU, AND RAISE YOU. "Monstrous 'rogue wave' likely most extreme ever recorded, scientists say" – AccuWeather has details.
Oceanographers have confirmed an enormous wave off the coast of Canada in 2020 was the most extreme "rogue" wave to ever be recorded. In November 2020, a 58-foot-tall rogue wave crashed in the waters off British Columbia, Canada.

A "rogue wave" occurs when a wave is proportionally larger than those around it in a given area of the ocean. These waves happen in open water and grow more than double the height of neighboring waves.

The recent rogue wave was detailed in a study published in the journal Scientific Reports, which is a part of the Nature Publishing Group. The buoy that recorded the event was deployed at Amphitrite Bank, about 4 miles offshore of Ucluelet, British Columbia, in August 2020. This was one of many buoys to be part of a network of marine sensors that comprise MarineLabs' CoastAware™ platform. The buoy is able to record data in 20-minute bursts every 30 minutes.

When the rogue wave hit the buoy in November 2020, it was so large that it raised the buoy about 58 feet. The wave was more than three times as large as the waves that had come before and after it.

…Rogue waves were originally thought to be a myth and often were dismissed as exaggerated accounts. Scientists have since been able to confirm the existence of rogue waves in recent decades.

The first rogue wave to be recorded was off the coast of Norway in 1995. This wave reached a height of nearly 84 feet and was known as the "Draupner wave," according to NBC News. The Draupner wave was double the size of waves around it.

Even though the 1995 wave was taller than the recent record-breaking wave, the 2020 rogue wave became record-breaking because it was nearly three times as large as other waves around it.

Rogue waves generally occur near the center of a group of waves and are unexpected. There is no gradual build-up of wave height leading up to a rogue wave, according to the study.…
(12) A PLANET FOR HAL CLEMENT. "WASP-121b Has Metal Clouds, Astronomers Say" – Gizmodo has the story.
New observations of the football-shaped exoplanet known as WASP-121b have revealed clues to its atmosphere and weather. Astronomers say it may have metal clouds made up of iron, corundum, and titanium.

WASP-121b orbits a star 850 light-years from Earth and is twice as large as our Jupiter. (It's classified as a hot Jupiter, meaning its a gas giant that orbits relatively close to its star.) WASP-121b completes a revolution in just 30 hours—only slightly longer than an Earth day. It also has a bizarrely oblong shape, which is due to the intense gravitational forces the planet is subject to.

But the really surprising element of the latest findings are the details of the planet's climate; how its temperatures plummet at night and change throughout the atmosphere. The team observed the hot Jupiter using the Hubble Space Telescope, and their study is published this week in Nature Astronomy….
(13) VIDEO OF THE DAY. [Item by Martin Morse Wooster.] In "Honest Game Trailers: Pokemon Legends: Arceus," Fandom Games says the Pokemon franchise has been stagnant for decades, and "the most interesting thing about the game is watching adults arguing about a game meant for toddlers." But while Arecus is the most imaginative Pokemon game in decades, you can't fight other players, "and how can you call yourself a Pokemon master if you can't get a 30-year-old to rage quit?"
[Thanks to Andrew Porter, Michael Toman, Chris Barkley, Olav Rokne, Daniel Dern, Cat Eldridge, Mike Kennedy, Martin Morse Wooster, JJ, and John King Tarpinian for some of these stories. Title credit belongs to File 770 contributing editor of the day Christian Brunschen.]