By Cat Eldridge:
THE SHADOW'S "BLACK BUDDHA"
On this evening in 1938, The Shadow's "Black Buddha" first aired on Mutual Radio. It starred Orson Welles as The Shadow (Lamont Cranston) and Margot Stevenson as Margot Lane. "A shop owner will kill anyone to regain a statue from the Far East, beginning with the lawyer to whom the statue was sold by mistake." It was sponsored by BF Goodrich Tires. You can listen to it here.
X MINUS ONE'S TUNNEL UNDER THE WORLD
On this date in 1956, X Minus One's "Tunnel Under the World" first aired. It's based on the short story by Frederik Pohl that was first published in the January 1955 issue of Galaxy. The story is that June 15th keeps repeating each day with a very slight change each day. George Lefferts wrote the script.  Cast was Norman Rose, Dean L. Olmquist, Amy Sedell,  Elaine Ross, Bob Hastings, Ken Raffitte and Larry Haines. You can listen to the broadcast here.
ROLLERBALL
On this date in 1975, Rollerball premiered in the United Kingdom. It was directed and produced by Norman Jewison. The screenplay was written by William Harrison from his "Roller Ball Murder" story which had first been published  in the September 1973 issue of Esquire. It stars James Caan, John Houseman, Maud Adams, John Beck, Moses Gunn and Ralph Richardson. Critics on the whole were unimpressed but it did well at box office, and audience reviewers at Rotten Tomatoes currently give it an excellent 67% which is decidedly better than the 14% rating the twenty-five-year-later remake receives. 
XENA: WARRIOR PRINCESS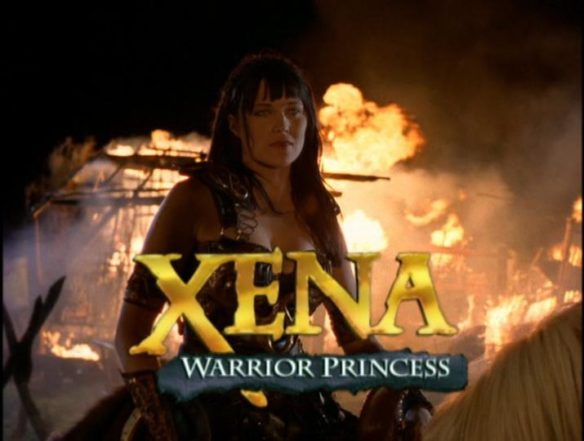 On this date in 1995, Xena: Warrior Princess first aired in first-run syndication. It was created by John Schulian and Robert Tapert with development work by R.J. Stewart and Sam Raimi.  It was executive produced by Robert Tapert and Sam Raimi. It starred Lucy Lawless and Renee O'Connor. It would run for six seasons and one hundred and thirty-four episodes. An animated film, Hercules and Xena – The Animated Movie: The Battle for Mount Olympus, myriad novels and even comics followed. The late Josepha Sherman ghost wrote XENA: All I Need to Know I Learned From the Warrior Princess. A reboot was planned five years ago but canceled.