By Carl Slaughter: There have now been two hidden history anthologies, published with this goal —
We want to provide solidly grounded historical fiction to modern readers, who may have only encountered myths, fragments, or garbled notions of how marginalized people lived (and died) in past times—or may never have learned anything about those people at all.
By foregrounding marginalized people from the past, we hope to amplify marginalized voices in the present. Every story will make a statement that these voices deserve to be heard, and these stories are worth telling and reading.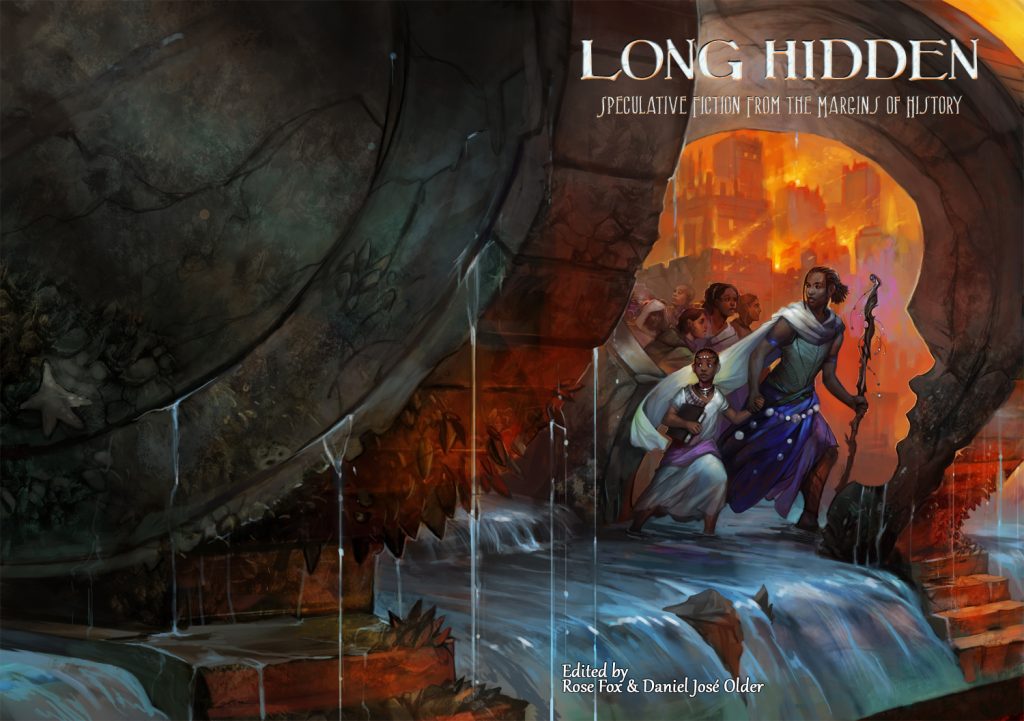 Long Hidden: Speculative Fiction from the Margins of History edited by Rose Fox and Daniel Jose Older, funded through a successful Kickstarter, was released in 2014.
In 1514 Hungary, peasants who rose up against the nobility rise again – from the grave. In 1633 Al-Shouf, a mother keeps demons at bay with the combined power of grief and music. In 1775 Paris, as social tensions come to a boil, a courtesan tries to save the woman she loves. In 1838 Georgia, a pregnant woman's desperate escape from slavery comes with a terrible price. In 1900 Ilocos Norte, a forest spirit helps a young girl defend her land from American occupiers.

These gripping stories have been passed down through the generations, hidden between the lines of journal entries and love letters. Now 27 of today's finest authors reveal the people whose lives have been pushed to the margins of history.
TABLE OF CONTENTS
Sofia Samatar – "Ogres of East Africa"
Thoraiya Dyer – "The Oud"
Tananarive Due – "Free Jim's Mine"
S. Lynn – "Ffydd (Faith)"
Sunny Moraine – "Across the Seam"
Rion Amilcar Scott – "Numbers"
Meg Jayanth – "Each Part Without Mercy"
Claire Humphrey – "The Witch of Tarup"
L.S. Johnson – "Marigolds"
Robert William Iveniuk – "Diyu"
Jamey Hatley – "Collected Likenesses"
Michael Janairo – "Angela and the Scar"
Benjamin Parzybok – "The Colts"
Kima Jones – "Nine"
Christina Lynch – "The Heart and the Feather"
Troy L. Wiggins – "A Score of Roses"
Nghi Vo – "Neither Witch Nor Fairy"
David Fuller – "A Deeper Echo"
Ken Liu – "Knotting Grass, Holding Ring"
Kemba Banton – "Jooni"
Sarah Pinsker – "There Will Be One Vacant Chair"
Nnedi Okorafor – "It's War"
Shanaé Brown – "Find Me Unafraid"
Nicolette Barischoff – "A Wedding in Hungry Days"
Lisa Bolekaja – "Medu"
Victor LaValle – "Lone Women"
Sabrina Vourvoulias – "The Dance of the White Demons"
Hidden Youth: Speculative Fiction from the Margins of History, edited by Mikki Kendall and Chesya Burke, was published in 2016.
In 1862, a teenaged engineer fights murderous traitors with steam-powered war machines for the sake of the Union. In 1750 Poland, a police officer picks a fight with the wrong bagel vendor. In 1874, a young clerk investigating the use of Chinese laborers in Cuba finds herself working for the dead as much as for the living.

The sequel to the World Fantasy and Locus Award-nominated anthology Long Hidden, Hidden Youth focuses on children: underage protagonists marginalized in their time. 22 excellent stories ranging across nearly 2,400 years and spanning the globe, Hidden Youth reveals the stories of young people whose lives have been pushed to the margins of history.
TABLE OF CONTENTS
Jessi Cole Jackson – "Throwaway Children"
Jaymee Goh – "A Name to Ashes"
K.T. Katzmann – "The Bread-Thing in the Basket"
Momtaza Mehri – "The Jinn's Only Son"
Daniel Brewer – "Not a Witch"
Sioban Krzywicki – "Trenches"
A.J. Odasso – "Feet of Clay"
Alec Austin – "The Paper Sword"
Michael Ezell – "Genius Jones and the Rolling Rifle"
Warren Bull – "The Girl, the Devil & the Coal Mine"
Erik Jensen – "How I Saved Athens from the Stone Monsters"
JM Templet – "The Ostrich Egg Girl"
Imani Josey – "North"
Peter Medeiros – "Acclimating Fever"
Thom Dunn – "An Baile na mBan"
E.C. Myers – "In His Own Image"
Kate McCane – "Nelly"
Nitra Wisdom – "Purple Wings"
J.S. Hawthorne – "The Promised Land"
P. Djèlí Clark – "The Mouser of Peter the Great"
Camilla Zhang – "The Ship that Brings You Home"
De Ana Jones – "Fear of the Dark"
Cover art by Julie Dillon