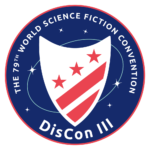 DisCon III emailed members on December 28 about five more positive test results among people who attended last week's Worldcon. This will be the final daily report from their COVID response team tracking contacts after the convention. One more report will be sent next week. Overall, as of December 27th, 31 people have reported positive test results, one of which was a false positive.
Here are links to the earlier reports:
The report begins with a comparison of DisCon III's Covid statistics with those of the District of Columbia generally, then follows with updated CDC and other advice about how to handle positive tests. Details of the five new cases are at the end.
---
DisCon III December 28 Email
As we move further in time from DisCon III, it becomes increasingly difficult to be certain that any given COVID case was contracted at the convention instead of during post-convention activities. Today is our last daily email. We will send another update one week later, but we will generally limit our reporting to tests conducted before 12/26 whose results were delayed in arriving, or to members who were symptomatic before 12/26 but had difficulty obtaining tests.
This email contains the 5 new cases at the top, followed by the text of our previous email for easy reference. If you have any questions or concerns, please email [email protected].
Overall, as of December 27th, 31 people have reported positive test results, one of which was a false positive.
To put these numbers into context, DisCon III had approximately 2,300 attendees. In the ten days between December 17th and December 26th, 26 of them—1.13%—reported positive test results.
In contrast, the District of Columbia has approximately 670,000 residents. In the ten days between December 17th and December 26th, 17,546 of them—2.62%—reported positive test results.
This is not and cannot be a perfect comparison. Among other things, we do not know what percentage of DisCon III members did not report their COVID status to DisCon III, or what percentage of DC residents' tests have not been reported to the Department of Health. But we hope having context for DC's overall infection rate will help explain why the number of cases reported in these emails has been so high. The fact that our apparent rate is lower than the general DC rate, we attribute it to our masking and vaccination requirements.
(We are calculating starting from December 17th because that was the first day DisCon III received a case report, and ending December 26th because DC has not yet made available data from December 27th. We are including DisCon III's false positive in this number because DC does not extract false positives from its data.)
Please note that the CDC has updated its isolation and quarantine advice as of December 27, 2021.
For people who are unvaccinated or are more than six months out from their second mRNA dose (or more than 2 months after the J&J vaccine) and not yet boosted, the CDC now recommends full quarantine for 5 days followed by strict mask use for an additional 5 days after exposure
Individuals who have received a booster should wear a mask at all times when around others for 10 days following exposure but do not need to quarantine.
DisCon III encourages all attendees to act as though they were exposed, and we especially encourage this of anyone who attended a Business Meeting, as a disproportionate number of cases occurred among participants there.
What to do if you test positive for COVID-19?
Tell the convention at

[email protected]

. We will keep your name private but may share anonymized information about your activities for contract-tracing purposes. With your consent, we will also report non-anonymized data to the DC Department of Health.
If your positive test result was from an at-home antigen test, try to obtain a PCR test for confirmation.
If you are a resident of DC and used an at-home antigen test, report the result to DC. If you live in another jurisdiction, ask your doctor how to report your result.
Think about where you were and if you had your mask off.
Inform anyone you know personally and were in close contact with about your test result
Close contact is defined as someone who was within 6 feet for a total of 15 minutes or more within 2 days prior to illness onset, regardless of whether the contact was wearing a mask.
The CDC recommends an initial 5-day isolation period. If after 5 days you are asymptomatic, you no longer need to isolate but you should wear a mask when around others for 5 additional days. If you are still symptomatic after 5 days, you should continue to isolate. (This is an updated recommendation released on December 27th.) Day zero is the first day you develop symptoms or test positive.
Case AA 
Received a positive PCR test result on Sunday, 26th December, for a test conducted on Thursday, 23rd December
Asymptomatic
Was at the Omni Shoreham beginning Monday, December 13
Visited the dealer's room and the art show repeatedly
Attended program items including:

Almost There Filk (Tue)
Open Ceremonies (far back on left) (Wed)
Amy McNally concert (Wed)
Pick, Pass, or Play Filk (Wed)
Stroll with the Stars (unmasked) (Thur)
Changing Genes (far back on right) (Thur)
Memorial Filk Circle (Thur)
Chaos Filk (Thur)
Filk Concert (Fri)
What Is Filk (Fri)
Seanan McGuire concert (far back on left) (Fri)
Tiara workshop (Fri)
Chaos Filk (Fri)
Stroll with the Stars (unmasked) (Sat)
Culture of the Conquered (far back on left) (Sat)
Sara Heney (far back on left) (Sat)
2020 Ruined My Book (back row against the wall) (Sat)
Closing Ceremonies (middle of front middle section) (Sun)
Dead Dog Filk (Sun, after 8 pm)

Attended the Masquerade (first row back from the big aisle, middle of row) and the Hugo Awards (first row back from big aisle, middle of row)
Dined at Lebanese Taverna (5 pm Thur), Robert's Restaurant (evening Fri), Rajaj (5:30 pm Sat)
Dining companions have tested negative
Case AB
Received a positive PCR test result on Monday, 27th December, for a test conducted on Tuesday, 21st December.
Symptoms include running nose, cough, headache, and body aches
Partner tested negative on Tuesday, 21st December, but began experiencing symptoms on Thursday, 23rd December, and is now seeking an additional test
Was at the Omni from Thursday, 16th December, through Monday, 20th December
Dined in Robert's Restaurant Friday, Saturday, and Sunday mornings. Ate dinner at Lebanese Taverna Friday and Sunday evenings
Visited the dealer's room and attended the Hugo Awards reception, ceremony, and afterparty
Participated in Saturday evening karaoke
Socialized in the lobby and by the firepits outside the hotel
Case AC – Marcia Illingworth, named by request
Tested positive on Monday, 27th December, after difficulty obtaining a test
Symptomatic since Wednesday, 22nd December
Stayed off-site at the Days Inn
Worked Magpie Curios in the dealer's room from Wednesday through Sunday
Dined at Thai Pad on Wednesday, 15th December
Roommates have tested positive, see below
Case AD – Sally Kobee, named by request
Tested positive on Monday, 27th December, with a home antigen test
Symptoms began Monday, 20th December, and include scratchy throat, nasal congestion, and cough
Stayed off-site at the Days Inn, roommate of case AC
Commuted via metro
Spent all five days of the convention working in the dealer's room
Case AE – Ralph Franklin Smith, named by request
Tested positive on Monday, 27th December, with a home antigen test
Asymptomatic
Stayed off-site at the Days Inn, roommate of case AC