(1) MARGINALIZED BY STAR WARS. "John Boyega: 'I'm the only cast member whose experience of Star Wars was based on their race'" – a British GQ interview.
With the Lucasfilm-branded elephant in the room acknowledged, it is even harder to ignore. This is Boyega's first substantial interview since finishing the franchise – his first since last year's The Rise Of Skywalker tied a highly contentious, hurried ribbon on the 43-year-old space saga. How does he reflect on his involvement and the way the newest trilogy was concluded?

"It's so difficult to manoeuvre," he says, exhaling deeply, visibly calibrating the level of professional diplomacy to display. "You get yourself involved in projects and you're not necessarily going to like everything. [But] what I would say to Disney is do not bring out a black character, market them to be much more important in the franchise than they are and then have them pushed to the side. It's not good. I'll say it straight up." He is talking about himself here – about the character of Finn, the former Stormtrooper who wielded a lightsaber in the first film before being somewhat nudged to the periphery. But he is also talking about other people of colour in the cast – Naomi Ackie and Kelly Marie Tran and even Oscar Isaac ("a brother from Guatemala") – who he feels suffered the same treatment; he is acknowledging that some people will say he's "crazy" or "making it up", but the reordered character hierarchy of The Last Jedi was particularly hard to take.

"Like, you guys knew what to do with Daisy Ridley, you knew what to do with Adam Driver," he says. "You knew what to do with these other people, but when it came to Kelly Marie Tran, when it came to John Boyega, you know fuck all. So what do you want me to say? What they want you to say is, 'I enjoyed being a part of it. It was a great experience…' Nah, nah, nah. I'll take that deal when it's a great experience. They gave all the nuance to Adam Driver, all the nuance to Daisy Ridley. Let's be honest. Daisy knows this. Adam knows this. Everybody knows. I'm not exposing anything."
(2) IN PLAIN SIGHT. On June 25 Gollancz (the SF/Fantasy/Horror imprint of Orion Books) released the first three books in McCaffery's Dragonflight series as audiobooks. Artist Allison Mann noticed something about the art that was used. Thread begins here.
Someone else tweeted a possible source for the art on their Dragonflight audiobook as well.
(3) JETPACK CROSSING. The Los Angeles Times reports an incident near the airport: "A jet pack at LAX? Maybe. Jet packs are very real".
It sounds like something out of a movie: An American Airlines pilot calls the control tower at Los Angeles International Airport to warn that his plane just flew past someone in midair — a person wearing a jet pack.

But the pilot really did give that warning Sunday night, and it wasn't laughed off. The FBI is investigating….

JetPack Aviation Corp., based in Van Nuys, says it's the only one to have developed a jet pack that can be worn like a backpack. The technology is real: Chief Executive David Mayman demonstrated it five years ago by flying around the Statue of Liberty, and his company has created five of them.

So it's not out of the question that someone could have been soaring above the airport last weekend, giving pilots a scare.

Mayman was quick to say that if a jet pack was involved, it wasn't one of his. JetPack Aviation keeps its five packs locked down, he said, and they're not for sale. The company does offer flying lessons at $4,950 a pop, but he said students are attached to a wire and can't stray too far.

None of the company's competitors sell their products to consumers either, Mayman said.

The weekend incident "got us all wondering whether there's been someone working in skunkworks on this," he said, using a term for a secret project. Or maybe, he mused, the airline pilot saw some kind of electric-powered drone with a mannequin attached.
CNN reports the exchanges wth the tower went like this:
"Tower. American 1997. We just passed a guy on a jetpack," the first plane called in. "Off the left side maybe 300 — 30 yards or so. About our altitude."

About 10 minutes later, another plane spotted the man.

"We just saw the guy fly by us on the jetpack," the crew told the traffic controller.

According to the communications, air traffic control warned a JetBlue flight to "use caution… person on a jetpack reported 300 yards south."

After the plane acknowledged the instruction, the controller concluded with: "Only in LA."
(4) YOUR OVERDUE FUTURE. The Irish Times constructed their checklist with the help of a 1974 sf collection: "Promises, promises: What is 2020 not delivering?" Everything besides jetpacks, I guess.
2020 is one of those years. No, not in that sense (well, obviously in that sense but that's not what we're talking about here…). No, 2020 is one of those years that tends to crop up in 20th century science fiction as a key year, a momentous one. A year by which time certain prophecies will have come true.

Back in the seventies, publisher Jerry Pournelle published an anthology book called 2020 Vision, for which he sought contributions from such noted sci-fi authors as Harlan Ellison, Larry Niven, and Ben Bova. While some of the predictions, such as robot chefs, deep-space exploration by humans, and, erm, "An adult playground where law is enforced by remote control" haven't come to pass (unless I'm missing something…) a few did. Several of the stories have mentions of mobile communication technology, while Prognosis: Terminal by David McDaniel posits a future where there is "a gigantic world brain to which everyone is infinitely connected." Sounds like the internet to me…
(5) LOVECRAFT COUNTRY. At the Jewish Telegraphic Agency, Philissa Cramer asks "HBO's 'Lovecraft Country' contains a plot point that resembles an age-old anti-Semitic lie. Why?"
…Hiram Epstein, the episode reveals, was a University of Chicago scientist who conducted gruesome experiments on Black children and adults in the basement of the Winthrop House, a decrepit mansion in a white neighborhood that a main character, Leti Lewis, purchases and renovates. His spirit haunts the home, making it unsafe for Leti and her tenants and friends, until an exorcism summons the mutilated bodies of his victims and restores psychic order.

Epstein's story calls to mind the way that Jews have been accused for centuries of stealing the blood of non-Jewish children to use in religious rituals, often to make matzah for Passover, in what is known as a "blood libel." The blood libel charge was leveled routinely at Jews beginning in the Middle Ages, and it was used to justify countless deadly pogroms and vigilante actions. A blood libel charge tore apart an upstate New York town in 1928, and the trope featured prominently in Nazi propaganda.

Could "Lovecraft Country," which deals so elegantly with the Black American experience, really have a blood libel embedded in its plot? On Twitter, I found a single reaction to Hiram Epstein's name — one that matched my own.

…Scholars who study anti-Semitism had more to say. The plot point "falls right into the category of a new version of the blood libel," Elissa Bemporad, a scholar of Jewish history at Queens College who recently published a book about blood libels in the Soviet Union, told me. "The name Epstein gives it away. This clearly builds on the blood libel trope and narrative — the question of children as victims of the alleged crime, and the fact that the perpetrator is a man. Anti-Semitism, like racism, is so often gendered."

The Epstein name isn't present in the original novel on which the series is based, "Lovecraft Country" by Matt Ruff. There, the ghost that haunts the house Leti buys is named Hiram Winthrop — explaining the mansion's name — and he isn't a doctor. (He also isn't nearly as scary.) The series adds a more recent owner who colluded with local police to facilitate abductions and experimentation.

…But intention is only part of the picture when assessing stereotypes in popular culture, according to Aryeh Tuchman, the associate director of the Anti-Defamation League's Center on Extremism.

"I don't want to say you can never have a villain in a movie or TV show have a stereotypically Jewish name," Tuchman said. "But you need to educate yourself. When you're dealing with a topic that is so fraught as allegations of ritual murder, then to know that these allegations have been leveled against Jews for thousands of years is something you need to pay attention to."
(6) BEST PRACTICE? John Scalzi delivered "A Quick Note on the Malleting of Comments" to Whatever readers today.
I've recently begun to see an upswing in comments which begin with some variation of "I expect this comment to be deleted/malleted/otherwise expunged, but…" I think this is done for two reasons. About five percent of the time it's someone genuinely not knowing whether what they're about to write is going to cross the line with regard to my moderation policies. The rest of the time it's a warding spell and/or pre-emptive smugness at transgression; either "not in the face!" or "see, I told you."

Either way I find it passive-aggressive and annoying, so here's a new guideline I've begun implementing: When I see some variation of "I expect this comment to get the Mallet," I'm going to stop reading the comment there, and will most likely then Mallet the comment — not necessarily because the comment was in itself mallet-worthy (although it might have been, who knows), but simply because I'm a people-pleaser and don't want to disappoint the person making the comment….
(7) BLACK SUN. "Rebecca Roanhorse's Genre-bending New Novel" – a Publishers Weekly profile by Dhonielle Clayton.
…She encountered many half-Native characters in popular urban fantasy series, but noticed how those characters were divorced from their heritages. "They didn't interact with the heroes and gods and monsters of Native cultures," she explains. She says she started thinking: "Wouldn't it be great if there was a story where a character was very Native? Very attached to her culture and surrounded by brown people, and in a world that I knew?"

She'd been practicing Indian law and living in the Navajo nation with her husband and daughter when she started thinking about writing more seriously. It was at this point that she began working on what would become her debut fantasy, the Locus-winning and Hugo-nominated novel Trail of Lightning (Saga Press), which was published in 2018, when Roanhorse was in her 40s.

"So I just decided to write it. I wrote it purely for myself and for the joy of writing, and to keep myself sane while being a lawyer," she says. "I didn't even know people like me could be writers. An editor asked me why I waited so long to start writing, and I said 'I didn't know that I could be a science fiction and fantasy writer.' I didn't come to see people like Octavia Butler and N.K. Jemisin until later, so I didn't see anyone writing this genre that looked like me. So I didn't even know it was an option."
(8) WOMEN IN COMICS. When The Society of Illustrators in New York reopens on September 9, one of its exhibits will be "Women in Comics: Looking Forward and Back". Afua Richardson, a Dublin 2019 Feautured Artist, is one of the many who will have work on display.
Over 50 women cartoonists from vintage comic strips to cutting edge graphic novels explore themes common to the female experience such as love, sexuality, motherhood, creativity, discrimination, and independence. 75 works drawn from the collection of the author and herstorian Trina Robbins show a progression of witty women from the Flapper era to the psychedelic women's comix of the 1970s…
Building on this foundation, 20 contemporary women cartoonists will be showing work from new or upcoming publications…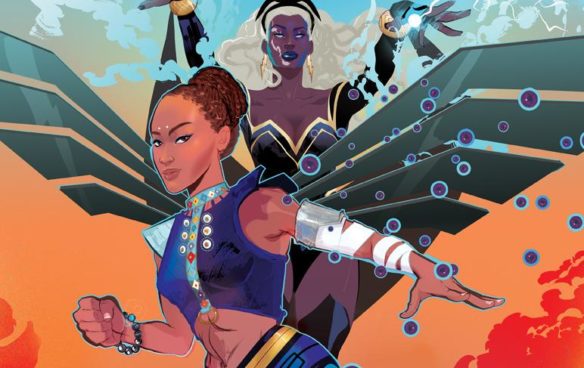 (9) EX CATHEDRA. In Episode 35 of their Two Chairs Talking podcast, David Grigg and Perry Middlemiss say a sad farewell to John Bangsund, and discuss three quirky films of Terry Gilliam: Time Bandits, Brazil and 12 Monkeys: ?"The gifted grotesqueries of Gilliam".
(10) MEDIA ANNIVERSARY.
September 2013 – NESFA Press published The Road to Amber: Volume 6: The Collected Stories of Roger Zelazny. It reprinted the first of the Francis Sandow series, "Dismal Light", published in the May 1986 issue of If, where this character first appears. The story comes before Isle Of Dead, the prequel to To Die in Italbar. (Zelazny would narrate the audiobook version of this as he did Isle of Dead and Home is The Hangman but they were never digitized.) It would also include the not-previously-collected piece in the series, "Sandow's Shadow (Outline)".
(11) TODAY'S BIRTHDAYS.
[Compiled by Cat Eldridge and John Hertz.]
Born September 2, 1899 — Martin Miller. He played Kublai Khan in the completed erased by the BBC First Doctor story, "Marco Polo." He's in the first Pink Panther film as Pierre Luigi, a photographer, and has roles in Danger Man, Department S, The Avengers and The Prisoner. In the latter, he was number Fifty-four in "It's Your Funeral". The Gamma People in which he played Lochner is I think his only true genre film. (Died 1969.) (CE) 
Born September 2, 1911 — Eileen Way. She shows up on Doctor Who twice, first as Old Mother in the First Doctor story, "The Forest of Fear," and later in a major role as Karela in the Fourth Doctor story, "The Creature from the Pit". She'd also shows up on the non-canon Daleks' Invasion Earth 2150 A.D. as simply Old Woman at the age of fifty-five. Other genre appearances i think is limited to an appearance on Alcoa Presents: One Step Beyond. Well unless you count The Saint which is at best genre adjacent. (Died 1994.) (CE) 
Born September 2, 1918 – Allen Drury.  I came to Advise and Consent long after its years as a NY Times Best Seller; it's first-rate; it's moved by 1950s values – what else would people write in 1959? and I don't read books to be agreed with.  Five SF sequels (Advise isn't SF), a novel about a Mars mission, two about ancient Egypt, a dozen others outside our field, five nonfiction books. Two of the Advise sequels are mutually incompatible, each supposing a different assassination.  (Died 1998) [JH]
Born September 2, 1925 — Peter Hunt. He was the Editor, yes Editor, on five of the better Bond films (Dr. No, From Russia with Love, Goldfinger, Thunderball and You Only Live Twice), and also the much lesser On Her Majesty's Secret Service. He was also responsible for a Gulliver's Travels and, I'm not kidding about the title, Hyper Sapien: People from Another Star which I've never heard of but gets a stellar 75% rating from audience reviewers at Rotten Tomatoes. He directed the title sequence of Chitty Chitty Bang Bang. (Died 2002.) (CE)
Born September 2, 1942 – Demi, 78.  Born in Massachusetts, M.A. from Univ. Baroda.  Seventy books she illustrated herself, e.g. Liang and the Magic Paintbrush, Dragon Kites and Dragonflies, The Magic Boat, One Grain of Rice, The Firebird; illustrated for others, e.g. Yolen's Dragon Night, James' Eucalyptus Wings.  [JH]
Born September 2, 1944 – Roland Green, 76.  Seventy novels, thirty shorter stories, some with co-authors e.g. wife Frieda Murray.  Three dozen reviews in Far Frontiers including Bridge of Birds and Heart of the Comet.  One anthology with Bujold, another with Turtledove.  Inconsequential SF Tales for the Worldcon bid that won and hosted Chicon 7 (70th Worldcon).  [JH]
Born September 2, 1946 — Walter Simonson, 74. Comic writer and artist who's best known I think for his run on Thor during the Eighties in which he created the character Beta Ray Bill. An odd character that one is. He's worked for DC and Marvel, and a number of independent companies as well. His artwork on the RoboCop Versus The Terminator that Dark Horse did is amazing. (CE) 
Born September 2, 1951 — Mark Harmon, 69. Much better known for his work on NCIS and yes, I'm a fan, but he's done some genre work down the decades. An early role was as Gacel Sayah in Tuareg: Il guerriero del deserto, a Spanish-Italian pulp film. He was Jack Black in Magic in the Water, and voiced Clark Kent/Superman on Justice League: Crisis on Two Earths. He was in the Wally Schirra in the genre adjacent From the Earth to the Moon miniseries, and shows as Bob Markham in the "Tarzan and The Outbreak" episode of The Legend of Tarzan. (CE)
Born September 2, 1953 – Gary Lippincott, 67.  Thirty covers, a score of interiors.  Here is the Jan 95 F&SF.  Here is Little, Big.  Here is "Tori and Friends".  Here is The Prince and the Pauper (M. Mayer adaptation).  Artbook Making Magic.  Three Chesleys.  [JH]
Born September 2, 1955 — Steve Berry, 65. Author of the Cotton Malone series which is either genre or genre adjacent depending on where your personal boundaries fall. There's five in the series now with the first being The Templar Legacy. He also self-published a Captain America novel, Never Forgotten, and a Star Wars story as well, "Crash Landing", which makes him a fanfic writer as well. (CE) 
Born September 2, 1972 – Justine Musk, 48.  In a highly various life she's written three novels for us, three shorter stories.  Taught English as a Second Language in Japan.  "Love without power is anemic, as Martin Luther King, Jr., pointed out, and power without love is tyranny….  We *cannot* … dismiss the subject altogether because it is distasteful to us.  The point is not to play the same old game, whether we're buying into it or rebelling against it."  [JH]
Born September 2, 1977 – Fuminori Nakamura, 43.  Kenzaburô Ôe Prize for The Thief, called a chilling philosophical novel.  Evil and the Mask is ours.  A dozen more novels (five translated into English so far), four collections of shorter stories.  David Goodis Award.  [JH]
(12) COMICS SECTION.
(13) BUSIEK, AHMED HAVE STORIES IN SPIDER-MAN MILESTONE ISSUE. Spider-Man reaches another milestone this month with Amazing Spider-Man #850, the latest issue in writer Nick Spencer's run on the title. The issue features the return of Spider-Man's greatest villain, the Green Goblin. There's a trailer for it here.
There will also be a trio of back-up stories by "Spidey legends of past, present and future to drive home that Spider-Man is the greatest character in all of fiction!"
Those back-up tales are by Kurt Busiek, Chris Bachalo, Tradd Moore, Saladin Ahmed, and Aaron Kuder. Amazing Spider-Man #850 hits stands September 30.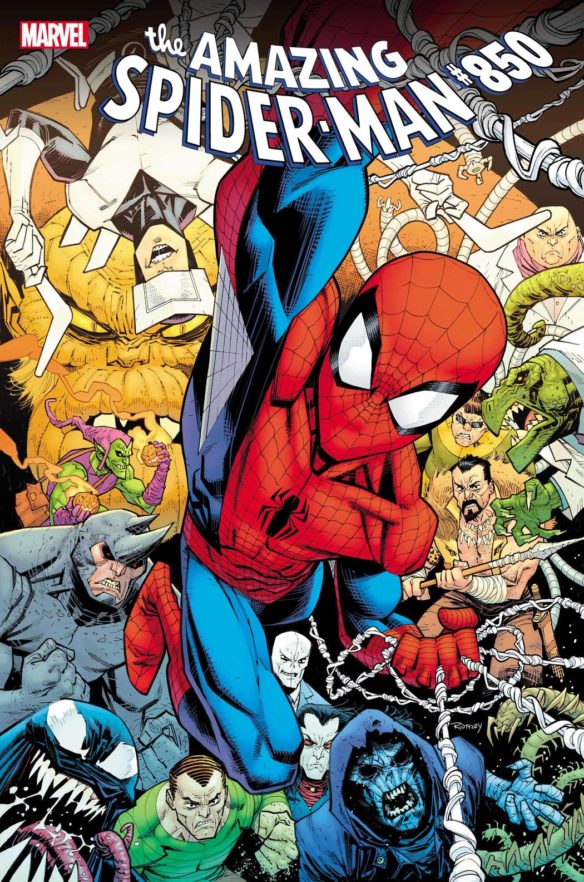 (14) SAVING THROW. "Neil Gaiman Endorses Petition To Save Constantine Comic" – ScreenRant has the story.
The effort to save the Constantine comic book from cancellation just won a welcome ally; author Neil Gaiman. Not only has Gaiman shared a Change.Org petition regarding the endangered book on his social media, but he has allowed his name to be officially tied to the fan-driven effort to save John Constantine: Hellblazer.

The recent acquisition of Warner Bros. by AT&T has led to widespread turmoil across the entertainment industry. This is particularly true at DC Entertainment, which lost one-third of its staff in the wake of the latest round of lay-offs. This coincided with the cancellation of a number of low-selling titles, including John Constantine: Hellblazer, which had only seen eight issues hit the stands since its premiere in 2019

Despite not having a lengthy run on the original Hellblazer series, Gaiman is still closely associated with the character of John Constantine. Gaiman wrote a one-off story for Hellblazer, "Hold Me," which was printed in Hellblazer #27 and centered around Constantine trying to put the spirit of a homeless man who froze to death to rest. "Hold Me" is widely considered to be one of the best one-shot stories to feature John Constantine ever written. Gaiman also gave Constantine a prominent role in the first Sandman graphic novel, Preludes and Nocturnes, with Dream of the Endless turning to Constantine for assistance in recovering his magical bag of sand, which Constantine had owned at one time.
(15) DISCOVERING DRESDEN. [Item by Daniel Dern.] Similar to my belatedly recentish reading of Lois McMaster Bujold's Miles Vorkosigan series (only one more to go now, I think, waiting for library loan request to be fulfilled), I'd seen references to The Dresden Files — Jim Butcher's Harry Dresden books — I hadn't investigated (read) any until a year or two ago, when a friend recommended them, and lent me one, to prime the pump.
I enjoy this kind of thing in a limited amount, but enjoyed 'em enough to add Dresden to my reading list.
As of yesterday, having finished Peace Talks, the newest, I'm caught up — until the end of this month, when Battle Ground comes out. (I'm like 30th in line on my library's request queue, so hopefully I'll get my loan fulfilled by Halloween.)
Harry's a wizard. Not to be confused with that British kid, either. Dresden is a wizard operating as a PI in Chicago, in a world where there's magic beings and stuff — fae, vamps, spirits, etc — although most of the world remains unaware of such. Like any PI, Dresden's cases and other events means that he takes a lot of lumps, to say the least. Like Spenser (and, to be fair, >75% of PIs, it would seem), Dresden is a wise-cracking hard-ass, and he does it well.
If you're already a Dresden fan, you've probably already read this newest book. If you haven't, you'll enjoy it. One non-spoiler note, Peace Talks doesn't wrap up its events, so it's a good thing Battle Ground is coming out soon.
If you like this kind of stuff, consider 'em. (Start in order, with Storm Front.)
BTW, here's the video trailer from March 2020 announcement.
(16) REFERENCE DROPPED — FROM A GREAT HEIGHT. [Item by Martin Morse Wooster.] In the August 29 Financial Times, Guy Chazan interviews Italian astronaut Samantha Christoforetti, who was aboard the International Space Station in 2015.
The expedition her crew joined was number 42 — the answer to the Ultimate Question of Life, The Universe, and Everything in Douglas Adams's classic Hitchhiker's Guide To The Galaxy. Christoforetti describes the coincidence as 'awesome.' An avid Adams fan, she made sure the poster for Expedition 42 was modelled after the one for the Hitchhiker's Guide movie, while her last tweet from the ISS said 'So long and thanks for all the fish" — a reference to the message left by the dolphins in Adams's book when they abandoned a shortly-to-be-demolished Planet Earth.
(17) FUTURE TENSE. The August 2020 entry in the Future Tense Fiction series is "How to Pay Reparations: a Documentary," by Tochi Onyebuchi, a story about artificial intelligence, systemic racism, and reparations.
It was published along with a response essay by Charlton McIlvain, a historian of race and technology, "Racism Cannot Be Reduced to Mere Computation" which begins –
Tochi Onyebuchi's "How to Pay Reparations" spoke to me. Its themes rang virtually every note of my twentysomething-year-long career. In 1998, I made my first digital footprint with a signed online petition in support of reparations for the Tulsa race riots. I endured countless run-ins with Oklahoma good ol' boys while crisscrossing the state, working for candidates representing a perpetually losing political party. As an academic, I researched Black politicians and white racial resentment, and testified as an expert in federal court about cases of reverse redlining and housing discrimination. And as a historian of technology, I've chronicled—like Onyebuchi—the stories of hope and despair wrought by computing technology on Blackness and Black people, in the service of an ever-triumphant white racial order.
(18) WHAT VASICEK STANDS FOR. Joe Vasicek's title "White Science Fiction and Fantasy Doesn't Matter" [Internet Archive] is far from the most hallucinatory claim uttered in his post, which conflates the Worldcon's awards with the state of the sff field, and adds to a Lost Cause mythology that ignores Vox Day's central (and Sad Puppy-sanctioned) role in what happened in 2015.
The United States of America is currently engaged in a violent struggle that will determine whether this hyper-racist intersectional ideology will defeat the populist uprising that has its champion in Trump, or whether the country will reject this new form of Marxism and come back from the brink of insanity. But in science fiction and fantasy, the war is already over, and the intersectionalists have won. It is now only a matter of time before they purge the field of everything—and everyone—that is white.

The last chance for the SF&F community to come back from the brink was probably in 2015. The intersectionalists were ascendant, but they hadn't yet taken over the field. (That happened in 2016, when N.K. Jemisin, an avowed social justice warrior and outspoken champion for anti-white identity politics, won the Hugo Award for best new novel for the next three consecutive years.) A populist uprising within fandom known as the Puppies attempted to push back, and were smeared as racists, sexists, misogynists, homophobes, and Nazis. Whatever your opinion of the Puppies (and there were some bad eggs among them, to be sure), they did not deserve to be silenced, ridiculed, shouted down, and threatened with all manner of violence and death threats for their grievances. After the Puppies were purged, the intersectionalists took over and began to reshape the field in their image.

The John W. Campbell Award for Best New Writer wasn't renamed the Astounding Award because Campbell was a racist (even though he was). His name was stripped from the award because the people who renamed it are racists—not in the bullshit way the intersectionalists have redefined it, but in the true sense of the word: discrimination based based on race….
(19) SECOND LIFE LIMITS VIRTUAL CAMPAIGNS. After yesterday's story about Biden-Harris yard signs in Animal Crossing it's interesting to read New World Notes reporting "Second Life Bans Political Billboards From Public Lands After Pro-Trump & Anti-Trump Signs Choke The Virtual Sky".
Another US Presidential election year, another clash of ideas in Second Life. As has been the case since 2004, the virtual world has recently been festooned with political billboards, much or most of them pro-Trump or anti-Trump — though as with Facebook, it seems like the pro-Trump forces have had the upper hand.

"There was a couple of people setting up lots of mini ad farms for Trump and some places had been plastered in far right slogans and adverts," SL veteran "0xc0ffea" tells me.

Some commonly trafficked areas in Second Life have devolved into a veritable battle of billboards, with "Re-elect Trump" and other Trump friendly signs such as "Police Lives Matter" having to share the same space with snarky rejoinders like: "Trump/Putin – Make America Hate Again".

This time, however, Second Life owner Linden Lab responded, updating its policy on virtual world advertising to prohibit ad content that are "political in nature" from the SL mainland, which the company maintains. (This policy does not apply to privately-owned regions and continents.)
(20) GHOSTS IN AMERICA. Brett Riley is "Searching For Haunted Fiction In American Literature" at CrimeReads.
Back in college, one of my American Literature professors once argued that the problem with trying to write American gothic fiction is that the country isn't old enough to have any ruined castles or ancient bloodlines. She had a point, but with ghost stories, you don't necessarily need ancient history or locales that haven't changed in hundreds of years. You just need "unfinished business." A character might die under mysterious circumstances. Foul play is suspected, but the perpetrators are never brought to justice. Or maybe an untimely death stops a character from completing a crucial task or realizing a lifelong goal. In general, something terrible or tragic happens, and the victim of these circumstances suffers so much pain, despair, or outrage that their essence cannot "move on." A piece of themselves remains—sometimes benign, sometimes dangerous or even murderous.

When a work is labeled a "ghost story," the reader likely assumes a certain set of tropes—the spectral figure floating through a darkened room or across a foggy landscape; a crumbling, moldy, dank, littered building set on a hill, or on the outskirts of town, or behind a rotting fence; a quirky harbinger of doom who tries to warn the protagonists of the dangers they will soon face; moonlit graveyards; and, perhaps most crucially, a particular history that weighs down the characters with specifically emotional tonnage….
(21) VIDEO OF THE DAY. The other day we introduced some ambience recordings. On Facebook John DeChancie pointed out another one — an hour's worth of "Spaceship Nostromo Sounds." Yeah, that will put me perfectly at ease!
In this video you can experience the digital recreation of the USCSS Nostromo from the game Alien Isolation. The main story of Alien Isolation is about Amanda Ripley who is searching for her missing mother Ellen. It takes place 15 years after the first Alien movie and the disappearance of the Nostromo. In the main story you don't really come in contact with the ship but the DLC "Expandable Crew" lets you play an iconic scene from the first movie which takes place on the Nostromo. This video showcases the interior of that ship including space ship ambience sounds. So try to relax on a ship that might have a Xenomorph on board 🙂
[Thanks to Mike Kennedy, Martin Morse Wooster, John King Tarpinian, John Hertz, JJ, Cat Eldridge, Michael Toman, Lise Andreasen, Joey Eschrich, Rose Embolism, and Andrew Porter for some of these stories. Title credit goes to File 770 contributing editor of the day Soon Lee.]