(1) MILES TO GO. In "Lessons learned: writing really long fiction" on his blog, Charles Stross discusses his Merchant Princes and Laundry Files series and gives advice to authors planning multi-book series.
The first thing to understand is the scale of the task. Each of these projects, the Laundry Files and the Merchant Princes, represents a sunk cost of many years of full time labour. At my rate of production (roughly 1.5 novels per year, long term, where a novel is on the order of 100-120,000 words) either of them would be a 7 year slog, even if I worked at them full time to the exclusion of all other work. So we're talking a PhD level of project scale here, or larger.

In reality, I didn't work at either series full-time. They only account for two thirds of my novel-length fiction output: in the case of both series, I've gone multiple years at a time without touching them. Burnout is a very real thing in most creative industries, and if you work for a duration of years to decades on a single project you will experience periods of deep existential nausea and dread at the mere thought of even looking at the thing you just spent the last five years of your life on. It will pass, eventually, but in the meantime? Try not to put all your eggs in the one ultra-maxi-giant sized basket.
(2) CLICK WITHOUT THINKING. James Davis Nicoll gives us three reasons to click through to Tor.com —
There are in every field creators whose output has been lamentably small, people from whom one wishes more material had emerged. This is as true for science fiction and fantasy as any other field. Here are five authors on my "more, please" list.
…At other times, as with the following books, one has a nearly subconscious sense that somehow these works share something…without quite being able to articulate what that something is.
Who knows? If careless time travellers had stepped on different animals 541 million years ago, the Earth's surface might be dominated by…larger but still squishy things, rather than our marvellous selves….
(3) 2020 VISION. The Scottish National Gallery of Modern Art (Modern Two) will host the "Ray Harryhausen | 100 years" exhibit from May 23-October 25, 2020
Special effects superstar Ray Harryhausen elevated stop motion animation to an art during the 1950s to 1980s. For the first time, Ray's collection will be showcased in its entirety, and, as such, this will be the largest and widest-ranging exhibition of his work ever seen, with newly restored and previously unseen material from his incredible archive.

Ray Harryhausen's work included the films Jason and the Argonauts, the Sinbad films of the 50s and 70s, One Million Years B.C and Mighty Joe Young, and a wider portfolio including children's fairy tales and commercials. He also inspired a generation of film-makers such as Peter Jackson, Aardman Animation, Tim Burton, George Lucas, and Steven Spielberg, and his influence on blockbuster cinema can be felt to this day.

This exhibition is in collaboration with the Ray and Diana Harryhausen Foundation to celebrate what would have been his 100th birthday year. As part of a series of events and initiatives under the banner #Harryhausen100, this exhibition will be accompanied by screenings, workshops and more, bringing his creations to life once more and celebrating the legacy of a filmmaker who changed the face of modern cinema.
(4) HARRYHAUSEN TRIBUTE YOU CAN OWN TODAY. Steve Vertlieb says: "Scary Monsters Magazine presents Monster Memories, issue No. 27, is an all Ray Harryhausen issue, and features my affectionate tribute to Ray, and to our half century of friendship. This wonderful one-of-a-kind magazine is available, and on newsstands now. Get yours while copies last. You won't want to miss this very special collector's edition honoring the beloved special effects pioneer."
(5) SHUT UP AND TAKE MY MONEY. This Kickstarter has funded and attained a whole series of stretch goals, but how can we resist?
(6) CRISIS MANAGEMENT. Start planning for your next social media disaster now! (Wait, that didn't come out quite right.) Here's Janet Falk's article about "Advising a Client on Crisis Communications" [PDF file].
(7) A MODEST PROPOSAL.
Kind of interesting how this logic works. There's a Hugo category for Semiprozines and Fanzines, but by design, no category for prozines (which Locus is) — it was superseded by the creation of the Best Editor (now Best Editor, Short Form) category. The rules say anything eligible in another Hugo category may not be nominated for Best Related Work, however, an editor and a magazine are by no means the same thing, and in the absence of a prozine category the rules don't seem to prevent this result. Yet we've gone all these years without the Best Related category being captured by Asimov's, Analog, F&SF, etc. Someone needs to be reminded how this is supposed to work.
(8) TODAY'S BIRTHDAYS.
[Compiled by Cat Eldridge.]
Born March 12, 1925 — Harry Harrison. Best known first I'd say for his Stainless Steel Rat and Bill, the Galactic Hero series which were just plain fun, plus his novel Make Room! Make Room! Which was the genesis of Soylent Green. (Died 2012.)
Born March 12, 1933 — Barbara Feldon, 86. [86, you say?] Agent 99 on the Get Smart series. Other genre credits include The Man from U.N.C.L.E. and reprising her character on the short-lived follow-up to this series. She didn't have that much of an acting career.
Born March 12, 1952 — Julius Carry. His one truly great genre role was as the bounty hunter Lord Bowler in The Adventures of Brisco County, Jr. oh but what oh role it it was! Over the course of the series, he was the perfect companion and foil to Bruce Campbell's Brisco County, Jr. character. (Died 2008.)
(9) COMICS SECTION.
(10) WINGING IT. It's a short post so I'll just leave The Onion's headline here: "Butterfly Under Immense Pressure Not To Fuck Up Timeline With Misplaced Wing Flap".
(11) FILERS ON THE RONDO BALLOT. I was honored when it was pointed out to me that File 770 is up for the Rondo Hatton Classic Horror Award in the Best Website category. There are lots of true horror-oriented sites that deserve the award more, but news of that genre is part of the mix here. It's a very nice compliment.
Don Glut's film Tales of Frankenstein is a nominee in the Best Independent Film category. It's an anthology-style film, inspired by the old Hammer Horror films from the 1950s. Ed Green has a part in the final chapter. It's also the last film Len Wein acted in and is dedicated to his memory. Len Wein created Wolverine, as well as several of the "New" X-Men, and had a cameo in X-Men: Days of Future Past. In this trailer, Len appears around the :45 mark, and Ed very briefly as the priest on the right at 1:33.
And nominated for Best Article is Steve Vertlieb's "Dracula in the Seventies: Prints of Darkness," a restored version of an original article on the Christopher Lee vampire cycle.
Rondo voting is open – get full information here. The deadline is April 20.
(12) UP ABOVE THE WORLD SO HIGH. During the Cold War while the U.S. Air Force was inspiring Dr. Strangelove, the Royal Air Force was discovering the hazards of "Exploding Chocolate Teacakes".
When Tony Cunnane joined the Royal Air Force in 1953, chocolate teacakes were "all the rage." Employees aboard strategic nuclear strike aircrafts requested the snack be added to their in-flight ration boxes. But this wasn't just a sugary jolt to fuel their Cold War training. Chocolate-coated marshmallow teacakes had become, as Cunnane described it, "the subject of some rather unscientific in-flight experiments."
Shortly after the foil-wrapped treats appeared in RAF ration packs, pilots began to notice that as altitude increased, the teacakes expanded….
(13) RETURN TRIP. "SpaceX: Crew Dragon's test flight in graphics".
On Friday the Crew Dragon capsule will detach from the International Space Station (ISS) 400km above Earth and begin a fiery journey back through the atmosphere, ending in a splashdown 450km off the coast of Florida.

If all goes according to plan, it will wrap up the first complete test mission of the Crew Dragon spacecraft, which is expected to carry its first astronauts into orbit by the middle of this year.
(14) VERBING THE VEGETABLE. Take note: "Vienna's unpredictable vegetable orchestra".
They've played 300 shows around the world – and most of their instruments don't make it through the set.

It's three hours before showtime and members of an orchestra are seated onstage in the garden of a 1,000-year-old Benedictine monastery outside Cologne, Germany. On cue, the neatly coiffed, black-clad musicians slowly raise their instruments, purse their lips and begin playing the opening passage of Igor Stravinsky's The Rite of Spring. Just then, a sound technician abruptly cuts them off. The carrot flutes were too strong and he couldn't hear the leek violin.

"One more time," he says. "Starting with the cucumber."
(15) SUPERHERO WADES IN. "Wonder Woman star Gal Gadot wades into Netanyahu row over Israeli Arabs" – BBC has the story.
Wonder Woman star Gal Gadot has become embroiled in a row with Israel's Prime Minister Benjamin Netanyahu over the status of the country's Arab minority.

"Love your neighbour as yourself," the Israeli actress said, amid wrangling over the role of Israeli Arab parties in upcoming polls.

Mr Netanyahu caused a stir when he said Israel "was not a state of all its citizens", referring to Arabs who make up 20% of its population.
(16) GONE TO CAROLINA. Ian McDowell's profile "Six-gun sisters and future female private eyes: The diverse pulp fiction of Nicole Givens Kurtz" for North Carolina's Yes! Weekly delves into science fiction's local culture wars.
…Another man with a variant of that name became the center of an online controversy involving Charlotte's popular and long-running science fiction convention ConCarolinas last year. This was the conservative military science fiction and political action thriller writer John Ringo, whose announcement as Guest of Honor caused some other scheduled guests to boycott the convention.

Kurtz was one of those who announced she would not attend the 2018 convention, despite being previously announced as a guest. I asked her if she planned to attend this year's ConCarolinas, which will be held May 31 through June 2 at the Hilton Charlotte University Place Motel.

"There is an entirely new board and new convention committee this year," she wrote back, "so I am going to go and see if they've done anything differently. I know firsthand from speaking with board members and programming directors they are very interested in increasing diversity and fostering an open, collaborative, and safe environment. I am going to see the changes put in action. The board has stated they wanted to show fans that what was shown last year wasn't who they are as a convention."

John Ringo's publisher is Baen Books, the science fiction and fantasy imprint founded in 1983 by conservative editor Jim Baen. Headquartered in Wake Forest and distributed by Simon and Shuster, Baen Books is also the publisher of several writers associated with the anti-diversity "Sad Puppies" movement formed as a reaction to what its members claim is the negative influence of "social justice warriors" on their genres. Although the Sad Puppies have repeatedly proclaimed their manifesto of restoring what they call the classic virtues of old-fashioned action-adventure storytelling to science fiction and fantasy, few of them write nearly as well as the best of the 1930s and '40s pulp authors they claim to admire.

Last July, Baen Books published the Weird Western anthology Straight Out of Tombstone, edited by David Boop. It included Kurtz's story "The Wicked Wild." I asked her how it felt appearing in a book from the same publisher as John Ringo.

Kurtz replied that she and the book's editor David Boop had been friends for decades. "I trusted him with my story, and with the material." She also said that Straight out of Tombstone wasn't a typical Baen publication. "I think they were surprised by the success of it. Baen is associated with the Sad Puppies, but I am not sure they want to just be known as the publisher of Sad Puppies authors. They have diverse titles in their catalog, so I didn't worry about it too much, because I trusted my editor."
Why does she write horror?
…But, she explained, for a kid growing up in public housing projects, nothing on the page was as frightening as the real world, where she saw people die from violence or drugs, and in which the Atlanta child murders dominated the T.V. news cycle. Horror was an escape from that.
(17) BEWARE THE FLARE. Evidence shows they can get bigger than we've ever seen — "Solar storm: Evidence found of huge eruption from Sun".
Scientists have found evidence of a huge blast of radiation from the Sun that hit Earth more than 2,000 years ago.

The result has important implications for the present, because solar storms can disrupt modern technology.

The team found evidence in Greenland ice cores that the Earth was bombarded with solar proton particles in 660BC.

The event was about 10 times more powerful than any since modern instrumental records began.

The Sun periodically releases huge blasts of charged particles and other radiation that can travel towards Earth.

The particular kind of solar emission recorded in the Greenland ice is known as a solar proton event (SPE). In the modern era, when these high-energy particles collide with Earth, they can knock out electronics in satellites we rely on for communications and services such as GPS.

…Modern instrumental monitoring data extends back about 60 years. So finding an event in 660BC that's an order of magnitude greater than anything seen in modern times suggests we haven't appreciated how powerful such events can be.

(18) KEEPING THE BEAT. "'Greatest drummer ever' Hal Blaine dies aged 90" — no, not genre — but a subtle influence on a lot of us.
Hal Blaine, one of the most prolific and influential drummers of his generation, has died at the age of 90.

Over the course of his career, he played on countless hits by Frank Sinatra, Elvis Presley, the Beach Boys and John Lennon, amongst others.

But his most recognisable riff was the "boom-ba-boom-crack" bar that opened The Ronnettes' Be My Baby.

…According to the Rock and Roll Hall of Fame, which inducted him in 2000, Blaine "certainly played on more hit records than any drummer in the rock era, including 40 number one singles and 150 that made the [US] top 10."

Among those songs were Elvis Presley's Return to Sender, The Byrds' Mr Tambourine Man, the Beach Boys' Good Vibrations, Simon & Garfunkel's Mrs Robinson, The Mamas and the Papas' California Dreamin' and the theme song to Batman.

Blaine also played on eight songs that won a Grammy for record of the year, including Simon & Garfunkel's Bridge Over Troubled Water, 5th Dimension's Aquarius/Let The Sunshine and Frank Sinatra's Strangers In the Night.

(19) A HOLE IN YOUR POCKET. Coin designer has a novel goal: "Prof Stephen Hawking commemorated on new 50p coin".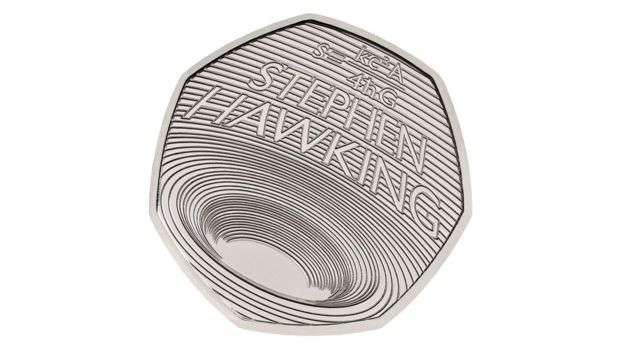 Prof Stephen Hawking has been honoured on a new 50p coin inspired by his pioneering work on black holes.

The physicist died last year at the age of 76, having become one of the most renowned leaders in his field.

He joins an elite group of scientists to have appeared on coins, including Sir Isaac Newton and Charles Darwin.

Designer Edwina Ellis said: "I wanted to fit a big black hole on the tiny coin and wish he was still here chortling at the thought."
(20) UNHAPPY ENDING. Anastasia Hunter told Facebook readers this video was taken at San Diego Comic Fest this past weekend and the speaker will not be invited back.
[Thanks to John King Tarpinian, Andrew Porter, Carl Slaughter, Cat Eldridge, JJ, Mike Kennedy, John A Arkansawyer, Martin Morse Wooster, and Chip Hitchcock for some of these stories. Title credit goes to File 770 contributing editor of the day Jack Lint.]