(1) BIG GREEN NUMBERS. Brandon Sanderson shares a lot of information about his successful Kickstarter and his progress on other projects in "Some FAQs You Might Enjoy". Also includes a long analysis of Amazon's effect on his business.
How Are You Going to Spend the Money?

I got this question from the journalist from the Associated Press who interviewed me.  He gave an excellent interview, and we had a really great conversation.  But this question stopped me for a moment.  It's a valid question, but it took me by surprise, as I haven't been looking at this the way that some people seem to be.  I didn't hit the lottery, any more than any other business hits the lottery when they have a product that connects with their market.

I will spend the money as I spend the rest of my money.  Part into savings, part into paying salaries (along with nice extra bonuses because the Kickstarter did well), part reinvested into the company.  (We're still planning on building a physical bookstore, and this will help accelerate those plans.  Also, it's not outside of reason that as I move into doing more film and TV, I will want to partially fund some of the projects.)

While this Kickstarter is an incredible event, and (don't get me wrong) is going to earn me a good chunk of money, it's going to be comparable to other projects I've done.  Also, don't underestimate how much money it costs to maintain the infrastructure (like a warehouse–or in this case, probably more than one) it takes to be able to ship several hundred thousand books.  It will likely be years before we can be certain how much this actually earned us after all expenses.  More than we'd get from New York on the same books, but potentially not that much more.

That said, I will almost certainly buy myself some nice Magic cards.  Still have a few unlimited duals in my cube that could use an upgrade to black border.

Did You Anticipate This Level of Success for the Kickstarter?

I did not.  I knew the potential was there, but I didn't think it (getting to this astronomical number of backers) would happen.

My guess was that we'd land somewhere in the 2–4 million range, though I really had no idea.  My team can attest to the fact that in the lead-up, I was very conservative in my estimates and expectations.  This was an experiment from us that I'd been wanting to try for a while.  (I'll talk more about that below.)  I didn't have any idea how well it would go.

…How many of those potential 250k–800k people who normally buy a Sanderson book in the first year could be convinced instead to move and preorder it through Kickstarter?  Our guesses, it turned out, were way low.  But at the same time, it is interesting that (not disregarding our huge success, which I'm not at all complaining about) even this huge Kickstarter breaking all records is only grabbing a fraction of my normal audience.  So maybe you can see why we knew we had potential, but were conservative in our estimates. … 
There is also much inside baseball about what indie authors have to face:
…These days, according to some of my indie author friends, you have to spend a great deal to sell on Amazon.  Not everyone's experience is the same, but I hear this time and time again.  To make it as an indie author, you need to shell out for expensive advertising on the very website selling your books.  I have indie author friends who are spending a good portion of their income on these advertisements–and if they don't, their sales vanish.  Amazon has effectively created a tax where indie authors pay back a chunk of that glorious 70% royalty to Amazon.  (And this is for the authors lucky enough to be allowed to buy those advertising spots, and therefore have the chance at selling.)….

…Regardless, this has been bothering me for over a decade.  I feel that the current system has a gun to my head.  Heck, all that has to happen is for someone at Amazon read this blog post or see my Kickstarter and decide they just want to make an example out of me.  Poof.  85% of my sales gone.  And while some people might go to another vendor to get my books, the painful truth is that many would not.  Time and time again, studies of contemporary tech media consumption have shown that the person who controls the platform is the one who controls the market. …
(2) MAIL CALL. In "An Open Letter to the 2022 Hugo Finalists, Whoever They May Be", Cora Buhlert once again shares her experience and advice.
… Right now, no one except for possibly the Hugo administrators knows who those finalists will be. However, sometime in the next two weeks or so, some of you will receive an e-mail from Chicon 8, informing you that you are a finalist for the 2022 Hugo Award and asking you whether you want to accept the nomination. Some of you will have received such e-mails before, for others it will be the first time.

But whether it's your first or your twentieth nomination, congratulations! That's awesome.

As a first time recipient of such an e-mail in 2020, here are a few things I've learned…
(3) UNIVERSE WILL KEEP EXPANDING. Sharon Lee's biggest news in "Liaden Universe® Updates" is that she and Steve Miller have accepted an additional three book contract with Baen for Liaden novels.
…The contract's call-name is Traveler's Trio, and we have no idea where those novels will take us, yet, but we do have delivery dates.  Those are:

Traveler's Trio ONE:  September 2024
Traveler's Trio TWO:  September 2025
Traveler's Trio THREE:  September 2026

Note A:  In September 2026, I will be 74 years old.  Steve will have celebrated his 76th birthday three months prior.  This by way of reassuring those folks who have been worrying about our retirement that, err — writers don't retire.  At least, writers at our level of the game don't retire.

Here ends the Updatery.
(4) GUNN CENTER EVENTS. The Gunn Center for the Study of SF has posted the selections and dates for the next several meetings of their virtual book club, and another event. Zoom info and further details at the links.
Discussion of Colson Whitehead's first novel, The Intuitionist. This choice anticipates Whitehead's visit to Lawrence for the Paper Plains Literary Festival in early April! https://www.paperplains.org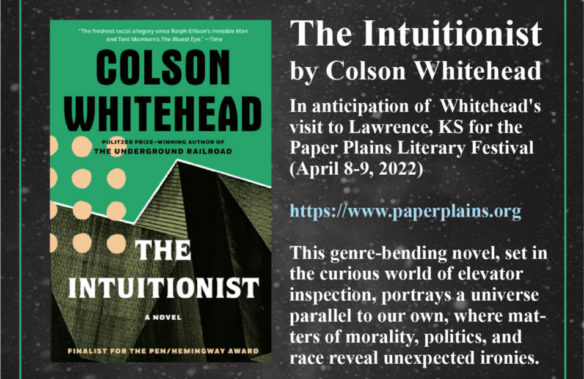 Discussion of Angelline Boulley's young adult thriller, Firekeeper's Daughter. More aligned with conversations about Indigenous belief systems and spirituality than conventional science fiction; also in anticipation of the Paper Plains festival. Co-sponsored with Haskell Indian Nations University, KU's First Nations Student Association, and others. Teens welcome!
Discussion of Franny Choi's Soft Science. In celebration of National Poetry Month!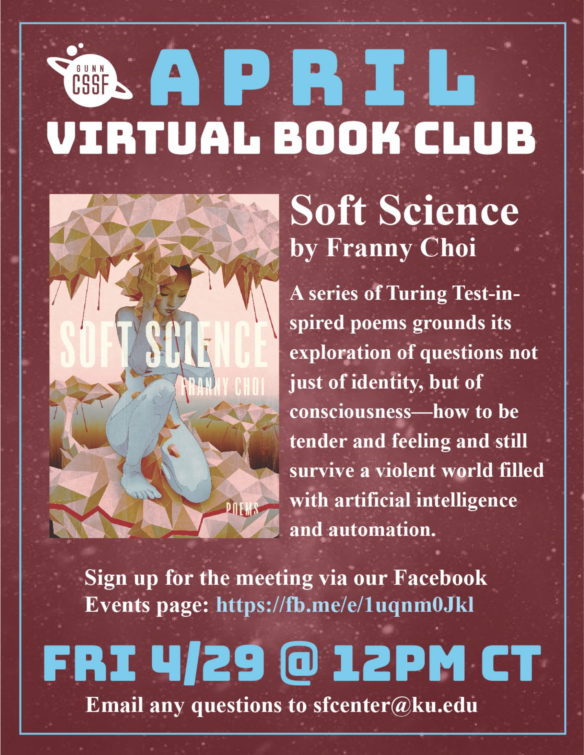 Friday, MAY 20th* @ noon (CT) – [no link yet] Discussion of Sarah Pinsker's Two Truths and a Lie
Winner of the 2021 Nebula Award & 2021 Hugo Award for Best Novelette. (*) Please note that this is not the last Friday of the month, which falls on Memorial Day Weekend.
(5) ARE THEY TALKING ABOUT YOU? The Silmarillion Writers' Guild seeks the meaning of it all in "A Sudden Outcry: The Tolkien Estate and Fanworks".
…When the Tolkien Estate recently presented their newly revamped website, it did not take fans long to see past the new artwork and other features to find that the Tolkien Estate has a policy on fanworks. The past several days have seen a whirl of discussion about what it all means that can be distilled down to a single burning question:

Did the Tolkien Estate just ban fanworks?

In short, no, the Tolkien Estate did not just ban fanworks. The fanworks you have posted, are in the middle of creating, or are even thinking about creating are not affected by what the Estate says on their website.

The longer answer depends on if you're interested in the just or the ban part of that question (or maybe both!). While the following is not legal advice, we hope it will lessen the worry that the existence of fanworks is in jeopardy.  As always, bear in mind that laws vary from country to country. If you have specific concerns, the Organization for Transformative Works' legal committee, while unable to give legal advice, can answer questions you might have.

The article contains an extensive history of the Estate's policies towards fanworks. The writers come to this paradoxical conclusion:

…The Tolkien Estate is anti-fanwork and always has been. For all that the "other minds and hands" quote gets tossed about by fans eager to believe that Tolkien would have condoned their activities, Tolkien himself was anti-fanwork when it came to his books,2 unless it was something that he liked. This has neither changed nor prevented Tolkien fanworks from being made in the almost seven decades since The Lord of the Rings was published…
(6) OMELAS. The Unofficial Hugo Book Club Blog tweeted a crusher yesterday. There are nine tweets in the thread, which starts here.
(7) THE SAND OF MUSIC. Hans Zimmer tells Vanity Fair about the score for Dune in a video that dropped today: "How 'Dune' Composer Hans Zimmer Created the Oscar-Nominated Score".
"Something I wanted to always do. Invent instruments that don't exist. Invent sounds that don't exist." Hans Zimmer, 'Dune' composer, gives his in-depth analysis and insider's look at how the score was created for Denis Villeneuve's 2021 film.
(8) MORE FROM DISCON III. Morgan Hazelwood posted her notes from the DisCon III panel "Ask An Editor: Longform Writing" with participants George Jreije, Katherine Crighton, Navah Wolfe, and Trevor Quachri, plus Joshua Bilmes as moderator. (The material is also presented in a YouTube video.)
The description for this panel was as follows:

What makes a good novel? How do you know it's ready? Where should you send it and how should you respond to comments? This is your chance to ask burning questions to a panel of respected agents and editors.
(9) EATING THE FANTASTIC. Scott Edelman invites listeners to share deep-fried wontons with Library of Congress curator Sara Duke in episode 167 of the Eating the Fantastic podcast.
Library of Congress curator Sara Duke and I were supposed to have lunch two years ago, way back in March of 2020, but then … something happened. I suspect you can guess what that something was. We finally managed to break bread — or rather, share Pad See Ew — last week at D.C.'s Young Chow Chinese restaurant.

Sara Duke has been at the Library of Congress for more than 30 years, the past 23 as the curator of Popular and Applied Graphic Art in the Prints and Photographs Division. She's in charge of cartoons, documentary drawings, and ephemera. Starting with Blondie Gets Married in 2000, she's been responsible for curating many exhibits relating to popular culture, including Comic Art: 120 Years of Panels and Pages, and most recently, Geppi's Gems.

We discussed the first piece of artwork she longed to get her hands on after a 13-month pandemic absence, our joint loathing of slabbed comics, the misconceptions many people have about the Library of Congress, the things most people no longer remember about Blondie, her comic book exhibit cancelled by COVID, the serendipitous way a PhD in 17th century Irish history led to her becoming a curator, her early (and continuing) love of MAD magazine, and much more.
(10) MEDIA BIRTHDAY.
1981 — [Item by Cat Eldridge] On this evening forty-one years ago, the show that Warner Bros. sued for copyright infringement in Warner Bros. Inc. v. American Broadcasting Companies, Inc. premiered on ABC. The Greatest American Hero starred William Katt as teacher Ralph Hinkley in a suit that allowed him to fly and which looked sort of like that Super-Hero. The Court ruled, "as a matter of law, The Greatest American Hero' is not sufficiently similar to the fictional character Superman."
It was created by producer Stephen J. Cannell and was his only genre undertaking.
The rest of the regular cast consisted of just Robert Culp as FBI agent Bill Maxwell and Connie Sellecca as lawyer Pam Davidson. ABC wasn't going to deal with a bloated salary line here. Culp of course had been Kelly Robinson on I Spy, but more importantly was in The Outer Limits episode "Demon with a Glass Hand", written by Harlan Ellison. Sellecca played Pamela Edwards in a recurring role in the Beyond Westworld series.
It would last three seasons and have a proper conclusion in which the story was wrapped up. That conclusion lead to the pilot for another series which was not picked up by another network. A reboot with a female lead was in the works at ABC several years back but not even a pilot was shot.
(11) TODAY'S BIRTHDAYS.
[Compiled by Cat Eldridge.]
Born March 18, 1888 — Alexander Leydenfrost. As an illustrator, he briefly worked for Planet Stories before being signed by Life magazine where the money was better. But his quite brief tenure at Planet Stories is credited with the creation of the enduring cliche Bug Eyed Monster as that's what his illustrations showed. (Died 1961.)
Born March 18, 1926 — Peter Graves. Star of Mission Impossible and the short lived Australian-based Mission Impossible, which if you not seen it you should as it's damn good. I'm reasonably certain his first genre role was on Red Planet Mars playing Chris Cronyn. Later roles included Gavin Lewis on The Invaders, Major Noah Cooper on Buck Rogers in the 25th Century, Doug Paul Martin in Killers from Space and Paul Nelson on It Conquered the World. It's worth noting that a number of his films are featured on the Mystery Science Theater 3000 series. (Died 2010.)
Born March 18, 1932 — John Updike. It might surprise you to learn that there are two Eastwick novels, The Witches of Eastwick and The Widows of Eastwick, the latter set some three decades after the first novel ended. No idea what it's like as I've never heard of it. He wrote a number of other genre friendly novels including The Centaur, Brazil and Toward the End of Time. (Died 2009.)
Born March 18, 1950 — J.G. Hertzler, 72. He's best known for his role on Deep Space Nine as the Klingon General (and later Chancellor) Martok. He co-authored with Jeff Lang, Left Hand of Destiny, Book 1, and Left Hand of Destiny, Book 2, which chronicle the life of his character. His very TV first role was a genre one, to wit on Quantum Leap sac Weathers Farrington in the  "Sea Bride – June 3, 1954" episode. Setting aside DS9, he's been in Zorro, Highlander, The Adventures of Brisco County, Jr., Lois & Clark: The New Adventures of Superman, Lois & Clark: The New Adventures of Superman, Charmed, Roswell and Enterprise series;  for film genre work, I see The Redeemer: Son of Satan, Treasure Island: The Adventure Begins and Prelude to Axanar (yet another piece of fanfic). In addition, he's done a lot of video game voice acting, the obvious Trek work but such franchises as BioShock 2, The Golden Compass and Injustice: Gods Among Us.
Born March 18, 1959 — Luc Besson, 63. Oh, The Fifth Element, one of my favorite genre films. There's nothing about it that I don't like. I've not seen Valerian and the City of a Thousand Planets and comments leave me disinclined to do so. The Transporter is not genre but I recommend it as a great film none the less.
Born March 18, 1960 — Richard Biggs. Another way too young death on Babylon 5 as he appeared as Dr. Stephen Franklin, reprising the role in the final aired episode of Crusade, "Each Night I Dream of Home". Other genre roles included playing Roger Garrett on Tremors, Hawkes In The Alien Within, An Unnamed Reporter on Beauty and the Beast,  Dr. Thomson on an episode of The Twilight Zone and a Process Server in an episode of The Magical World of Disney.  (Died 2004.)
Born March 18, 1961 — James Davis Nicoll, 61. A freelance game and genre reviewer. A first reader for SFBC as well. Currently he's a blogger on Dreamwidth and Facebook, and an occasional columnist on Tor.com. In 2014, he started his website, jamesdavisnicoll.com, which is dedicated to his book reviews of works old and new; and which later added the highly entertaining Young People Read Old SFF, where that group reads and comments on prior-to-Eighties SF and fantasy.
(12) SENDING UP DISNEY. "This Young Artist Successfully Wows Disney Fans With Hilarious Disney Fanarts" at Aubtu.
Disney fans tend to redraw Disney characters with their unique ideas, but Jorge D. Espinosa has taken it to another level. As a talented artist, Jorge has recreated several famous Disney characters with different settings. They can be about Aurora's hangover or Jasmine as a dancer enjoying Beyonce's song. There is no doubt that these unique and funny drawings can make even The Beast laugh….
(13) IDIOMATIC ACCESSION. I need one of these. Don't I? Archie McPhee's "Murder of Crows".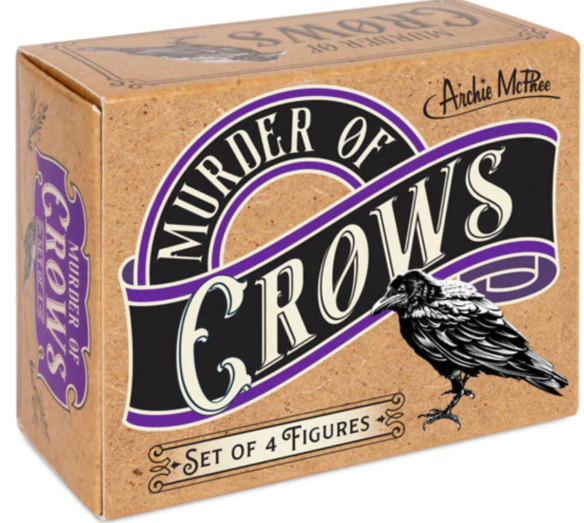 (14) SQUEEZING OUT THE WATER. James Davis Nicoll tells Tor.com readers about "Five Wonderfully Concise SFF Books".
… Olden-time SF authors, limited as they were to pen and paper, typewriters, and other now archaic methods of production, and trying to sell to markets uninterested in purchasing lengthy works, often delivered works that seem startlingly concise and to the point by modern standards. There's nothing like not having a choice to urge people to make the right choices.

However, even in this age of word processing software and publisher enthusiasm for meandering series of enormous story-fragments, there are authors who deliver short, effective books that contain within them all of the necessary narrative elements. They even include that most elusive ingredient—an actual ending. Consider these five comparatively recent examples of books that are wonderfully short and to the point….
(15) THAT OTHER JAMES. ScienceAlert says "Webb Just Sent Back Its First-Ever Sharp Image of a Star, And It's Breathtaking".
…To demonstrate its capabilities, Webb focused on a single star, named 2MASS J17554042+6551277, more commonly known as TYC 4212-1079-1.

This bright object, around 2,000 light-years away, is just over 16 times intrinsically brighter than the Sun – a nice, clear target for Webb. A red filter was used to optimize visual contrast; and, although the telescope was just looking at the star, its instruments are so sensitive that background stars and galaxies can also be seen.

"We have fully aligned and focused the telescope on a star, and the performance is beating specifications. We are excited about what this means for science," said Ritva Keski-Kuha, deputy optical telescope element manager for Webb at NASA Goddard….
(16) PARADOX RESOLVED. "Scientists claim hairy black holes explain Hawking paradox" reports BBC News. I have nothing to say about that headline at all.
Scientists say they have solved one of the biggest paradoxes in science first identified by Prof Stephen Hawking.

He highlighted that black holes behave in a way that puts two fundamental theories at odds with each other.

Black holes are dead stars that have collapsed and have such strong gravity that not even light can escape.

New research claims to have resolved the paradox by showing that black holes have a property which they call "quantum hair"….
(17) ONCE MORE INTO THE BREACH, DEAR FRIENDS. "'Muppets Mayhem' Series a Go at Disney+" – The Hollywood Reporter has the story.
Disney+ is taking another swing at a Muppets TV series.

The streamer, following a lengthy development process, has handed out a series order to comedy The Muppets Mayhem, with Lilly Singh set to star.

The comedy will follow the Electric Mayhem Band as it records its first-ever album. Singh will star as the human lead, Nora, the junior A&R executive who is tasked with managing and wrangling the band that originally debuted in the pilot for The Muppet Show in 1975. (Watch the band's debut below.) Sources say the 10-episode comedy will begin filming in April.

The series — which will feature Dr. Teeth, Animal, Floyd Pepper, Janice, Zoot and Lips — is described as a music-filled journey in which the 45-year-old band comes face to face with the current-day music scene as they attempt to go platinum….
(18) ALIEN SCHOOL. [Item by Mike Kennedy.] Or, how to be a Thermian in six "easy" lessons.
Digg.com has, um, dug up a short docu-feature on how the Thermans came to be so wonderfully quirky in Galaxy Quest. It's a Class A lesson in the collaborative nature of filmmaking – where the screenwriter, director, actors, and everyone else contribute to what is eventually seen on the screen.
The singsongy, pitchy, sound of the aliens was originated by character actor Enrico Colantoni, who absolutely nailed his audition for the Thermian leader when he broke out that voice. Then they had to develop the walk, their native speech when the translator box breaks, and mannerisms for all sorts of situations. And the whole alien ensemble had to nail all of it.
Just watch the video. You'll love it.
[Thanks to Mike Kennedy, Martin Morse Wooster, JJ, John King Tarpinian, Dr. Giselle Anatol, Steve Miller, Danny Sichel, Andrew Porter, Michael Toman, and Cat Eldridge for some of these stories. Title credit belongs to File 770 contributing editor of the day Daniel Dern.]