(1) PLANETARY SOCIETY GRANTS. The first-ever winners of The Planetary Society's Science and Technology Empowered by the Public (STEP) Grants were announced today. These are planetary science and/or technology grants that fit within one or more of The Planetary Society's core enterprises (Explore Worlds, Find Life, Defend Earth). "Announcing the First-Ever STEP Grant Winners". The two winning projects are a radio SETI (Search for Extraterrestrial Intelligence) citizen science project, and a planetary defense project to use a new technique to study near-Earth asteroids.
Are We Alone?

We have awarded US$49,980 to a team from the University of California Los Angeles led by Professor Jean-Luc Margot for their proposal "Are We Alone? A Citizen-Science-Enabled Search for Technosignatures."

The search for life elsewhere in the universe seeks to answer one of the most fundamental questions: are we alone? One part of this search involves looking for signals from elsewhere in the universe sent by intelligent life. Looking for signals is like searching for a needle in a very enormous haystack. Over the decades, though no confirmed signal from ET has been found, the technology and the techniques have gotten more and more capable.

Demystifying Near-Earth Asteroids

We have awarded US$44,842 to a team from the University of Belgrade, Serbia, led by Professor Bojan Novakovi? for their proposal "Demystifying Near-Earth Asteroids (D-NEAs)."

Tens of thousands of near-Earth asteroids (NEAs) have been found, but we only know the physical properties of a small percentage. Asteroids can range from solid rock to collections of boulders to fluff balls. Understanding these characteristics for individual NEAs as well as entire NEA populations is crucial to not only the science of asteroid evolution and variability, but also to considerations of how to deflect a dangerous asteroid in the future.
(2) CARNEGIE AND GREENAWAY MEDAL SHORTLISTS. The shortlists for the Yoto Carnegie and Yoto Kate Greenaway Awards 2022 were announced today. I couldn't find any genre works in the mix, perhaps you will be more discerning.
The 2022 Yoto Carnegie Medal (alphabetical by author surname):
October, October by Katya Balen, illustrated by Angela Harding (Bloomsbury)
Guard Your Heart by Sue Divin (Macmillan Children's Books)
When the Sky Falls by Phil Earle (Andersen Press)
Everyone Dies Famous in a Small Town by Bonnie-Sue Hitchcock (Faber)
The Crossing by Manjeet Mann (Penguin Children's Books)
Tsunami Girl by Julian Sedgwick, illustrated by Chie Kutsuwada (Guppy Books)
Cane Warriors by Alex Wheatle (Andersen Press)
Punching the Air by Ibi Zoboi and Yusef Salaam (HarperCollins Children's Books)
The 2022 Yoto Kate Greenaway Medal (alphabetical by illustrator surname):
Drawn Across Borders illustrated and written by George Butler (Walker Books)
The Midnight Fair illustrated by Mariachiara Di Giorgio, written by Gideon Sterer (Walker Books)
Too Much Stuff illustrated and written by Emily Gravett (Two Hoots, Macmillan Children's Books)
Long Way Down illustrated by Danica Novgorodoff, written by Jason Reynolds (Faber)
Milo Imagines the World illustrated by Christian Robinson, written by Matt de la Pena (Two Hoots, Macmillan Children's Books)
Shu Lin's Grandpa illustrated by Yu Rong, written by Matt Goodfellow (Otter-Barry Books)
I Talk Like a River illustrated by Sydney Smith, written by Jordan Scott (Walker Books)
The Wanderer illustrated and written by Peter Van den Ende (Pushkin Children's Books)
(3) NASFIC SAFETY. The Orlando in 2023 NASFiC Bid defends one city in Florida's LGBTQIA+ record. This is just the beginning:
We've seen some of you ask about how friendly Orlando is to the LGBTQIA+ community and whether you will be safe coming to Orlando for the 2023 NASFiC. Those are excellent questions to ask, and we have answers for you.

The short answer: Orlando is one of the most LGBTQIA+ friendly cities in the entire country. You will be welcomed, and you will be safe.

Period.

Full stop.
Have you noticed how people who like the "Period. Full stop" idiom always have so much to say after it?
(4) OPPOSITION TO 2023 WORLDCON IN CHENGDU. Sarah Mughal Rana, organizer of the Open Letter condemning China as host of the 2023 Worldcon, had two opinion pieces about the issue published today.
The first, at Winteriscoming.net, "Dear World(con): Don't host the Hugos amidst Uyghur concentration camps", fleshes out these arguments:
The development of Chengdu as a sci-fi and tech center is contributing to genocide
Chengdu Worldcon has problematic Guests of Honor
Turkic authors, publishers, and intellectuals are persecuted in China
Condemning Worldcon is not the result of Western bias
Holding Chengdu Worldcon goes against artistic values
The second, at The Bookseller, "Science fiction's moral reckoning: why we must block Worldcon Chengdu", says in part —
…As an activist who, only one month ago, organised a protest over the Beijing Winter Olympics in light of the Uyghur genocide, I was stunned by the writing community's support of the Chengdu 2023 Worldcon bid. It is not rare for authors to get involved in politics, as evidenced by well-known authors such as Stephen King, Joe Abercrombie, Holly Black, and more announcing their intentions not to renew their releases with Russian publishers in support of Ukraine. However, in the case of Chengdu, China – no one resisted.

…Supporting and attending Worldcon 2023 makes us hypocrites. Writers create characters that oppose entrenched power structures, malicious regimes, status quos and utopias. In science fiction, we use our fiction to draw parallels about reality, unchecked uses of technologies, persecution and surveillancing. Our characters work to overthrow cruel empires; they are the heroes that protect their culture and societies against invasion, injustices and genocide. How can one of the world's most prestigious writing awards celebrate science fiction's best stories while millions of Uyghurs are subject to severe persecution? How can we celebrate China's sci-fi scene when artists, writers and intellectuals of its ethnic minorities are interned in camps or in exile, unable to attend?

Among Chengdu Worldcon's guests of honour are Sergei Lukyanenko, a bestselling sci-fi writer who has constantly defended Russia's Ukraine policy, and Liu Cixin, an internationally bestselling Chinese sci-fi writer who was recently hired for SenseTime as a director of Science Fiction Planet Research Center – a tech company that is using sci-fi research to develop immersive artificial intelligence. SenseTime—along with four other firms—is responsible for creating mass surveillance AI systems used to identify and police Uyghurs, Tibetans and other Turkic populations in China. The US has even banned investments into SenseTime for its prominent role in the genocide. The advanced systems include facial and voice recognition, DNA sampling, and racial profiling; these factors are directly responsible for widening the scope of the genocide. But SenseTime is not the only company. Chengdu has invested billions in sci-fi research to attract writers, creators, animation departments, and tech start-ups; these same companies create advanced AI that are is being used to persecute China's Muslim minorities.

Chengdu is an emerging global sci-fi capital of China, but supporting the sci-fi scene there contributes to the genocide and mass policing of ethnic minorities….
(5) STORY TIME. Simultaneous Times science fiction podcast Special 4 Year Anniversary Episode is a collaboration with Sci-Fi Lampoon Magazine: Simultaneous Times Ep.49 – Michael James & J.W. Allen.
Stories featured in this episode:

"Minimum Sage" – by Michael James; music by Phog Masheeen; read by Jean-Paul Garnier

"Systems Strike" – by J.W. Allen; music by RedBlueBlackSilver; read by Jean-Paul Garnier
Simultaneous Times is a monthly science fiction podcast produced by Space Cowboy Books in Joshua Tree, CA.
(6) MEDIA BIRTHDAY.
1984 — [Item by Cat Eldridge] Thirty-eight years ago today a very silly film called The Ice Pirates premiered. Yes I am editorializing. That's why my name is on these essays. It was directed by Stewart Raffill, who co-wrote the screenplay with Krull screenwriter Stanford Sherman. Raffill would also direct The Philadelphia Experiment this year. Sherman wrote quite a few Batman episodes and a few of The Man from U.N.C.L.E. as well.
The producer was John Foreman who had already done Butch Cassidy and the Sundance Kid and who would later do what was known in the States as The Great Train Robbery which I essayed here on File 770 several weeks back. (Great film and a rather good book as well.)
The primary cast was Robert Urich, Mary Crosby and Michael D. Roberts; but the secondary cast of Anjelica Huston, Ron Perlman, Bruce Vilanch, John Carradine was rather notable as well.
It was supposed to have a rather extravagant budget for a film of its sort at twenty million dollars but MGM had just been slapped quite hard by its bankers as it losing a great deal of money just then and all films then in production were limited by the those bankers to just eight million to spend. So the story goes that Raffill rewrote the script from a hard SF film to a comic SF affair to make less it much dependent on SFX.
So how did it fare with critics? The New York Times said upon its release that "THE ICE PIRATES," which opens today at the Warner and other theaters, is a busy, bewildering, exceedingly jokey science-fiction film that looks like a "Star Wars" spinoff made in an underdeveloped galaxy." (Raffill for the record denies that it was based off of Star Wars at all.)
And the Sunday Call-Chronicle said of it that "'The Ice Pirates,' a cross between 'Raiders Of The Lost Ark,' 'Star Wars' and 'Monty Python And The Holy Grail,' is amusingly silly through the first box of popcorn. After that, you're on your own." Ouch.
Box office wise, it likely didn't make money as it grossed only fourteen million against a budget that eventually hit nine million. So I doubt the bankers were very happy.
It performs decently but not great at Rotten Tomatoes currently with a score of fifty percent among audience reviewers.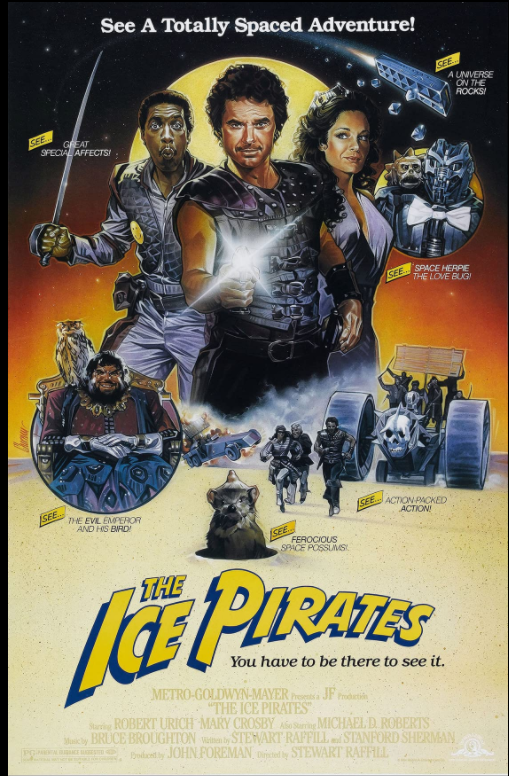 (7) TODAY'S BIRTHDAYS.
[Compiled by Cat Eldridge.]
Born March 16, 1883 — Sonia Greene. Pulp writer and amateur press publisher who underwrote several fanzines in the early twentieth century. Wiki says she was a president of the United Amateur Press Association but I can't confirm that elsewhere. And she was married to Lovecraft for two years. Her best-known story is "The Horror at Martin's Beach" which was revised and edited by Lovecraft and renamed as "The Invisible Monster" when it got published in Weird Tales inNovember 1923. (Died 1972.)
Born March 16, 1900 — Cyril Hume. He was an amazingly prolific screenplay writer with twenty-nine from 1924 to 1966 including The Wife of the Centaur (a lost film which has but has but a few scraps left), Tarzan Escapes, Tarzan the Ape Man, The Invisible Boy and Forbidden Planet. (Died 1966.)
Born March 16, 1920 — Leo McKern. He shows up in a recurring role as Number Two on The Prisoner in  "The Chimes of Big Ben", "Once Upon a Time" and "Fall Out". Other genre appearances include Police Inspector McGill in X the Unknown, Bill Macguire in The Day the Earth Caught Fire, Professor Moriarty in The Adventure of Sherlock Holmes' Smarter Brother, The Voice of Gwent in "The Infernal Machine" episode of Space: 1999. (Died 2002.)
Born March 16, 1929 — Ehren M. Ehly. This was the alias of Egyptian-American author Moreen Le Fleming Ehly. Her first novel, Obelisk, followed shortly by Totem. Her primary influence was H. Rider Haggard of which she said in interviews that was impressed by Haggard's novel She at an early age. If you like horror written in a decided pulp style, I think you'll appreciate her. (Died 2012.)
Born March 16, 1931 — Irene Champlin. Though she was short-lived, she's remembered most as Dale Arden in the Fifties syndicated Flash Gordon series in which she was both intelligent and resourceful. Her entire acting  career was but three years in length, ending with in appearance on I Spy. (Died 1990.)
Born March 16, 1951 — P. C. Hodgell, 71. Her best known work is the God Stalker Chronicles series with By Demons Possessed being the current novel. She has dabbled in writing in the Holmesian metaverse with "A Ballad of the White Plague" that was first published in The Confidential Casebook of Sherlock Holmes as edited by Marvin Kaye. All of the God Stalker Chronicles series are available from the usual suspects. 
Born March 16, 1952 — Alice Hoffman, 70. Best known for Practical Magic which was made into a rather good film. I'd also recommend The Story Sisters, a Gateway story, The Ice Queen, an intense riff off of that myth, and Aquamarine, a fascinating retelling of the mermaid legend. The Rules of Magic was nominated for Mythopoeic Fantasy Award for Adult Literature Award.
Born March 16, 1971 — Alan Tudyk, 51. Hoban "Wash" Washburne  in the Firefly universe whose death I'm still pissed about. Wat in A Knight's Tale. (Chortle. Is it genre? Who cares, it's a great film.)  He's K-2SO in Rogue One and yes he does both the voice and motion capture. Impressive. He also had a recurring role on Dollhose as Alpha, he voiced a number of characters in the Young Justice series streaming on HBO Max, and he was a very irritating Mr. Nobody on the Doom Patrol series also on HBO Max.
(8) COMICS SECTION.
Candorville jokes about the multiverse.
Bizarro injects a moment of horror into the lives of the Stay-Puft Marshmallow Man family.
(9) THE SPRING BEFORE THE SUMMER OF LOVE. [Item by Cora Buhlert.] I'm at Galactic Journey today, reviewing Tarnsman of Gor by John Norman, while my colleague Victoria Silverwolf reviews Why Call Them Back From Heaven? by Clifford D. Simak. Victoria obviously got the better deal: "[March 16, 1967] A Matter of Life and Death (Why Call Them Back From Heaven? by Clifford D. Simak; Tarnsman of Gor, by John Norman)".
(10) BASEDCON. Robert Kroese is organizing BasedCon 2022, following up last year's event for alt-right sff authors. That said, I found it hard to resist the honesty of this line in his latest message:
…The biggest challenge once again is going to be money. I'm a moderately successful sci-fi author, which is another way of saying that I am poor…. 
(11) MERCIFUL MAUDE. "Disneyland's Newest Menu Item Is Its Most Divisive Yet" claims The Takeout.
Though the Disney parks are known for all sorts of innovations, the food continues to be a big draw for many tourists. Some Disney fans go so far as to plan whole trips around sampling as many dishes as possible, and even Florida's stork population seems to love the food on offer. Disneyland in California, however, has created a dish that might be a little divisive among park guests. I'm having some conflicted feelings about it right now just thinking about it. It's dessert pasta, and everyone has an opinion.

This peanut butter and jelly pasta is now available at the Nuts About Cheese stand in Disneyland as part of the Disney California Adventure Food & Wine Festival. I want to understand the motivations of whoever created this. Food writer and Takeout contributor Julie Tremaine sampled this new concoction for SFGate and came away with some mixed feelings.

The peanut butter & jelly mac involves macaroni noodles coated in a peanut butter sauce and finished off with a dollop of strawberry jelly, a sprinkle of brown sugar streusel, and a layer of strawberry crackle, which is pretty much just a serving of Pop Rocks….
(12) AFTER HE LANDED. Showtime released a teaser featuring the first five minutes from the new TV series The Man Who Fell to Earth, based on the novel by Walter Tevis and the iconic film starring David Bowie. Deadline reports that the series "will follow a new alien character (Chiwetel Ejiofor) who arrives on Earth at a turning point in human evolution, and must confront his own past to determine our future." It debuts April 24 on Showtime.
(13) VIDEO OF THE DAY. [Item by Martin Morse Wooster.] In "Honest Trailers: Free Guy," the Screen Junkies say the game in Free Guy is part Grand Theft Auto, part fortnite, and part Nothing at All, because the script was bought in 2016. And did you know Taika Waititi and Ryan Reynolds worked together in Green Lantern? Well, they did!
[Thanks to Michael Toman, Cat Eldridge, Mike Kennedy, Martin Morse Wooster, Sarah Mughal Rana, Chris Barkley, Rich Lynch, JJ, John King Tarpinian, and Andrew Porter for some of these stories. Title credit belongs to File 770 contributing editor of the day Daniel Dern.]