(1) IT WON A HUGO; DOES THAT HELP? What does James Davis Nicoll's Young People Read Old SFF panel think of C.J. Cherryh's "Cassandra"?
July 2022's entry in Young People Read Old Hugo Finalists is C. J. Cherryh's 1979​ "Cassandra". C. J. Cherryh should need no introduction. Over the course of nearly half a century, she has published dozens of books, and is still actively raking in award nominations and wins in awards as diverse as the Hugo [1], the Nebula, the British Science Fiction Award, the Nebula, and the World Fantasy Award. That said, if there is one thing this project teaches us, it is that all the accolades in the world do not necessarily translate into accolades from the Young People. Let's see what they thought….
(2) JWST. NASA's "First Images from the James Webb Space Telescope" begin with one unveiled by the President.
On Monday, July 11, President Joe Biden released one of the James Webb Space Telescope's first images in a preview event at the White House in Washington. NASA, in partnership with ESA (European Space Agency) and CSA (Canadian Space Agency), will release the full set of Webb's first full-color images and spectroscopic data during a televised broadcast beginning at 10:30 a.m. EDT (14:30 UTC) on Tuesday, July 12, from NASA's Goddard Space Flight Center in Greenbelt, Maryland. Learn more about how to watch.

This first image from NASA's James Webb Space Telescope is the deepest and sharpest infrared image of the distant universe to date. Known as Webb's First Deep Field, this image of galaxy cluster SMACS 0723 is overflowing with detail. Thousands of galaxies – including the faintest objects ever observed in the infrared – have appeared in Webb's view for the first time. This slice of the vast universe covers a patch of sky approximately the size of a grain of sand held at arm's length by someone on the ground. Learn more about this image here: NASA's Webb Delivers Deepest Infrared Image of Universe Yet.
(3) WHAT I SAW ON MULBERRY STREET. "Some Surprising Good News: Bookstores Are Booming and Becoming More Diverse". The New York Times says "More than 300 bookstores have opened in the past couple of years — a revival that is meeting a demand for 'real recommendations from real people.'"
People told Lucy Yu it was a crazy time to open a bookstore in Chinatown. It was early 2021, and the pandemic had devastated the neighborhood, forcing dozens of stores and restaurants to close. The rise of anti-Asian hate crimes had shaken residents and local business owners.

But Ms. Yu believed that a bookstore was just what the neighborhood needed.

She raised around $20,000 on GoFundMe, enough to rent a narrow storefront — a former funeral supply store — on Mulberry Street in downtown Manhattan. A neighborhood grant gave her $2,000 for shelves and books. And in December, she opened Yu and Me Books, which specializes in titles by and about immigrants and people of color.

The store was profitable within four months, Ms. Yu said….
(4) KGB. Fantastic Fiction at KGB reading series hosts Ellen Datlow and Matthew Kressel present Gregory Frost and Daniel Braum on Wednesday, July 20 at 7:00 p.m. Eastern.
Gregory Frost
Gregory Frost writes across the fantasy spectrum. He's currently at work on a fantasy set in 12th Century Scotland, a supernatural western mashup set in 1858, and a hard sf story in collaboration with his late friend, the inestimable Bill Johnson. His previous collaborative story, with Michael Swanwick, won an Asimov's Readers Award in the pre-COVID universe of 2015. Most days he's accompanied by his cat.
Daniel Braum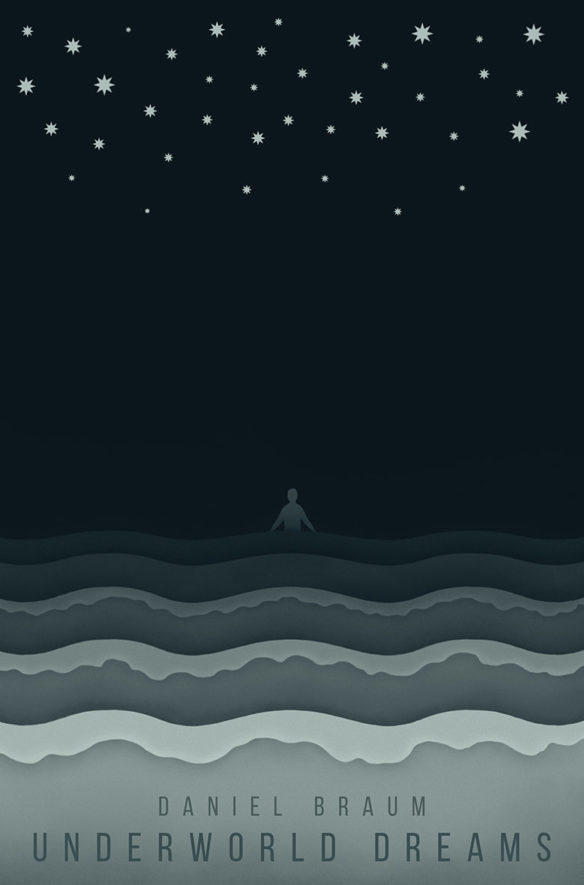 Daniel Braum's latest collection Underworld Dreams is full of stories that explore the tension between the supernatural and the psychological. His novella The Serpent's Shadow and collection The Night Marchers and Other Strange Tales are out with Cemetery Dance eBooks. His novel Servant of the Eighth Wind is forthcoming from Lethe Press.
They are in-person at the KGB Bar. Masks welcome. KGB Bar, 85 East 4th Street, New York, NY 10003 (Just off 2nd Ave, upstairs).
(5) JANUARY FIFTEENTH. It's Rachel Swirsky's turn to present "The Big Idea" at Whatever:
What would it be like if the United States of America had Universal Basic Income?

Tens of thousands of questions.

What kind of Universal Basic Income? How would it come about? How would it be regulated? Dispersed? Who determines eligibility? Who determines amount? Are there restrictions for felons? Does it come along with other social services or replace those systems entirely? Is there a trial run? How long will it last? Can it be canceled? What institutional forces might try to influence the project or hijack it for themselves?

Beyond logistics–and there are so many logistics–lie the lives inflected by innumerable variations. How do you raise children who have their own universal basic income? How do these new assets affect people in institutional care? In prison? In the military with a foreign girlfriend overseas?

When I began writing January Fifteenth, I started with one question, and ended up with more tangled stories than I could write.
(6) KU DEAL ON AMAZON PRIME DAY. [Item by Daniel Dern.] Amazon Prime Day (July 12-13) offers include 2 months of Kindle Unlimited, normally $9.99/month or something like that, for $0.99/month — jumping back to the full rate after two months if you don't explicitly cancel before then.
(Not sure whether you have to be an Amazon Prime member to get this, since I already am anyway.)
(7) ALWAYS BE CLOSING. Sophie Flynn shares a lot of tips that can help writers draw attention to their books. Thread starts here.
(8) THINKING MACHINES. In episode 19 of the Science Fiction 101 podcast, "Do As A.I. Say", Phil Nichols and Colin Kuskie delve into their favorite sci-fi artificial intelligences.
We largely ignore ambulatory A.I., so you won't find much talk of robots or androids here. Instead we try (but don't always succeed) to discuss the type of A.I. that won't chase you down a corridor or strangle you.

Among the works mentioned are some Star Treks; some Keith Laumer, Asimov, Clarke and Gerrold; and several classic movies that highlight our human terror at the thought that computers might one day take over….
(9) SOLVING AN ONLINE MYSTERY. The Artifice Girl premieres at the Fantasia International Film Festival on July 23.
When an internet vigilante develops a revolutionary new computer program to combat online predators, its rapid advancement leads to serious questions of autonomy, oppression, and what it really means to be human.
(10) BOMBADIL, A PERPETUAL QUESTION. "Who is Tom Bombadil? In Search of the 'One-Answer-To-Rule-Them-All'": a profile of author C.R. Wiley at Front Porch Republic.
Who is Tom Bombadil? Readers of J.R.R. Tolkien's masterpiece, The Lord of the Rings, have been asking this question ever since the epic tome first appeared in print in 1954. Novice fans of the book as well as diehard veterans of Tolkien's Legendarium are equally perplexed by this mysterious character. In their quest for answers, many have scrutinized every jot and tittle from Tolkien's pen, but the esteemed author never reveals in the novel, in his letters, or in his other writings exactly who Tom is. Those who have only viewed Peter Jackson's film trilogy (2001–2003) also wonder who this bewildering fellow is, since the director opted to exclude Bombadil from his big screen adaptation altogether. Jackson has stated the reason he cut Bombadil was because he felt that the character wasn't essential to the basic plot of the story. Some readers of The Lord of the Rings agree – not only do they ask, "Who is Tom Bombadil?" but they also ask "Why is he there?"C. R. Wiley, in his accessible yet perceptive little book In the House of Tom Bombadil, argues that we need to change the way we approach the "who?" and "why?" of Tom Bombadil. Wiley suggests we need to grapple with the question, not as a modern scientist or as a Sherlock-like sleuth, but as a philologist steeped in medieval lore. This makes good sense given that Tolkien was a philologist and professor of Anglo-Saxon and Medieval English at Oxford University. His understanding and appreciation for languages and for the legends that grew from them helped shape every aspect of Tolkien's Middle-earth mythology. If we are going to really understand Tom Bombadil, we must see him as an outworking of both Tolkien's love of language and lore….
(11) MEMORY LANE.
1942 – [By Cat Eldridge.] I'm quite the fan of Dashiell Hammett, so I thought I'd take a look at the second filming of The Glass Key which happened eighty years ago. (This is an appreciation piece so this is not the date it premiered.) Why it was made a second time is simple: Paramount retained the rights to it and saw it as the vehicle to make Alan Ladd a star. They also considered it the first major film for Veronica Lake as well.
It has been just seven years since the first version had been done with George Raft playing Paul Madvig who Alan Ladd will play here. That film was quite successful, being one of Raft's biggest box-office hits of the Thirties. Though critics one and all hated it.
This version was directed by Stuart Heisler under contract to Paramount. All biographies of him say he was at best an uninspired director but he did a better job here according to critics than the 1935 director did. And critics really hadn't been fond of Raft as Madvig. Stolid and boring got used a lot when describing Raft where Ladd was called cheerful.
Of course it was a vehicle for Alan Ladd and Veronica Lake as one critic noted: "The Glass Key further increased the box-office pull of Paramount's new team of Alan Ladd and Veronica Lake."
And another one echoed that: "The film is mostly done for entertainment purposes, as it lightly skips over the corrupt political process as merely background for the unlikely love story developing between the engaging Lake and the deadpan Ladd."
The two versions pretty much get the same rating at Rotten Tomatoes, the 1935 version gets sixty percent and the 1942 version gets seventy percent.
(12) TODAY'S BIRTHDAYS.
[Compiled by Cat Eldridge.]
Born July 11, 1899 — E. B. White. Author of Charlotte's Web and Stuart Little, both of which are surely genre. Along with William Strunk Jr. he's the co-author of The Elements of Style English language style guide. In a survey of School Library Journal readers, Charlotte's Web came in first in their poll of the top one hundred children's novels. I know I saw the Stuart Little film. It was, errr, cute. (Died 1985.)
Born July 11, 1913 — Cordwainer Smith. Pen name of Paul Myron Anthony Linebarger. Most of his fiction was set in The Instrumentality of Mankind series which I know I've read once and really did like at the time. His short story, "The Game of Rat and Dragon", was nominated at NYCon II (1956), and The Planet Buyer was nominated at LonCon II (1965). The usual suspects are well stocked with his novels and short stories, and "Scanners Live in Vain", a most excellent novella. It was nominated for a 1951 Retro-Hugo Award. (Died 1966.)
Born July 11, 1920 — Yul Brynner. The Gunslinger in Westworld and its sequel Futureword.  He would also play Carson, a human warrior in the post-apocalyptic The Ultimate Warrior. Are we considering The King and I genre or even genre adjacent?  If we are, he played Prince Mongkut in the short-lived Anna and the King as well. Ok I'm declaring it genre as the Siam there is a fantasy Siam, not actual Siam. (Died 1985.)
Born July 11, 1925 — David Graham, 97. The voice of Daleks in the early years of Doctor Who including two very non-canon films, Dr. Who and the Daleks and Daleks' Invasion Earth 2150 A.D.; his voice work made him a sought after worker and he'd be used on Thunderbirds, the rather excellent Asterix & Obelix Take On Caesar, Timeslip, the superb Moomin, Stingray and even the recent Thunderbirds Are Go.
Born July 11, 1950 — Bruce McGill, 72. His first role was as Director Eugene Matuzak in Time Cop. He later has got one-offs in Quantum Leap (twice), Babylon 5, Voyager and Tales from the Crypt.  He's in the first television remake of The Man Who Fell to Earth as Vernon Gage. If MacGyver counts as genre and I for one think that it should, he has the recurring role of Jack Dalton there. 
Born July 11, 1956 — Amitav Ghosh, 66. Author of the absolutely brilliant The Calcutta Chromosome: A Novel of Fevers, Delirium and Discovery which won the Arthur C Clarke Award. Really just go read it and we'll discuss it over a cup of chai masala. His newest work is Jungle Nama, a graphic novel with illustrations by Pakistan-born Salman Toor based on the medieval Bengali tale about the forest (Sundarbans) goddess, Bon Bibi. Seriously, I need to read more of his fiction. 
Born July 11, 1958 — Alan Gutierrez, 64. An artist and illustrator, specializing in SF and fantasy cover art. His first professional sale was to the now defunct semi-professional Fantasy Book in 1983. He then began producing work for Baen Books, Tor Books,Pequod Press and other publishers. He has also painted covers for Analog Magazine, Aboriginal Science Fiction, Asimov's Science Fiction, and other SF magazines. He's been nominated for five Asimov's Readers Awards and two Analog Awards as well. 
Born July 11, 1959 — Richard James Bleiler, 63. Genres breed academics. One of them is this bibliographer of speculative fiction, crime, and adventure fiction. Among his papers are "The Fantastic Pulp Fiction of Frank Belknap Long" which appeared in Gary Hoppenstand's Pulp Fiction of the '20S and '30S and "Forgotten Giant: A Brief History of Adventure Magazines" which was published in Extrapolation: A Journal of Science Fiction and Fantasy.
(13) ROSWELL ANNIVERSARY. [Item by Martin Morse Wooster.] In the Washington Post, Dave Kindy has a piece on the 75th anniversary of the UFO incident in Roswell, New Mexico (which took place on July 8, 1947). He interviews aerospace historian Roger Launius, who notes that in 1994 the Air Force said the "UFO debris" was part of a high-altitude balloon launched as part of Project Mogul, which was "designed to intercept Russian radio messages via high-altitude." Because Project Mogul was classified the Air force bungled its response to the incident and created UFOlogy. "Roswell 'flying saucer' report 75 years ago sparked UFO obsession".
The world was worrying about war when rancher W.W. Brazel walked into the sheriff's office in Corona, N.M., on a hot, dusty day 75 years ago to report a "flying disk" he might have found on his property, about 100 miles northwest of Roswell Army Air Field.

The next day — July 8, 1947 — the public information officer at the base issued a news release stating the U.S. Army Air Forces had recovered a "flying saucer" at the ranch. While military brass quickly retracted the statement, it was too late: The legend of Roswell as the "UFO Capital of the World" was already soaring — much like the countless bright objects many Americans claimed to have seen in the sky that summer….
(14) DIGITAL IN 1982. "40 Years Ago, Disney's Weirdest Failure Changed Sci-Fi Movies Forever" contends Fatherly.
…But even more groundbreaking than the idea was the unique approach to visual effects. While The Last Starfighter would push the boundaries of computer-generated special effects two years later, Tron's method of integrating human performers with a mostly empty virtual world was simultaneously stunning and moody as hell. While Bridges, Cindy Morgan, Bruce Boxleitner, and David Warner were shot with old-school backlighting techniques, the fact that their vehicles (LIGHT CYCELES!) and surroundings would be all digital was pretty much brand new….
(15) MORE STYLISH THAN THE TARDIS? [Item by Martin Morse Wooster.] Jon Pertwee shows up on Blue Peter with Doctor Who's Whomobile in this clip from November 1973 that dropped today.
Doctor Who star Jon Pertwee glides into the Blue Peter studio for a chat with Peter Purves about the Whomobile, the Doctor's unique new mode of transport.
(16) HARLEY QUINN. HBO Max dropped a trailer for the third season of Harley Quinn today. It arrives on July 28.
The mayhem and madness continue in season three of this biting and uproarious adult animated comedy series. Wrapping up their "Eat. Bang! Kill. Tour," Harley Quinn (Kaley Cuoco) and Poison Ivy (Lake Bell) return to Gotham as the new power couple of DC villainy. Along with their ragtag crew – King Shark (Ron Funches), Clayface (Alan Tudyk), Frank the Plant (JB Smoove) – "Harlivy" strives to become the best version of themselves while also working towards Ivy's long desired plan of transforming Gotham into an Eden paradise.
(17) SPACEX SETBACK. "Starship Booster Explodes During SpaceX Ground Test" reports Gizmodo.
SpaceX is in the midst of preparing its Starship rocket for its inaugural orbital launch, but an apparent explosion of the Super Heavy booster during tests at the company's facility in Boca Chica, Texas, may represent a serious setback.

The explosion happened around 5:20 p.m. ET, and it was as unexpected as it was severe. …

The Elon Musk-led company is currently testing Super Heavy Booster 7 at its Boca Chica facility, known as Starbase. The prototype booster, with its 33 Raptor engines, arrived at the launch mount in late June. A Starship second stage will eventually be stacked on top, forming a fully stacked Starship rocket. Musk was hoping for an orbital test flight of the system in July, but that seems unlikely given today's events….
(18) VIDEO OF THE DAY. [Item by Martin Morse Wooster.] Keegan-Michael Key and Jordan Peele ask, "What If Hogwarts Were an Inner-City School?" in this clip from 2019.
An HBO documentary dives deep into the deplorable conditions at Vincent Clortho Public School for Wizards.
[Thanks to Cat Eldridge, Mike Kennedy, Martin Morse Wooster, JJ, N., John King Tarpinian, Andrew Porter, Chris Barkley, and Michael Toman for some of these stories. Title credit belongs to File 770 contributing editor of the day Daniel Dern.]